Shimano Dura-Ace Di2 v SRAM Red eTap AXS: Everything you need to know
Shimano Dura-Ace vs SRAM Red eTap AXS: The two leading groupsets head to head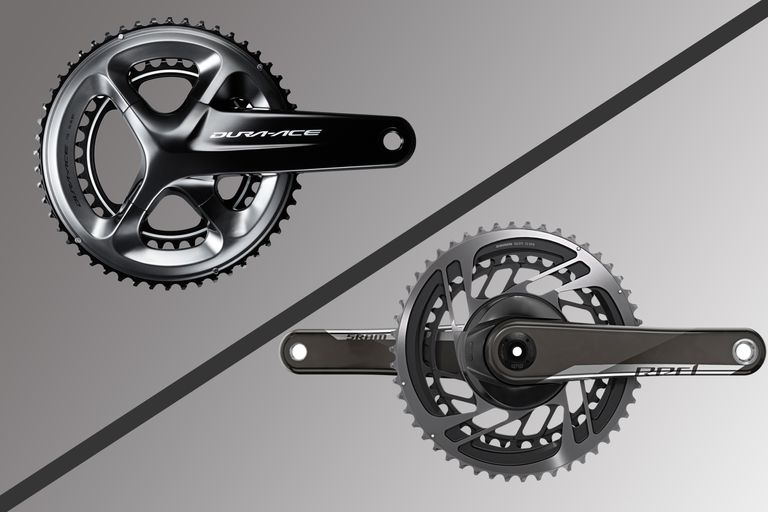 Both SRAM Red eTap AXS and Shimano Dura-Ace are performance groupsets, both are each respective brand's top-end products and both will be used by the pro racers on the international stage this year. But that's just about where the similarities end.
For starters, SRAM Red eTap AXS is brand new, launched in 2019 and comes with 12 gears and reinvented gear ratios for the road market. In comparison, Shimano Dura-Ace R9150 was launched back in 2016 and if typical product cycles are taken into account, won't be updated until 2020.
With the new launch SRAM has done away with its mechanical version of the groupset. For this reason this page compares AXS to Shimano's Dura-Ace R9170; the brand's Di2 and hydraulic groupset.
Read more: SRAM Red eTap AXS review
Read more: Shimano Dura-Ace review
Shimano Dura-Ace vs SRAM Red eTap AXS: headline figures
Shimano Dura-Ace R9170 2389g / RRP £3,285.82
SRAM Red eTap AXS 2518g / RRP £3,349
Buy now: Shimano Dura-Ace R9170 Di2 groupset at Chain Reaction Cycles for £2299
Buy now: SRAM Red eTap AXS groupset at Wiggle for £2300
For the last three years SRAM Red eTap's lack of wires had made it the lightest groupset on the market. However, the latest AXS release has seen it lose its crown to Shimano Dura-Ace R9170, despite the latter being the older groupset. The new AXS groupset weighs 2518g whereas Shimano's Dura-Ace comes in at 2389g.
Shimano's is also the cheaper groupset albeit only marginally, costing £3,214.82 compared to SRAM's £3,349.
Shimano Dura-Ace Di2 vs SRAM Red eTap AXS: Gear ratios
Aside from adding the 12th gear, the other headline feature of the SRAM Red eTap AXS groupset is the brand's new take on gear ratios. Everything is geared around the 10-tooth sprocket on the cassette, and this new thinking has allowed the brand to shrink the front chainrings, pushing the range to the back.
The front chainrings are now available in a 50/37, 48/35 and 46/33, with the intention being to reduce front shifting, allowing the rider to remain in the big ring for longer. By pairing these to wider cassettes that start with a 10t rather than an 11t SRAM has been able to provide more gear range at the back that exceeds the top and bottom gearing of traditional ratio, as well as seven consecutive one tooth changes (incidentally, this is the same as new Campagnolo Super-Record 12 speed) instead of the six with a Shimano cassette.
In comparison to Shimano's traditional gearing, the 50/37 and a 10-26 cassette is the equivalent of of the 53/39 with a 11-25 cassette. The 48/35 and a 11-28 is the equivalent of a 52/36 with a 11-28 cassette. Finally, the 46/33 with a 10-33 is the same as a 50/34 with a 11-32 cassette.
Watch: Campagnolo Super-Record 12 speed EPS
Shimano Dura-Ace Di2 vs SRAM Red eTap AXS: Design
Both Shimano Dura-Ace and SRAM Red eTap AXS both have very individual designs, but both are very functional. The AXS groupset has seen the biggest change, with the two chainrings now machined out of one block of material instead of being held together by chainring bolts like Shimano's groupsets. These are then mounted onto the crank arm directly using a spline.
This directly impacts the stiffness of the chainrings, which itself has a big bearing on how well the front mech will shift as well as other performance benefits for the racers. More noticeably, this allows any chainset in the range to be easily upgraded with a power meter by SRAM's sister brand Quarq.
In comparison, Shimano's crankset is created using the brand's 'Hollowtech II' technology. Using this, the brand is able to create a hollow crank arm while maintaining stiffness and decreasing weight. However, the brand still attaches the chainrings using bolts but we've certainly never noticed any amount of flex. If it's good enough for likes of Peter Sagan it's good enough for us.
Adding a 12th sprocket to the cassette reduced the space in between the cogs, which meant that SRAM had to design a new 12-speed chain – which it took as an opportunity to create the distinctive looking flat top chain now in use. The problem in reducing size is that you also reduce strength, so SRAM both flattened the top and made it out of a new material that is both harder and stronger wearing than its old model. Plus, it applied a hard wearing shiny finish for good measure.
One thing we did notice in our testing was that the SRAM groupset was significantly more silent that its Shimano Dura-Ace rival. To some extent this was because of the new chain but also because of the new rear mech's damper technology, 'Orbit', that prevents it from moving on hard, jarring impacts. It's different to the clutch that was built into SRAM's Eagle derailleurs because it's mineral oil rather than a lockout function.
It's worth noting though that Shimano's rear mech's also come packed full of tech, including the brand's Shadow Technology which is borrowed from its mountain bike groupsets. This slims down the derailleur but also keeps it pulled up and out of harm's way when riding. However, on the road side it lacks any type of damper or clutch.
Shimano Dura-Ace Di2 vs SRAM Red eTap AXS: Ergonomics
The downside to SRAM's Red eTap disc brake system has always been its large hoods, especially when compared to Shimano's Dura-Ace R9170 groupset (Di2 and disc brake), although it's worth noting that Shimano's mechanical disc brake groupset hoods are as large.
Unfortunately, the AXS update hasn't done very much to bring that size down, with the disc brake hoods still retaining their bulk in stark comparison to Shimano's equivalent. But in their defence, the hoods do have to house both the master cylinder and the wireless system and they're still comfortable to use, with most objections on an aesthetic level.
SRAM has improved the ergonomics of its shifting, with improved lever feel and a more resonant click when shifting, which we found to be a marked improvement on the previous SRAM Red. When Shimano launched its Dura-Ace groupset back in 2016 it also had improved lever feel, and a far more tactile click to its shifting.
SRAM Red eTap AXS vs Shimano Dura-Ace: Connectivity and electronics
SRAM remains the only groupset manufacturer to have created a wirelessly shifting drivechain, and three years ago when it launched the original SRAM Red eTap it marked the brand as one of the most advanced cycling companies in the world. The AXS update only cements SRAM's position as a connectivity stalwart, and the new groupset adds another degree of streamlined integration thanks to its companion app.
The new AXS app allows complete customisability of your shifting. Once you've paired all the connecting parts to the smart phone app you can then choose to make the groupset work in two different ways. Firstly, it can operate sequentially, where it adjusts the front derailleur to compensate gear shifts on the rear, leaving you free to just focus on your rear gear shifting. This is the same as Shimano's Synchronised shifting. Secondly, it can compensate, changing gears on the rear to compensate for a shift on the front. This is same as Shimano's Semi-Synchronised shifting.
Within the AXS app you can also customise what each lever does, and because the new SRAM Eagle mountain bike groupset shares the same protocol you mix and match if you like. Shimano's E-Tube app provides similar lever customisation, but you can also alter the speed of shifts, too. You can also pair Shimano's Di2 mountain bike derailleur and levers with Shimano's road equivalents.
It's hard to compare battery life but in general Shimano Di2 lasts around 1000km and SRAM says its new groupset will last 60 hours of riding without needing charge. However, unlike Shimano's Di2, which either shows green or then red depending on battery life, eTap has green, red and then a flashing red indicator when you're in danger mode.
Buy now: Shimano Dura-Ace R9170 Di2 groupset at Chain Reaction Cycles for £2299
Buy now: SRAM Red eTap AXS groupset at Wiggle for £2300
SRAM Red eTap AXS vs Shimano Dura-Ace: Prices and weights
Shimano Dura-Ace R9170 2389g / £3,285.82
SRAM Red eTap AXS 2518g / £3,349