Shimano Dura-Ace v SRAM Red eTap AXS: Everything you need to know
Shimano Dura-Ace vs SRAM Red eTap AXS: The two leading groupsets head to head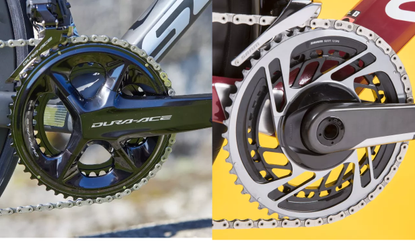 (Image credit: Future)
Both SRAM Red eTap AXS and Shimano Dura-Ace are performance groupsets, both are each brand's top-end products and both are used by the pro racers on the international stage. With the latest R9200 version of Dura-Ace released in 2021 there are more similarities between the two road bike groupsets than there were, but plenty of differences still.
SRAM Red eTap AXS and Shimano Dura-Ace are both now 12-speed and electronic only and both have wireless comms between the shifters and the derailleurs. Both are programmable with built-in Bluetooth, both are focused on disc brakes but also offer a rim brake option and both let you add an in-series power meter.
We've got full reviews of our experience of riding both SRAM Red eTap AXS and Shimano Dura-Ace R9200, but if you're not sure which is for you and want a more direct comparison read on.
Shimano Dura-Ace vs SRAM Red eTap AXS: weight and price
Shimano Dura-Ace R9200 2403g / RRP £3,701
SRAM Red eTap AXS 2518g / RRP £3,794
You'll save yourself around 100g by opting for Dura-Ace over Red eTap, although the latest 12-speed Dura-Ace is actually a few grams heavier than the older 11-speed version; it looks as if the quest for ever-lower groupset weights may have peaked.
Shimano's is also the cheaper groupset albeit only marginally, saving you around £90 at full retail price.
Shimano Dura-Ace Di2 vs SRAM Red eTap AXS: Gear ratios
SRAM took a new approach to road bike gearing with Red eTap AXS. Everything is geared around the 10-tooth sprocket on the cassette, and this has allowed the brand to shrink the front chainrings, pushing the extra gear range to the back. So SRAM Red cassettes are offered in four options. The 10-26t, 10-28t or 10-33t can run with a standard Red derailleur. You can also run a 10-36 cassette with a specific, compatible wider-range Red derailleur.
SRAM 12-speed cassettes will only fit on wheels with SRAM XDR freehub bodies.
By pairing these to smaller chainrings, SRAM has been able to provide more gear range at the back that exceeds the top and bottom gearing of traditional ratios, as well as seven consecutive one tooth changes.
SRAM Red chainrings come in 46/33t, 48/35t and 50/37t options as standard, so you can have a lowest ratio below 1:1 if you use a 10-36 cassette with a 46/33t or 48/35t chainset, without losing top end ratios.
In comparison to Shimano's traditional gearing, the 50/37 and a 10-26 cassette is the equivalent of the 53/39 with an 11-25 cassette. The 48/35 and an 11-28 is the equivalent of a 52/36 with an 11-28 cassette. Finally, the 46/33 with a 10-33 is the same as a 50/34 with an 11-34 cassette.
You can also buy a power meter upgrade kit (but not a complete groupset) with 52/39t, 54/41t and 56/43t rings. These are there to please the pros, who were worried about chain articulation over the smaller sized sprockets in SRAM's standard X-Range configuration.
In contrast, Shimano has stuck to cassettes that start with an 11-tooth smallest sprocket, as it claims that this is less prone to wear as a greater number of teeth are in contact with the chain.
The smaller articulation angle between the chain links as they pass over an 11-tooth sprocket should also lead to lower friction, although SRAM claims that the 12-speed Red eTap with a 10-tooth sprocket is as efficient as its previous generation 11-speed system with an 11-tooth smallest sprocket.
Shimano Dura-Ace cassettes now offer an 11-30t and an 11-34t tooth option, with the former offering seven single tooth increments from 11 to 17 tooth sprockets, matching SRAM. There's an 11-28t cassette in the works but still not available commercially. All Shimano's cassettes are backward compatible with wheels with 11-speed Shimano freehubs despite having a different flange arrangement.
At the front, Dura-Ace offers the usual 50/34t and 52/36t options. Note that the former gives you a 1:1 lowest ratio when paired to the wider range 11-34t cassette, matching SRAM's lowest range configuration.
There's also a 54/40t chainset available. This pushes up the top end ratio slightly to satisfy the ever-increasing speeds of pro racers, but also leads to a more efficient chainline when riding faster.
Shimano Dura-Ace Di2 vs SRAM Red eTap AXS: Design
Shimano Dura-Ace and SRAM Red eTap AXS both have very distinctive designs, but both are very functional. The SRAM Red AXS chainset has the two chainrings machined out of one block of material instead of being held together by chainring bolts like Shimano's groupsets. These are then mounted onto the crank arm directly using a splined interface.
This directly impacts the stiffness of the chainrings, which itself has a big bearing on how well the front mech will shift as well as other performance benefits for the racers.
It's worth noting though that this means that once a chainring is worn you need to replace both. Ditto if you want to tweak your ratios. Also note that since as standard the power meter is integrated into the chainrings, which SRAM says it's done to ensure the best accuracy, you need to replace this too when you replace the rings.
SRAM says that it's engineered its chainrings to up their longevity by 50% over its older 11-speed groupsets. It also offers a 50% discount to the original owner when they buy a replacement power meter/chainring set within five years.
You can also buy a separate power meter spider as an upgrade to a non-power meter chainset.
In comparison, Shimano's crankset is created using the brand's Hollowtech II technology. Using this, the brand is able to create a hollow crank arm while maintaining stiffness and decreasing weight. However, Shimano still attaches the chainrings using bolts, although we've certainly never noticed any amount of flex. If it's good enough for the likes of Peter Sagan and Mark Cavendish it's good enough for us.
This also means that, unlike SRAM Red eTap AXS, you can swap the chainrings on a Dura-Ace power meter chainset without needing to replace the power meter.
Adding a 12th sprocket to the cassette reduced the space in between the cogs, so SRAM designed a new 12-speed chain – which it took as an opportunity to create the distinctive looking flattop chain now in use. The problem in reducing size is that you also reduce strength, so SRAM both flattened the top and made it out of a new material that is both harder and longer wearing than its old model. Plus, it applied a hard wearing shiny finish for good measure.
With its 12-speed groupsets, rather than develop new road-specific parts Shimano has used some components from its MTB range, one of which is the chain. So Dura-Ace runs a 12-speed chain from the XTR groupset. Since top end mountain bikes have been 12-speed for several years, the XTR chain has been proven to be robust.
One thing we did notice in our testing was that the SRAM groupset was significantly more silent than its Shimano Dura-Ace rival. To some extent this was because of the new chain but also because of the new rear mech's oil-filler damper technology, Orbit, that prevents it from moving on hard, jarring impacts.
It's worth noting though that Shimano's rear mechs also come packed full of tech, including the brand's Shadow design which is borrowed from its mountain bike groupsets. This slims down the derailleur but also keeps it pulled up and out of harm's way when riding. However, on the road side it lacks any type of damper or clutch.
Shimano Dura-Ace Di2 vs SRAM Red eTap AXS: Battery life and shift speed
SRAM Red derailleurs each have their own removeable battery attached to the rear of the mechanism. A couple of advantages to this are that it's easy to take the battery off and recharge it somewhere convenient with SRAM's recharging cradle and that if one battery goes flat (usually the rear) you can swap them about and keep going. You should get around 60 hours of riding on a charge, with each derailleur having an indicator light that shows green, red then flashing red to show battery level. You can also check battery status in the SRAM AXS phone app (see below).
Each shifter operates on a CR2032 coin cell which should last for around two years. There's a battery indicator LED on the shift paddle to show you when it's running low.
Shimano meanwhile has a single central battery that's usually mounted in the bike's seat tube and powers both derailleurs via wires. This set-up has greater capacity than SRAM's and Shimano claims a range of 1000km between charges. There's an indicator light on the rear mech that indicates charge level and, like SRAM, you can also check battery status in the Shimano E-Tube app. You recharge the battery via a port on the rear mech.
Also like SRAM, Shimano's shifters communicate wirelessly with the derailleurs. They use a CR1632 coin cell each with a similar battery life of around two years. There's also the option to have a wired connection between the shifters and the derailleurs.
Shimano's shifting is also faster than SRAM's and significantly faster than the old 11-speed Dura-Ace. Although the shift speed increase is greater at the rear, it's more noticeable at the front. You can slow it down via the app if it's too fast for you.
Shimano Dura-Ace Di2 vs SRAM Red eTap AXS: Ergonomics
SRAM Red eTap AXS brake/shift levers have a large single paddle each. You shift one (usually the right one although that's configurable) to move to higher gears and the other to shift to lower gears. Hit both together and you'll initiate a front shift. It's very intuitive and avoids the risk of mis-shifts from hitting the wrong lever.
SRAM's hoods are quite large. That may be a pro or a con depending on how you look at it. It's more comfortable than a smaller lever as hand pressure is distributed over a larger area but might be less easy to grip for smaller hands.
Whereas the previous generation Dura-Ace's levers were a miracle of miniaturisation, the R9200 ones have actually grown a bit so they're just slightly smaller than SRAM's. We found that this makes it easier to ride in a tucked aero position due to better grip. It's also allowed Shimano to separate the upshift and downshift levers a bit more widely, reducing the risk of mis-shifting which was an issue particularly when wearing heavier winter gloves.
Both Red and Dura-Ace give you the option to adjust brake lever rest position and bite point to suit your hands' reach. Both also let you fit satellite shifters elsewhere on your bars. In Shimano's case these are wired to the levers while SRAM has both wired and wireless options.
SRAM Red eTap AXS vs Shimano Dura-Ace: Braking
As mentioned above, both SRAM and Shimano offer either rim or disc brake options. SRAM's Red-level rim brakes are single pivot only, whereas Shimano also has a direct mount Dura-Ace option.
Both brands' disc brakes are designed to work with either 140mm or 160mm rotors. SRAM Centerline rotors are road-specific but Shimano uses the rotors from its XTR MTB groupset with Dura-Ace - something the pros were doing at least a year in advance.
Shimano R9200 brakes use Servo Wave tech, again ported from its MTB range, that gives you progressive brake action that is more aggressive at the end of the stroke and lighter when you're just feathering the brakes. The pistons also retract 10% more than the previous generation callipers to help reduce the likelihood of brake rub.
Whereas SRAM brakes use DOT fluid, Shimano's use mineral oil. DOT fluid is more resistant to boiling than mineral oil and SRAM says the DOT 5.1 fluid it recommends has a boiling point of 270C when dry. It can absorb water from the atmosphere, but even with 4% water still boils at 155C. The higher boiling point should make a DOT fluid-based system more stable, says SRAM, leading to longer periods between brake system bleeds.
SRAM says that this ability to absorb water is an advantage if you do get damp in your brakes, as it means that it's less likely there will be free water droplets in the hoses than with an oil-based system, where it would boil at 100C and so potentially impact performance.
SRAM Red eTap AXS vs Shimano Dura-Ace: Connectivity and electronics
Both the SRAM AXS and the Shimano E-Tube smartphone apps allow complete customisation of your shifting. Once you've paired all the connecting parts to the apps over Bluetooth you can then choose to make either groupset work in two different ways.
Firstly, it can operate sequentially, where you just shift up or down. Once the rear mech reaches a pre-defined point on the cassette the next shift will initiate a front mech shift with the rear mech making a corresponding shift in the opposite direction to give you the next gear ratio up or down the cassette. SRAM calls this sequential shifting, Shimano synchronised shifting. Shimano gives you more flexibility with how this is configured, although this does increase the chances of getting a configuration that doesn't work well.
Secondly, it can change gears up or down a few sprockets on the rear to compensate for a shift at the front so that you get a similar ratio after the front shift rather than either spinning or grinding, as is typical with mechanical shift systems. This is called compensating shifting by SRAM and semi-synchronised shifting by Shimano.
Within the AXS app you can also customise what each lever does, and because the SRAM Eagle AXS mountain bike groupset shares the same protocol you can mix and match if you like.
Shimano's E-Tube app provides similar lever customisation, but you can also alter the speed of shifts. You can also pair Shimano's Di2 mountain bike derailleur and levers with Shimano's road equivalents.
SRAM Red eTap AXS vs Shimano Dura-Ace: Single ring configurations
SRAM has always majored on gravel bike riding and now bundles this functionality into its XPLR range, which is available at Red eTap AXS spec level. That means that there's a range of Red XPLR eTap AXS components, including a rear derailleur with 44 tooth maximum sprocket capacity that works with a 12-speed XPRL cassette with 10-44t range.
You can also buy a single ring chainset or power meter with chainring sizes from 36t to 50t. It's geared to flat time trials as well as gravel, with larger rings designed to be aero.
Shimano doesn't yet offer a 12-speed gravel or single ring groupset option. Its GRX groupsets still stop at 11-speed.
Thank you for reading 10 articles this month* Join now for unlimited access
Enjoy your first month for just £1 / $1 / €1
*Read 5 free articles per month without a subscription
Join now for unlimited access
Try first month for just £1 / $1 / €1
Paul started writing for Cycling Weekly in 2015, covering cycling tech, new bikes and product testing. Since then, he's reviewed hundreds of bikes and thousands of other pieces of cycling equipment for the magazine and the Cycling Weekly website.
He's been cycling for a lot longer than that though and his travels by bike have taken him all around Europe and to California. He's been riding gravel since before gravel bikes existed too, riding a cyclocross bike through the Chilterns and along the South Downs.