Cycling's best free and paid apps: There's a lot more than just Strava
We round up the most useful free and paid mobile apps for cyclists to assist with route planning, tracking fitness, sharing rides and much more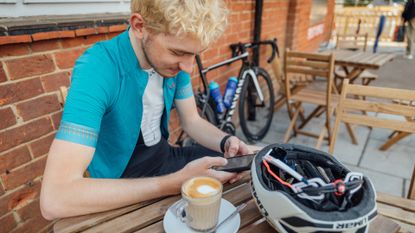 (Image credit: Future)
With just so many cycling apps out there, it can be difficult to land on the very best ones. But whether you want to record your ride, monitor your training, or hassle your local city council to improve the roads, we've picked out all the most useful apps for cyclists.
Despite most of the apps we've picked out here being designed for smartphones or PCs, there is still a fair number that integrate well with cycling computers and smartwatches and can aid your riding in new ways.
But if you're looking for the best indoor training apps to keep you entertained while plugging away on a turbo trainer, we've got another page digging into that. The apps we have listed here are for much more general use, spanning the whole spectrum of cycling.
So, without further ado, let's get into the best cycling apps we at CW have come across.
Best cycling apps with free version and paid upgrade
Strava
The best cycling app for ride tracking
One of the most popular GPS cycling apps offers an array of handy ride logging functions which are then uploaded to your online Strava profile.
It's social fitness sharing platform - you upload rides with photos and video clips, follow your friends and support their progress by giving them 'kudos' which is essentially a thumbs up.
The free app keeps track of your ride stats as you travel, including speed, time and distance all the while tracking where you've been. At the end of your ride, you can view further stats such as calories burned and elevation ridden.
For more in-depth look at your training there's the Strava subscription option. Here you can monitor your freshness and fatigue for tracking and improving your fitness, and view interesting metrics such as 'relative effort' which is Strava's way of quantifying how hard you're working.
Creating routes, live location tracking with Strava Beacon and Strava's segment analysis features are also all within the paid part of the app.
To get the most out of Strava segments the paid app lets you view your live segment performance as you're riding, check out the overall segment leaderboards, and filter by age and weight, and set custom goals for segments.
Price: Free (or £47.99/~$58.15 yearly)
Komoot
The best cycling app for planning routes
Komoot can be used on the desktop as well as via an app. There's over 35 million users worldwide, and this user fed system allows cyclists to log rides which will later help future riders plan their own.
The app will show riders which routes are suitable for road vs mountain bikes, the level of fitness required to complete them and more. To plan a route, you simply select your riding style, pick your start and endpoints, and let Komoot do the rest.
Additional features include cafe stop recommendations in the 'Highlights' section and additional images and information, if supplied by other users.
Users can choose to pay specifically for offline maps as a one-time payment, with a single region costing just $3.99 / £3.99 and going up to $29.99 / £29.99 to unlock every region worldwide.
If you're looking for a tool to plan multi-day adventures, or precise weather details for specific parts of your route, you'll find all of those advanced features under Komoot's premium plan.
As of April 2023, Komoot has added the functionality to send your Komoot 'Tours' directly to your Garmin device, making it that little bit quicker to get rolling on your planned route.
Available for: iOS and Android
Price: Free (or $4.99/£4.99 monthly, $59.99 / £59.99 yearly)
Website:www.komoot.com
Training Peaks
The best cycling app for tracking training
TrainingPeaks is one of, if not the most, popular platforms used for tracking athlete performance. Coaches can input workouts, or if you're self-coached you can use it yourself. If your currently neither, you can even buy training plans or find a coach directly on the platform.
The Training Peaks app is considered more of a useful add on to the bigger desktop version, and means you can always access your training schedule, see coaches comments or add your own.
Uploading workouts, setting goals, adding events and receiving daily workout reminders is all free, but if you want a little more in-depth analysis or to schedule activities for future, you do have to upgrade to the Premium version.
Available for: iOS and Android
Price: Free (or ~£16.50/$19.95 monthly)
Website: www.trainingpeaks.com
MyWindsock
The best app for time triallists
Perhaps this is a bit of a cheat, as myWindsock isn't available as a phone app yet, but the desktop version works well and it's one of the best apps for enhancing your Strava experience.
The founder - Ben Norbury - wanted to check how weather conditions would affect his upcoming time trials, hence creating the application.
MyWindsock can tell real-time data on the weather along your planned route, if you upload a GPX file. Alternatively, you can copy and paste the URL for a Strava segment into this clever piece of software to see what sort of conditions you can expect, and how many Watts the wind is costing you as a percentage of your power output.
Other perks include feeding myWindsock a Strava leaderboard, to see which weather conditions have produced the fastest times, and when to have a crack yourself. With the myWindsock Planner you can also add all your regular rides and races and get a 10-day forecast.
Available for: currently desktop only
Price: Free (or £24.99/$34.99 yearly for 'Power' plan with limited uploads, or £49.99/$64.99 yearly for 'Unlimited' plan with - you guessed it - unlimited uploads.
Website: www.mywindsock.com
Flare (formerly Busby)
The best cycling app for road safety
Flare is a free safety cycling app that offers features such as incident detection, incident prevention, by alerting other road users to your whereabouts, and easy to use near-miss reporting. If a user is involved in an incident, Flare gives them 30 seconds to move or respond. If there is no response their location is sent to emergency contacts so help can arrive quickly.
The latest version works in all countries around the world and has already saved three lives since its launch in November 2019, and is also compatible with activities such as running/ jogging, motorcycling, horse riding and scooters.
Partnered with What3Words and St John Ambulance in the UK, if an incident occurs the user's location is sent using an exact 3m x 3m location anywhere in the world. If the user is still conscious, they will also see the St Johns Ambulance 10 safety steps to ensure they are in the safest possible place whilst help is on the way. It's a location tracking system that an ever increasing number of emergency services have adopted around the world for it's pin point accuracy, enabling a swift response.
The Flare app incorporates 'RoadRadar', which has the ability to provide commercial fleet drivers an audible warning that a Busby road user is nearby, to help prevent any potential incident and human error. The advanced audible warning radius gets bigger and smaller depending on the drivers location (ie. City centre will be 5 metres and country road can be up to 200 metres).
The Busby Flare feature is for users who haven't had a serious accident but needs help. Sending out 'Flare' will alert surrounding partnered bike shops, mechanics and users (within 5-10 miles) that another user needs help.
Another recently added feature is 'Group Ride, allowing your club/ riding buddies to create cycling groups and set a maximum radius around the group, so if a rider goes outside the radius, then the whole group receives a notification.
Free incident detection and contact alerting are available for all, but with the free version you only get one emergency contact, whereas you can add up to five if you upgrade to the premium membership.
Available for: iOS and Android
Price: Free (or £1.99/~$2.41 monthly, £19.99/~24.22 yearly)
Website: www.flaresafety.com
Ride with GPS is handy for building and planning routes. The real strength of this app is in its extensive library of user uploaded routes. See where others have ridden then create a route that works for you and send it your smartphone or bike computer of choice.
The free version lets you record your ride, create your own routes and organise these into collections, as well as upload and sync these via your device.
Upgrading to the basic version unlocks the mobile support, giving you turn-by-turn navigation on the mobile app, offline maps, access to the mobile route planner with heatmaps which highlights popular paths, and more.
The premium version is more for handling in-depth ride planning and post-ride analysis. 'Advanced route planning' - which lets you add points of interest - is useful for organising multi-day routes, 'private segments' allows you track progress with your own private personal leaderboard and 'ride clean up' is a handy tool for removing bad data or joining rides together.
Available for: iOS and Android
Price: Free (or ~£4.95/$6 monthly, ~£41.22/$50 yearly for basic plan, or ~£8.24/$10 monthly, ~£65.96/$80 yearly for the premium plan)
Website: www.ridewithgps.com
Bikemap brings together over 9.9 million cycling routes in more than 100 countries, providing navigation for riders of all kinds - with the option to filter by paved, unpaved and gravel surfaces. You can browse popular routes nearby - and can also search for bike shops and public bathrooms.
Upgrade to premium to download maps and view them offline, get turn-by-turn navigation instructions and preview route with coloured elevation gradients or in 3D mode.
Available for: iOS and Android
Price: Free (or ~£9/~$12 monthly, £35/$49 yearly)
Website: www.bikemap.net
Wattson Blue is a training app with a focus on recovery. It tracks your resting heart rate, heart rate variability and sleep directly within the app, or with data synced from an Oura ring. Changes in this can suggest overtraining, oncoming illness - basically signs it's time to back off.
The app also asks you about your sleep, nutrition, and pairs with Strava to monitor your training load - then charting your activity and recovery levels over time.
Premium membership adds to this by giving you a long-term view of your metrics to help you manage your training load, and periodise your training.
Available for: iOS and Android
Price: Free (or £3.99/$4.85 monthly, £29.99/$36.46 yearly)
Website: wattson.blue
This app allows experts and enthusiasts alike to add routes, which users can browse from anywhere in the world.
The app has really good versatility: use it for road riding and mountain biking, but also for walking and hiking, and if upgrading to Pro and Pro+ there's the ability to have live-tracking (signal dependent) and to save unlimited offline maps, so no signal no problem.
Outdooractive also processes the official data of national surveying bodies, route networks and terrain details into a uniquely detailed map which is available with the Pro and Pro+ plans.
Available for: iOS and Android
Price: Free (or ~£2.35/$2.85 monthly for Pro, ~£4.69/$5.70 monthly for Pro+)
Website: www.outdooractive.com
This comprehensive fitness app utilises the GPS function of Apple devices to create a host of statistics to help you log and improve your cycling performance. It records speed, time, distance and has an extensive array of workouts to follow, making it a virtual training partner.
The app also includes built-in announcements, so that you don't have to take your eyes off the road to know how you're doing. Recorded data can be uploaded to Strava and other ride sharing websites.
Advanced viewing and recording features are also available on the Elite plan, including automatic weather tracking, hybrid maps with traffic displayed and stop detection which pauses the recording when you stop, at junctions for example.
Available for: iOS and Android
Price: Free (or £9.49/~$11.53 yearly for the Elite plan)
Website: www.cyclemeter.com
If the weather or life juggling keeps you indoors, the CycleGo app is perfect for virtual training at home. No fancy hardware, connections or sensors required, just hop on an exercise bike and select the workout.
Audio voice guidance motivates you - along with music adapted to the workout -, while on-screen information tells you what pedaling speed, resistance level, standing/ seated, jumps/ sprints. It's essentially a group cycling class at home. You don't even need to have phone service to use, so a great one for hotel gyms when you have to take what you can get.
Personalised cycling plans are available if you upgrade and greater workout customisation is also offered.
Available for: iOS and Android
Price: Free (or £4.99/~$6.05 monthly, £35.99/~£43.65 yearly for premium)
Website: www.cycle-go.com
Best free cycling apps
GPS navigation for cyclists, CycleStreets' Journey Planner will plot a route from your selected start and finish points using not only roads (omitting divide highways and freeways), but also bike paths and car-free roads, and there's four route options to choose from, such as the flattest, quickest or quietest routes. There's also a function to find bike shops in the locality.
Alongside the routing features, there's also a cycling advocacy tool within the app. Photomap lets you submit photos of infrastructure problems in your area or browse examples of good practice across the country, and is used by campaign groups.
Available for: iOS and Android
Price: Free
Website: cyclestreets.net
Garmin's Connect software provides a link between your mobile device and Garmin Edge cycling computer or smartwatch to share data. The connection can work both ways, with a compatible Garmin GPS able to display weather data and notifications on your handlebars.
Data from the Garmin device goes into the mobile device, giving you a range of ways to display the numbers: charts, graphs, maps, etc.
LiveTrack lets friends follow your progress online as you are riding, and you can compete in weekly challenges and wirelessly upload activities.
Available for: iOS and Android
Price: Free (requires compatible Garmin device)
Website: connect.garmin.com/en-US
Few road cyclists can boast a pothole-free journey on their local roads, and up until the handy Fill That Hole app came along it was a struggle to report tarmac carbuncles.
Created by national cyclists charity Cycling UK, the plain-looking yet highly functional app allows you report the location of potholes, which are then forwarded onto the relevant local authority for attention.
You can also add a photo of the offending crater. We've tried it, and it works.
Available for: iOS and Android
Price: Free
Website: www.fillthathole.org.uk
Rather than dealing with individual rides, My Virtual Mission allows you to set an ultimate goal and then work towards it. So, for instance, you could use it for training towards your first 100-mile ride.
Rather than actually riding it, you set up the virtual journey on the app, and every time you cycle (or run) it plots the same distance on a map of your virtual journey, adding rides on each time you do them.
As a goal-setting and motivational tool, it's good fun. You could also use it to set up a long-distance ride for charity fund-raising, with the app including a function to track how much you've raised.
Available for: iOS and Android
Price: Free
Website: www.myvirtualmission.com
The weather plays a big part in any cyclist's life. There are few cyclists who don't check the weather forecast before leaving on a ride so that they can select the right clothing, whether that's putting on a one of the best waterproof cycling jackets when prolonged rain is about or taking a packable rain jacket for more changeable days, or, at the other extreme, applying cycling sunscreen before riding hot weather.
We've found the BBC Weather app to be simple and relatively accurate - the best of the weather bunch by far.
Price: Free
Website: www.bbc.co.uk
For those located outside the UK, Willy Weather is our go-to weather app, providing detailed weather forecasts and easy to read rainfall, and wind speed and direction information.
Available for: iOS,and Android
Price: Free
Website:www.willyweather.com
St John Ambulance First Aid For Cyclists
This is one of those apps that you hope you'll never need. St John Ambulance has produced a free app that guides you through first aid treatment for a range of common cycling-related injuries, so that you can treat yourself or others at the roadside.
The app deals with a very wide range of injuries, giving step-by-step advice and diagrams, plus it tells you what to do in a serious emergency.
It's worth noting that the first aid advice is based solely on UK protocols and only UK emergency service numbers are provided.
Available for: iOS and Android
Price: Free
Website: www.sja.co.uk
First Aid: American Red Cross
The First Aid app is in the same vein as the St John Ambulance app. It provides 22 learning modules covering everything scrapes and bug bites to broken bones and heart attacks. Each module covers what you need to know to render aid using step by step directions, instructional videos and FAQs.
Should you find yourself opening the app for the first time in an emergency situation, each module has an 'emergency' section, that will show you the basics while you wait for help. The app also allows you to trigger a 911 call, and be connected to EMS at any time.
Available for: iOS and Android
Price: Free
Website: www.redcross.org
Get The Leadout Newsletter
The latest race content, interviews, features, reviews and expert buying guides, direct to your inbox!