What is MyWhoosh? — What to know about the UCI's chosen virtual cycling platform
A complete guide to racing, riding and training on this up-and-coming virtual cycling platform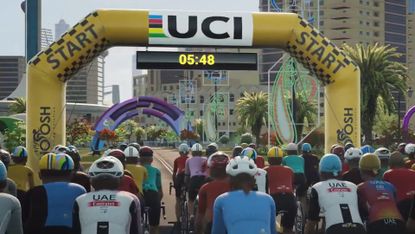 (Image credit: My Whoosh, screengrab by Christopher Schwenker)
Get The Leadout Newsletter
The latest race content, interviews, features, reviews and expert buying guides, direct to your inbox!
Thank you for signing up to The Pick. You will receive a verification email shortly.
There was a problem. Please refresh the page and try again.
When the UCI granted the online platform MyWhoosh the rights to organize the Esports World Championships for three years beginning in 2024, taking the event away from previous host Zwift, a collective "What is MyWhoosh?" could be heard echoing across the stunned virtual cycling community.
Contrary to belief, MyWhoosh is not a new entrant on the virtual cycling scene. It was founded in 2019 by Akhtar Hashmi, a CEO of various UAE-based technology companies, including Royal Technology Solutions. Like the latter, MyWhoosh is backed by substantial UAE government support and funding.
MyWhoosh aims to "blend the freedom of pedaling with simplified science, indoors, to motivate a global community with fun, fitness, and competition." That, and legitimize cycling esports. The platform is known for hosting big-money events, like the weekly Sunday Race Club series with a monthly prize purse of over $90,000. The $1 Million MyWhoosh Championship series in April 2023 boasted the largest payout in cycling esports' history yet.
MyWhoosh is also the official indoor cycling platform of the World Tour UAE Team Emirates and its star rider Tadej Pogačar. The platform works closely with team coaches and features in-game training content from the UAE Team Emirates performance group.
The unique relationship allows the public to experience the team's training regimen firsthand while providing the team a recruiting tool as well — not unlike Zwift and its Zwift Academy. Michael Vink's standout performances on the platform earned him a spot on Team Emirates.
What is MyWhoosh?
MyWhoosh is an online virtual cycling app with a racing focus designed to welcome the everyday user. The app has an extensive library of world-class workouts, training programs, group rides and a daily calendar of racing events.
The platform boasts top-notch graphics and offers a diverse and engaging range of courses and routes.
Equipment Requirements and Specifications
Like other platforms, MyWhoosh lets you link your smart trainer to your iOS, Android, or Windows device, enabling you to ride or race against cyclists globally. MyWhoosh is compatible with most newer Apple devices, including various iPad and iPhone models (iPad Pro 3, iPhone 11, and above), as well as Android devices (OS 10 and above with a minimum of 5 GB of RAM).
The platform's detailed graphics require a more powerful PC than most platforms. There is a noticeable quality and performance difference between the minimum and recommended specifications. MyWhoosh doesn't support Mac or Apple TV but a Mac build is underway.
Processor: Intel i5 7th Gen, AMD Ryzen 5
RAM: 8GB
GPU: AMD Vega 64, Nvidia GTX 1080 Ti
Disk Space: At least 10GB
OS: Windows 10 or 11
Recommended Specs for Windows
Processor: Intel i9 10th Gen, AMD Ryzen 9
RAM: 64GB
GPU: AMD RX6900 XT, Nvidia RTX 3090
Storage: NVME M 2.0 SSD (Free space of 15 GB at least)
OS: Windows 10 or 11
For the best experience on MyWhoosh, a smart trainer is essential equipment. Direct-drive indoor trainers come with a built-in power meter and variable resistance. These features measure your power output and send it to the app, moving your online avatar. The variable resistance simulates real-world conditions, increasing as you climb and decreasing on descents, making the virtual ride more realistic.
The app is compatible with various indoor cycling trainers, using either Bluetooth Low Energy (BLE) or ANT+ protocols. These protocols enable seamless data communication between your equipment and the app.
Getting Started on MyWhoosh
MyWhoosh is currently free to use. The first step is downloading the app for your appropriate device from the MyWhoosh website. Registering an account is standard practice and straightforward. Enter your name, age, nationality, weight and height. MyWhoosh uses your height and weight in its speed algorithms, so be as accurate as you can.
When on MyWhoosh's website, remember to enable integrations with third-party fitness and training apps like Strava, Training Peaks and Today's Plan. Also, keep an eye on the Activity Files section, where the app stores all your ride data in a fit file for easy download.
When your registration is complete and you open the app, the first screen you come across is—Select Profile. Tapping on the profile you created brings you to the Device Connection screen. The app searches for your devices, like the smart trainer, heart rate monitor, or power meter, and connects. The Gear icon on the top right of the screen brings you to Settings, where you can adjust equipment, display, and sound features.
MyWhoosh's recently updated User Interface is sleek and user-friendly, serving as the central hub for all rider experiences. Clicking the animated image on the far right takes you to the area for avatar customization, as well as kit and equipment selection. You can make your avatar look and dress to your liking. In addition, various in-game equipment choices with individual performance characteristics exist.
Free Riding, Pacing and Group Riding
MyWhoosh features 54 routes across four worlds based on real-life locations, including seven simulated Belgium routes, 11 in Colombia, seven in Australia, and 29 spread across Arabia and the Arabian Peninsula City of AlUla. Combined, the routes cover nearly 1,200 km and exceed 15,000 meters in elevation. Each course presents a unique level of difficulty and interest.
Click on the world of your choice to access a list of route descriptions with a map view and 2-D profile. Choose a route, tap "Ride," and you're on your way.
The Events tab of the UI accesses an extensive list of community group rides, races, group workouts, and MyBunch rides. The feature 'MyBunch Rides' enables riders of different skill levels to ride together. It offers eight "Bot Bunches" that maintain steady speeds in 2 kph increments, starting from 25 kph and going up to Team UAE speeds of 40 kph and beyond.
The MyWhoosh Events Calendar
MyWhoosh's recently revamped User Interface includes a convenient Events Calendar. The platform's calendar feature is a unique and innovative tool for planning your upcoming training, races, and events. It also serves as a log of your past activities.
All races and rides a user selects in the Events tab and connected third-party training plans or workouts will appear there. The platform supports the creation and organization of community events through its website. Are workouts with UAE Team Emirates riders on the horizon?
Training on MyWhoosh
Kevin Poulton, Strategic Partnerships Manager at MyWhoosh, aims to create a comprehensive virtual cycling experience that covers competition, community, and structured training. Leveraging his years of World Tour coaching experience, Kevin has introduced in-game training content that sets a new standard for effective indoor training at the sport's elite level.
The User Interface and Events calendar offers a wide range of individual workouts and complete training plans, catering to all skill levels and training needs. Do you want to train like a pro? The platform also features a selection of favorite workouts from pros of UAE Team Emirates.
Racing on MyWhoosh
MyWhoosh is Pro in its commitment and mission to elevate the standard of elite online racing. However, the platform continually upgrades options for racers of all ability levels with a daily calendar of events. MyWhoosh integrates AI-enhanced Bots to fill race fields.
The team at MyWhoosh prioritizes high-level esports racing and uses it as a catalyst for growth platform-wide. MyWhoosh hosts a weekly racing series called "Sunday Race Club" with a monthly prize purse of $96,000 spread over three categories, two genders, and team and individual classifications. The seven-stage 2023 MyWhoosh event awarded over $1 million USD.
The elite-level competition and big money attract top esports pros from across the globe. MyWhoosh aims to legitimize cycling esports through ground-breaking innovation and development of the industry's most robust validation, verification, and categorization model and a realistic race experience. MyWhoosh automatically runs each racer through a proprietary performance verification system for every elite-level event.
MyWoosh utilizes a dynamic categorization model. The race commission at MyWhoosh sets the limits based on registered participants and their historical data to attempt to prevent accidental miscategorization.
As for results, MyWhoosh calculates everything server-side and accordingly has the same delay and visuals that all online multiplayer video games have.
The game's physics and draft mechanics are a work in progress and haven't yet reached the realism of Zwift or indieVelo. While the on-screen steering buttons offer a new layer of engagement to rides and races, this feature could use some fine-tuning.
MyWhoosh's updated Esports Cycling Ruleset [V2.0.0], effective in September 2023, aims to tighten performance verification and categorization and bring the platform up to speed with the UCI's performance standards. The new pre-verification protocol includes a Power Passport Test, MyWhoosh's version of Zwift's ZADA testing. The forward-thinking improvements include a streamlined weigh-in procedure, a more rigid approved hardware list, video identity verification, and cycling identity validation through platforms like Strava, Training Peaks and real-world results.
The ruleset promotes community engagement, an area where MyWhoosh needs to catch up, lagging far behind industry leader Zwift and other platforms.
World Championship and Olympic Aspirations
The MyWhoosh team is all-in on growing this emerging sport through product investment and infrastructure development.
The ultimate goal for MyWhoosh? More UCI Cycling Esports World Championships, the Olympics, a professional racing league that pays racers a living wage and allows them to focus on esports, and continued technical development that lets fans engage with the platform and racers.
The possibilities are limitless for MyWhoosh and its dedicated team, resources, and commitment to legitimizing esports racing. MyWhoosh plans to appeal to the broader cycling community and coexist with the other available platforms.
The graphics are stellar, and the user-friendly interface and efficient calendar functionality are top-notch. The training plan and workout offerings have something for everyone, even the Pros. If you're a racer of any ability, MyWhoosh checks all the boxes. With steadfast commitment and substantial investment, MyWhoosh is securing its place in the virtual cycling and esports landscape.
Thank you for reading 20 articles this month* Join now for unlimited access
Enjoy your first month for just £1 / $1 / €1
*Read 5 free articles per month without a subscription
Join now for unlimited access
Try first month for just £1 / $1 / €1
Get The Leadout Newsletter
The latest race content, interviews, features, reviews and expert buying guides, direct to your inbox!
A physical therapist with over 25 years of experience, Christopher Schwenker is on a journey to give back to the cycling community for rewarding experiences and fulfilling relationships through the pages of his virtual cycling blog, The Zommunique, and his cycling-related non-profit, The DIRT Dad Fund.