Self-coached part-time worker Michael Vink on turning pro with UAE-Team Emirates aged 31: 'It's a big step up'
The New Zealander's life has been transformed in just five months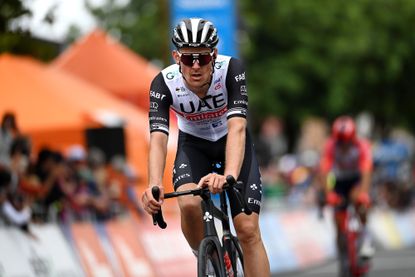 (Image credit: Getty)
Last September, Michael Vink was living like many other committed amateur cyclists around the world, still dreaming that one day they'd make it as a professional. He was saving money by not splashing out on a personal coach, and he had long since learned that being employed in the bike industry was the best way for him to keep pursuing his goal.
"I've been self-coached for the past few years," the New Zealander says. "I'm a guy who just loves riding my bike. I would wake up, check the weather forecast, see how I felt, and then do what I wanted. I was working on and off, a few different things all cycling-related, including in shops. I've got too much experience in the cycling industry to do something different."
Vink's story will be relatable to many around the globe. The catch is: he's 31. He'd been living this life on and off for the last 13 years, racing for various teams in the United States, Australia and New Zealand. He was a solid rider, national road race and time trial champion in 2012 and 2015 respectively, and he had came close to signing with professional teams in the past, but now his dream was surely extinguished. Especially given cycling's move toward ever younger personnel.
Then came a call in late September. It was from Mauro Gianetti, team principal and CEO of UAE-Team Emirates, the best-ranked men's team in the peloton. "He sent me a message asking if I was free to have a chat," Vink says. It wasn't totally out of the blue: Vink had performed well on the online training platform MyWhoosh which UAE had an affiliation with.
"I thought it was something to do with that as I knew the team had ties to the platform. I was expecting that he wanted a promotional thing or something," Vink continues. "Perhaps he just wanted to see what the guys on MyWhoosh were doing relative to the guys on the team. In the back of my mind though there was this two percent of me that was starting to dream that he had actually called me about a contract. I was thinking, 'maybe, maybe'."
Gianetti had seen Vink's power numbers and invited him for testing. Four weeks later, he called Vink again. "He said I had a one-year contract for the team, and a week later I was at the team's first training camp for 2023. It all happened so quickly."
The past five months have been a whirlwind for Vink. His story is not so dissimilar to that of his teammate Jay Vine who famously became a pro with Alpecin-Deceuninck following success on Zwift. The difference, again, is Vink's age. He's got seven years on two-time Tour de France winner Tadej Pogačar and more than a decade on Vuelta a España podium finisher Juan Ayuso. Both are now his teammates, yet he's the WorldTour newbie.
"When we go for a ride the day before a race and everyone's riding at 300 watts everywhere including up the climbs, it makes the racing not seem so bad," Vink laughs. "But I've been riding bikes a long time so the racing is second nature to me. A lot of the stuff is the same as an amateur, it's just a big step up."
Quitting his temporary jobs for a full-time one racing bikes for the sport's statistically best team is quite the career change. He's also earning significantly more than he would have done on a Continental team's wage. "It definitely makes a difference," he acknowledges. "It makes life easier, but in saying that it's not enough to retire on in five years' time, and that's good because it keeps me motivated, hungry to keep getting a contract."
A year-long deal is frugal, but he's already set about proving his worth as a domestique, appearing at both the Tour Down Under and Tour of Oman. "To be honest, it [the one-year deal] is not a stress, but it's always in the back of my mind, particularly because I'm not really exactly sure what the expectations are from me, and I also don't think the team are exactly sure what they should expect for me," he says.
"It's a case of seeing how we go and me putting my hand up and saying, 'this is what I can do, this is the value I can bring to the team, this is why you should give me another contract'. I know I have to perform every day.
"I can do a bit of everything - it's a case of where the team want me to specialise. I can definitely lose another three or four kilos and be a pretty good climber, but I don't have the horsepower on the flat so I think I'm best as a general domestique. But this year I will naturally find my place and then gravitate towards and focus on that."
Vink radiates enthusiasm, and it's obvious he's not daunted by the challenge of turning pro at an age many peers are entering the twilight of their careers. But he can't deny it's been a 180 degree change.
"I've been to Europe before but never for a sustained period," he says, further reflecting his freshness. "I've had to get a new apartment in Girona, I'm getting used to new training roads. And I've also got a coach now which is great. I wake up in the morning, look at my program, see it's a three hours day and that's it, that's my job for the day, and I'm getting paid. That's a pretty good situation to be in."
Thank you for reading 20 articles this month* Join now for unlimited access
Enjoy your first month for just £1 / $1 / €1
*Read 5 free articles per month without a subscription
Join now for unlimited access
Try first month for just £1 / $1 / €1