Meet indieVelo — Everything you need to know about virtual cycling's newest platform
Your complete guide to the new online virtual platform with a racing focus that welcomes the everyday user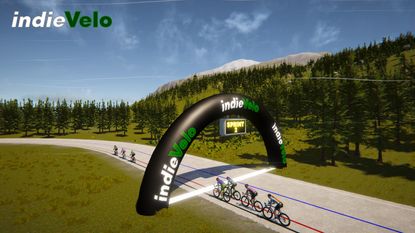 (Image credit: indieVelo)
Get The Leadout Newsletter
The latest race content, interviews, features, reviews and expert buying guides, direct to your inbox!
Thank you for signing up to The Pick. You will receive a verification email shortly.
There was a problem. Please refresh the page and try again.
During the pandemic, virtual cycling experienced a boom as platforms enjoyed record amounts of users seeking a safe outlet to pursue their cycling passion. With that popularity came several new platforms vying for a piece of the recreational and fitness-oriented rider community.
Launched in June 2023, indieVelo is the newest online platform, aiming to fill a different niche by setting a high standard in a way that will appeal to the masses. The platform was developed by two virtual cycling experts: Dr. George Gilbert, the former Chairperson of Cycling Esports at Zwift, and Bjoern Ossenbrink, the former head of the Zwift Accuracy and Data Analysis (ZADA) team. Built from the ground up with an esports racing focus, indievelo aims to meet the expectations of the competitive indoor rider and fitness-oriented set alike.
What is indieVelo?
indieVelo is an online virtual cycling app designed by experts in the field of cycling esports. Like all other platforms, it lets you connect your smart trainer with your computer (PC and Mac) and ride with or race against other cyclists worldwide from the safety and comfort of your home.
IndieVelo runs on a wide range of desktop and laptop computers (minimum specifications Windows 10 64-bit and MacOs 10.13.0 High Sierra). The app isn't yet available for Apple TV, iPad, iOS mobile or Android but there are plans for future compatibility.
Instead, the developers have prioritized time and resources to create a realistic cycling experience by innovating the technology of cycling esports. indieVelo's proprietary RPTR Engine—Ride, Pace, Train, Race— uses the laws of physics and sophisticated Artificial Intelligence (AI) algorithms to make indoor riding as lifelike as possible. The drafting sensation, wind, braking, cornering and other enhancements simulate the dynamic aspects of real life and bring the immersive feel of outdoor riding inside.
Don't expect to be astounded by indieVelo's graphics or gamified elements, however. The simple appearance is another sacrifice indieVelo's developers made to focus on ensuring the ride experience is authentic and engaging. If aesthetics aren't your priority, you likely will not be disappointed. There's a Ferrari engine purring under the hood of that minivan, but you won't find any randomly generated turbo boosters.
What Equipment Do You Need For indieVelo?
To thoroughly enjoy the app, a smart trainer is essential. Indoor trainers with a direct drive design typically include a built-in power meter and variable resistance. They measure your power output and send the data to indieVelo, propelling your online avatar. The variable resistance mimics real-world riding; it increases as you go uphill on-screen and decreases when you go downhill, enhancing the virtual cycling experience.
The app supports a wide range of indoor cycling equipment on the market using Bluetooth Low Energy (BLE) or ANT+. BLE and ANT+ protocols allow the equipment to communicate your data with indieVelo.
indieVelo uses your smart trainer as a primary power source. The connection provides the power data you produce while giving you the immersive feel of resistance due to gradient changes on the virtual courses.
Data from a secondary power source, like a power meter, is also possible and encouraged. It gives an extra layer of credibility to the power data. indieVelo supports dual recording of power data in one FIT file for analysis. In addition, riders can pair all BLE CSC cadence sensors and BLE heart rate monitors.
How to Get Started on indieVelo
indieVelo is currently free to use while in the Beta phase of development. Dedicated platform users interested in helping to guide the roadmap can join the Founder's Club. This optional $12.99/month subscription buys you some perks and ensures subscribers continue to enjoy the discounted pricing when indieVelo becomes a commercial offering.
The first step is to download the app. Since it's still in Beta, prospective users can visit indieVelo.com for an exclusive download link. Registering an account is a straightforward process.
When complete, the first screen you encounter is The HUB—indieVelo's central page for ride experiences and logistics.
Proceed to the Profile tab to enter your details, like name, age, nationality, weight, and height. indieVelo uses your height and weight in its speed algorithms, so be as accurate as you can.
In your virtual cycling profile on indieVelo, you can manage various aspects of your experience. Active Team allows you to choose your in-game team for racing and comradery. Avatar Display lets you customize your appearance, kit, and bike. Follow Friends enables following others for in-game notifications and community challenge progress tracking. Training Zones can be configured to set personalized training levels. Connected Accounts automatically upload your rides to third-party sites like Strava. Activity History, Event History, and Ranking History help you track and review your rides, events, and rankings over time. Critical Power monitors your power curve, and Statistics provides various in-game analytics.
The Options tab contains various settings enabling you to customize the indieVelo experience. Audio Settings lets users control the sound levels of in-game noises and background music. Graphics Settings allows you to fine-tune the display quality to match your computer's capabilities. UI Settings changes customize the look of your display while riding with individually adjustable elements. Trainer Settings allows the rider to control the feel of their trainer in various scenarios like terrain changes, wind, and workouts.
Most notably, that's where you will find the Equipment Pairing screen to connect your devices. The app will automatically detect your equipment and illustrate the connection in the display. Once that's all complete, you're ready to ride.
Free Riding, Pacing and Training on indieVelo
indieVelo's virtual island is an expansive cycling environment with 17 distinct routes covering over 170 miles, including a velodrome. You'll find eight Pacebots of varying abilities along these routes, acting like constant group rides that continually circulate through the virtual world.
The platform strives to replicate the dynamic aspects of real-life riding by incorporating elements such as wind, braking and cornering, enhancing the authenticity of the virtual riding experience. On the user screen, a map window displays the wind's speed and direction and information about drafting and the current road gradient.
A unique aspect of indieVelo is the deliberate choice not to display other riders' power-to-weight ratio (wkg). This decision reflects the philosophy of the platform's creator, who acknowledges the importance of a rider's weight in determining speed but sees no benefit in publicly sharing this information.
indieVelo organizes regular community challenges with leaderboards to foster healthy competition among users. These challenges occur over a defined period, currently every month, allowing participants to contribute to the results throughout that time frame.
The platform also offers practical features for training and tracking your progress. indieVelo supports automated FIT file uploads to various fitness platforms like Strava, TrainingPeaks, Today's Plan and intervals.icu. Additionally, it provides a library of training workouts and allows the import of third party ZWO, ERG and MRC files, catering to various training needs and preferences.
indieVelo analyzes your data and tracks your Critical Power curve, offering suggestions on areas of improvement, and has fully configurable training zones for power, heart rate and cadence. Along with the innovative features previously mentioned, indieVelo offers training plans, challenges, a "Take a Break" function and a "Join a Rider" teleporting feature, all commonly found on other virtual cycling platforms.
Racing on indieVelo
Racing is at the heart of indieVelo, with events starting every five minutes and various race formats available, including Time Trials, Scratch Races, Points Races, Team-based Races and Elimination Races.
indieVelo offers racer-focused features like on-screen real-time points calculations, rider elimination notifications, gap timers and custom in-game kits. The platform continually develops designs, variations and enhancements to improve the racing experience.
The platform includes a user interface for custom event creation, individualized broadcast streaming, and API access, allowing for a personalized and extensively customizable virtual cycling experience.
indieVelo integrates AI-enhanced Racebots to fill race fields. These bots emulate classic cycling roles like climbers, sprinters, and time trialists, each performing based on a unique CP/W model. They even experience fatigue and need recovery time, operating under the same rating and ranking system as human riders.
The platform uses a proprietary rating algorithm to match racers of similar skills, independent of FTP or power-to-weight metrics. This Elo-like system is simple but effective, pairing riders of similar abilities for engaging races. Racers start with a base rating that changes based on performance, with penalties for dropping out after completing 30% of the race.
The approach ensures consistently challenging races by matching competitors with similar skill levels, eliminating unfair advantages and sandbagging behaviors. indieVelo prioritizes credibility and genuine athletic performance with a performance verification team led by Ossenbrink. They utilize proprietary data modeling and real-time monitoring of a racer's Critical Power (CP) curve.
Building on years of partnership in ZADA, the team leads the industry in detecting cheating and recognizes the ever-changing nature of the landscape. indieVelo also facilitates dual recording by combining smart trainer and power meter data into a single in-game FIT file, further ensuring fair competition.
indieVelo's For All Users
indieVelo's race-focused development path shouldn't be intimidating. The virtual cycling platform has all the quality-of-life enhancements the everyday user wants in a powerful, streamlined package. While still in the early phase of its evolution, the high standard set points to big things to come.
The user interface is simple and intuitive. The ride feel is lifelike, immersive, and engaging. indieVelo is a suitable solution for any rider seeking an effective indoor riding option. If you're a racer, then it's a no-brainer.
The future is bright for indieVelo users to impact the direction of cycling esports. indieVelo is on track to move to open-Beta by early September 2023.
Learn about the other leading virtual cycling apps
- What is Zwift: all you need to know about the online training and racing platform
- Wahoo RGT (Road Grand Tours) and Everything you need to know
- Rouvy indoor cycling app explained and all you need to know to get started
- Best indoor training apps for cycling: virtual riding platforms and training analysis apps
Thank you for reading 20 articles this month* Join now for unlimited access
Enjoy your first month for just £1 / $1 / €1
*Read 5 free articles per month without a subscription
Join now for unlimited access
Try first month for just £1 / $1 / €1
Get The Leadout Newsletter
The latest race content, interviews, features, reviews and expert buying guides, direct to your inbox!
A physical therapist with over 25 years of experience, Christopher Schwenker is on a journey to give back to the cycling community for rewarding experiences and fulfilling relationships through the pages of his virtual cycling blog, The Zommunique, and his cycling-related non-profit, The DIRT Dad Fund.