Rouvy indoor cycling app explained and all you need to know to get started
Here's a look at the indoor cycling app features, including Strava Live segments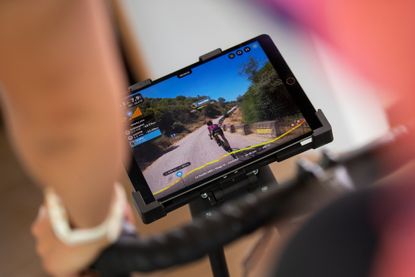 (Image credit: Rouvy)
Rouvy is an indoor cycling app which overlays GPS data with real-life video footage to create a mix of augmented reality of animated 3D riders with real life videos.
This recreation of the outdoor environment now boasts a library containing over 10,000 videos, 10,000 workouts and 70,000 GPS routes.
If that's not enough, it also gives away $20k in prizes and giveaways every year to riders using the app.
If you're wondering what 'augmented reality' looks like, it's effectively takes real world routes, and projects animated 3D images of riders on to them. It's a bit like riding through Google street view.
If you've landed on this page as a newbie to indoor cycling, you might find yourself needing to start at the start with your home riding set up. The good news is that Rouvy is very similar to the other popular indoor riding platform Zwift, so our page dedicated to helping you find answers to Where can I get the cheapest Zwift set up really helpful in saving you some cash on the initial outlay.
Rouvy features
The great thing about Rouvy is that you can choose been tackling a famous col, ride a stage of a Grand Tour, or even upload your own regular circuit and ride it from the comfort of your own home.
Rouvy has grown massively over the past couple of years and according to the brand now has a community of over 1 million unique web visitors each year, with hundreds of thousands of registered uses.
It's currently global reach is 238 counties, with riders choosing one of the multiple riding options.
Iconic climbs like the Stelvio Pass and Alpe d'Huez. It also has a partnership with the the UCI allowing users to ride events, to complete stages of the race from home - so of course it was the logical choice for organisers planning to recreate a virtual version of the UCI stage race.
Rouvy X Strava Live Segments
New for 2022 is the Rouvy collaboration with Strava, on Strava Live Segments.
This integration allows riders, who are both Rouvy and Strava users, to enjoy the added element of competition. Virtual riders will represent the Strava leader board, allowing you to judge your effort against the leading athletes on that segment.
While you can compare your performance on the Strava Live Segment to the QOM/ KOM leader board, you can motivate yourself further by racing against your previous best time in a head to head challenge, like some athletic ghost of your past achievements.
It's a new feature that is only available on Rouvy, and could be a great motivational or pre-event practice when getting out in winter months or or geographically unable to get to ride the actual route in person.
Edit your own videos
If that's not enough, since it's an open platform, riders are able to download an additional 'Virtual Training Route Editor' app. You can then ride (or even drive) your own route with one of the best bike and helmet cameras and upload it to Rouvy so that you and others can then ride route using footage alongside real life elevation changes at home.
Competitions on Rouvy
As per other industry leading apps, Rouvy eRaces, offers group rides and time trials, as well as saved 'personal bests' in order to challenge and motivate yourself.
Rouvy also offers you the opportunity to work through the 'Career' ranks. All riders begin as a 'Starter', with the final rung on the ladder being a 'Rouvy Legend'.
You gain 'points' - based upon Training Stress Score (TSS) for time spent training, and there are tasks that must be performed to reach the higher levels such as ascending 15,000 feet or completing five online races, with healthy cash prizes, of up to $10,000 to win along the way.
There are also 'Challenges' on offer, some of which are sponsored by brands, with more prizes available.
Rouvy workouts
For those using the app to complete structured intervals, there are 10,000 saved workouts plus a custom workout builder, FTP and ramp tests as well as compatibility with Training Peaks, Strava and social media platforms.
If you ever find yourself unsure of what session to do, the app can provide you with the 'Training Peaks Workout of the Day', which will lay out set intervals for you without any pre planning on your part.
What do you need to use Rouvy?
Do I need a lot of equipment to get going with Rouvy?
In order to immerse yourself in the Rouvy world, you'll need either a smart trainer or smart bike, or you can opt for a standard turbo with a speed/cadence sensor, though this won't allow for resistance changes to match elevation in the virtual world.
But anyone can use it, it's an open platform so you don't need anything specific to be compatible. The app pairs with iOS, Mac, Windows, Android and Apple TV devices as well as all turbos.
Is Rouvy free?
And if not, how much do I have to pay?
Yes and no!
Like other online indoor cycling platforms Rouvy offers a 14day free trial of it's app.
Once you've used up your free trial, it's pricing is scaled depending on how long you commit to a subscription.
If you want to roll month by month it's 15EUR. Signing up for six months will save you 7% and cost 14EUR a month (or a one off payment of 84EUR). If you commit to a full year, it will save a worthwhile 20% on the monthly rolling contract at 12EUR a month ( or a one off payment of 144EUR) .
If you want to take advantage of the Strava Live Segments, you'll also have to set up a Strava subscription which can range between £6.99 / $5.00 and £47.00/ $59.99 a year depending on your commitment.
The good news is that Strava offer a 60day free trial, so you can really try this feature out before you buy.
Thank you for reading 20 articles this month* Join now for unlimited access
Enjoy your first month for just £1 / $1 / €1
*Read 5 free articles per month without a subscription
Join now for unlimited access
Try first month for just £1 / $1 / €1