Where can I get the cheapest Zwift setup?
All you need to know about the cheapest Zwift set up at home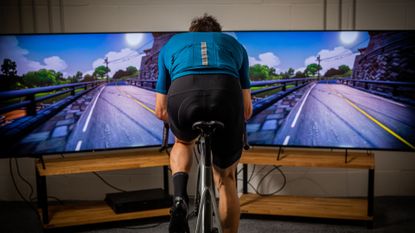 (Image credit: Future)
This year Black Friday is running from November 24th - 27th. We've rounded up all the best Black Friday bike deals - spanning fully built bikes, components and tech - in our main hub page. You're guaranteed to find a bargain.
Zwift is a great platform for training and racing, enabling you to execute precision training plans for hitting your fitness goals – as well as the ability to connect with cyclists across the globe in group rides and races.
There are many different ways of getting set up riding on Zwift, which on the one hand is great, as it means there are configurations which'll work for every type of budget. But on the other hand, it does mean it can be a little confusing working out what would be the best setup for you.
To boil things down, there are three main ways of achieving a setup which will allow you to ride the virtual roads of Zwift. They are:
A 'dumb' turbo trainer with a speed/cadence sensor
A 'dumb' turbo trainer with a power meter
A smart turbo trainer with an integrated power meter
We'll go through the pros and cons relevant to each setup and our recommendations of the best products – which balance both price and performance – for each of these. Further down, we cover compatible devices for running the Zwift application, with options for the best – and the cheapest – Zwift experience.
>>>>> Setup #1
A 'dumb' turbo trainer with a speed/cadence sensor
The cheapest option for riding on Zwift is using a standard turbo trainer paired with a speed and cadence sensor that connects to Zwift via ANT+ or bluetooth.
When using a standard turbo trainer that doesn't transmit data with a speed and cadence sensor, your in-game effort is generated by virtual watts called zPower. Zwift translates the speed from the turbo trainer into watts using a estimated power curve. The company has tested a range of turbo trainers to calculate the watts required on each trainer for speed-based power.
Although not as accurate as power meters, you will be able to train in the virtual world and take part in group workouts with zPower. However some races will DQ you in the final results on Zwift Power if you race with zPower. So if you are investing in Zwift for its racing opportunities read past this section to the power meter options.
Image 1 of 1
LIFELINE TT-01 TURBO TRAINER W/ Wahoo RPM Speed And Cadence Sensor
Best for maximum value
Specifications
Flywheel: Magnetic-resistance
Wheel size: Road and mountain bike wheels between 700c, 29", 27.5", 26" and many 24" wheels
Width of rear fork: Most 120mm - 180mm frame widths
Max watts: Approx. 800
Reasons to buy
+
Super cheap
+
Can fold away easily
Reasons to avoid
-
Not an all-in-one package makes it less quick to buy
This is among the cheapest setups to get you rolling on the virtual roads of Zwift. Using your speed and cadence data, Zwift can estimate the power you're putting out and therefore how fast you should be going. It's not as accurate as using a power meter, but you'll still be able to ride around with your friends and get a hard workout in.
With its magnetic resistance and progressive power curve, the LifeLine TT-01 turbo trainer uses a tried and tested technology that's designed to simulate real riding dynamics.
You may already have a wheel-on turbo trainer similar to this tucked away somewhere in your garage or loft – if so, then all you need is to dig that out, attach a set of speed and cadence sensors to your bike and away you go. If this is the first wheel-on trainer you'll own, just check whether your bike has quick release or thru-axles at the rear end – if it's the latter, you'll need to pick up a thru-axle adaptor to get your bike to fit.
There are cheaper speed and cadence sensor on the market, but we would recommend going with Wahoo's offering here. The increase in price isn't so large and we think its worth it for their reliability and customer care.
Image 1 of 1
Tacx Boost Trainer Bundle
Best for low cost simplicity
Specifications
Flywheel: Magnetic-resistance
Wheel size: Road and mountain bike wheels between 700c, 29", 27.5", 26"
Max watts: 1,050
Reasons to buy
+
More accurate power approximation than most wheel-on turbos
+
All-in-on simplicity
+
Reasonably high resistance
Reasons to avoid
-
Not as cheap as buying the trainer and sensor separately
Alternatively, if you'd prefer to pay a little more for the simplicity of an all-in-one purchase, Tacx offers a bundle of its Boost wheel-on trainer model with the speed and cadence sensors you need to get set up on Zwift.
Plus, as the Boost is a supported trainer on Zwift, the power approximation derived from the speed and cadence sensor will be a little more accurate than with an unsupported trainer.
When we had the Tacx Boost on review, we were impressed by the range of resistance levels and the compact size it folds up to. Although it does get a bit noisy at higher power levels, it's not out of line with other wheel-on turbos and its respectably quite at medium to low wattages.
Like the LifeLine TT-01, the Tacx Boost isn't compatible with thru-axles from the off. But, again like the LifeLine TT-01, there is an adapter kit that's available to be purchased separately.
>>>>> Setup #2
A 'dumb' turbo trainer with a power meter
If you already own a classic (non-smart) turbo trainer, investing in an external power meter is a an ideal option for a more accurate method for obtaining power data than speed/cadence sensors alone.
It saves replacing your current turbo for a more expensive smart version – although you do miss out on course gradient simulation that a smart trainer offers.
Obviously, there's a significant price hike relative to purchasing only speed and cadence sensors – but you do gain a significant upgrade to your bike, enabling you to keep track of your numbers on every ride, both at home and out on the road.
Image 1 of 1
Cheapest power meter for Shimano cranksets
Specifications
Accuracy: ±1%
Reading type: Left leg
Battery type: Coin cell
Reasons to buy
+
One of the most affordable power meters on the market
+
Easy to fit
Reasons to avoid
-
Only the left leg is measured
Even at full price, 4iiii's left-side power crank represents a bargain compared to other power meters – when you can take advantage of a discount, it really is a must. For less than half the price of a smart turbo trainer, 4iiii's Precision Power Meter equips you with accurate power data that you can use for training and racing on Zwift, as well as outdoors.
We've been roundly impressed by the accuracy and durability of 4iiii power meters here at CW. The low cost means if you have more than one bike, it can actually work out cheaper to buy a couple of these than it is to swap one set of power pedals between bikes – It's also much less of a faff.
With this model, only the power from your left leg is recorded. So if you do have a significant strength imbalance, this won't be picked up in the way that a dual-sided power meter or smart turbo trainer would.
Image 1 of 1
Best crank-based power meter for versatility
Specifications
Accuracy : ±2%
Reading type: Right and left leg (with upgrade)
Battery type: Coin cell
Reasons to buy
+
Reliable and accurate live data
+
Universal standard 110mm BCD (bolt circle diameter) across chainring sizes, working with big three component manufacturers
+
Both leg reading compatible
+
Frequent self calibration
+
Ease of setting up
Reasons to avoid
-
Have to use an FSA chainset
-
There are lighter power meter options
-
30mm spindle only
-
Chainset power meters are not the easiest to transfer across bikes
If dual sided power readings are what you are after, then the FSA Powerbox power meter is one of the most cost effective ways of achieving that.
On test, we found the power meter to deliver reliable and consistent numbers, breaking down the split between the right and left leg. Other power meters do offer accuracy down to ±1%, but we found the ±2% of the FSA Powerbox to be perfectly sufficient for targeted and effective training.
Its claimed weight is 738g means is not one of the lightest power meters out there, but for indoor riding this is inconsequential. That said, if you're not just looking for the cheapest Zwift set up at home, you can always invest in the higher priced hollow carbon-crank version.
Compatible with Shimano, Zipp and Campagnolo drivetrains, and different sized chainrings and length cranks available makes it pretty versatile option.