4iiii Precision power meter review
At just 9g the 4iiii Precision power meter is the lightest on the market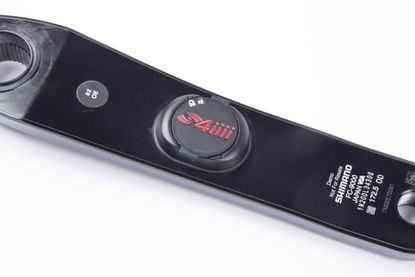 Overall I have been very impressed with the 4iiii Precision power meter. Being left side only, it will never be as accurate as a dual-sided unit. However, by being single sided it is considerably cheaper. It is sufficiently accurate and consistent for most riders to gain useful information that will improve their training and therefore I can highly recommend it. The weight is also an attractive proposition, with the 4iiii being the lightest power meter on the market. So far it has worked very well, although having tested the unit for a month I will update the page if there are any long-term reliability issues.
Reasons to buy
+

Price

+

Easy to fit

+

Ridiculously light

+

You can account for left/right imbalance

+

Scale factor adjustment
Reasons to avoid
-

Left side only not for everyone

-

We noticed some inaccuracy at high intensity

-
You can trust Cycling Weekly. Our team of experts put in hard miles testing cycling tech and will always share honest, unbiased advice to help you choose. Find out more about how we test.
The 4iiii Precision power meter is a left-side-only, crankarm-based power meter. It can be purchased with a crankarm, or alternatively you can send your crankarm off to the company and it will fit the 4iiii Precision pod for you and post it back. The pod runs on a single CR2032 coin battery which, according to 4iiii, currently gives about 120 hours of battery life.
A Shimano 105 crank equipped with the unit costs £379, which is roughly in line with the price of a Stages power meter. If you send your own crank off to 4iiii, it will also charge you £379. In the meantime I have a 4iiii-equipped Dura-Ace 9000 crank to review (£549)
Buyer's guide to power meters - which is right for you?
Ease of fitting depends on your crankarm manufacturer. In the case of Shimano, it is a five-minute job. The 4iiii is to my knowledge the lightest power meter on the market with a weight of just 9g including the battery. This makes it a very attractive proposition to those building lightweight machines.
4iiii Precision power meter: accuracy
At the heart of any power meter is accuracy and 4iiii claims +/- 1%. To test the accuracy of the 4iiii Precision power meter I tested it against two known power meters I currently have – PowerTap P1 pedals and the Tacx Neo direct drive turbo trainer.
I performed a series of efforts and rides across different lengths and intensities. On the same test ride, here is an example of how the 4iiii's data compared with the PowerTap P1:
4iii Precision Max Power - 717W PowerTap P1 Max Power - 746W
4iiii 20 secs - 653W PowerTap P1 20 secs - 668W
4iiii 4 min - 256W PowerTap P1 4 min - 248W
4iiii 1 hour - 154W PowerTap P1 1 hour - 156W
4iiii Cadence Av 69 PowerTap P1 Cadence Av - 71
4iiii Cadence Max 131 PowerTap P1 Cadence Max - 102
From this data, we can see that the 4iiii reads considerably lower than the PowerTaps at high intensities. The discrepancy on the 4min effort is down to left-right balance. The PowerTap P1 pedals are dual sided and I tend to have a slight imbalance of 51/49 in favour of my left leg. The 4iiii measures left-leg power only and doubles it, which means that it will often give me a slightly higher score.
Over the course of one hour, the two meters are very consistent with each other, suggesting only a 2W discrepancy. A bigger difference was seen on the cadence. The 4iiii precision appears less accurate in this area and did experience a small spike of 131.
While comparing the 4iiii Precision with the Tacx Neo, I performed a 20min interval at a target power of 290W. The Tacx Neo recorded an average power of 284W over 20 mins, while the 4iiii gave me an average of 295W. I would expect the Neo to read slightly lower owing to drivetrain losses and this is consistent with other meters I have tested. I can attribute the rest of the discrepancy to my left/right imbalance.
I know from extensive testing that in an effort of this intensity and duration I am slightly left-leg dominant (typically 1-2 %). Because the 4iiii measures the left leg only and effectively doubles the reading, this means my score is slightly inflated. Note that this is the case with all left-only power meters. For the majority of training and riders this is fine, but it can become a problem in time trials.
If you are intending to tread the tightrope of functional threshold power in a 25-mile TT, then a left-right balance discrepancy of just 1-2% can make a significant difference. It is also something to think about if you have a history of single-leg injury.
Imbalance Correction
Fortunately, a selling point of the 4iiii Precision, is the ability to correct for an imbalance. You can adjust the scale factor to account for a known imbalance and you can also use this the make the 4iiii consistent with other power meters you may run or own. This is a welcome feature over many left only power meters on the market, but it doesn't entirely solve the problem, as I know from analysing lots of ride data, I am never always at 49/51. Sometimes I am 50/50 for considerable periods depending upon the intensity.
It is worth noting that 4iiii also makes a more expensive dual sided unit, the 'Precision Pro' which is used by Quickstep and Bora Hansgrohe
Watch - How to perform a critical power test to get the most from your power meter
Durability
How does the 4iiii cope with riding in the rain? Many users of Stages power meters have experienced reliability issues relating to water ingress. I have ridden the 4iiii Precision on three wet and rainy rides and have also cleaned my bike with a hose. So far I have experienced no issues with regard to water ingress. However, I must stress that only longer-term use will give a true reflection of this. Initial testing is positive in this regard.
One thing to be aware of is compatibility issues. On bikes with bottom bracket-mounted rear brakes, left crankarm-based power meters such as the 4iiii and Stages can sometimes catch as there are clearance issues. It is worth checking your particular frameset if you think this may be an issue.
Thank you for reading 20 articles this month* Join now for unlimited access
Enjoy your first month for just £1 / $1 / €1
*Read 5 free articles per month without a subscription
Join now for unlimited access
Try first month for just £1 / $1 / €1