Limits BIA power meter review - Affordable? Yes. Transferable? Yes. Reliable? Probably not.
A power meter that promises much although there's a way to go with accuracy, connectivity and build quality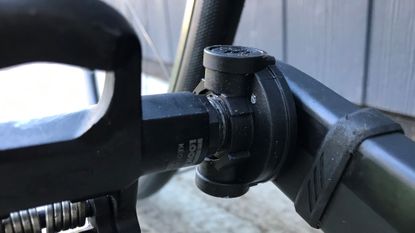 (Image credit: Rachel Sokal)
The Limits BIA is an innovative and affordable power meter. Its bolt-on (in?) design makes it a great choice for those wanting to try out a power meter without the expense and hassle of it being integrated into part of the drivetrain. But it's far from perfect. It will make a substantial difference to your stance width and its accuracy, connectivity and calibration can be problematic.
Reasons to buy
+

Price

+

Compatibility across bikes
Reasons to avoid
-

Impact on stance width

-

ANT+ and Bluetooth connectivity and calibration can be difficult

-

Accuracy variable

-

Durability of battery covers and other small parts
For most riders there are two main limitations in getting started with a power meter: cost and compatibility. Power meters can be ridiculously expensive – comfortably $/£1,000 - a cost which is amplified by being integrated to another expensive part of your bike like a crank or a pedal. And then there's the lack of compatibility, or transferability, onto other bikes you might own now or in the future. Somewhere in the back of my garage I've kept the non-power meter crank that I'll need to swap back onto my bike in place of the power meter one that I'm currently running, which may or may not be compatible with any future bike I own…. You get the drift.
Step (or should that be spin?) forward the BIA power meter from the crowdfunded company Limits. Unlike other power meters which are integrated into part of your drivetrain, the Limits BIA is a separate component which sits between your pedal and crank. This means it can be fitted to any bike regardless of crank, bottom bracket and pedals. And at $280 / £229 it's also one of the cheapest power meters on the market today.
Limits BIA: design and construction
The Limits BIA is a one-sided power meter, the current version was launched in 2022 with a claimed power accuracy of -/+2%.
It consists of a small circular plastic and carbon fibre unit with metal pedal / crank threads as well as a plastic cover that clips over for additional protection. It's 42mm in diameter and 18mm thick. To balance out the pedals, an 18mm spacer is included to add between the right pedal and crank. Adding 18mm between each pedal and crank will substantially increase your current stance width (the distance between your pedals; an extra 36mm to a typical 150mm on a road bike). How much this matters is something we've considered before in our guide to Q-Factor.
Total weight is 97g which is pretty close to the weight of some pedal power meters. Battery life is a claimed 80 hours. Waterproof rating is IP54, meaning it only has protection from 'water splashes' so is unlikely to stand up well to winter or off-road riding.
Limits BIA: fitting
Included in the box is everything you need for installation save a pedal spanner / hex key, grease and a coin for the battery cover.
Fitting the battery covers is a little tricky as it's not that easy to see or feel how well lined up they are and there's not a firm end point. There are tell-tales on the edges of the covers and unit which I found critical to getting the cover on properly. However, with the protective plastic cover on the power meter itself, it isn't possible to see these marks so you need to pay attention to which way the slots are orientated. You can see from the picture that the cover doesn't appear that tight when it's on.
Limits say they've designed the cover to break if it's over tightened to protect the main unit. Two spare covers are included for this eventuality.
A blue indicator light tells you when you have got the batteries correctly installed. You need to take care not to obscure the light when installing the power meter cover.
Batteries in, fitting to your bike is reasonably straightforward and I found the instructions easy to follow (although the supplied web address and QR code take you to a dead link). After removing your pedals you first install the power meter and spacer (on the right) with an 8mm hex key before reattaching the pedals. The process varies depending whether your pedals have spanner flats for installation (the most simple) or use a hex key. If, like mine, they use an 8mm hex key then you need to use the 6mm extender with 8-6mm shim (both included) which then remains in your pedal. Recommended tightening torque is 30Nm so it might be a job you ask your local bike shop to do if you don't have an appropriate torque wrench.
This system worked fine on the bike, but when I came to remove the power meter one of the two shims / reducer in the pedal had disintegrated. Luckily this didn't jam my pedal thread but does mean I can't refit into my 8mm hex pedals unless I get a replacement.
It takes a good few minutes spinning unit you can pick up the ANT+ signal and connect to your head unit and calibrate, which isn't unusual for some power meters. Once transmitting, I had no issue connecting to my Garmin Edge 1000 and Edge 500 head units via the 'add sensor' function.
The unit is Bluetooth enabled but it's recommended that you connect via ANT+ so you can properly calibrate via a head unit. This means that although you can connect via Bluetooth to indoor training apps on your devices the data may not be very reliable (unless you use an ANT+ dongle).
You can only connect through ANT+ or Bluetooth, not both at the same time and the BIA doesn't automatically detect a change. To switch both receivers on again you'll need to loosen and retighten the battery cover which is far from ideal especially given the fragility of the covers.
The Limits app will soon be released which will improve connectivity, allow for automatic firmware updates (currently actioned through emailing Limits support) and enable calibration without the need for a head unit. For those with a 'dumb' turbo trainer, one of the big benefits of this will be the ability to connect and calibrate via Bluetooth to indoor training apps.
Limits BIA: the ride
The first unit I tried the Limits with was my Garmin Edge 1000 where I set my crank length and calibrated as per instructions. Despite calibration, my power readings were 100 watts or so higher than what the Wahoo Kickr and 4iiii crank were showing. I went through the process several times on several different occasions but the head unit didn't seem to zero-offset the large calibration number that was returned.
Rather pleasingly, a Garmin Edge 500 with older Garmin software on it didn't share this problem and readings correlated well with the two other power meters. I've never had this problem with my Edge 1000, but I can't say for certain whether the issue lies with the Limits or this head unit.
Once I'd got things set up there was reasonably consistency between the power data from the Limits BIA and the comparison 4iiii and Wahoo Kickr. At consistent efforts (with my indoor trainer set to erg mode) there were a 5-10 watts difference, well within the +/-2% accuracy of the BIA and 1% of the Kickr. With the erg mode off, the Limits data was quite a bit spikier than that from the other meters. Whether you find this acceptable is a personal thing.
Limits BIA: value and conclusion
At $280 / £229 the Limits BIA is one of the lowest priced power meters currently on the market. Alternative power meters at this end of the market include one-sided cranks like 4iii, Stages and FSA which all retail at $300- $380 / £250-300.
The Limits BIA is a great affordable option for those who want to try out a power meter. It's very competitively priced and its transferability between bikes makes it even better value for money. But it's far from perfect. You may struggle with ANT connectivity and calibration and you can't currently connect to the best indoor training apps via Bluetooth. The effect on stance width may or may not be an issue for you.
Thank you for reading 10 articles this month* Join now for unlimited access
Enjoy your first month for just £1 / $1 / €1
*Read 5 free articles per month without a subscription
Join now for unlimited access
Try first month for just £1 / $1 / €1
Rachel has been writing about and reviewing bike tech for the last 10 years. Cynical by nature, Rachel never really trusts the marketing hype and prefers to give products a mighty good testing before deciding whether they're worth buying or not.
Rachel's first riding love is mountain biking where she's been European and UK 24hr Champion on more than one occasion. She's not just confined to the trails though and regularly rides - and occasionally races - on gravel and road too.