Best bike and helmet cameras 2023 reviewed
Filming a great ride, or adding an extra layer of personal protection, we help you find your perfect bike or helmet camera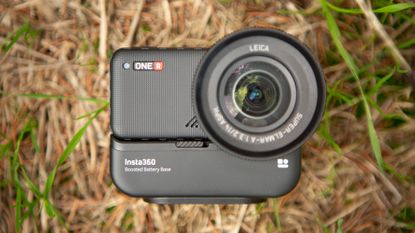 (Image credit: Josh Ross)
Get The Leadout Newsletter
The latest race content, interviews, features, reviews and expert buying guides, direct to your inbox!
Thank you for signing up to The Pick. You will receive a verification email shortly.
There was a problem. Please refresh the page and try again.
Sometimes called action cameras, helmet cameras or adventure cameras, bike cameras are small and incredibly designed cameras that can capture HD footage without weighing you down or being ungainly.
Sharing our two wheel exploits with family and friends has become a global phenomenon with the rise of data recording Strava and other GPS tracking cycling apps, with bike cameras providing a more exciting way for sharing our best rides, or ride edits with fellow cyclists.
There is however another dimension to owning a bike camera, to capture evidence for when a bike ride goes wrong. Much like a car dash-cam, these cameras will allow you concrete evidence should you find yourself in a situation where you need it.
In the UK there is even a dedicated website, Nextbase, that can help you summit action camera footage directly to the police, drastically reducing the process time and complications.
Whatever your reasons for purchasing a bike camera, be it a helmet, bars or seat post rear-view camera, you can be assured there's a perfect one for you.
We've included lots of helpful hints and tips, which you'll find after the main product reviews. However, your considerations are likely to be focussed on image quality, battery life, storage capabilities and, given that it's going to be fixed to your bike or helmet, durability.
Image quality will largely be dictated by the cost of the camera, but you'll also want to consider image stabilization and frame rates (FPS). When it comes to battery life you'll need to think about how long you'll be shooting for - most batteries will last a couple of hours.
You'll probably want to try and match data storage to the resolution you're shooting in - if you've opted for high-resolution camera for the best picture quality you'll need more data storage. Finally, look for a camera that can take some punishment. Some will be waterproof but you can also consider the addition of a waterproof case.
We go into more detail on how we test at the bottom of this page, but all of the cameras featured here have been tested for resolution, image stabilisation, battery life and storage as well ensuring they've been used across a variety of weather conditions.
Let's delve into our handpicked best front and rear view cameras which we think are the best you can buy right now.
Our pick of the best bike and helmet cameras
You can trust Cycling Weekly. Our team of experts put in hard miles testing cycling tech and will always share honest, unbiased advice to help you choose. Find out more about how we test.
Best bike camera all round
Specifications
Dimensions (WxHxD) Camera: 52.9 x 23.6 x 20.7mm (2.08 x 0.93 x 0.81in)
Weight: GO 2: 26.5g (0.93oz) Charge Case: 63.5g (2.24oz)
Run time: Standalone: 30 mins (Video mode) 20 mins (Pro Video mode) In Case: 150 mins (Video mode) 110 mins (Pro Video mode)
Video resolution: 1440p/50
Reasons to buy
+
Exceptionally light weight
+
Very small package
+
Editing software included
+
Easy to use out the box
Reasons to avoid
-
No 4k recording
-
Battery case isn't waterproof
-
No loop recording
The hardest thing about the Insta360 Go 2 Action Camera is deciding what it's not the best at, as it easily have top the charts for lightest, smallest and easiest to use, hence it maxing out as best bike camera all round.
Likening it to the size of wireless earbuds in a charging case, the Insta360 Go 2 Action Camera really is small. The actual camera is about half this size, but as the case acts as a charge and stand, it makes sense to always use.
The controls and screen are really minimal, just a setting option, but the app allows you to double check live images, so you can ensure you get just the right angle.
There's an overwhelming array of resolutions and image options, it's a case of playing around with it until you see what you like, it's that easy!
The other real perk is the mounting options, with three as standard. A pivot stand, a clip mount and a magnetic pendent. They add lots of versatility to your footage angles, although the magnetic pendent probably wouldn't hold out over super rough movement.
The editing software is simple to use, but with no 4k recording option, you might find it not as high quality as some of the other options on the markets, such as the GoPro camera family, and the factory standard case isn't waterproof (although camera is).
There's no loop recording setting however, making this not the one for you if your looking for additional on the road security.
Easy to grab and go, make home edits and share with family and friends, you can even decorate it gloss white exterior with a funky stick on skin making it a great camera to capture great riding memories on.
Read more: Insta360 Go 2 Action Camera full review
Ultimate all in one solution
Specifications
Dimensions (LxWxD): 4.2″ x 1.7″ x 1.3″ (106.5 x 42.0 x 31.9 mm)
Weight: 5.2 oz (147.0 g)
Run time: 4-10 hrs depending on mode selected
Video resolution: 720P & 1080P
Reasons to buy
+
All in one solution
+
Really well made and designed
+
Integrates with Garmin Edge devices as well as smartphones
+
Radar feature was exceptionally useful
Reasons to avoid
-
Quite expensive compared to other units due to the additional functions
The Varia RCT715 is the top of the range integrated rear light, camera and radar unit from Garmin (the RTL515 and RVR315 both sit below it). It links to either a cycling computer, such as the Garmin Edge 530, or your smartphone to keep you informed about the traffic situation behind you – courtesy of its radar sensing capabilities.
The road behind can be filmed for evidential use should an incident arise, and it has a G sensor to automatically save footage, too. The rear light has four modes as well as automatically changing its behaviour when a car approaches from behind to alert the driver further.
The unit feels well made in the hand and, although the seat post bracket is a little fiddly to fit, it felt secure once on the bike with a positive click from the locking lever. It is weatherproofed to an IXP7 rating and didn't allow water in on wet rides.
The camera films at a good quality (1080p), with our tester finding that car number plates are clearly visible. Night filming is respectably good, too, although number plates tend to be harder to read with their reflective backing shining back and obscuring the letters & numbers more often. The Varia RCT715 does overwrite older footage as it records in a loop, but you can lock a section of film to keep it safe, too. The microphone picks up ambient noise as well as a clicking freewheel, but struggles to record your voice. So if you were giving a commentary about unfolding events it'd probably be lost.
The light is respectably good, it isn't as good as my benchmark lights, but our tester didn't feel underlit. He did like the integration of the three functions in the one unit though. However the revelation is the radar. Our tester was surprised at how quickly he's come to rely on its information. Even riding buddies rely on the tritone bleep as a car approaches from behind. It tells you their distance, how many are following you and even if they are going really fast.
Read more: Garmin Varia RCT715 rear light and bike camera full review
Best modular bike camera
Specifications
Dimensions (WxHxD) Camera: 78.7mm x 53.8mm x 47.2mm (3.09 x 2.12 x 1.85 in)
Weight: 158.2g (5.58oz)
Runtime: 150 minutes
Video resolution: 5.3K 30fps
Reasons to buy
+
Modular design to get the options you want and need
+
Smartphone app makes quick work of editing and sharing
Reasons to avoid
-
Swapping batteries is difficult
Where the Insta360 Go 2 Action Camera is a amateur photographer and film person delight, the same goes for the Insta360 One R and more experienced users.
The modular design of the bike camera allows buyer to select exactly what they need on board thanks to a selection of choices, from lenses to storage cards, batteries to sensors, with bundle deals the best way for getting all you need to get rolling as quickly as possible.
On test, we got to grips with the Insta360 One R Expert Edition Ultimate Kit. It's a bundle that included absolutely everything you could possibly want from a bike camera, with multiple lenses and batteries, as well as a mounts and even a selfie stick. We also really like that it can be programmed on a loop recording, doubling up as a road safety option as well as an action cam.
It easily is functionality comparable with a GoPro Hero 7, but with a lot more features, making it a competitive option for anyone starting out with their own equipment, or looking to upgrade as it's probably quicker to get to grips with if you've had a little camera experience already.
That said, the ability to interact with the camera via your smartphone does mean that when it comes down to selecting resolutions and the final edit.
It's a great collection of features in one bike camera and could easily be your ideal.
Read more: Insta360 One R full review
Best value rear light and camara combined performance
Specifications
Dimensions (LxWxD): 80mm by 47mm by 27mm
Weight: 120 Grams / 4.5oz
Run time: Up to 6 hours runtime with LED. Over 7 Hours recording with LED off
Video resolution: 1080P
Reasons to buy
+
Well priced for what it does
+
Good quality pictures suitable for evidential purposes
+
Wide variety of GoPro compatible fixings (in the market) enable mounting to suit you
Reasons to avoid
-
GoPro fitting is a bit of a faff if you're removing the camera/light regularly
The Techalogic CR-1 is a rear light and camera in one compact unit. Measuring 80mm x 47mm x 27mm, it isn't even much larger than some ordinary rear lights. The camera allows you to record events from behind you with a 120 degree window and all in 1080p quality. The light itself has six modes of operation, ranging from a solid 'on' option to a variety of flashing modes.
Although you can operate the unit solely using the buttons on the side of the unit, (once you've formatted the memory card before first use) there is the RICAM app to allow access to settings - as well as being able to see the camera in action. This can help with getting the best setup view on your bike.
The camera/light uses GoPro fixings which, while versatile, are a bit of a faff if you're constantly removing the unit when locking your bike up. The CR-1 is IPX5 water resistant, which means that spray from the road shouldn't be a problem.
Filming in the daytime, you get clear vision of the road behind and the quality is good enough to read car number plates and it can also add a time and date stamp to the film. Essentially, it is good enough for evidential purposes and that is what this unit is primarily designed for - just don't expect to use it for cutting together 'edits' of your rides.
Filming at night - and with street lighting - you can still read number plates, but the camera did struggle to show much detail in really dark country lanes. This points to a mostly city, commuter or daytime riding user.
Read more: Techalogic CR-1 rear light and bike camera full review
Best bike camera for simultaneous front and rear recording
Specifications
Dimensions (LxWxD): 110x40x33mm
Weight: 104g
Run time: Up to 2.5 hours runtime
Video resolution: 720P & 1080P (both cameras) and QHD (2K) Front only
Reasons to buy
+
Good quality pictures suitable for evidential purposes
+
Simple one button operation
+
Able to record in front and behind in the one unit
+
Great for commuter rides
Reasons to avoid
-
A little heavy on a cycling helmet - weighs over 100g
The Techalogic DC-1 features a dual camera which is able to film ahead and behind you at the same time providing a comprehensive view of your ride. It is primarily an evidential camera should you be unfortunate enough to be involved in an incident. IThe unit is IP65 water resistant rated, which will keep the weather out nicely.
You can film in three qualities; 720P and 1080P for both cameras, as well as QHD (2K) for the front camera only. The camera use a Micro SD card (max capacity 128Gb) and it will loop in 1, 3, 5 or 10 minute sections, automatically overwriting the oldest film. This function may be switched off too. The internal battery will last 2.5 hours using the default setup of both cameras at 1080P and 3 min looping. There is an app to allow access to the settings as well as being useful as a viewfinder while setting up. It connects your phone to the camera using WiFi.
The camera and kit comes with a wide variety of helmet fixings which use the GoPro standard. Our tester used the webbing interface on a vented cycling helmet and found he had to tighten the helmet cradle up quite a lot more than usual to keep the helmet steady as - whilst the DC-1 isn't particularly heavy - you can feel the inertia from the camera because it sits quite a way off the helmet.
Our tester used the default camera settings and found they filmed well, certainly clear enough to record car number plates easily. It also worked well at night in lit streets, but struggled to show much in dark country lanes. This points to a commuter rider or primarily a day time rider as a user.
Read more: Techalogic DC-1 Helmet Camera (Front and Rear Facing) full review
Best bike camera on a budget
Specifications
Dimensions (WxHxD) Camera: 66 x 47 x 28mm (2.59 x 1.85 x 1.10") approx.
Weight: TBC
Runtime: 90min (setting dependant)
Video resolution: 4K/30fps
Reasons to buy
+
Much cheaper than a GoPro
+
Shoots video up to 4K and stills to 16Mpixels
+
Includes all the extras you are likely to need, nearly
+
Easy to configure and control
Reasons to avoid
-
Does not come with an SD card
-
Image quality not as good as GoPro
If spending hundreds on a bike camera right now isn't in the offing, then you'll be please to discover there is a more affordable option, that is well worth exploring.
The Akaso EK7000 Pro action camera really impressed us on test, proving that it is possible to buy a bargain, without totally sacrificing performance. Clearly a nod to the GOPRO brand of action cameras, notable the entry level Hero 7, with the Akaso also mirrors a few of the features too, such as stabilisation and the ability to shoot in in 4k/25fps, 2.7k/30fps or 1080P/60fps modes as well as shooting 16Mpixel stills.
It also allows you to flip the image (in case your mounting under your saddle) burst photo and even loop record, ideal if you are wanting to use it for dash-cam like safety.
The waterproof case comes as standard and is compatible with GOPRO mounts, making it tricky for anyone other than the user to realise that it isn't one of the original adventure camera purveyor's units.
The wrist remote is a nice touch, as it the 2" touch screen, which makes it easy to select which camera feature to use and instantly watch a play back, although you can also use the Akaso app and do all from a smart phone too.
It comes with two batteries as standard, so you can get around three hours of use if you remember to switch over mid way.
It really is an impressive package, the only re downsides is that you'll still need to invest in an Micro SD card and the image isn't quite as good quality, but for the price, you can't get better.
Read more: Akaso EK7000 Pro action camera
7. GoPro HERO11 Black
Best bike camera for pro-like footage and shots
Specifications
Dimensions (WxHxD) Camera: 71.8 W x 50.8 H x 33.6 D (mm)
Weight: 154g (5.4oz) claimed
Runtime: 80 minutes (at 5.3k)
Video format: 5.3K
Reasons to buy
+
The original bike action camera
+
Huge capacity for recording, battery and storage
+
Impressive visual quality
+
Support system behind brand
+
Professional standard editing suite
Reasons to avoid
-
Pricey option if you're not wanting to use all the features
-
GoPro platform requires subscription
GoPro is synonymous with action cameras, and has built up a reputation for producing some of the best action cameras on the market. The GoPro Hero11 Black is its latest model.
If you're looking for an all encompassing bike or helmet camera, the Hero11 Black is a good place to start and stop your search. Using a similar format to previous iterations, the Hero11 Black is small enough to fit in the palm of your hand with room to spare. Weighing just 154g you'd be forgiven for thinking that it's a rather light camera but compared some others on the market, it's not the lightest.
That is forgivable though when you see the features packed into it. The Hero11 Black has done away with needing a waterproof case, integrating the waterproofing into the actual unit itself. Combine that with 5.3K shooting quality and you have a camera that can shoot anything, anywhere, straight out of the box, with even a live stream option available.
When it comes to mounting the GoPro, there's an abundance of choices out there from attaching it to your helmet to your handlebars and even your chest via a harness. Being one of the first action cameras on the market GoPro has cultivated its range of mounts so there's something for everything.
It's not the cheapest of cameras. If you are starting out or just want something for back-up on the road in case there's an incident, you'll probably be better off with one of the cheaper Akaso EK7000 Pro action cameras, but if you're a budding movie maker and want the creme de la creme, then this is the one for you.
Meet the testers
Josh hails from the Pacific Northwest but would prefer riding through the desert than the rain. He will happily talk for hours about the minutia of cycling tech but also has an understanding that most people just want things to work. He likes to document his rides and always takes an action camera with him to capture footage to edit and share and has used a wide range of cameras, so knows what works and what doesn't.
Paul reviews both bikes and equipment for Cycling Weekly and has 40 years of riding under his belt across a variety of disciplines including road riding, commuting, a self-supported Land's End to John o' Groats trip, XC mountain biking and several Polaris Challenge two-day events. Naturally for a reviewer he loves bike and kit design and has even fillet brazed a couple of framesets himself. He's out riding in all conditions, usually with an action camera strapped to his bike to capture his rides.
Which camera is best for cycling?
Purchasing a bike camera needn't been a challenge once you work out what your priorities are, and then it's a case of picking one that meets these needs. Here's what to look for to help find your perfect bike camera.
Cycling Safety camera
Unfortunately near misses, incidents and even attacks can happen anywhere while out riding. Having video evidence of these unwelcomed occurrences is fast becoming more common place as police increasingly recognise the importance in providing valuable evidence in the helping them to take positive action or even convicting other road users of dangerous driving or assault.
The good news is that the best bike cameras for this level of use are much more affordable.
To get the dash cam like option, look for cameras that have a 'Loop Recording' setting. This will passively record your ride throughout it's the duration/ the time span of the camera battery life, constantly overwriting, until you select 'archive'.
The most important things to look for in a Loop recording camera is how instinctive the ability to archive a recording is, especially once you have adrenaline coursing through you and everything becomes pretty chaotic in the aftermath of an incident.
Ideally there should just be a one button archive record button on the camera to press, but anything more than two will become too complicated in the heat of the moment.
If you're not too tech savvy, also look for the ease of getting the footage off the camera, formatted, saved and sent on to the authorities. It might be worth spending a little more on a camera that comes with a smartphone app, which will render the video in to a usable format automatically and allow you to save to your camera reel and share.
Always do a few test recordings and savings prior to heading out on the road as the last thing you want to do is somehow delete the recording rather than saving and sharing it
Helmet or frame mounted bike camera?
Most of the population of cyclists opt for either a helmet or frame mount for their bike camera. There is a third option of a chest mount, but in general these are the reserve of mountain bike riders who need to keep the camera close to their chest when participating in a more dynamic style of riding.
There are pros and cons to both options, it all depends what suits you the most.
A bike camera helmet mount will capture a very similar view as to what the actual rider sees, which can be pretty cool for shooting a bike ride film, or taking stills from if you saw something to the side that you wouldn't have captured if the camera was mounted front or rear.
From a security aspect, a helmet camera it also keeps it with you (assuming you take your helmet inside at a cafe stop.
Safety wise, as mentioned above, it captures what you see, so if there's an altercation between you and say a car driver, or if you have the awful unfortunate experience of an incident that takes you away from your bike it could offer good footage evidence.
The down side is the additional weight it adds, which doesn't need to be a lot before your neck starts feeling the strain. Unless it works on voice or another form of remote control it will challenging to function and impossible to know when the battery needs swopping/ or the storage is full (or if you anything like us, constantly doubting yourself as to whether or not you switched it on will drive you potty taking your helmet on and off to double check)
If you do want to opt for a helmet mounted bike camera, just ensure it's compatible with your helmet. Vented helmets are straight forward with normally the use of Velcro straps or elastic bands, but if you have a smooth lid with no vents, you might need to look for suction cups or a whole helmet band.
Mounting a bike camera on your frame can be one of the easiest way to get going. There are several different mounting positions to pick from, and in general frame mounts will come with the camera, although you might need to invest in a waterproof case to be on the safe side.
Going with a forward facing angles not only gives you a few positions to choose from, on top or under bars, and even on the top cap as shown in the above image, a camera out front makes for simple functioning, with everything in vision and settings options in easy reach.
If you go with a rear mounted option on your bike, you'll have to spend a little more time ensuring you have the correct function set and that it is on and recording. It's also worth while reaching down to give the lens a little clean every now and then to clear away and rain spray from the back wheel.
Whatever the option you choose from, make sure that there is a quick release function so you can grab your camera when you are off the bike.
If you are using a frame mounted bike for safety reasons, then always make sure the lens is clear and that the filed of view isn't obstructed by your hands or panniers. you also might need to consider space on the bike for the additional technology of computers and lights.
Bike camera picture quality and recording time
When it comes to the best bike cameras quality and quantity have a lot in common. The higher the picture quality to shorter the video. This does of course all depend on the on board memory of the camera, or more likely the size of the micro SDcard that you pair it with.
Even the most basic camera will have a high definition recording setting nowadays as standard. However, many now come with 4K, which creates an images that is four times sharper than HD and it's becoming a standard benchmark for higher quality cameras.
If you want to get the clearest image possible this is the way to go. HD is still a solid video quality and thanks to progression in technology you'll be able to record in HD for much longer than previous action cameras.
When it comes to safety only cameras, having the highest quality will be less of a priority over a longer battery run time, although you need to ensure it's still good enough to be able to use as evidence should the occasion arise.
If you're wondering what the best SD card to get in order to get the most out of your bike camera, then the Projectgo.pro website has a really useful resource tool. It's aimed at the GOPRO family of action cameras, but the information on what SD card size to choose from is really helpful.
Bike camera connectivity and compatibility
Plugging things in with actual wires is becoming less and less common, with many cameras opting to have built in WiFi connection among others. This lets you transfer files to your phone or computer wirelessly with relative ease.
Other connections may include ANT+ or Bluetooth which would allow you connect your cycling computer, heart rate monitor or even power metre to make those videos look even more professional.
All of the products that feature in our best bike camera buyers guide use an iOS or Android app too which makes it much easier to get to grips with selecting settings and functions over a complicated sequence of button pressing.
If the camera you have comes with a screens, then it can be a great feature as they can allow you to see the footage as you record it much like a viewfinder. This is perfect if you want to make more serious videos of your riding or general adventures.
Otherwise, cameras without screens rely on you seeing the footage after you've filmed it and uploaded it to your computer. However, if you're just using it for commuting and insurance purposes, screens are more of a bonus than a necessity.
Built in editing software
With their own apps or landing platform often comes easy to use editing software. This is great if you want to do some video editing on the move, or are just dabbling with making your own films and don't want anything overly complicated, e.g if just wanting to share footage of an incident.
MP4 or MOV files are probably the easiest to process video wise, while a ready to use JPG photograph is super easy to share immediately.
How we test action cameras
We're riders first and foremost here at Cycling Weekly, so you can be sure that any camera reviewed here has been used comprehensively on-bike, both road bikes and gravel bikes. That means that we've thoroughly tested the resolution and image stabilisation. We'll also have made sure that battery life and storage meet the maker's specifications. Often, we'll have used the cameras in adverse weather or dusty conditions too.
Back home, we will have tested any editing software that comes with the camera, its usability and ability to produce a quality edit from our raw footage.
So you can be sure that these action cameras hit the mark for functionality and usability when riding.
Get The Leadout Newsletter
The latest race content, interviews, features, reviews and expert buying guides, direct to your inbox!
Paul started writing for Cycling Weekly in 2015, covering cycling tech, new bikes and product testing. Since then, he's reviewed hundreds of bikes and thousands of other pieces of cycling equipment for the magazine and the Cycling Weekly website.
He's been cycling for a lot longer than that though and his travels by bike have taken him all around Europe and to California. He's been riding gravel since before gravel bikes existed too, riding a cyclocross bike through the Chilterns and along the South Downs.