Best bike and helmet cameras reviewed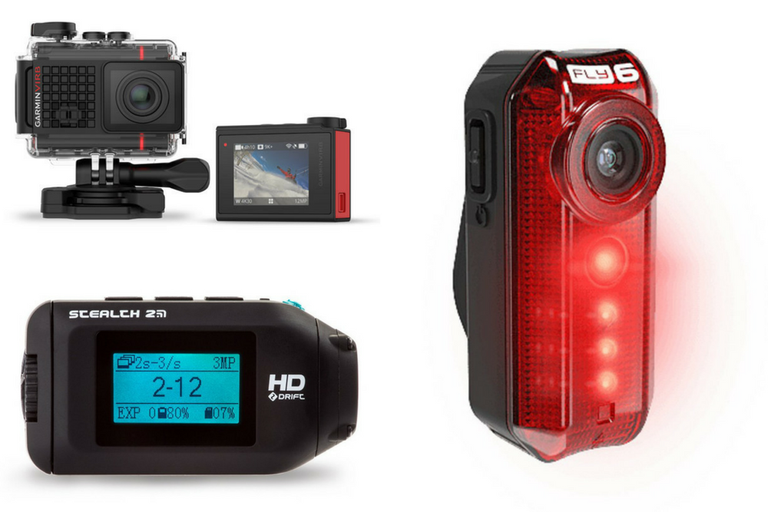 Sometimes called action cameras, helmet cameras or adventure cameras, bike cameras are small and incredibly designed cameras that can capture HD footage without weighing you down or being ungainly.
Sharing the exploits of the roads with friends across the internet has become a global phenomenon with the rise of data recording Strava and other GPS tracking cycling apps. Bike cameras give riders even more opportunity to share exciting rides with fellow cyclists, whether that be on social media or just to show among your friends at work.
>>> Dr. Hutch: Why I won't be watching any more cyclists' helmet camera videos
With cycling infrastructure lagging behind the rise in popularity of bicycles accidents happen and having a bike camera is becoming an insurance tool for serious commuters who may not trust our four-wheeled friends.Much like a dash-cam, these cameras will allow you concrete evidence shouldyou find yourself in a situation where you need it.
≥≥≥ Comment:Head cams are about protection, not vigilantism
Our pick of the best bike and helmet cameras
With each camera is a 'Buy Now' or 'Best Deal' link. If you click on this then we may receive a small amount of money from the retailer when you purchase the item. This doesn't affect the amount you pay.
Specifications
Battery life: 1.15 hours (at 4k)
Video quality: 4K, 2.7K, 1080p, 720p, 480p
Photo quality: 12MP, 8MP
Size: 57.5 x 45.9 x 31.3 mm
Weight: 88g (claimed)
Reasons to buy
+Voice control lets you start and stop recording easily while on the move+Quality 4k video+Good image stabilisation (at lower resolutions than 4k)+Lots of connectivity and stats options
Reasons to avoid
-Quite heavy – particularly mounted on a helmet-Short battery life
Not sated with dominating the cyclecomputer market, Garmin has also looked at expanding their share in bike cameras too with this sporty offering. A downsize against the original Garmin Virb, the Ultra is more reminiscent of their big rivals at GoPro but with their own twist.
Unlike the GoPro, the Virb has a built-in GPS tracker meaning that you can add an overlay of your riding metrics to your video with ease. Want to show people that you broke the 60km barrier? Simply adjust the settings to show speed on your video and watch your friends' jaws drop. This can be improved upon even more when you realise you can connect your heart rate monitor, cadence and power meter via their ANT+ or Bluetooth connectivity. Neat.
The Garmin Virb Ultra 30 can actually be used in conjunction with the GoPro mounts with no compatibility issue giving users the a plethora of mounts to choose from.Our reviewer said: "The Garmin Virb Ultra 30 takes high-quality images and is easy to control, it's got great connectivity to your other on-bike tech and smartphones too. But its battery life is a bit short so you can't just record and forget except on the shortest rides."
GoPro HERO8 Black bike and helmet camera
Specifications
Battery life: 70 minutes (at 4k)
Video quality: 4k, 2.7k, 1080p
Photo quality: 12MP (Can shoot in both JPEG and RAW)
Size: 66 x 47 x 28mm
Weight: 116g (claimed)
GoPro have built up a tradition of producing some of the best action cameras on the market and the GoPro Hero8 Black is just another name to the list.
If you're looking for an all encompassing bike or helmet camera, the Hero8 Black is a good place to start and stop your search. Using the same build as previous iterations, the Hero8 Black is small enough to fit in the palm of your hand with room to spare. Weighing just 116g you'd be forgiven for thinking that it's a rather light camera but compared some others on the market, it's not the lightest.
That is forgivable though when you see the features packed into it. The Hero 8 Black has done away with needing a waterproof case, integrating the waterproofing into the actual unit itself. Combine that with the new 4K shooting quality and you have a camera that can shoot anything, anywhere, straight out of the box.
When it comes to mounting the GoPro, there's an abundance of choices out there from attaching it to your helmet to your handelbars and even your chest via a harness. Being one of the first action cameras on the market GoPro have cultivated their range of mounts so there's something for everything.
Drift Ghost X bike and helmet camera
Specifications
Battery life: 5 hours
Video quality: 1080p, 720p
Photo quality : 12MP
Size: 82 x 43 x 31mm
Weight: 97g (claimed)
The Drift Ghost X is a mainstay for riders choosing bike cameras. Its low price and decent capabilities mean that it's continuously a great option for people who are on a budget or are just getting into filming their rides.
While it may lack the 4k shooting capabilities of others listed here, it can shoot in 1080p (HD to you and I), can take photos with its 12 megapixel camera and has a solid five hour battery life when shooting in HD. The camera also has WiFi connectivity so you can chuck your videos onto your phone with ease. All this for under £130 isn't bad going.
>>> Read our full review of the Drift Stealth 2 here
The selection of Drift mounts is quite broad and includes the option to attach it to your helmet through its vents, to your handlebars and even to your shoulder via a harness. The shoulder harness is probably more for extreme sports but don't rule it out as a cool angle to shoot from.
Specifications
Battery life: 4 hours
Video quality: 1080p, 720p
Photo quality: N/A
Size: 71mm x 40mm x 35mm
Weight: 77g
Reasons to buy
+LED light powerful enough for daytime visibility+Camera battery life is excellent+Footage is easy to access and time/date stamped+Incident Capture Mode
Reasons to avoid
-Unit is quite bulky-Footage suffers on rougher road surfaces-Side LED visibility is poor
If you're looking for something that will provide evidence of what happened when you wereout on the road then Cycliq have the answer. The Australian company created the Fly6 to enable riders to film behind them when they riding and to save footage in case of a crash.
The device continuously films and, when it has no more space, it films over previous footage. However, if you happen to crash the device will save that segment of film for later preventing it from being filmed over again. Using gyroscopic sensors inside, the camera light combo can detect when a severe change in speed or direction has happened, as you have in a crash.The whole system can last up to four hours giving it a pretty good life span for both a camera and a rechargeable light.
It is important to note that there is also the Fly12 (£269.91 at Amazon) which is Cycliq's forward facing light camera system that shoots in 1080p if you want to cover both ends.The Cycliq Fly6 is purely a seat post job and is supplied with a heavy duty rubber mounting to attach to any seat post without scratching it or running risk of the camera falling off. On the Fly12, the forward facing camera light combo attaches to the handlwbars as a light normally would.
SJCAM SJ8 Pro Digital Action Camera
Specifications
Battery life: 90 minutes
Video quality: 4k, 1440p, 1080p, 720p
Photo quality: 12MP
Size: 63 x 41 x 29mm
Weight: 85g (claimed)
SJCAM is a relatively unknown brand compared to the likes of Garmin and GoPro but don't let that put you off.Not only does this have 4k recording capabilities but can take 12MP pictures, connect to your phone via WiFi and even has built in image stabilisation, so you can film your ride with smooth and sharp image quality. The device's relatively large 2.33inch touchscreen works smoothly and thus there's no need for any fiddly buttons.
The shape and size of the SJ8 Pro means that it plays well with GoPro style bar mounts. The battery life is quite impressive, lasting for 90 minutes shooting 4K footage at 60 FPS. The camera has a waterproof rating of 30m inside the case it comes with, although this case does make it hard to extract the camera when your hands are cold and stiff.
What to look out for in a bike and helmet camera?
Purchasing a bike or helmet camera can be a tricky thing but depending on what you're prioritising or prefer it can be a simple scenario.
Screen
Screens are a great feature as they can allow you to see the footage as you record it much like a viewfinder. This is perfect if you want to make more serious videos of your riding or general adventures.
Otherwise, cameras without screens rely on you seeing the footage after you've filmed it and uploaded it to your computer. However, if you're just using it for commuting and insurance purposes, screens are more of a bonus than a necessity.
4K video quality
When you thought nothing could top HD, 4K came along. 4K images are four times sharper than HD and it's becoming a standard benchmark for higher quality cameras. If you want to get the clearest image possible this is the way to go. HD is still a solid video quality and thanks to progression in technology you'll be able to record in HD for much longer than previous action cameras.
Connectivity
Plugging things in with actual wires is becoming less and less common,with many cameras opting to have built in WiFi connection among others. This lets you transfer files to your phone or computer wirelessly with relative ease.
Other connections may include ANT+ or Bluetooth which would allow you connect your cycling computer, heart rate monitor or even power metre to make those videos look even more professional.
Built in editing software
Some cameras come with their own apps and some even have lightweight editing software built into these apps. If you want to do some video editing on the move, this will be vital. If you want to create a more clean cut final product then using a computer would be preferable but these apps can offer you a good starting point.