Techalogic DC-1 Helmet Camera (Front and Rear Facing) review - neat design but too heavy in use
A good value camera that is able to record front and rear at the same time but is a little heavy on a cycling helmet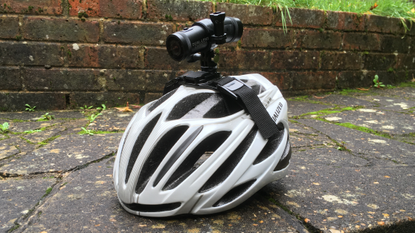 (Image credit: Paul Grele)
A nicely made device that pulls off a neat trick of being able to film in front and behind you at the same time. It is super simple to operate too. However the weight on top of a cycling helmet felt a bit awkward and compromised.
Reasons to buy
+

Simple one button operation

+

Able to record in front and behind in the one unit

+

Great for commuter rides
Reasons to avoid
-

A little heavy on a cycling helmet
Why you can trust Cycling Weekly Our expert reviewers spend hours testing and comparing products and services so you can choose the best for you. Find out more about how we test.
The Techalogic DC-1 is a dual camera, meaning that it can record in front as well as behind you, at the same time. This makes it a great option if you wish to keep your filming simple and straightforward, particularly in one unit.
It is a device aimed at cyclists and is one of the best bike and helmet cameras, but it can be useful additionally to motorcyclists, horse riders and even E-scooterists - basically anyone wishing to record their travel for evidential purposes.
These cameras are successfully bringing poor and dangerous driving to light and are able to be used as evidence in gaining a conviction. Hopefully, over time, this will make some people think twice about their poor decisions on the road.
Techalogic DC-1: construction
The unit comes with a wide variety of GoPro compatible fixings to enable the camera to be fixed to a helmet. There is the webbing variety (shown in the pictures) as well as 3M double sided glue patches to fix the mount plate to a helmet which doesn't have vents (i.e. motorbike and equestrian helmets).
Having a mount plate enables you to easily remove the unit to charge it up. There is also a watch-sized remote control that can be worn on your wrist or strapped to the bars, and it allows you to take a still photo or to save a section of your recording.
The camera is IP65 rated against water ingress, which means it can cope with being outside in all weathers. It has a 2.5 hour battery life when using both cameras and will automatically loop the recordings, which means that it will overwrite the oldest files first, but not any that have been locked to save. The loop function may be turned off, though.
The unit feels well made in the hand, and the flaps covering the USB and SD Card ports seal neatly. The card port flap does need to be rotated and pulled away to allow easier access to the card but it worked well once the technique was found.
Once you have set the unit up onto your helmet, you'll need to do two things. Firstly; download the 'ROADCAM' app (iOS and Android) or the 'VIIDURE' app (Android only), and secondly format the Micro SD card. Power the camera up and search for it on your WiFi settings, enter the password and then open the app...
I used an iPhone to connect up, which worked easily. Then you can format the card, choose your film loop time lengths (off, 1min, 3mins, 5mins or 10min) and choose the quality that you wish to film at. There are three options: HD P60, FHD P30 or QHD P30. The default is FHD P30 using both cameras and the 3min loop, which I used. You are also able to see what the camera is pointing at using the app as a viewfinder and it shows both images in the same window.
Other than formatting the card and getting the view set up, you almost don't need the app. By this I mean that the camera is a one button operation. You power the unit up by pressing the 'on' button for two seconds until it buzzes once and you're good to go! It is about as simple as tech goes, really.
Once powered up, the unit tells you that it is recording, as well as its battery and WiFi status via LEDs around the 'on' button. Powering down and saving any filming is a similar procedure except that you get three buzzes. This simplicity was rather refreshing.
Once riding, you do feel the weight of the camera to a degree. I had to click my helmet up tighter to stop additional movement. It is partly because the camera sits quite a distance from the helmet due to the GoPro mounts. I did wonder whether the weight would've been less noticeable if the unit sat really close to the helmet. You felt the inertia of the camera sticking out rather than the weight per se. You probably wouldn't notice it mounted on a motorbike helmet, as they are significantly heavier items.
Film quality
The quality is pretty good. You can clearly make out car number plates and plenty of detail. In absolute terms there is a little graininess to a picture, but we are filming to establish events not create a YouTube video.
As the camera is mounted on your head the film becomes quite jiggly and it flicks from side to side as you look left and right at a junction (for example), but this could be crucial if the film needs to be used as evidence. At night time, the camera recorded pretty well in lit up areas but less so in unlit country lanes.
I used a good front bike light that helped in the lanes but the rear camera struggled to show much apart from car lights approaching to pass. Three pairs of photos (one front and one rear) are shown below. Please note that I have taken a still from the video to demonstrate the relative qualities described above.
The unit will record sound but I found that normal speaking voices were rather quiet. Sometimes, whilst riding, the sound would be minimal but then as you turned your head you'd get a lot of 'shhhh' from the wind on the recording.
Image 1 of 6
Value and conclusion
To conclude, I liked the one button operation and quality feel of the camera; I didn't like the sensation of it on my helmet. I felt, rightly or wrongly, that if you were to come off your bike and your helmet was needed in the fall, that having something clamped to it may compromise the helmet's protection.
I feel similarly about bigger lights fixed to the top of helmets. Lighter ones that are fitted around the rim feel less of an issue to me. This is purely a personal opinion and I can't mark it down for that. You may feel that the extra safety afforded to you by recording your ride is worth it.
The Techalogic DR-1 is reasonably priced at $239.99 / £189.95.
However I came away thinking that I preferred the rear camera/light options from Techalogic (the CR-1, $135.70 / £109.95) and Garmin (Varia RCT715, $399.99 / £349.99) and would prefer a front camera (for example, Techalogic HC-1) that was lighter instead. I can appreciate the simplicity of this device and see that it has much to offer, but overall I didn't enjoy the weight sensation.
The DR-1 can be bought at both Amazon and directly from techalogic.co.uk.
Specs
Battery Life: 2.5 hours from 1600mAh battery and, extendable with any powerbank – e.g. a 5000 mAh power bank would extend the battery by 7 hours.
Size: 110 x40 x 33 mm
Weight: 104g
Sensor: Sony Starvis IMX307
Film Quality Settings: HD P60, FHD P30 or QHD P30
Storage Size available: 64Gb & 128Gb
Dual Lens
Codec.265
WiFi Connectivity to phone
IXP65 water resistant
No need to manage or delete video files. The DC-1 stores video segments in 3/5/10 minute files and once your SD card is full, it will overwrite the oldest files first, but it will not overwrite any locked files you have generated. The loop record function can be turned off.
One button control with vibration alert so no having to guess if the camera is on and recording.
Thank you for reading 10 articles this month* Join now for unlimited access
Enjoy your first month for just £1 / $1 / €1
*Read 5 free articles per month without a subscription
Join now for unlimited access
Try first month for just £1 / $1 / €1
Over 40 years cycling in a variety of disciplines including road riding, commuting, a self-supported Land's End to John o' Groats trip, XC mountain biking and several Polaris Challenge two-day events. Adventure, escape and fun are the motivations for my riding. I also love bike and kit design and have fillet brazed a couple of framesets using Reynolds 853 steel tubing for myself. A very satisfying experience to ride your own bespoke bike!
Height: 180cm
Weight: 66kg