Techalogic HC-1 Front Camera review - lightweight and unobtrusive
This lightweight camera hits the sweetspot between usability, great film quality, weight and price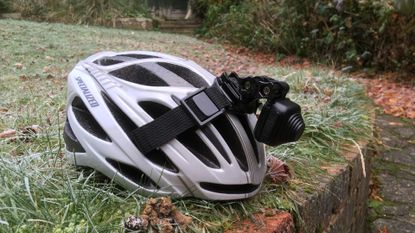 (Image credit: Paul Grele)
The HC-1 camera is a really impressive bit of kit. It records events very clearly with both the film and audio being of high quality. Its light weight means that it feels far less intrusive when helmet mounted, and with GoPro mount compatibility it can be bar or chest mounted should you wish. IP65 rating keeps the weather out and a 2.5 hour run time should be sufficient for most users. A good app and one button recording keep everything simple too.
Reasons to buy
+

Light

+

Great picture quality

+

Reasonable price
Reasons to avoid
-

Micro SD card removal is tricky
You can trust Cycling Weekly. Our team of experts put in hard miles testing cycling tech and will always share honest, unbiased advice to help you choose. Find out more about how we test.
The HC-1 is the latest addition to the Techalogic family of cameras. They are primarily purposed as evidential cameras, allowing you to record events while you cycle, motorcycle, horse ride, etc. As always we hope that they are not needed but the best bike and helmet cameras could make all the difference should they be called upon to show what really happened in an incident. The camera may be helmet mounted or chest mounted or even fitted to your handlebars using the ubiquitous GoPro fixing system.
Image 1 of 2
Techalogic HC-1: construction
The HC-1 can record in either 1080 Full HD using 30 or 60 frames per second or the higher resolution 2k Quad HD at 30 fps (default). There is a 720 HD / 60fps setting too for those wanting to record smaller files. The bitrate can be set to low, medium or high (default) along with the microphone volume which is also high as default. You can choose different loop lengths or to deactivate that feature. When looping, the oldest files will be overwritten first.
The case is IP65 rated which means that it will handle the worst that the weather can throw at you but it can't be submerged in water. Its 2.5 hour battery life should be sufficient for most commuting riders too.
The kit supplied is comprehensive with its fittings, and it will allow you to fit a webbing strap, 3M adhesive patch or a non-vented helmet type strap (useful for some commuter or horse rider helmets).
Image 1 of 2
The HC-1 was nicely packaged with everything that you'd need to get you going. The only additional item that you might need to purchase would be a Micro SD card - the camera will take up to a 256Gb card.
I slotted in a 64Gb card that I already had and then used the webbing mount, which I fitted to the mid/front section of my vented bike helmet. It uses a standard GoPro base plate. I chose to mount the camera upside down to keep the weight and inertia lower and closer to the helmet - I had found this a bit of an issue when testing the Techalogic's DC-1 camera. When watching a film back I just rotated the picture so that I could see the images normally. I did also use the camera the 'correct' way up using a handlebar mount later on in the test. Addendum: The camera is able to be removed from the backplate to allow it to be fitted in to one of 4 positions so that it is able to keep the controls on the top surface. A neat feature that was not obvious to me. How to here
The ride
I found that riding with the HC-1 on my helmet felt much nicer than the DC-1 I've tested previously. The camera was barely detectable this time - the 55 gram weight saving doesn't feel like much when holding the device in your hand but it made quite a difference when on your helmet!
First impression watching the filming back, using the default QHD 2K setting, was how much clearer the picture was compared to the DC-1. It was certainly of similar quality to the Garmin Varia rear camera and really nice to watch back.
The microphone was set to high and it picked up a conversation clearly, and when riding there was less 'shhhh' from the wind too. The stills below show a variety of situations from normal daytime, to night-time with street lighting, to a really dark lane with no lighting (other than my bike lights). Its ability to film in the dark is really impressive.
I really liked the one button operation of this camera and the single buzz to let you know that it's on and ready to go. Very simple.
I found linking to it via WiFi (using an iPhone) straightforward and the app 'HC-1 Helmet Cam' was easy to navigate. You can adjust the settings in there as well as using it as a viewfinder to set up the HC-1. In addition, you can view any films or stills taken, download them onto your phone and send them from there if necessary. This means that you don't have to involve a laptop if you don't want to.
The weather flap covering the Micro SD card and USB port worked well but I did find that trying to extract the card is really awkward. Normally the press of a fingertip or nail can release an SD card, but I had to use a pen lid to click the card out, and then use tweezers to remove it. I don't even have sausages for fingers...! Lucky that you can access the files via your phone then!
Image 1 of 4
I found this Techalogic's HC-1 camera to be excellent; Lightweight on a helmet, small on the bars, easy to use with its one button functionality, and its straightforward app control. The removal of the Micro SD card was tricky as it sits in a 'well' and a tool was needed to extract it rather than the usual fingertip or nail. However the weatherproofing around this area felt substantial.
Its ability to record good quality film in all light levels was also impressive, particularly a dark lane with no street lighting and little ambient light.
It is great value at £149.95 considering what it packs into such a small device.
The HC-1 can be bought at both Amazon and directly from techalogic.co.uk.
Specs
Camera Weight: 48g
Camera Size: L46mm by W46mm by H38mm
Storage: Micro SD Card 8gb to 256gb
Video Format: MP4 with H.265 encoding
Video Resolution: 1440 QHD 30 Fps, 1080 FHD 60 Fps, 1080 HD 30 Fps, 720HD 60 Fps
Viewing Angle: 120 Degree senso
WiFi: 2.4G
Data Interface: Micro USB
Battery Capacity: 850Mah = 2.5 hours run time
Battery Charging Time: 90 Mins
Weatherproofing: IP65
Working Temp: -5 degree C to 45 degree C
Thank you for reading 20 articles this month* Join now for unlimited access
Enjoy your first month for just £1 / $1 / €1
*Read 5 free articles per month without a subscription
Join now for unlimited access
Try first month for just £1 / $1 / €1