Techalogic CR-1 Rear Light and Camera review - inexpensive and effective, but not as sleek as the competition
If recording events from your bike is important then this Techalogic has got your back covered...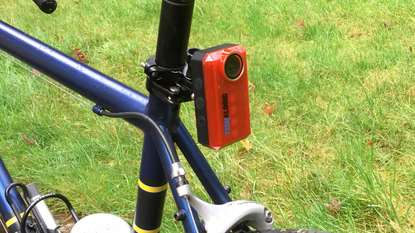 (Image credit: Paul Grele)
If being seen and recording your journey is important to you - and you don't want to spend out too much - then the Techalogic CR1 Rear Light and Camera is well worth considering. The rear light element works well; not as good as the best in class, but better than many. But the ability to film events going on behind might be the clincher for those wanting an evidential quality backup, just in case...
Reasons to buy
+

Well priced for what it does

+

Good quality pictures suitable for evidential purposes

+

Wide variety of GoPro compatible fixings (on the market) enable mounting to suit you
Reasons to avoid
-

GoPro fitting is a bit of a faff if you're removing the camera/light regularly
You can trust Cycling Weekly. Our team of experts put in hard miles testing cycling tech and will always share honest, unbiased advice to help you choose. Find out more about how we test.
The Techalogic CR-1 is a rear light/camera all-in-one compact unit. It allows easy recording of an incident, should you need to submit evidence (let's hope not, though!), all in full 1080P HD quality, with a 120 degree wide angle lens.
In addition the rear light has 6 different options depending on whether you're riding in the day or at night, including a solid light and various flashing modes. Settings can be easily configured using the RICAM app on your smartphone.
Techalogic CR1 Rear Light and Camera: construction
Similar to many of the other best bike and helmet cameras, the Techalogic CR-1 uses GoPro fixings to allow a variety of on-the-bike positions. It comes with two sizes of seat post mount. The smaller diameter mount fits a 27.2mm seat post and the larger will work on a 30.9mm post. It is a fairly compact unit measuring 80mm by 47mm by 27mm, and it weighs in at 120 grams (4.5oz).

The CR-1 came with a pretty comprehensive set of fittings and tools as well as a 64gb micro SD card (which is available separately at around $10.00 elsewhere or £14.95 from Techalogic). You may already have a suitable card so you can save yourself some extra outlay. Included was the following: The CR-1 unit, usb charging cable, two seat post mounts (two separate sizes) plus a 2-3 prong GoPro adaptor, three bolts plus an Allen key, a finger bolt plus spanner and a micro cloth cleaner.
The camera/light unit is well made and feels reasonably robust. There are three buttons on one side and a weatherproof flap on the other. The three buttons switch the unit on, change the light mode or take a still photo. Under the flap is the USB port and the micro sd card slot. The CR-1 is IPX5 water resistant, which implies that a device can endure direct contact with water that is projected from a nozzle. In reality, spray from the road shouldn't be a problem. On the rear is a two tab GoPro compatible mount.
Image 1 of 2
Although you can use the light/camera straight from the box with default settings, if you want to alter the settings then you'll need to download the RICAM app. I used an iPhone to do this. Then you'll need to access WiFi on the phone to link to the CR-1 and you're in. It was pretty straight forward and the extra information (passwords etc.) that you'll require is all in the manual. Also remember to format the card first, otherwise it won't record anything!
One neat feature is that you can see what the camera is viewing in the app, which is helpful for adjusting the angle correctly. Once the seat post mount has been fitted, you're all set to ride. It is pretty easy to power up and choose the lighting mode that you want using the buttons on the nearside of the unit. The green led beneath the lens indicates that you are filming.
The ride
During the daytime, the image quality is more than good enough to clearly read car number plates and you get a good vision of the road behind. In absolute terms, the quality isn't as good as the Garmin Varia RCT715 - but then the Techalogic CR1 is about a third of the cost. It is, as mentioned, plenty good enough for evidential purposes and this is what its purpose is for.
The in night, the images are still good enough to read number plates on roads lit by street lighting, but it struggled in really dark country lanes and wouldn't show much detail. This points to a mostly city/commuter or daytime riding user. The recording is able to time and date stamp the film, too (see pictures below).
The solid block lighting mode is 60 lumens and whilst better than my Cateye LD610, I felt that it wasn't as piercing as the Garmin Varia RCT715 and certainly not close to my benchmark lights (Exposure Tracer ReAKT or Knog Cobber Mid). It was, however, absolutely fine and still a lot better than many lights that I see on commuter bikes in the evenings.
The microphone does pick up sound but I found that the 'Shhhhhh' of road noise was pretty dominating on the recording. You can hear a freewheel clicking and the 'woosh' from an overtaking car, but it won't really pick up your voice if you're talking whilst riding.
It is a little fiddly getting the micro sd card out, as the flap gets in the way a bit. But I think that in practice the card is a fit and forget item. It is there to record in a loop until such time that you need to extract it. I was only having to remove it so often in order to view the footage as part of this review.
Image 1 of 2
Value and conclusion
Coming in at a third of the price of the Garmin Varia RCT715, it is hard to argue with the CR-1's value for money. The Garmin unit does feature a radar in addition to the camera and light functionality - plus it does feel a more premium offering.
That said, the price differential is a big one. If being seen and recording your journey is important to you - and you don't want to spend out too much - then the Techalogic is well worth considering. The light can be bought at both Amazon and directly from techalogic.co.uk.
Specification
1920 x 1080 @ 30 fps Resolution
H.264 encoding
120 degrees sensor viewing angle
AVI Video File Type
Loop recording
Date and time stamping
60 Lumen light: 6 light modes available, various flashing or solid.
Micro USB charging
Battery Capacity 1500mAh. Up to 6 hours runtime with LED. Over 7 Hours recording with LED off
IPX5 water resistant – Weatherproof and shock resistant. Water resistant for any weather, and extremely durable.
G sensor option. In an incident the camera will recognise the impact and auto lock that all important video file so it cannot be over written.
WiFi/app-controlled. Easily change settings. Check and download your videos on your mobile device
Dimensions: 80mm by 47mm by 27mm. 120 Grams / 4.5oz
Thank you for reading 20 articles this month* Join now for unlimited access
Enjoy your first month for just £1 / $1 / €1
*Read 5 free articles per month without a subscription
Join now for unlimited access
Try first month for just £1 / $1 / €1