Cycling eSports gold for Denmark and the Netherlands, bronze for Team USA
Bjørn Andreassen and Loes Adegeest win virtual rainbow jerseys at the 2023 UCI Cycling Esports World Championships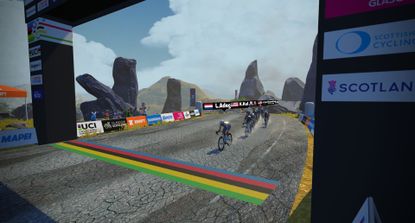 (Image credit: Zwift)
The best cycling eSport talent across the globe contested the third annual UCI Cycling Esports World Championships on February 18, held in Zwift's purpose-built Scotland map.
The 173 racers faced an all-new format, and after the three-race gauntlet was done, it was Denmark's Bjørn Andreassen and The Netherland's Loes Adegeest who crossed the finish line archway in first, earning the world champion title and virtual rainbow jersey.
In the men's race, a German duo of Jason Osborne and Marc Mäding finished second and third, respectively. And in the women's race, Great Britain's Zoe Langham and American Jaqueline Godbe rounded out the podium.
The Punch, The Climb and The Podium
Unlike other, real-world championship events, the men's and women's races at the 2023 UCI Cycling Esports World Championship were identical.
Each field faced an elimination, third-race format consisting of The Punch —short and punchy 13.8-kilometer race in which only the top 30 score an entry to the second round—, The Climb — a serious of hill climbs totaling 162m of elevation gain in just 5.5 kilometres—, and The Podium, an elimination race in one rider was eliminated through each segment archway until only three riders remain. These three then battled it out to the finish.
How the Races Were Won
The Men's Race:
Bjørn Andreassen won the race by riding strategically in the first two rounds in order to conserve energy to then leap to an early lead in The Podium race and solo to the finish.
A field of 86 riders lined up for the men's race in virtual Glasgow, and Andreassen cleverly remained tucked away in the first two rounds, doing enough to punch his ticket to the next round while also keeping some fuel left in the tank.
In the final race, however, he jumped early and opened up a gap hat soon grew to 15 seconds. The nine riders behind him were unable to reel him back in and were left to vie for the remaining podium spots, as rider after rider got eliminated at each intermediate sprint.
Team USA's Zach Nehr was the first racer eliminated, followed by Denmark's Oskar Hvid, South Africa's James Barnes, and Norway's Haavard Gjeldnes. Australian Freddy Ovett, a pre-race favorite, tried to start a chase on the fifth lap, but ended up getting caught out himself, followed by Kjell Power of Belgium.
Denmark's Anders Foldager was the last to be eliminated, leaving Germans Osborn and Mading to battle it out for second and third as Andreassen soloed comfortably to the win.
Final Men's Results:
Bjørn Andreassen, Denmark
Jason Osborne, Germany
Marc Mäding, Germany
The Women's Race
Pre-race favorite Loes Adegeest successfully defended her title as eSports champion by riding conservatively.
Like Andreassen, she stayed tucked in the bunch of 87 riders until the final moments of each race, where she showed both experience and strength in punching her ticket to the next round.
After demonstrating tremendous patience in the first two rounds, the Dutch rider took control in the last race, leading the bunch through four of the six elimination points.
Despite having the largest roster and two race-favorites among them, Team USA fell short. Pre-race favorite Kristin Kulchinsky and Zwift Academy finalist Liz Van Houweling were elminated in the first two sprints. Next were Switzerland's Kathrin Fuhrer, Sweden's Mika Söderström, USA's Arielle Verharren and France's Sandrine Etienne, setting up the final sprint between Adegeest, Great Britain's Zoe Langham and USA's Jacquie Godbe.
This is when Adegeest successfully deployed a Zwift tactic called the burrito power-up — which prevents riders from drafting off you for 10 second— to help keep Langham and Godbe off her wheel as she sprinted toward her second UCI World Champion's rainbow stripes.
Final Women's Results:
1. Loes Adegeest, The Netherland
2. Zoe Langham, Great Britain
3. Jaqueline Godbe, United States
Thank you for reading 10 articles this month* Join now for unlimited access
Enjoy your first month for just £1 / $1 / €1
*Read 5 free articles per month without a subscription
Join now for unlimited access
Try first month for just £1 / $1 / €1
Cycling Weekly's North American Editor, Anne-Marije Rook is old school. She holds a degree in journalism and started out as a newspaper reporter — in print! She can even be seen bringing a pen and notepad to the press conference.
Originally from The Netherlands, she grew up a bike commuter and didn't find bike racing until her early twenties when living in Seattle, Washington. Strengthened by the many miles spent darting around Seattle's hilly streets on a steel single speed, Rook's progression in the sport was a quick one. As she competed at the elite level, her journalism career followed, and soon she became a full-time cycling journalist. She's now been a cycling journalist for 11 years.