Team USA could bring home the rainbow jersey at the Esports World Championship this weekend
New Zwift courses, new race format, world-class competition with real-life outcomes: an Esports World Championship race preview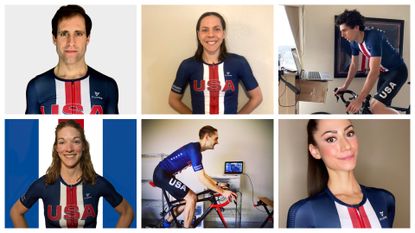 (Image credit: Various)
Get The Leadout Newsletter
The latest race content, interviews, features, reviews and expert buying guides, direct to your inbox!
Thank you for signing up to The Pick. You will receive a verification email shortly.
There was a problem. Please refresh the page and try again.
Taking place in the virtual world of Zwift on Saturday, February 18, the 2023 UCI Cycling Esports World Championship is one for firsts.
Racers will face an all-new format and courses in new territory. The racing will take place in the newly released Scotland map, which was created especially for the championships and takes inspiration from the Scottish landscape as well as Glasgow itself.
For the first time in the brief but storied history of the Cycling Esports World Championships, an American is likely to be among the podium finishers.
"Does the US have a shot? Without a doubt, yes. The format for worlds plays well for our squads. The US team for men and women has one of the largest rosters in their races, and each is composed of 100% pure Zwift specialists. The size of our rosters and the Zwiftcraft of the riders give us a massive advantage," says Matt Gardiner, one of three race directors for Team USA's esports team.
2023 Esports Worlds - The Format
The Race Format
Unlike other, IRL, world championship events, the men's and women's races at the 2023 UCI Cycling Esports World Championship are identical.
Each field will enter the three-race gauntlet with 85 riders. The first round, called The Punch, will see the fields race to the finish in a punch but short, 13.8-kilometer race, in which only the top 30 score an entry to the second round.
The second race, aptly named The Climb, will see 30 riders tackle repeated hill climbs —162m of elevation gain in just 5.5 kilometres.
Only 10 go onto The Podium, an elimination racer which pits the racers against short, punchy climbs, in which one rider is eliminated through each segment archway until only three riders remain. These three will then battle it out to the finish.
Gardiner explains that Team USA's large roster size will give them an advantage in the first two races:
"A significant component of success in The Punch will be luck, with the rest of the result coming down to game craft. All the athletes who made it to Worlds have the power to be there. Getting the timing and positioning right to find the top 30 and advance to The Climb will take a little luck and finesse."
Team USA has the potential to start The Climb with multiple riders, which would give them "the ability to race tactically against riders who may be without teams. That race is an unknown so far, and it could be vary drastically based on who makes it to the start line. We'll see once we get there!"
After two all-or-nothing races already in the legs, the 10 riders going into the third and final race will be incredibly fatigued physically and mentally.
"I believe our rosters have some of the most durable indoor specialists in the world who shine after repeated efforts. The Harder The Punch and The Climb, the better The Podium will work out for us. Bring it on!" says Gardiner.
Helping to bring the rainbow stripes home to the US for the women is Director Sportif Jenn Real, a physician from Fredericksburg, TX, who races for Saris-NoPinz and has stood at the helm several times before.
"Team USA is in a great spot with multiple women who are legitimate podium contenders!" asserts Real. "We've got climbers, punchers, sprinters, and breakaway riders—something for every scenario that could play out. It will take racing smart and with a lot of heart. This new format is very exciting and should make for some really great racing. We look forward to fighting it out."
Meet Team USA's race favorites
Who better to break down the talent of the Team USA roster than iconic American cycling announcer, and an early embracer of cycling esports, Dave Towle.
The voice of American racing both virtually and in real life, Towle along with co-host Nathan Guerra, announces elite-level esports and community races for Zwift Community Live.
"It's an embarrassment of riches that the Americans have men and women of such talent," Towle boasts before putting his picks on the line.
Team USA favorites - The Men
Brian Duffy - Zwift World Ranking 13
Hometown: King of Prussia, PA
Team: NeXT p/b Enshored
Zwift World Ranking: 13
"Brian Duffy Jr. comes to the World Championships with members of his Zwift team that has its act together in NeXT p/b Enshored...NeXT p/b Enshored is the most dominant elite esports team, and there's no shame in saying that. What's more, they're one of the most beloved teams out there," says Towle.
"He has the right physical attributes and mindset and looks to be America's best chance in this year's World Championship race format."
Duffy too credits his team for his success.
"I race on NeXT Esport p/b Enshored, the top ecycling team in the world. Conversing, training, and racing with some of the top athletes in the world has served as a major advantage and has helped me develop as a rider," he says.
The 34-year-old former professional triathlete turned elite Zwift cyclist from the Philadelphia suburbs works in corporate finance. He finished 20th overall in the 2022 Esport World Championships and is happy to be back.
"Being a part of Team USA last year was an incredible experience—one of the most memorable that I've had as an athlete," he says.
"I can't wait to be a part of Team USA once more and to continue along this journey in the growth of ecycling. I've been encouraged by the testing of new formats, the heightening of data and equipment standards, and by the quality of athletes emerging.
It's a unique experience, and having a UCI-governed championship is a reflection of the growth and legitimacy of this niche sport.I'll be sure to do everything that I can to represent my country well on February 18."
Zach Nehr
Hometown: Milwaukee, WI
Team: NeXT p/b Enshored Zwift
World Ranking: 30
"Zach Nehr is my going-with-your-head-and-heart choice because I love how he races. He comes in with a big delta. If you put your money on him, you'll get good odds, but he has a better chance to win than most realize. I like having character guys like Nehr on the team, and they may be one of the few national teams that ride for one another in a strategic, organized way," says Towle.
Nehr is a 26-year-old freelance cycling writer and coach who finished 28th overall in 2022. Nehr has all the physical and mental attributes to win and points to his team as an asset.
"Being a part of NeXT p/b Enshored is my biggest strength heading into Worlds. Our team is dialed in with every aspect of Zwift racing. We've been at the top of the Zwift Grand Prix for three seasons running, and we're bringing several riders to Worlds across many different countries. My teammates and I always bounce tactical ideas around ahead of the biggest races, and Worlds is no different."
Nehr is confident in the team's podium prospects.
"I believe that Team USA can put a rider on the podium. And as things always go in cycling, if we have a little bit of luck, Team USA could bring home the rainbow jersey. With the new format for Worlds, anything could happen. But we have such a strong and well-rounded squad that we should be prepared for anything."
J Bruhn
Hometown: Atlanta, GA
Team: NeXT p/b Enshored
Zwift World Ranking: 24
Bruhn is the kind of guy to rally around, says Towle. "You might have very few guys left with the strength of the field in the final race. J Bruhn will get the most support from others. He's very well prepared and focused."
A 34-year-old project manager from Atlanta, Bruhn shocked the esports world when he rose from the Zwift community ranks to punch his ticket for Team USA in 2022 and joined NeXT p/b Enshored. He finished the 2022 World Championship as the second-best American finisher and has since solidified his position among the world's elite, holding the Zwift #1 worldwide ranking on several occasions.
"My dream is to win!" says Bruhn. "But realistically, success will be to make it to the final round of the elimination-style racing. If I can make it to race three, I am guaranteed a top ten, which would be a huge result for me, and really anything can happen in the final race!"
If Bruhn finds himself in the final with a few Team USA mates, he likes their chances.
"I think, depending on how the races play out, a few of us have a realistic shot of landing on the podium. But when you have so many riders that are this good competing in a race like this, not only do you have to have good power and timing, but you will need a little bit of luck as well," he says.
"The biggest thing that has changed for our team is our thought process. Last year was about how we set ourselves up to do as well as possible. This year the mindset is, how do we set ourselves up to win?"
The US men weren't able to crack the top ten in 2022. To get it done in 2023, these three strong and smart Zwift racers must be the reason.
Team USA favorites - The Women
If the Team USA men are primed to make a splash in this year's Worlds, then Towle's top women's pick is ready to shock the World. Remember this name: Kristen Kulchinsky.
Kristen Kulchinsky
Hometown: Dix Hills, NY
Team: Twenty 24
Zwift World Ranking: 2
"The best shot the American women have is with Kristen Kulchinsky," Towle states.
"She has consistently shown that she has a strong work ethic. She is a great example that sometimes your most significant strengths are your greatest weaknesses. She has been over-raced in the past, and the psychological load was overwhelming and became detrimental for critical races. She has made changes to figure that out this year.
It speaks to the mindset of a champion. It's a turning point for her and doesn't mean more to any other athlete out there. She checks the box on motivation and preparation, and Kristen will prove that luck is when preparation meets opportunity. Kristen Kulchinsky is my four-star favorite to bring home the rainbow stripes to American soil, and I doubt she doesn't find a spot on the podium."
Kulchinsky is a 41-year-old goldsmith and jewelry designer from Long Island, NY. A two-time qualifier, she placed in the top ten in 2020 and is motivated to redeem a disappointing performance in 2022.
"I feel like I have been preparing for this since Feb 27, 2022," she says. "I have really enjoyed the training process, and I am proud of the shape I am in. I feel strong and ready, so I already feel in my head it's a success and a personal victory. The race will be the sprinkles on the cupcake."
Jacqueline Godbe, US National Esports Champion
Hometown: St Louis, MO
Team: Saris-NoPinz
Zwift World Ranking: --
"Jacqueline Godbe has been an absolute monster. To underestimate Jacquie Godbe is a fool's errand," says Towle.
"She's able to deliver when it matters. Godbe differs from Kulchinsky in her capacity to work, and it doesn't slow her down. Her mentality is straight-up surgical, and she never shows signs of falling victim to the mental ebbs and flows. She's always there, a rock!"
Godbe is a 32-year-old radiology resident with a Ph.D. in chemistry. The reigning US National Esports Champion, she finished in the top ten in the world in 2020 and 2022.
Godbe is coming off a significant setback to her health and fitness, yet she doesn't seem phased, saying, "This championship represents the culmination of a year of training, competition, and teamwork that has already been fun and helped me on my personal health journey. So that's already a win. But I'll still try to win more!"
Liz Van Houweling
Hometown: Des Moines, IA
Team: Saris-NoPinz
Zwift World Ranking: 24
"In this year's World Championship format, you must look at riders with experience in this season's Zwift Grand Prix. Liz Van Houweling, based on an elite Zwift racing body of work, is my third American women's pick. She has the ability and shows promise, and it's a box that she will check in her esports career," says Towle.
"Clearly, being a stay-home Mom of two young children puts her in a different league regarding what she has on her plate. With the respect she deserves, Liz will need the race of her life to beat Godbe and Kulchinsky."
Van Houweling is a 32-year-old cycling coach, personal trainer and full-time mom. A Zwift Academy Finalist who held the #1 ranking worldwide for several months in 2022, Van Houweling was Team USA's top finisher (fifth) in the 2022 World Championship.
"I've introduced a lot more structured training, so I feel like my fitness is better than ever. I've raced a lot in the past, so I know my race craft is good as well," she says.
Her new coach Alex Coh (Endurance Sport), is bringing six athletes to the Worlds and is confident, "Liz definitely has a chance to win. She is in a good place for a proper result in the Worlds, and I believe she should be considered one of the favorites to win it. Her game craft is among the best in the business, and her mental game is on point."
For the men and women of Team USA to claim the rainbow jersey for the country where Zwift was born, they will have to out-punch and outwit an international field of deserving foes.
2023 Esports Worlds - A World-Class Field
To cash in on its 'embarrassment of riches', the American Women must shrug off Team Great Britain's best punch from Zoe Langham, who finished third in 2022. They will have to climb with the likes of the UK's Mary Wilkinson and Lou Bates, whose dominance in the Zwift Grand Prix proves their on top form. After a recent victory at the Cadel Evans Road Race, the reigning Esports World Champion looks tough to beat. Will the Team USA Women have enough to displace Dutch cyclist Loes Adegeest from the podium's top step?
For the men, reigning Esports World Champion Jay Vine will not be defending his crown. However, a deep pool of international-level talent stacks the field against the US. Australia's Freddy Ovett looks to take over where his teammate Jay Vine left off and keep the stripes down under. He finished second to Vine in 2022.
World ranked number one, Denmark's Joakim Lisson says his pre-race preparations are paying off, and expects to "be up there competing for the win."
New to the esports scene and on the come is Germany's Marc Mading. He clarified his intentions when asked, "I want to become World Champion. That's what I work towards, and I will race my heart out when the day arrives."
South Africa's James Joseph Barnes is dialed in to win. Belgium's Lionel Vujasin may have the most elite-level esports experience in the field, and he'll be motivated to improve his fifth place finish a year ago. Lio has the hearts of many esports fans and students of the game on his side.
Towle, Gardiner, and Real know it will be a great race once the gun goes off. And when it's "done and dusted," will an American Man or Woman be on the podium's top step? The Team USA hopefuls have as good a chance as any, and better than ever before.
In the venerable words of Towle, "It's on like Donkey Kong!"
How to watch
Virtually:
The racing will be streamed from Zwift's YouTube channel.
In Person:
The 10 British Cycling athletes competing in the 2023 UCI Cycling Esports World Championship will be competing side by side in front of a live audience in real-life Glasgow, Scotland.
The "In Real Life" final is open to the public and tickets are on sale now.
In addition to the racing action, 11-time UCI World Champion and six-time Olympic gold medallist Sir Chris Hoy will take part in a Q&A with the studio audience ahead of the race as well as providing expert insight on the action on Zwift throughout the night.
Thank you for reading 20 articles this month* Join now for unlimited access
Enjoy your first month for just £1 / $1 / €1
*Read 5 free articles per month without a subscription
Join now for unlimited access
Try first month for just £1 / $1 / €1
Get The Leadout Newsletter
The latest race content, interviews, features, reviews and expert buying guides, direct to your inbox!
A physical therapist with over 25 years of experience, Christopher Schwenker is on a journey to give back to the cycling community for rewarding experiences and fulfilling relationships through the pages of his virtual cycling blog, The Zommunique, and his cycling-related non-profit, The DIRT Dad Fund.