How to make your own recovery bars (videos)
We show you how you can easily make affordable bars to maximise your recovery window after a ride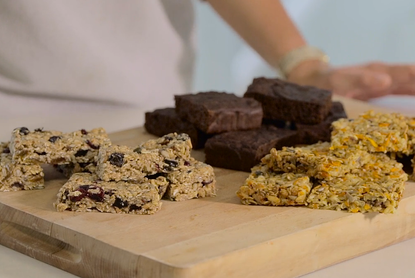 The recovery window is one of the most important aspects of cycling performance. It's here where you will rebuild damaged muscle tissue, refill empty glycogen stores and restore hydration levels.
If you fail to take your recovery seriously, your performance will plateau and you could fall foul to illness and even injury. And while adequate rest will go a long way to help your body recover, it is your nutrition that will have the biggest impact.
>>> How to make your own recovery and energy drinks
Give the body what it needs
After a long day in the saddle, the body craves for carbohydrates, proteins and fluids (electrolytes), and it doesn't care how it gets them.
This is why manufactured recovery bars are extremely effective, providing the body with what it needs. But they can be expensive and a lot of them aren't too kind on your taste buds either.
So why not make your own recovery bar? It's not as silly as it sounds. After all, there's no substitute for real food plus you'll be in charge of what you put in it.
>>> Tips for effective rest and recovery after cycling
Not only that, but it's cheaper and you'll also benefit from more vitamins, minerals, fibre and antioxidants.
"I'm a firm believer in the phrase 'food first,'" says Kinetica brand ambassador, Matt Lovell.
"When we train, we break things down, deplete energy, dehydrate and cause damage to the body. To use food for recovery, we need proteins to repair and carbohydrates to replenish."
Make your own recovery bar
So what food do we need for recovery? Well, it's not as tricky as what you think.
In fact it's pretty straightforward and our resident dietitian, Laura Tilt, is going to show you how with these delicious and simple recovery bars. Each bar takes less than 10 minutes to prepare, and once they're made you can individually wrap them for on-the-go recovery.
Try it yourself
No-bake fruit and oat bar
If you're short on time or not a fan of the kitchen, these are the bars are for you – they're super easy to make and don't need any oven time.
To make the bars we're going to use oats, dried fruit and honey - all of these are high in carbohydrates, which will replenish your glycogen stores after a hard ride. Oats are also a great source of a fibre called beta glucan, which has positive effects on immune function.
The dried fruits are also high in antioxidants that can help your body buffer oxidative stress – we're using a mix of raisins and goji berries, but you can use cherries, apricots or any fruits you like.
>>> The natural foods you need for top performance and recovery (video)
To the dry ingredients we're going to add peanut butter and seeds for a protein boost to help support muscle recovery.
Ingredients
Oats – 2 cups / 200g
Peanut butter – 125g
Raisins / cranberries / seeds - pumpkin/ sunflower/chia– one cup mixed 150g
Honey – 150g
Baking sheet
Directions
1. Blitz the oats in a food processor until you have a fine texture – this makes it easier for everything to stick together. Mix the oats with the seeds and fruit in a large bowl.
2. Pour the honey into a medium saucepan and add the peanut butter – place over a medium and stir until the peanut butter has melted into the honey
3. Pour the honey mix and then stir until you have everything combined
4. Press the mix into a cling-film lined baking pan and chill for 2-3 hours – can you speed the process up by placing in the freezer.
5. Cut into bars and wrap individually
Sweet potato and chocolate recovery bars
Sweet potato is rich in carbohydrate to help replenish glycogen plus beta-carotene, an antioxidant that can help your cells recover after a hard ride.
Added prunes are a great source or natural sugars and the small amount of flour and cocoa, provide antioxidants that boost blood flow.
>>> The complete guide to sports drinks: Recovery
Last but by no means least, eggs and a scoop of whey will provide protein for muscle recovery. All types of protein are beneficial post exercise, but whey is fast digesting and rich in leucine, an amino acid that triggers new muscle synthesis.
Ingredients
- 300 grams baked sweet potato (2 medium potatoes)
- 150g grams sticky prunes
- 3 free range eggs, lightly beaten
- 100 grams flour of your choice
- heaped scoop choc protein powder
- 30-40g good quality cocoa powder
- 1.5 tsp. baking powder
- 50 grams walnuts (optimal)
Directions
1. Start by baking the sweet potatoes in the oven until soft – the ideal time to do this is the night before when cooking your evening meal.
2. To make the bars, tip the prunes together with 2tbsp water in a food processer and blend until you have a paste.
3. Next add the sweet batter into a bowl. Crack in the eggs, sift in the flour, cocoa and whey and stir until you have a smooth batter.
4. Tip the sweet potato batter into a bowl. Crack in the eggs, sift in the flour, cocoa and whey and stir until you have a smooth batter.
5. Pour into a baking pan and bake at 160 for around 30 minutes until a skewer comes out clean. Leave to cool completely and then cut into squares.
Cheese and three seed bar
The third bar we're going to make is a savoury flapjack. If you're tired of eating sugary bars and gels, these are a great option.
To make the flapjacks we're going to use a base of oats for carbohydrates, plus grated carrot for an antioxidant boost.
>>>
To the oats we're going to add eggs and cheese for protein. Eggs are a great source of essential amino acids to support muscle recovery, and the cheese is rich in calcium, which is lost in sweat.
To help bind the mixture we're going to use olive oil, which is rich in anti-inflammatory compounds, and a pinch of salt to help restore sodium lost in sweat.
Ingredients
- 150g oats
- 2oz mixed seeds
- 4oz strong / mature cheddar, grated
- 2 grated carrot
- 2 eggs
- 1tbsp olive oil
- Salt and pepper
Directions
1. Place the oats in a bowl with the grated carrot, cheese and salt.
2. Beat the eggs and add to the dry ingredients with the olive oil.
3. Mix with your hands or a spoon until the ingredients come together and start to stick.
4. Press the mixture into an 8-inch lined baking pan and bake for 25 minutes at 180 degrees until golden and set.
5. Leave to cool and then cut into squares.
Thank you for reading 10 articles this month* Join now for unlimited access
Enjoy your first month for just £1 / $1 / €1
*Read 5 free articles per month without a subscription
Join now for unlimited access
Try first month for just £1 / $1 / €1