Garmin Edge 200 review
It may have been usurped by the Edge 20, but the Garmin Edge 200 still offers decent value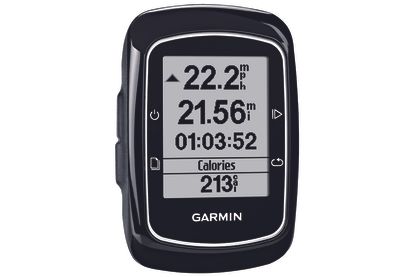 At £109.99 the Garmin Edge 200 isn't the absolute cheapest unit on the market but you get quality and reliability in a sleek package. If you don't rely on power, heart rate or mapping but just like to record your mileage, speeds and routes then I don't see why you need anything else.
Reasons to buy
+

Small

+

Easy to use

+

Good value
Reasons to avoid
-

Slow GPS connection

-

Not compatible with external devices
Although its place in the Garmin hierarchy has now been usurped by the Garmin Edge 20, if you want easy to read data on a small reliable device then the Garmin Edge 200 is still a very good option. Measuring just seven centimetres tall and five centimetres wide and weighing in on our scales 58g, it leaves your cockpit clean and tidy and is very unassuming in its gloss black finish. Placed on a bar extender its virtually unnoticeable.
Buy now: Garmin Edge 200 at Gearbest for £59.45
Read more: Buyer's guide to GPS cycling computers
The idea of the Garmin Edge 200 is that it be easy to use for casual cyclists, though it has its place for any budding racer or sportive riders. The plug and play nature of the device is something I like and barring the wait to connect the GPS satellites you don't have to do anything else. Acquiring GPS position can take a few minutes, so I have found if I am running late it's a problem. I've even started my ride once or twice because I got fed up waiting, five minutes down the road it then finds itself.
Watch: Critical power - the hardest test you can do on a bike?
If you rely on power, heart rate or any other external device then look elsewhere than the Garmin Edge 200, as Garmin has taken out any wireless connectivity. As I say, I don't mind this but any number cruncher certainly will. However, being a GPS computer, you can still track your rides and upload them to Garmin Connect or Strava without the need for external speed and cadence sensors, and these sites can then give estimated averages of power and other metrics post-ride.
>>> 12 cool things you didn't know your Garmin could do
The Garmin Edge 200 also allows you to upload and then follow a pre-planned route. There is also a 'get me home' function, although this only shows you the general direction you should be going, rather than an actual map or turn-by-turn guidance, which would have been handy. However, given the price, it's difficult to expect too much, and if you want functions like this then you're going to have to splash out on the vastly more expensive Garmin Edge 1000.
The main screen on the Garmin Edge 200 shows three fixed fields (current speed, trip distance, and ride time) that cannot be changed, plus a fourth field at the bottom of the screen, which can be switched between average speed, total ascent and calories burned. I've had no problem glancing at these fields out on the road and pressing one of the four buttons on the sides can activate a timed backlight
Buy now: Garmin Edge 200 at Gearbest for £59.45
But probably the best thing about the Garmin Edge 200 is its battery life, which is a massive 14 hours. This means that this is a great choice of cycle computer if you're off for a riding trip beyond the realms of civilisation, or are just a bit too lazy or forgetful to charge it everyday.
Thank you for reading 10 articles this month* Join now for unlimited access
Enjoy your first month for just £1 / $1 / €1
*Read 5 free articles per month without a subscription
Join now for unlimited access
Try first month for just £1 / $1 / €1
Symon Lewis joined Cycling Weekly as an Editorial Assistant in 2010, he went on to become a Tech Writer in 2014 before being promoted to Tech Editor in 2015 before taking on a role managing Video and Tech in 2019. Lewis discovered cycling via Herne Hill Velodrome, where he was renowned for his prolific performances, and spent two years as a coach at the South London velodrome.