Garmin Epix (Gen 2) smartwatch review - superb functionality, brilliant display, changed my life
All of the features of the top Fenix and Forerunner watches but with an enhanced AMOLED display - which makes it more expensive, but it's worth it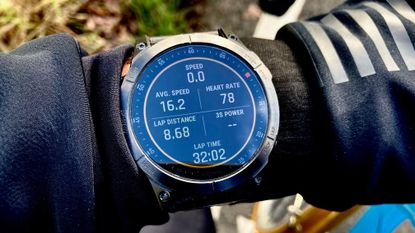 (Image credit: Simon Smythe)
This is a high-end sportswatch/smartwatch that's like a second brain. Once it's given you the stats from your ride or run it keeps track of your training status, gives you a number for your acute load, load focus, VO2max, recovery time and training readiness. There's also HRV, sleep score, body battery, step counting plus all the usual wearable data... and much more. The GPS navigation is incredibly detailed and you'll never get lost. Having access to all the data from my physical life is more motivating than I'd imagined - but not only that, the Epix's AMOLED screen is beautiful to look at and makes it worth the extra that it costs compared to the Fenix 7 and Forerunner 955. I'd be lost without it.
Reasons to buy
+

All your training and recovery data

+

Super accurate GPS mapping and navigation

+

Trouble-free syncing with Strava

+

Reliable HRM (for the optical type)

+

Long battery life

+

Beautiful display
Reasons to avoid
-

Expensive (but worth it)
You can trust Cycling Weekly. Our team of experts put in hard miles testing cycling tech and will always share honest, unbiased advice to help you choose. Find out more about how we test.
Get The Leadout Newsletter
The latest race content, interviews, features, reviews and expert buying guides, direct to your inbox!
Thank you for signing up to The Pick. You will receive a verification email shortly.
There was a problem. Please refresh the page and try again.
I've worn the Garmin Epix every day for a year and have clocked 271 activities on it as I write. I like to think that's longer than most reviewers have given it - and I'll freely admit that this is because it has become such an important part of my life that I've almost been reluctant to write this review and send it back to Garmin. When I do, I will be bereft, honestly.
I included the Epix in my 'gear of the year' for 2022 and said it was like a second brain on my wrist that's much more effective than the one in my skull, and I stand by that.
It's not just my brain - it has mostly also replaced the head unit on my bikes during this last year. It gives me all the data during and after an activity, but does more than a simple computer can do - it carries on giving me insights into my training, fitness and health.
For example, heart rate variability is something I never thought I needed but now I can't live without knowing where my recovery is at (or whether I've over-boozed).
The Epix's mapping functionality has allowed me to take on much more ambitious and better quality runs when I've been away from home and I've been able to lead my family on mountain walks without being asked constantly "are you sure this is the way?" That's right, my family agree with me that the brain on my wrist is better than the one in my skull too.
What is the Garmin Epix and who is it for?
So, how does it fare against the best smartwatches for cycling? The Epix Gen 2, launched almost exactly a year ago, is built more for "everyday wear" according to Garmin (rather than pure sports, like the Fenix or Forerunner series). It has the exact same functionality as the Garmin Fenix 7 and the same five buttons, but has a superior AMOLED touchscreen display. This is the latest type of screen technology that's used in the most up-to-date iPhones, and basically makes it much sharper, crisper, brighter, higher-resolution and more colourful than the older MIP (memory in pixel) technology used by the Fenix and Forerunner 955.
It's capable of all sorts of delicate nuances of colour and shade but the sapphire crystal glass is also really tough. After a year of wearing it 24/7 the black titanium bezel is looking a bit chewed up, as you can see in the photos, but the screen doesn't have a single scratch.
You can choose from Garmin's pre-designed digital and analogue watch faces and select which metrics you want to see around the edge, or create your own backgrounds: even if you want a photo of your dog on your watch face you can easily upload it. The dog never questions my routefinding, so why not give him pride of place? To be fair, Apple Watch users have been able to do that for a while, but it's a novelty for sportswatches.
None of the Epix watches, of which there are four models costing between £749.90/$899.99 and £999.99 (this one with the leather strap isn't available in the US), have the solar charging that features in the higher-spec Fenix 7 and Forerunner watches. However, runtime is actually really good. And much better than Apple Watches. More detail on that below.
The main difference between the 'entry-level' model and the more expensive ones is the glass. The three more expensive ones are called 'Sapphire', meaning they have the lighter (but very tough) sapphire crystal display whereas the lowest priced one has Corning Gorilla glass.
The other difference is the bezel - steel for the lowest priced and titanium for the top three.
This new Epix is the 'Gen 2' but there's no point in comparing it to 2015's original Epix. That would be like comparing a sundial to a Casio. I'll just call it 'Epix' from here on.
It has so many features that it would be impossible as well as incredibly boring to go through all of them, so let's embark on a whistlestop tour rather than a deep dive, but I will go into depth about what to my mind makes the Epix worth the five stars I've given it.
Garmin Epix: construction
The Garmin Epix is 47 x 47 x 14.5mm in size and with the standard silicone band, which has a decent amount of flex for the right fit during an activity (important for accurate heart rate tracking) fits wrist diameters between 125-208mm.
The band isn't exactly what you'd expect with a £900 watch but it works well for sport and is swappable/upgradeable if you want something more dressy.
The display is 1.3in, which is exactly the same as the mid-sized 47mm Fenix 7 - as are all the other dimensions. The Fenix 7 comes in three case sizes - there's a 42mm and a 51mm as well as the standard 47mm - whereas there's only one, the 47mm equivalent, in the Epix.
I have a wrist diameter of 160mm and have four holes left out of a total 19 when the Epix is buckled up at cycling or running tightness.
The Epix is a few grams lighter than the Fenix, only worth mentioning because of cycling's weight obsession. The standard Epix v Fenix is 76g v 79g, but the sapphire crystal glass of this model is lighter still at 71g (measured).
There are five buttons and you can use them instead of the touchscreen if you like. Unlike other reviewers, I tend to use both buttons and touchscreen with no particular preference.
However, it comes pre-set so that the touchscreen deactivates as soon as you start an activity and you instead scroll though the data screen using the buttons. Sweaty fingers don't operate a touchscreen too well and there's always the danger of inadvertent swiping, so I've kept it like that, though virtually everything is configurable with the Epix.
The model I tested is the Sapphire Black Titanium (£899.99/$999.99) which has a sapphire crystal screen. Sapphire glass is said to be more scratch resistant than the Gorilla glass that comes with the standard edition, and I'm actually amazed that after a whole year of use the screen is completely flawless even though the titanium bezel has noticeable wear.
Sports features
The Epix of course has the core sports covered but you can also add golf, climbing, skiing, surfing, rowing, tennis, hunting and fishing and more (don't ask me how those last three work).
I probably don't need to go into too much depth about how it works for cycling because it works like any modern bike computer. You can configure your data fields however you want. I've got six fields, the same ones I use with a bike head unit. It paired easily with Wahoo Powrlink Zero pedals and basically does whatever any modern GPS computer does.
The only thing to watch out for is the wrist-based heart rate monitor - none of them are as reliable as a chest strap for measuring heart rate for cycling because of vibrations and bumps while holding the bars, but for running where bumps tend to be better absorbed before they get to the wrist, I've had reliable enough results that I don't use a chest strap.
For indoor cycling I've actually been using the 'broadcast heart rate' function instead of a chest strap just because it's more hygienic and you don't have to mess around with changing coin cell batteries.
Health and fitness tracking
You've obviously got to wear the Epix all the time to benefit from its 'wearable' features. Some reviewers have said it's too big to wear in bed but I haven't had a problem with that.
If you do wear it 24/7, thanks to the green LEDs into the back of it - the optical heart rate sensor - it weighs everything up and gives you your training status, breaks down your load focus, estimates your VO2 max and/or FTP and projects times for the standard running distances if you use if for running and tells you how many hours you need to recover.
Sleep tracking is super useful and heart rate variability I've found even more so. Over Christmas and New Year I carried on cycling and running as usual but I boozed a bit more and went to bed later. Soon my HRV was plummeting, training status was 'strained' and my sleep reports were starting to remind me of being back at school.
I'm not saying I wouldn't have listened to my body, but the extra brain or second pair of eyes can give you a more objective view of your health and lifestyle. So now I'm most of the way through Dry January and it's quite incredible how much better my HRV and sleep scores are.
Mapping
I'll admit I never thought I'd use mapping on a display 1.3in across, but I found the Epix easier to follow than even my car's satnav. Creating a route on Strava and then following the purple line on the watch - with helpful audible turn alerts that whirr encouragingly at you - is simplicity itself.
I've also let it send me off on a mystery tour 'Round Trip Course' where you select the activity and distance, it finds you a route and you follow it. I love this feature and have discovered paths, trails and footpaths that I never knew existed.
The ClimbPro feature is great on a course you don't know - for example with a Round Trip Course - for checking where you are on a climb and what's to come. It's also perfect for those family walks when smaller family members start asking if we're nearly there yet. That's as long as you actually are nearly there. It can be demoralising if the walk has only just started. Sometimes it's just best not to show them.
The Epix finds a GPS signal impressively quickly and is super accurate once you're up and running. If you deviate off the route even by a couple of feet it lets you know immediately, even in woods.
Battery life
As with any device, battery life depends on what exactly you're doing with it. Garmin claims up to 16 days in smartwatch mode or six days in 'always on' mode. Standard smartwatch means the display is off until activated by a gesture (raising your wrist). Always on means you can see the display without a gesture, and when you raise your wrist the display brightens. This is the one I use and I get six days maximum as long I'm not doing mega-long GPS-heavy activities.
Charging is very fast indeed, and if do accidentally let it drop into single figures (having ignored the low-battery alerts) and then need to go for a ride or run, plugging it in for just five or 10 minutes will bump it up very quickly to over 20%.
Since it charges so easily and quickly, I don't see any point in comparing its battery life to that of the solar-charging Fenix 7, which claims 22 days in smartwatch mode with solar charging. It's really no hardship to put it on charge for a maximum of two hours every five or six days.
The proprietary charging cable isn't the best designed - it can pop out of the back of the watch too easily - but again I'm not going to dock a mark just for that.
Other useful stuff
Flashlight
The Epix has a torch/flashlight function that's actually three white rings on the display activated by a double click of the 'light' button. It's nowhere near as bright as a phone torch but it's really useful for men of a certain age who might find themselves getting up in the night more frequently than when they were younger.
Of course if you're somewhere more epic than the bathroom - in the alley putting the dustbins out, for example - it will be useful for that too.
Smart notifications
I like the smart notifications, but if you live with someone who also gets smart notifications on their watch you end up telling each other the same news they've just had on their smartwatch. For example me: "Oh no, Jeff Beck has died!" My wife: "I know. Who is he?"
The stuff I don't use
Music
Nobody will use the Epix's full functionality, but the most obvious thing I don't use - but that potential Epix users might like to know about - is the music storage. I don't listen to music while I'm cycling, even indoor cycling, and when I'm running I'm focusing on my breathing and don't want a beat to put me out of sync or a podcast to distract me.
But if you do want music, the Epix can store up to 2,000 songs and can stream playlists from Spotify, Deezer and Amazon.
Garmin Pay
UK reviewers generally note that Garmin Pay doesn't have many participating UK banks and I'm going to follow suit. My bank isn't a participating provider.
Garmin Coach
This is for beginner and intermediate runners and will coach you up to 7min/mile pace. Fortunately I'm still a bit faster than that. Additionally, judging by the workout suggestions if gives me with the 'morning report' function (mostly base training at 8:50 mile pace), I'm not sure it would make any difference to my speed.
Value and conclusions
Although the Garmin Epix can do a lot more things than any of us will ever use or need, there's the odd thing it can't do that a lot of people do use. In particular, making and receiving phonecalls from the wrist. My wife does actually do this with her Apple Watch SE and the quality of the microphone and speaker really aren't bad. You can also do it with the Garmin Venu 2 Plus. Both of these are less than half the price of the Epix, so if that's important to you then the Epix might not be the right watch.
But if you're more of a sportswatch than a smartwatch type then it might come down to three-way battle between the Garmin Epix, Forerunner 955 and Fenix 7.
All three have different models/specs at different prices, with the most basic Epix costing £749/$899.99 costing a bit less than the most expensive Fenix 7 (Sapphire Solar) costs £779/$999.99. The most expensive Forerunner 955 (Solar) costs £549/$599.99.
On average the Epix is the most expensive of the three.
All three cover all the sports, training and navigation any of us will ever need, so what it really comes down to is the display - and here the Epix's pin-sharp, high-definition, full technicolour AMOLED is much nicer to look at than the MIP type of the other two. Basically it's capable of 65,000 colours versus 64. And since you're going to be spending hundreds of hours looking at your watch, I'd be tempted to pay a bit more for a display that really is a lot better than the other two.
Specification
Size 47 x 47 x 14.5 mm
Display size 1.3″ (33.02 mm)
Display resolution 416 x 416 pixels
Display type AMOLED
Weight 71g (actual)
Water rating 10 ATM
Memory 32GB
Battery life Up to 16 days (6 days always-on) in smartwatch mode; up to 21 days battery saver watch mode
Connectivity Bluetooth, ANT+, Wi-Fi
Smartphone compatibility iPhone, Android
Thank you for reading 20 articles this month* Join now for unlimited access
Enjoy your first month for just £1 / $1 / €1
*Read 5 free articles per month without a subscription
Join now for unlimited access
Try first month for just £1 / $1 / €1