Garmin Forerunner 955 Solar review - easily the best value option from Garmin's solar range
From tracking your rides to telling you how much REM you had through the night, this GPS watch has a lot to tell you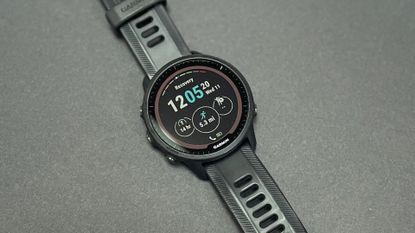 (Image credit: Future)
The Garmin Forerunner 955 Solar very quickly became my go to activity tracker and I ended up favouring it over my bike computer. The fact it was always on my wrist helped (no handlebar mounts needed) but with the data screens easy to read and the fact I needed the watch to track the physiological metrics that my computer didn't, meant it was the obvious and easy choice. On occasions I doubled up as I still wanted info on my bars but I never left the 955 at home. Plus the battery life proved to be excellent, lasting over seven days (with lower usage), even through the winter.
Reasons to buy
+

Automatically searches for GPS signals when you select an outdoor activity

+

Excellent battery life

+

Clear mapping

+

Personalisation of displays

+

Quick navigation to screen you need
Reasons to avoid
-

Need to wear constantly for accurate diagnostics

-

Didn't always automatically connect with phone
You can trust Cycling Weekly. Our team of experts put in hard miles testing cycling tech and will always share honest, unbiased advice to help you choose. Find out more about how we test.
Garmin's near range topping Forerunner 955 is not so much an activity tracker but a complete wrist-based diagnostics tool. Aside from tracking your riding, running or whatever activity you wish to partake in, the $599.99 / £549 GPS watch measures a staggering amount of data to feed back on your recovery, health, training readiness, optimal training zones, stress levels and more.
All this information gleaned by just sitting on your wrist. While GPS tech is clearly at the heart of all the best smartwatches for cycling, it's the light emitting diodes on the back of the watch, and what they capture, that's the really clever stuff.
These two very small but incredibly bright green lights allow the watch to measure your heart rate and, crucially for some diagnostics, your heart rate variability through light reflection. From that, along with recent activities or training, it builds a picture of your performance ability and then tracks your progression and recovery.
Light reflection works by a green light hitting the blood vessels then measuring the amount of light returning to the four photodetectors also on the back of the watch. The amount of light sent back to the detectors tells the watch the volume of blood in the vessels and from that it can work out your heart rate and HRV.
My previous experience of light reflection HR measurement (on a more basic Garmin Forerunner 255) left me concluding it was 'okay' if a little unreliable at times. But the technology has clearly moved on and the 955 was much more reliable. Certainly when road riding, running, walking or motionless it seems spot on. The only time it struggled was with off-road riding as the constant shaking and movement on my wrist appeared to disrupt the measurement and the watch stuck on a clearly incorrect HR for minutes at a time.
I also used the watch using a Wahoo Tickr chest strap, connected via bluetooth, but apart from off-road riding I found no discernible improvement. If anything it was a little less reliable.
If looking around at other products be sure to check what colour lights they use as one recent study showed that green light had good accuracy, was better than red or blue light, and was significantly better than red or blue light during motion.
Before we get into the wealth of information all this gives you and how it compares to other Garmin smartwatches we've highly rated such as the Garmin Epix 2, lets take a look at some of the more basic info.
Garmin Forerunner 955: quick look and setup
The 955 solar weighs in at 53.2g, sits 16mm off your wrist and is 47mm wide with the five push buttons around the side each protruding another 2mm. The strap is soft rubber with a metal buckle with holes in the strap every 2mm allow for plenty of adjustment.
This makes it just 11.5g heavier, 1.5mm deeper and 1 mm wider than my old Forerunner 255. Considering the extra tech that's packed into the 955, and the exceptional battery life, it's some achievement to keep it to these dimensions.
On low activity weeks I went over seven days without needing to charge it. The more you use GPS and heavy data screens (like mapping), the quicker battery life drops.
The display on the touch screen is excellent, with the Corning Gorilla glass much like you'll be using on a smartphone. It's considerably clearer and brighter than my old 255, but not as pinpoint sharp as a Garmin Fenix screen.
The watch is quick to set up once you have a Garmin account. As I already had one from previous products the 955 connected to my profile in seconds to get me up and running straight away. From that point on there are hours of fun to be had configuring every aspect of the watches display and functionality to suit you and the activities you do. You will need to wear it for up to a week for it to create an HRV baseline and optimal training load timeline.
You'll have noticed that this is a solar watch, with a 1.8mm solar ring around the outer edge of the watch face, just inside the bezel. If you live in the UK, don't get too excited about this feature, especially during winter. The solar intensity 'Glance' (the name given to the speedily accessible info found by swiping up or down from the home screen) went several months without measuring a single unit of solar charge.
Even on the rare occasion when it wasn't tucked under a sleeve there was little sunlight hitting it and it didn't register. Garmin says you can get up to 20 days of battery life when solar charging and up to 49 hours usage in GPS mode when solar charging.
If you live in a hot country, get lots of sunshine and plan for long rides, or multi day rides, this could be of use. Otherwise, with an excellent battery life it feels unnecessary. The standard 955 is available without the solar panel, costs £70 less and has exactly the same functionality.
Navigating through Garmin Forerunner 955's functions
Once you've set up your preferred watch face - from a simple analogue style with an hour and minute hand to a detailed display of training readiness data - finding what you need is easy using the Glances menu. Swipe up or down on the watch face (or use the up/down buttons) and you're taken to your personalisable list of Glances. Tap on any of these and you're taken deeper into your data.
Glances are the information you want to get to quickly and the list can be edited. As well as the watch's standard performance, recovery and health metrics (see Training prescription on the Garmin 955) you can add the altimeter, barometer, compass, pulse oxidisation, respiration, sunrise and sunset times, music player controls, race calendar and more. And any of these can be deleted at any point. It's a quick, easy and intuitive way to find most of what you'll need.
Not everything can be found in the Glances menu, however. To change the watch face, have a look through your activity history and set an alarm you'll have to hold down the up button, which doubles as a menu button. This is also where you can get into the settings menu and make changes to the watch's set up.
For example, you can: change activity data screens, set up the lapping or alerts function, add new sensors, update your profile, change the mapping screens and more.
First use of the Garmin Forerunner 955
Once you've set up the watch, using it is straight forward enough - especially if you've previously used a similar unit. First and foremost you probably just want to head out for a ride. Just press the top right button which takes you through to all the activities. Select 'bike' by hitting the same button again, or using the touch screen, and the watch takes you to this profile and immediately starts searching for a GPS signal. A bar across the top of the screen goes from red to green to tell you when it's connected. I found the watch rarely took more than 30 seconds to connect, although a bit longer when in a city and surrounded by high rise buildings.
The watch comes ready to go with multiple activities, just scroll through them to find the one you want. I had bike, indoor bike and gravel bike at the top of my list but there's cyclocross, MTB, eBike, bike commute, bike tour, run, trail run, track run, walk, pool swim, open water, golf, strength, snowshoe …… the list goes on and on.
You name an activity, it's probably on here and each one can have multiple data screens programmed all of which can themselves be edited to put the information you want in the right places on the screen. When I said hours of fun setting this watch up, there's probably days worth of fun for anyone who does lots of different sports.
All of the data screens for each activity are customisable with a wealth of information available based on time, speed, navigation, power etc. etc. There really are too many to mention here. Obviously a watch screen is much smaller than that of a GPS device on your bars, but I found I could happily have five data points displayed on the screen without anything getting too squeezed. Once I was used to the layout of the screen my eyes could quickly and easily find what I wanted to know. Important when momentarily taking your eyes off the road.
Of course you'll want to look at your data after your ride, too, and you won't be disappointed. The amount of data displayed on Garmin Connect when your ride is uploaded is impressive. The screengrab below shows just some of the data from a ride using the 955 and a set of Garmin Vector pedals. Enough to keep a coach busy for hours.
The watch came setup with touch screen disabled during activity, meaning I used the up/down buttons to change the screen. This is easy to change, but the buttons are more reliable when you're moving.
Mapping and navigation on the Garmin Forerunner 955
I was very impressed with the clarity of the mapping on the Garmin Forerunner 955. No matter how clear a watch face is, it's always limited by size. But even with a 33.5mm circumference display, mapping was easy to use and follow. On a recent gravel test bike that required a specific out-front mount I had to use the 955 instead of my bike computer and it was perfectly usable. A glance to my wrist isn't as handy as a glance to the centre of the handlebars, but I was still able to follow the map on the screen.
Zoom in enough and the maps will show bridleways (and footpaths, if you're trail running) clearly enough to follow when a route splits, and pick up if and when you leave them. Easily good enough to navigate by. I rode onto some new paths to try and get myself lost but was always able to zoom in and out, and scroll around in order to find my way back to where I wanted to go. I did of course have to stop in order to do this, but mapping on the watch is easy to use in this way.
There are various ways in which the watch can create a course for you. It can create a selection of courses by inputting the distance and the general direction - north, east, south, west - you want it to take, it can navigate to a point of interest nearby, create a route from map coordinates and of course you can upload a pre-made route from elsewhere.
For this you first have to have the route in your Garmin Connect account (I synced my GC account with Komoot, you can also download the Komoot app via the IQ store and use that directly.) Once that's done it's easy to find the course on the watch and follow it. The watch then displays extra screens within that activity including a map with arrows on your highlighted route and a distance countdown to the next turn. Another screen is perhaps better suited to off-road navigation, with just a directional compass style arrow and off course distance warning. Again, with navigation and routes, there are more options to play with than I can go into here.
Training prescription on the Garmin Forerunner 955
Who needs a coach when you have a watch telling you want to do. The Garmin 955 Training status page gives you a running update on where your fitness is and your recovery status. You can even have this data displayed on your watch face on one of the options available to you.
There are eight statuses from detraining through maintaining, productive and peaking to overreaching and strained when you're over doing it. This status is built up using your training load (an optimal load appears after you've worn the watch for a week or so and used it for logging activities.) and other metrics including sleep, recovery, stress and HRV status.
It then calculates a training readiness score from 0 to 100. In general, this reflected fairly accurately how I was feeling, although the recovery time suggested was always a little on the long side. Having said that, the watch would still suggest a daily training activity even if it still said you had over a day's worth of recovery time.
The suggested training that comes in your morning report seemed a little basic, and I didn't follow it, but this can also be tied in to your target events with target times (better for running than cycling) via the Garmin Connect calendar.
Sleep measurement on the Garmin Forerunner 955
I've never slept with a watch on before, and never wanted to, but I had to when testing the Garmin to get my morning report and sleep score each morning. Caveat to all of this is that the technology to measure your sleep just from your wrist is not hugely accurate.
It cannot tell whether or not you are asleep if you're just lying in bed with your eyes open in the middle of the night catastrophising. If you get up to use the bathroom it will probably log that, but if you are lying in bed, it has no way of telling you whether or not you're asleep.
But each day's morning report made for interesting reading. This gave a sleep score out of 100, made up of your time asleep as well as your time of light sleep, deep sleep, awake time and REM, your HRV for the night, your training readiness and suggested training. Mine suggested an hour's base ride or 40 minute run pretty much every day.
Due to the influence of your parasympathetic and sympathetic nervous systems, the time between each heart beat isn't the same. The more variability the more these two systems are in balance. Everyone's HRV is different (it drops as you age) so the watch first has to create your baseline HRV over one week before it can give you more insightful data on what your nightly HRV means.
Mine is fairly consistent around 74, with a baseline of 70 - 90, and during a rested night's sleep, it can fluctuate between 70 and 128. It dropped when I was fatigued, and hit new lows when I was ill, measuring two nights in the low 40s at one point. Interestingly when this happened it wasn't telling me not to train - as I hadn't been training so there was no fatigue - but the HRV was off, so the watch gave me a warning about training and not to overdo it.
It's important to note that Garmin does say the Forerunner 955 is not medical equipment and shouldn't be used as such. The metrics are there to pick up on performance and recovery, rather than illness. So even with all the data you're given, you need to be honest about how you're feeling and whether or not you should train.
Non riding functionality of the 955
Non-riding functionality of the Garmin Forerunner 955
There is a huge amount of functionality in the Garmin Forerunner 955 that isn't related to riding or health, much of which I didn't use. Below is a quick run down, not an exhaustive list.
MUSIC: The 64gb memory means you can upload music files to the watch and listen through bluetooth enabled headphones (there's no headphone jack)
STRESS: On a few occasions the watch picked up higher stress levels (I assume higher HR with no movement) and asked if I wanted to do some breathing exercises.
STEPS: Any Garmin user will be well aware of the watches' step count. A popular and longstanding function.
FLOORS CLIMBED: Sets a target for you to climb 10 floors a day and keeps track of that, letting you know when you've achieved it.
RESPIRATION: Your breaths per minute, calculated using your HRV
WEATHER: Connect with your phone and it will give you a detailed weather snapshot and forecast for the hours ahead.
COMPASS: Useful if you're off for a walk in the wilderness
ALTIMETER: See above
TEMPERATURE: Measures and gives a read out for the previous four hours
LIVE TRACK: Set this up via Garmin Connect, keep your phone with you, and your chosen contact can check in and see where you are at any time.
Value and conclusion
With the Forerunner 955, Garmin has solved the problem of having a truck load of data and functionality whilst keeping it all easy to find. Everything you need to access quickly is a swipe or a click away. Plus, with the connectivity being so fast and reliable, the watch was always very quick to get going - even if you're not. Battery life through the four month test period was exceptional, the touch screen easy to use and it's comfortable to wear.
Wearing it through the night for the sleep data took some getting used to, and I did get some sore skin on my wrist once in a while because I'd had it on for so many consecutive days and nights. But the ride data (and run data, if you do some on the side) it provides is impressive, both in volume and accuracy. Just be careful not to get too reliant, or even addicted to it.
The sleep data is perhaps the most unreliable - but gives a good guide - while the HRV info alongside the activity data does appear to give a very reliable picture of your performance and recovery levels. When it comes to colds and winter bugs it can give clues to your health too, but Garmin say this is not a medical device and so you'll need to be honest with yourself on days when you're not feeling right but the watch is telling you it's okay to train.
At $599.99 / £549.00 the Garmin Forerunner 955 Solar one of the best value ways of getting colour mapping and solar recharging from Garmin's model range - the Garmin Fenix 7S is $799 / £779, for example.
There are other smartwatches which manage to boast an even more incredible battery life - without even having solar recharging - such as the Amazfit Falcon for $499 / £499. But with those models, you're not getting the benefit of Garmin's ecosystem and plethora of data.
All in all it's a serious bit of kit that throws out lots of data, aimed at someone who can make use of it all. If you're not that serious about your sport a more basic model would suffice, and unless you live somewhere with wall to wall sunshine, you really don't need the solar version.