Garmin Vector 3 power meter pedals review
A long term review....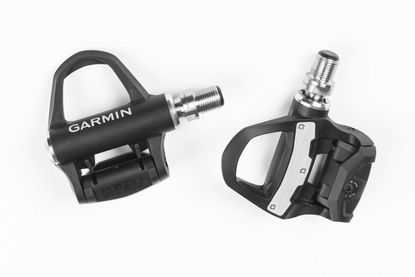 (Image credit: Cycling Studio)
The Garmin Vector 3 pedals would have been the ultimate solution for riders keen to use one power meter across all bikes. Unfortunately, the hardware issues around the battery cover, resulting in water damage, juice draining and drop-outs, mean it's hard for me to give these a shining review. It's possible that users buying brand new pedals, with the new covers fitted and the latest software update installed, may have problem free pedals. But for me, and many customers, the whole experience has been far from smooth and trouble free. My experience is that the pedals work 'most' of the time, but there's just been far too many incidents of total failure to ignore.
Reasons to buy
+

Easy to transfer between bikes

+

Extra metrics
Reasons to avoid
-

Endless battery problems
You can trust Cycling Weekly. Our team of experts put in hard miles testing cycling tech and will always share honest, unbiased advice to help you choose. Find out more about how we test.
Get The Leadout Newsletter
The latest race content, interviews, features, reviews and expert buying guides, direct to your inbox!
Thank you for signing up to The Pick. You will receive a verification email shortly.
There was a problem. Please refresh the page and try again.
This review of the Garmin Vector 3 pedals has been over a year in the making, with original testing beginning in November 2017.
The initial Cycling Weekly review was published in January, 2018 - and the pedals received a brilliant 10/10 for offering accurate power readings plus a host of other useful metrics in a package that made for easy swapping between bikes.
However, around a month after publishing the shining report, the pedals began to exhibit problems: power spikes, battery draining and 'right sensor missing messages'. A simple Google search revealed multiple forum threads with customers having identical problems - and, if it's not a dirty word, anecdotally a high percentage of our cycling peers who had invested were experiencing the same issues.
After changing the batteries several times, Garmin sent a second pair of pedals to try. Issues persisted with both pairs. Then in June 2018, Garmin admitted that it had a problem with water damage caused by an insufficient battery cover design. All customers were treated to a new set of revised covers, and all new pairs come fitted with the updated cover as standard.
The first replacement cover pinged off after being clipped in a crit race - but the second replacement set of covers hasn't yielded incredible results, either. It seems performance can be boosted using a clever hack involving a piece of cardboard which closes the gap between contact and battery - but this may void your warranty and is not advised by Garmin.
In March 2020, Garmin released another new cover, once again to address issues with the design. We have been able to try a pair with this cover, and we did find that these were trouble free - so it does look like Garmin has solved the problem here. It's just unfortunate it took a few attempts.
Garmin Vector 3: the construction
When power meter pedals arrived on the scene they seemed like the ultimate solution.
The pros: easily transferrable between bikes, unlike cranks; suitable for all rides, events and all weathers, unlike wheels. For a rider like myself who wants to train with power on the road, track and in time trials, they'd be ideal. However, the location makes them fragile and susceptible to damage.
>>> How to train with a power meter
The Vector 3's looked to solve the cons. Unlike the outgoing Vector 2, the power meter is housed inside the pedal – doing away with the idea of having an expensive strain gauge dangling around unprotected and with the need to set them up with the perfect level of torque.
A pair weighs 324g (claimed weight is 316g). The pedals themselves, initially made by external brand Exustar, have become an in-house project, produced by Garmin. They use needle bearings instead of bronze and can support a rider weight up to 105kg.
They're both Ant+ and Bluetooth compatible, which makes them friendly to more software options without the use of a dongle. The pedals can be purchased as a pair – 'Garmin Vector 3' – or as a single pedal in 'Garmin Vector 3S' form. The latter measures power from the left pedal and uses an algorithm to establish output.
Garmin Vector 3 Set up
Sometimes getting to know a power meter, cycling computer or other particularly software heavy item comes with a side order of hassle and dressing of irritation.
That wasn't the case at all with the Vectors. The pedals were easy to fit, easy to connect and calibrate.
The pedals are Look style, and the box comes with a pair of cleats.
There's no special trick to fitting the pedals: remove your old ones, apply a little grease, add a supplied spacer if there's risk of rubbing (in my case there was not) and they're fitted. The battery indicator is in the space where you might use an Allen key to tighten the pedals, but you can use a pedal wrench.
To connect to a GPS computer – I was using a Garmin Edge 1030 – you simply go into your settings > sensors, and search for sensors. The power meter should come up – it did so for me in less than a minute. You then set crank length and calibrate.
Calibration needs to be performed ahead of every ride. Thankfully, it was very easy: I just had to select the sensor, hit 'calibrate', unclip from the pedals and wait a few seconds.
Updates can be administered via your Garmin Edge unit, and you can also adjust settings using the Garmin Connect mobile app – including scaling if you're using the Garmin 3S (single pedal) version and know you have a power discrepancy between left and right leg.
The pedals themselves
The pedal itself is light enough that I'd never have any concern over performance. They come in at 324g a pair, as a comparison Shimano Ultegra Carbon R8000 pedals have a claimed weight of 248g.
Stack height is low at 11.5mm and there's 13.7" of clearance. I have clipped them at crit races twice - in both cases I'm confident in calling the fault my own, though unfortunately the usual result is that the cover comes off, which means a replacement is needed, these cost £30 each.
The connection between cleat and pedal felt solid and reliable.
Accuracy
The stated accuracy is +/- 1.0%. When the pedals were working smoothly, I found them pretty spot on.
Generally speaking, power meters that measure from the pedal as opposed to the hub give slightly higher readings because a few watts are lost in transmission.
I found the Garmin Vector pedals read a bit lower during short bursts when compared to my Powertap hub, but a bit higher than the Wahoo Kickr. Over longer durations, the numbers were generally very slightly higher than the Powertap and lower than the Wahoo - which was rather generous.
Below are numbers for a couple of durations. All the figures come from rides of 90 minutes, completing the same intervals with heart rate within 5 BPM.
Swipe to scroll horizontally
| | | | |
| --- | --- | --- | --- |
| Row 0 - Cell 0 | Vector 3S | Powertap hub | Wahoo Kickr |
| 5 seconds | 688 | 693 | 681 |
| 20 minute | 219 | 215 | 233 |
| Normalised (90 min ride) | 199 | 195 | 197 |
All power meters show some discrepancy between the numbers. However, for most riders, what a power meter needs to do is maintain consistency with itself.
The Garmin Vector pedals achieve this, most of the time.
However, in their lifetime with me I've had multiple experiences of 'right sensor missing', resulting in rides where my average power would be 80 watts (instead of 160) - thus messing with Training Stress Score and other metrics.
When riding in the wet, they'd often fail during the ride, or on the next outing. I've also experienced multiple incidents of power spikes (37,000 watts as a max power), and general drop outs.
Interestingly, when riding with club mates also using Vector 3 pedals, we've experienced drop outs simultaneously, as though there were some sort of black spot in the lanes of Kent.
Bizarrely I found that when riding on the volcanic island of Gran Canaria the readings would skip wildly between 50 watts and 30,000 watts, rendering them utterly useless over the course of a week long riding holiday. The batteries ran out three days after arriving home (two weeks since their last change). And yet on the similarly volcanic island of Tenerife they were as good as gold.
With software updates (we're now on version 3.5), the new covers and the cardboard fix mentioned above (which may void your warranty) the problems above have decreased in frequency. However, they've not ceased completely. Around 80 per cent of the time, these pedals work fine - but that remaining 20 per cent is annoying.
Battery life
The power spikes, drop outs and 'right sensor missing' messages are associated with water damage and battery draining.
The LR44 batteries are meant to last 120 hours, but I've had them last anywhere from a couple of months to a couple of weeks. My most recent battery chance was after having used the new cover, and came after less than 20 hours of riding.
Usually, on replacing the batteries, I'll find black smudges on the surface - which is an indication of water damage. So in short: not great.
The metal cover screws into a plastic base, and many changes means that there's some evidence of threading in my set. It's possible that riders using a brand new set, installed with the new covers, could escape all of these problems.
Cycling Dynamics
The Garmin Vector 3's offer 'Cycling Dynamics' data, which is not available with the Vector 3S (single pedal).
Cycling Dynamics is Garmin's own system for measuring pedal stroke – it can be displayed on a Garmin unit, in Garmin Connect or on compatible apps like TrainerRoad.
The 'dynamics' include left/right pedal stroke, time spent seated vs standing, Power Phase (at what point during the pedal stroke power is being produced) and Platform Centre Offset (where on the pedal axle power is being produced).
Left right intrigued me because I've found when riding hard for long durations, for example during time trials, my right leg always feels fatigue much more strongly than my left, and I've had some injury issues on the left side.
It's never been clear which side is actually weaker, but the pedals were able to confirm there's not a huge discrepancy, around two per cent at times, though this became much higher under fatigue and during sprints. The dominant leg varied depending on whether sprints were seated or standing, which was really interesting. Knowing this could be very useful in the next few weeks of training.
As you can see in the 'L/R' balance chart below, the ideal would be that the pink line sits exactly on 50/50, with the occasional anomaly which you'd expect to occur from time to time.
Power Phase was also really interesting to explore. A circle-shaped diagram shows where power is being produced. I found mine was showing the most power at the front of the stroke and very little during the pull phase - in fact I could only get a full circle when completing minute long single legged drills.
Though interesting to look at on screen, the definition of 'perfect pedal stroke' depends upon who you ask. As a result, I was never entirely certain what I was actually aiming for. It might be interesting to track changes over time if I were to up the number of drills I performed.
Platform Centre Offset, like Power Phase, really needs to be used in conjunction with expert advice. A negative value indicates that force is being generated toward the outside of the pedal, and a positive means it's toward the inside of the pedal. Joe Bloggs could determine that a massive discrepancy between the two, or a high number either way, probably means a cleat adjustment is in order - but fine tuning seems like a job for a bike fitter.
Compatibility with non-Garmin headunits
I tested the Vector 3's with a Garmin Edge computer, and the brand is still very much the market leader. But it's got competition, and therefore it's worth being aware that there are some connectivity issues.
Firstly, Cycling Dynamics is Garmin's own construction. It has opened it up to other power meter and computer brands to use, but so far it's not been widely adopted - though Trainer Road now incorporates it.
Asked if Cycling Dynamics could be displayed on a Wahoo Bolt computer, a spokesperson from Wahoo told Cycling Weekly: 'The Garmin pedalling dynamics is technology native to Garmin power meters and head units. The ELEMNT will not be able to record that metic so it will not be included in the .fit file which is produced at the end of a workout and synced with a 3rd party website (such as Strava, Training peaks, Garmin Connect etc)."
We tested this with a Wahoo Elemnt Bolt, and indeed found that though left/right was displayed, peak power phase and pedal offset were not.
There may also be some other compatibility issues. Wahoo added: "To get the most accurate power meter data, make sure the crank length is entered using [a Garmin Edge computer] before connecting to the ELEMNT. This will save the crank length data to the power meter itself, so when it is connected to the ELEMNT this will be transferred to it."
Value
A pair of Garmin Vector 3 pedals will come in at £849.99, whilst a single pedal in the 3S form is £499.99. Powertap P1 pedals have an RRP if £1,050.00 so the price seems fair.
The price seems fair - if all the battery and drop-out problems were eliminated.
Thank you for reading 20 articles this month* Join now for unlimited access
Enjoy your first month for just £1 / $1 / €1
*Read 5 free articles per month without a subscription
Join now for unlimited access
Try first month for just £1 / $1 / €1