Garmin releases redesigned battery cover to help solve Vector 3 problems
We've had ongoing concerns over the Garmin Vector 3's reliability - and it seems we're not alone - but this might be the fix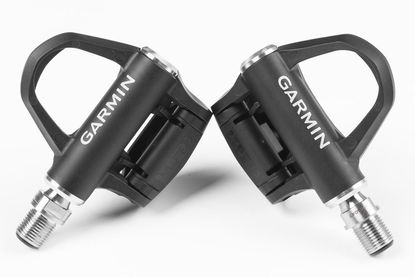 When Garmin's Vector 3 pedals arrived on the scene we were really impressed - but then we experienced some problems.
This week Garmin announced a hardware update which may address problems with the currently flawed system.
The background
With the launch of the Garmin Vector 3 pedals, the American giant had seemingly done away with the complications caused by the 'power pod' that featured on the first two iterations, designing its own pedal and placing the strain gauge inside.
The pedals got a 10/10 following extensive and almost daily use over a month long period, in a range of conditions and on several different bikes. We were impressed by the usability and simplicity of the product, plus the clean looks - they even won our power meter pedal comparison test.
However, things started to turn sour after the first battery change - we discovered power spikes, sensor outages and quickly draining batteries - all of which dramatically affect the pedals' usability.
When the problems became apparent, we updated our online review and requested a second pair - but all was not well - as you'll see from our ongoing online test which documents the issues we've encountered.
Talking with customers who had bought the pedals, we heard several near identical stories.
We also noted that Garmin had acknowledged reports of similar problems. (opens in new tab) For those not quite at the warranty stage, it's published some advice too (opens in new tab) - stating that issues arising were likely due to water damage as a result of the battery changing process and damage to the cover, or the tiny rubber o-ring which aims to keep dust and moisture out.
Advice offered included applying baby oil with a toothpick and carefully inspecting the state of a very small piece of insulation tape - which didn't seem particularly inviting when we're discussing a product which costs almost £1k.
What's happened now?
In the latest development, Garmin has now released a new and improved battery cover - (opens in new tab) advising "even if you are not currently observing sensor or battery cover issues, we have redesigned the battery covers to optimize performance."
Alongside the cover, Garmin also produced a service advisory note, (opens in new tab) advising customers on the best course of action should they encounter "loose spindle nuts and cartridges separated from the pedals" - this is outlined here though it's not something we've experienced.
There's also another software update (opens in new tab) which aims to solve "right sensor missing" messages, power spikes, sudden battery depletion and extended sensor wake-up time."
The improved cover is free for existing customers - who should receive an email code provided they've registered the product via Garmin Connect - and since the majority of problems appear to be caused by damage to the batteries, we're eager to see if this solution is a success. Watch this space.
Thank you for reading 5 articles this month* Join now for unlimited access
Enjoy your first month for just £1 / $1 / €1
*Read 5 free articles per month without a subscription
Join now for unlimited access
Try first month for just £1 / $1 / €1