Cycling in Gran Canaria: the diverse island that should be next on your 'to do' list
Looking for a winter getaway? Take a short hop to Gran Canaria where it's spring/summer conditions all year round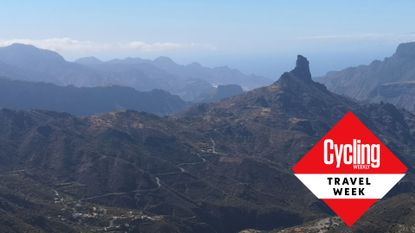 (Image credit: Future)
Destinations for an off-season cycling holiday are more limited than the glowing myriad of mid-summer escapes - but with highs of 24°C in November, and highs of 21°C in January and February, the 'Eternal Spring' of the Canary Islands represent an obvious choice.
Tenerife is a popular late season get-away, but images of climbing the same volcano six ways might not appeal to everyone - and daydreams of black sand shores could be an understandable deterrent of Lanzarote.
Gran Canaria, comparatively, lures riders with the promise of yellow beaches and varied terrain.
Why go cycling in Gran Canaria?
Gran Canaria is geographically pretty intense. For a country with a circumference of 235km there's a lot going on and boredom is unlikely to creep in - this is why it is one of the best cycling holiday destinations in Europe.
Around 50 per cent of the island has been a part of UNESCO's list of World Biosphere Reserves since 2005, thanks to the mixture of flora and fauna taking its home there. Expect to see birds of prey circling the mountain tops and look out for more than the common lizard.
Desert landscapes (accompanied by camel rides) sit beside gigantic forests of pine and there's enough moisture to support a Botanical garden, admittedly with a little help from the garden fairies.
It's a popular destination for cycling brands to use for photoshoots, too. The weather is (nearly) always fine - so models don't need to pair summer kit with a fake grin plastered on their numb lips, and the cliff-corridors make for excellent images as riders thread through towering rocks on either side, too.
Five things you can expect to find when cycling in Gran Canaria
Cycling Weekly took a week long trip to the island - just to bring you back a report (and because we wanted a holiday). Here's what we found...
1. Steep ramps and nameless climbs
Elsewhere - Mallorca is a good example - most climbs have a name, kilometre markers and a 'victory' sign at the top for cyclists (bloated with pride and energy gels) to pose next to.
The volcanic landscape of Gran Canaria means that the roads naturally wind towards the peaks, and there's a lot of pretty brutal climbs with no discernible or 'official' name.
The warning sign was that the road from our holiday home had its own Strava segment, and yielded at least one wheel spin daily.
The three-minute and 30-second ordeal (that would soon become very familiar) dispatched, on our first ride we headed up the "Cl-12-6 Climb" to La Culata, leaving from Trejo.
The road peaked up to 20 per cent in the first kilometre of eight, and the stinging ramps were made a lot harder by the rutted road surface which continued most of the way to the top.
We passed only one other human along the way - clearly this wasn't a well-visited road. Of course, the view at the top was well worth the toil - but it was an early sign that we were to expect some testing terrain during our stay.
2. Some of the roads are stunningly smooth (and some of them are not)
Our second ride of the week represented a major shift - from rutted roads to smooth tarmac. The route saw us climbing steadily from Santa Lucia to Temisas, dropping down to Agümes and then working our way back via the GC-65/GC-60 duo.
The roads on this 45 km excursion (with a claimed 2,050 metres of elevation) seemed to feature not a single road defect: not a pebble out of line, atop of glass like tarmac. The climb was relatively smooth and steady, too - easy ~five per cent sections followed by swooping descending bends and power ramps that made for a crit racer's paradise playground.
The steep ramps of our first day appeared to be wholly unrepresentative, at this point.
The conclusion we eventually arose at was that the roads that are frequented by cars are smooth, well maintained, with gentle inclines.
Elsewhere - such as the ascent of day one (and the Valley of the Tears, below) - expect double figure percentages, and craters in the tarmac ready to snatch at your wheels.
3. The diversity is exhilarating
The best example of the island's incredible variety of geography would be our 'Roque Nublo' loop.
This began with the 25km climb to the highly visited monument - which harks back to the second eruption which formed the island - and back down the other side.
Soon after leaving our home for the week in Trejo, we passed through the cobbled streets of St Bartolome de Tirajana - a great place to stop if you're climbing from sea level.
Here the terrain was still characterised by rock formations and desert-esque heat. The GC-60 road that took us most of the way was well paved, and relatively steady for around 16km, followed by a steeper, switchback laden section after a right turn to the GC-600.
Passing the rock itself (which was largely flanked by coaches, unfortunately), we found ourselves weaving through fragrant pine forests. The life around us had suddenly and completely transformed from a dusty paradise to an equally evocative but totally different landscape, bristling with vibrancy.
Later in the week we'd discover this haven of green up high is largely made possible by significantly more rain than would be encountered further down the mountain.
There was a brief respite in the shape of some flat roads at the top, too, from which you could just make out Tenerife and Mount Teide.
4. You need to ride the Valley of the Tears
'The Valley of the Tears' (VOTT) is meant to be the must-do ride in Gran Canaria, so obviously we had to do it. Unfortunately, the weather played quite a role in our day.
I'd read fear inspiring blog posts describing 25 per cent ramps in the early stages of the 12km/7mile climb, and frankly I didn't believe them. That's until my legs were shaking and the uneven surface made holding the bike upright a struggle.
Around 25km in, the air around us became wet. First, just a gentle mist, then spitting. Somewhere around the 30km mark we had to admit this had become face slapping horizontal blizzard rain.
Stopping in Artenara we tried to camp out in a bar, whilst tourists in duffle coats carrying umbrellas got off their temperature regulated coaches and ambled bleakly around.
After several turns under the hand dryer, we admitted the rain wasn't going to stop any time soon, and that home was equally far in either direction. So we stuffed our jerseys with newspaper and re-mounted en route to this god-forsaken crying valley.
Despite the rain, our numb hands and the kamikaze dog which tried to take us out, the huge pillars of rock either side and the scenes down to the valley were formidable and magnificent in equal measure.
With the start of the climb about a mile away, the sun came out. Ish.
The climb gains 1007 metres/3303ft over the course of 12km/7miles long. At the bottom, we could only look up and swear a little at the sight of turn upon turn of what looked like semi-vertical road.
The first 3km were a real test of brute force. Cadence was out the window - just getting up the switchbacks was a task on its own, let alone doing anything quickly. I'll admit I felt some concern that my slow speed coupled with the holes in the surface might see me simply topple over.
However, the gradient did level out, and there was more descending along the way than I expected. Granted, each was followed by a kick in the quads as retribution for enjoying a secret freewheel, but at least there was variety.
I can safely say this was the most leg-shakingly brutal climb I've ever done.
The preceding rain somehow helped to make it less painful, though, I was almost glad for the trial since I could celebrate the feeling coming back to my hands as much as curse the road.
Strava's 'corrected elevation' (basemap) claims that this 51-mile ride accumulated 16,525 ft of climbing.
5. You should probably ride the Pico de las Nieves
Variable weather during our final three days meant we never got round to this one. No one wants to find themselves half way up a brute of a mountain, unable to gain traction on the surface.
However, at 44km and a claimed 2278 metres, it's a known monster. The surface is said to be much like that of the Valley of the Tears. It's on our to-do list for future...
Points to be aware of...
We found the roads seemed to go up and down, which works fine for small groups and means route planning is pretty easy, but could present a problem for club runs made up of diverse abilities. There might be a few more flat roads if you stay at the coast, though. Maybe.
It's worth noting that wall-to-wall sun at sea level does not always translate to the same up high: as evidenced by our VOTT day, the weather in the mountains was diverse during our stay. Of seven we had three wet days - so a packable and arm warmers are well advised.
The Gran Canarians like their guard dogs - the scariest of which was a black bulldog, staccato barking whilst carrying a rusty chain around its neck (which was reassuringly attached to nothing).
Where to stay in Gran Canaria
Most of Gran Canaria's tourists seem to go south, congregating around Maspalomas/Playa del Ingles for sun, beaches and beer or Puerto de Mogán for the first two but with more coffee and cake.
We weren't seeking mega miles, so we opted to stay further north, to avoid climbing from sea level daily - selecting Trejo (specifically 'Kasalvaro' via Airbnb).
Accommodation - like a lot of things - was cheap in October; of course that's subjective but it was less than the flight cost.
Flying to Gran Canaria from the UK
Flight time from Gatwick to Gran Canaria airport in Las Palmas was four hours, via the orange flying carpet of EasyJet. We took our own bikes (£45 each, each way). British Airways always flys the route now, allowing riders to take a bike as hold luggage for free.
If you choose to rent, Free Motion seem to have the monopoly.
The airport is in the North, but it took us just 45 minutes to drive to Trejo; Maspalomas is 32km away though allow time to navigate the twisty mountain roads.
Other stuff to do in Gran Canaria
Visit Maspalomas
Maspalomas/Playa del Ingles are as south as it gets and there you'll find everything from sand dune strewn beaches to fashion shopping, camel rides, snorkelling, jeep tours and nightclubs.
We visited for an afternoon and evening, parked up and headed to the sea to play front-of-house wack-a-mole with the 100 eager to please waiters pouncing from restaurants along the sea front, eventually opting for Aquario who tempted us in with fresh fish that turned out to be pretty good.
Point of note: we returned to a parking ticket - but the fine for not paying the €3 charge was only €1.80. It turns out you need to look harder for the pay machines.
Visit Puerto de Mogán
Puerto de Mogán is a sea-side town with expanses of blue and yellow sand and a backdrop of imposing rock.
All of the literature says this is the place to come for a romantic couples break, and it's true. It's the scones and china cups to Maspalonas' chips; it's Bourbon over beer and Bacardi.
The houses beside the port seem to be attached by bridges dripping with cascaded of flowers - none of which I could capture because the sun was always shining too brightly down the corridors of homes.
It was the perfect place for a game of afternoon coffee shop pub golf.
The Home Bakery won hands down, with walls adorned with the familiar 'dance like nobody is watching' trio of expressions (plus more) and cream topped espresso.
If you're looking for a more active visit than we were, there's a plethora of water sports going on here, with everything from jet skis to pedalo hire..
Go walking
About half of the island is part of UNESCO's list of World Biosphere Reserves - and there's a lot of it that can be explored on foot.
A quick jaunt from our place took us ambling through red-rock lined trails, and travelling up to Roque Nublo we found trails stacked up like the layers of a cake; fireroads snake around the mountain and you could easily spend days exploring just this small portion.
Thank you for reading 20 articles this month* Join now for unlimited access
Enjoy your first month for just £1 / $1 / €1
*Read 5 free articles per month without a subscription
Join now for unlimited access
Try first month for just £1 / $1 / €1