Cycling in Mallorca: where to go, what to ride
Heading to cycling's most popular island? Here's all you need to know...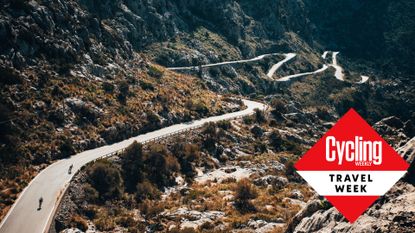 (Image credit: Future)
Mallorca is, along with other Spanish hotspots like Girona, the Costa Blanca and the Canary Islands one of the go-to destinations for riders looking for some sun and smooth roads for a cycling holiday for spring riding abroad.
A frequent training camp base for Ineos Grenadiers, Astana, Canyon/SRAM and - whilst we're at it - most of the pro peloton at one time or another, the Balearic Island is a popular host for amateur clubs and teams as well.
Spring is the most popular time to visit, and in the months between February and April it's near impossible to ride on the island without coming across several miniature pelotons made up of pros, amateurs or groups that are somewhere in the middle.
Considering a visit? Here's what you need to know...
Why go to Mallorca?
Firstly - if you need convincing as to why you should make Mallorca your destination of choice, it's because you can almost always expect a trio of good weather, mixed terrain and (largely) understanding drivers.
When to go to Mallorca for cycling and how to get there
With its Mediterranean climate, Mallorca gets hot mid-summer. That means the best times to visit are spring, when many riders are chasing sun as they look to up their form for summer and shake off the winter doldrums, or autumn when they're hoping to stretch their summer season by a week and hold onto their form going into winter and the unenviable mix of wet roads and the turbo.
In March and May, maximum temperatures vary from 17 to 22°C, then 23 to 19°C in October and November. December, January and February are cooler but still see highs of around 15°C - though this is variable; the island has seen snow in these months so planning your trip in the off-season proper is a bit of a risk.
Average rain days a month vary from one to seven through the year, so though you might see a couple of wet days, it shouldn't last too long.
If you'd like to time your visit to coincide with an event, then check out the Mallorca 312 sportive.
This epic sportive is an annual affair which takes place in April each year. Initially, it circumnavigated the coastline - but the route has since been changed to allow for closed roads. You can ride 312km or 167km, and this event sees the island pretty much taken over by cyclists. It gets booked out early though.
For travel, the capital Palma houses an airport - flight times from the UK are usually around two and a half hours.
Palma is about 60km from Pollença, where a lot of riders base themselves. When travelling in small groups, we have typically hired a car, whilst on large group excursions we'd organise a transfer with bike box trailer.
What to take for cycling in Mallorca?
The first question is 'do I take my bike or hire one'? Either option will work - there are plenty of hire services and if you're not staying long this can work out cheaper than paying for the carriage of a bike box by an airline.
It cuts out the hassle and worry, too - but does mean you'll be riding an unfamiliar machine, although you may be able to hire that dream bike that you've always wanted to ride.
If you do take your own bike, pack shoes and pedals in your hand luggage so you can hire if there's any delay in your bike arriving - this can happen when there are many bikes on one plane (can, not should).
In terms of kit, check forecasts of course, but bear in mind that it'll be chillier on the top of climbs and on descents. Essential items include all manner of warmers (leg, knee, arm), a gilet and packable jacket which will provide you with an extra layer for descents and cafe stops. Check out our ten tips for cycling in the mountains.
Some rides include tunnels - so be sure to pack ideally a set of lights and at the least a rear.
Where to stay when cycling in Mallorca
The longest route around the entire perimeter is 312km - North to South is 75km and East to West is 100km.
Most riders visiting the island will have the opportunity to explore a pretty hefty percentage of its attractions during their stay. However, where you choose to base yourself will of course influence your riding itinerary.
The vast majority of cyclists set up camp in the Northern coastal towns of Port de Pollença and Alcudia.
The key attraction of this area is that it sits close to the edge of the Tramuntana Mountains - the highest point of which is the tip of Puig Major. Whilst evidently there are plenty of adjacent climbs, the area also offers flat roads along the coast and some undulating countryside routes as well.
Whilst Port de Pollença houses the base of the famous 'lighthouse ride' to Formentor, Alcudia can provide some historical ambles around town to explore the 14th century walls. The two are separated by around 10km of sea front so it's not much odds.
An alternative base is Port Soller, which is a little further down the coastline. The busy town can provide plenty of restaurants and a more energetic evening vibe. However, nestled in a bay, the only way out is to ascend one of three climbs - Col de Soller, for example, is 7.4km and six per cent or you could opt for Puig Major at 13.9km and six per cent. No day will start easily.
Areas to avoid are dotted along the South coast - such as Magaluf, Palmanova and s'Arenal. These areas host quite a different holiday experience, and you might struggle to get enough sleep to facilitate your next day's riding plans.
Since Mallorca is an island frequented by cyclists, you won't encounter any struggles finding a hotel or apartment that is bike friendly. Many advertise their bike lock ups, and even work with local shops to provide hire options.
CW has enjoyed many stays at the Duva Hotel, in Port de Pollença, which provides a hearty buffet breakfast and dinner, locked bike cages and a spa with indoor and outdoor pools (the later is ideal for a make-do post ride ice bath).
Similarly, you're not going to struggle finding a bike shop, hire bike or tour guide in Mallorca. There are a fair few providers offering package deals that include board, food and led rides, some with coaching and planned intervals thrown in too if you're training with a specific purpose.
Where to ride in Mallorca
The key attractions in Mallorca are of course the climbs - but you might want to add in a couple of flatter days, too.
Since Port de Pollença and Alcudia are the most popular towns for cycling bases, we've started most ride distances and routes from there.
Sa Calobra
Sa Calobra is probably the most famous ascent on the island. It's a road to nowhere (except a couple of cafes at the base) - so the only real reason for descending is to go back up.
The 9.5km climb carries an average gradient of seven per cent, with an array of sweeping hairpin bends towards the top.
It's a good idea to try to get to Sa Calobra early in the morning; wait until later in the day and you may find your descent hampered by coaches carrying tourists.
Getting there usually involves a fair bit of climbing in itself. If you're based in Port de Pollença and Alcudia, the route out and back can come to around 80-100 kilometres, though you might prefer a loop like this.
Climbing out of the coastal towns, you'll begin with the 7.5km Col de Femenia (six per cent) - this is a perfect way to wake the legs up for the longer trials ahead.
Near the top of the Col de Femenia you'll find the Respol petrol station. Pause for a refuel, before beginning the road to Sa Calobra. There's another 5km slog before the long descent to the sea - after which you'll have no choice but to retrace your tracks back up the beast.
Puig Major / Col de Soller loop
Puig Major (climbed from Soller), at 10.6km with an average grade of six per cent, is the longest climb on the island.
On a day that you've got fresh legs, you can combine it with an ascent of the Southern side of the Col de Soller (4.9km at five per cent - which is much more gentle than the Northern side at 7.3km at six per cent), using Soller itself as a perfect pit stop. Just be careful of the tram lines that can play havoc with skinny tyres.
Once you're up and over Puig Major, with its long sections of painfully straight road, you'll be rewarded with stunning views. The descent is a long, extended affair during which you'll see flashes of the Gorg Blau reservoir - a sight that should bring life back to weary legs.
There's a great example loop here to give you some route inspiration.
Cap de Formentor
The ride to Formentor is typically considered to be a 'recovery day' ride, being about 60km from Alcudia and less from Pollença.
However, it's not flat at all - starting with a 3.7km climb (Coll de sa Creueta), followed by a descent and then a gradual rise all the way to the lighthouse at Formentor.
Whilst the ride is by no means easy, the views are absolutely breathtaking, and it's that which makes the lighthouse ride an unmissable experience.
There is a small cafe at the top, but you might be better off rolling your way back and enjoying a more moderately priced coffee by the coast.
There are several long tunnels on the way to the lighthouse, so you will need lights.
Petra flat day out
Whilst the Formentor ride is far from a flat amble, the ride to from Port de Pollença/Alcudia to Petra can be. Indeed we have often used this as a mostly flat day out ideal for more social rides or even skills training days.
The route out to Petra consists of plenty of undulating and flat roads. The place itself is a fairly sleepy town, with a courtyard where you'll find a selection of cafes - including the Bar Restaurante Es Casino which serves particularly good large slabs of cheesecake.
Not far from Petra is Sineu, too - a town which plays host to an outdoor velodrome which is open to the public 24/7. If your legs are feeling fresh, this easy spin of a day makes for a perfect opportunity to test out your form with a flying lap.
If you want to add a little bit of spice en route back, you could try this 110km route - which finishes with with an ascent of Coll de sa Batalla.
The climb up to Lluc from Sineu is a 'tester friendly' shallow climb at about five per cent over 8km, and you'll get to enjoy the descent from Lluc back into Pollença.
Thank you for reading 20 articles this month* Join now for unlimited access
Enjoy your first month for just £1 / $1 / €1
*Read 5 free articles per month without a subscription
Join now for unlimited access
Try first month for just £1 / $1 / €1