Eight ways to make your turbo sessions more enjoyable
Training indoors is often a necessary evil during a British winter, but it doesn't have to be a bad experience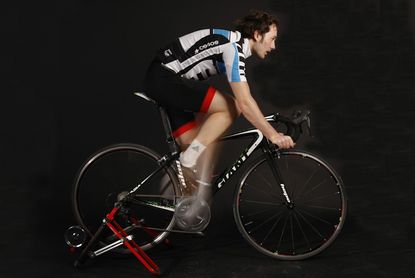 (Image credit: mike prior)
There are a host of training aids available these days to make the session fly by and there are plenty of other ways to keep you interested in your pain cave.
Here are a few things you can do to keep your motivation to the end of the session, starting with a bit of visual entertainment.
1. Watch a training video
Indoor training is big business these days and there are plenty of video aids on the market to make your sessions more fun. It's strange, but watching a video of other people cycling does seem to motivate you to pedal on yourself.
There are the old school DVDs you can buy, featuring video highlights of races like the Tour de France, Paris-Roubaix or Liege-Bastogne-Liege, or nowadays there are more interactive ones available.
One of the most popular indoor training aids is the Sufferfest series of videos, which give you on-screen instructions of how hard you need to push yourself - meaning you don't have to rely on a stopwatch to monitor your efforts.
>>> Zwift turbo trainer game opened up to general release
Recently there has also been an increase in interactve turbos available, where you can plug in your power metre, cadence sensor or heart-rate monitor and it automatically adjusts the resistance based on the 'effort' you're doing.
Combine that with some pretty decent virtual reality systems, like Zwift (above) and it's a whole new world of fun.
2. Buy yourself a fan
You can have the best workout planned, all the entertainment in the world and the endurance of Sir Bradley Wiggins, but if you train inside without a fan you'll be drenched in sweat in minutes.
Out on the roads you have the luxury of the wind to cool you down, but in your house it all gets a bit stuffy. So do yourself a favour and buy a cheap desk fan, set it up in a place that blows on your face and pedal away.
>>> Bkool launches affordably priced One turbo trainer
You may also want to put down a towel to protect your floor or carpet, as even with a fan you'll sweat relentlessly anyway.
3. Have a structured workout
Sometimes you just want to get on your turbo to get your legs turning and keep yourself active in the winter. In that case, simply pedalling for an hour or so can be beneficial.
But more and more riders are using their turbo to keep to a structured training plan over the winter to ensure they hit the spring in good shape. Therefore having some kind of plan can help stave off the monotony of just pedalling at the same cadence.
>>> Cycling training plans: get fitter, ride faster and go further
Whether you want to ride at a certain cadence, close to your maximum heart rate or an average speed - a detailed plan can keep you interested for longer.
Buyer's guide to turbo trainers
4. Watch a box set
If you spend a rainy Sunday laying on the couch watching endless episodes of your current favourite television programme, why not set up your turbo in front of the screen and pedal as you watch?
If you hate the fact that your favourite programmes are over too quickly, watching them on the turbo will make them feel a lot longer.
But make sure you don't watch a programme where the characters have the propensity to mumble or talk very quietly, as the noise of the turbo is likely to have you reaching for the rewind button.
5. Train with other people
There's a reason why spinning sessions are all the rage now - training with other people can help your motivation and make sure you don't sack off your session early.
You don't have to pack your living room with 20 other people, but recruiting your partner or a friend to train as well can help you share the pain.
>>> Migraine? Indoor cycling could help alleviate the symptoms
If you're doing the same workout as other people you can encourage each other through the tough parts and make the session go so much quicker.
6. Mix it up with intervals
As part of your structured training plan you should factor some intervals into your sessions, giving yourself something to look forward to (or dread) throughout the workout.
Rather than going hell for leather for 45 minutes, simply mix some sprints or high resistance bursts into your session and then return to your normal cadence.
>>> Turbo training sessions: Get the most out of your indoor training
Not only will it keep you focussed on what you're doing, it'll also help with your fitness and form on the bike, so it's win-win!
7. Try rollers instead
If you're easily bored, maybe riding a turbo isn't for you, but you can still train indoors using rollers, which require a lot more concentration.
The other principal benefit of rollers is that you don't have to clamp your bike into a machine, simply chuck the wheels on top of the rollers and start pedalling.
>>> Cyclist makes breakfast while on rollers (video)
Except it isn't as simple as that - it's incredibly difficult to balance at first, meaning you have to hold onto a door frame/wall/sofa in order to stay upright. But once you've mastered the art of balancing the rollers can do wonders for your bike handling when you're back out on the roads.
8. Finish the session with cake
We all love cake. You'd probably have a piece of cake at a cafe stop on a club run, so why not treat yourself after a tough turbo session.
It may not help much with your training plan, but we can't be held responsible for that...
Thank you for reading 5 articles this month* Join now for unlimited access
Enjoy your first month for just £1 / $1 / €1
*Read 5 free articles per month without a subscription
Join now for unlimited access
Try first month for just £1 / $1 / €1