How to ride on rollers: Expert advice and tricks to practise (video)
Get your pedalling up to speed with the trackies' favourite training tool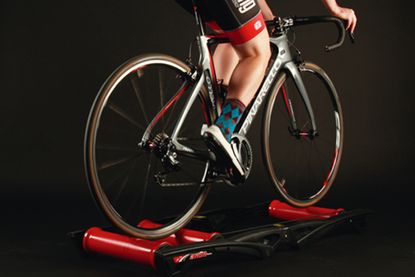 The turbo can't be beaten for churning out the type of short, high-intensity reps that are not easily or safely done on the road.
But the rollers require balance, coordination and smoothness — and that's just to stay upright on them.
Certainly the turbo is useful for working on strength and power, but regular sessions on the rollers can improve your pedalling efficiency and fluidity in a way that the turbo cannot.
Programs such as Zwift, or any other type of distraction designed to keep turbo-tedium at bay, won't be required.
"The rollers are more interesting," says Dan Fleeman, director at Dig Deep Coaching. "If you're on a turbo, you can switch off and you're not going to crash. On rollers, you have to stay focused; you can't drift off."
The essentials
Improve cadence and pedalling efficiency
Learn a new skill and stay mentally fresh
Do a faff-free pre-race warm-up
Show off by riding rollers no-handed
Learn all about training zones
Fleeman outlines how cadence drills on the rollers can help road riders: "Track riders ride rollers a lot and they've got really good cadence. But in a road race a lot of people get dropped because they can't accelerate. If you're going up a hill at 80rpm and someone throws in an attack or if you want to attack, in order to accelerate, you've got to increase leg speed, then back off, then do it again.
>>> Are you using your bike's gears efficiently?
"Going from a normal self-selected cadence, 80-85rpm, then all of a sudden 120 or 130 and then going back to normal — that's the sort of thing you can do on rollers."
Chris Froome's attacking style is probably the highest-profile illustration of how upping cadence rather than changing gear can have a devastating effect on rivals.
So how should you get started?
"The best way is to set yourself up in a doorway so you can lean against either side of the frame," says Fleeman. "I learned outside in the garden; I put a garden chair next to me and held on with one hand and had the other hand on the bars. Then I pedalled away till I got up to speed.
"When I got braver I put the other hand on the handlebars. But if I felt unstable I could just reach out and put my weight on the chair."
>>> Pro rider tips for winter cycling
Another way is to get a helper to hold your seatpost and head tube while you're getting up to speed.
As you gain confidence, they let go of the head tube, then the seatpost. "It's the getting up to speed that's the struggle initially," advises Fleeman.
Sleep well, ride well
Key points
Do: cadence work
Dig Deep Coaching's Dan Fleeman recommends this 'Russian steps' rollers workout: Do 30
seconds at around 130rpm then 30 seconds easy (normal cadence).
Then do 45 seconds at 120 and 45 seconds easy. Then a minute at 110 and a minute easy. Then 45 seconds at 120 and 45 seconds easy. Then another 30 seconds at 130 and 30 recovery.
Perform three sets with five minutes in-between. Do a 15-minute warm-up and 10-minute cool down.
"Do that once a week and it will really help your change of cadence," says Fleeman.
Do: use rollers to warm up
Rollers are perfect for pre-race warm-ups. With a turbo, a specific skewer must be used and ideally a turbo-specific tyre, since turbos shred road tyres.
Prolonged roller riding would also destroy tyres, but 20 minutes of warming up won't, so it's possible to jump off the rollers and head straight to the start line without changing a thing.
Set them up next to your car for starting and stopping.
Do: focus on technique
Concentrate on pedalling in circles rather than shoving through the downstroke. The smoother your pedalling, the more stable the bike will feel on the rollers.
Prefer to use a turbo?
Don't: look at your front wheel
If you look at your front wheel you'll find it hard to stay upright. Traditionally roller newbies are encouraged to put a bottle six feet in front of the rollers and to focus on it.
Don't: brake
Instead of using the brakes, just stop pedalling and allow the wheels to slow down on their own. Get ready to dismount or transfer your weight to the wall, chair, doorway as the gyroscopic effect diminishes.
The original version of this article by Simon Smythe first appeared online in December 2015
Thank you for reading 20 articles this month* Join now for unlimited access
Enjoy your first month for just £1 / $1 / €1
*Read 5 free articles per month without a subscription
Join now for unlimited access
Try first month for just £1 / $1 / €1