Pro rider tips for winter cycling
Winter has arrived for most people, so you might be tempted to pack away the bike and hibernate for the next six months. But these tips from winter-hardened pros prove you can keep on pedalling come what may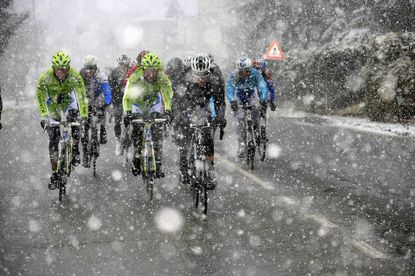 (Image credit: Watson)
No cyclist should fear winter. After all, what's a bit of cold and rain? However, if you fail to take the proper precautions, your wet-weather ride can easily turn into a living nightmare — and we'd forgive you for not wanting to get back out on the roads until spring.
So that's why we've called upon some of the biggest names within professional cycling, past and present, to impart their words of winter wisdom.
Whether you want advice on building winter miles, maintaining motivation, or what to wear, it's all here and more.
Dress for the weather
Kristian House, One Pro Cycling rider and 2009 British road race champion
"Motivation during winter isn't the hard thing; it's that first step out into the cold and into the rain. When it is bouncing down with rain, it takes that bit more willpower to just step out and do it.
>>> 15 reasons why cycling in the winter is great
"Ironically it's easier to go for an eight-hour bike ride in the rain than an hour and a half or two-hour ride. In eight hours, you're going out and you're going to accomplish something; it's a long ride and you're going to be out there all day. A two-hour ride you can do on a turbo-trainer — it might be better that way."
Dean Downing, TrainSharp coach and former pro
"If you're looking at road racing in 2016, your winter mileage has to be progressive: don't do too much too soon. Build it up slowly month by month. Also, in the first few weeks, don't be scared of riding off road: I used to do a few hours on the mountain bike in Sherwood Pines, which is near where I live.
>>> Seven tips to get your bike ready for winter
"Even if you'd only do 40 kilometres in four hours or so, it's still good training. Off-road training can be more fun when the weather is really bad. I used to do it three or four times a week sometimes."
Invaluable skills
James McCallum, One Pro Cycling DS and former pro
"Clothing is so important in the winter: my motto is go out with it on, because you can always take it off. I always take a spare rain cape, gloves and hat when the weather is really bad. A snood around your neck is always useful: good for when leaving the house, good when you stop, good when you descend."
Rob Partridge, Continental pro rider
"Until December, I'll just be keeping rides fairly short. I will slowly up the duration through Christmas and into the new year; anything between 20-30hr from there, with an hour or two each week of gym work, running or swimming.
>>> Potholes: the scourge of cyclists returns for the winter
"My diet tends to go out of the window until December/January, but luckily I can shed the kilos fairly quickly once I'm back to doing long days in the saddle.
"I like to spend as much time as I can seeing friends family and my girlfriend during the off-season, making up for lost time when the racing begins and we're away most weekends. This definitely helps me to switch off sometimes and talk about something other than cycling, power and bikes."
Graeme Obree, former Hour Record holder
"Clothing is so important in winter. I don't leave the house without a cape. The cape has to be waterproof and for the sake of an item the size of a fist, it's worth putting in your back pocket. Even a festival poncho will do the job.When you're fixing a mechanical, putting a cape on keeps away the threat of freezing.
"You have to approach winter riding in the countryside, where you can be several miles from any sort of settlement, in survival mode. I also wear a helmet cover because there's a fine line between a cold head and a warm head; hypothermia can set in.
>>> Graeme Obree: why we need to talk about depression in sport
"I find that cycling insoles are too thick so I buy different, thinner insoles to go with my thicker socks and that keeps the blood from being restricted. Windproof trousers are also what I'd recommend for standing around when fixing a mechanical."
Steve Lampier, Raleigh-GAC rider
"I'll try and put an endurance block in before Christmas, in good weather, so I can back off slightly over Christmas. I think some people try and hit Christmas too hard; with the social aspect of that time of year, it's too much. You will make yourself ill.
"I stick to eating sports bars, and I always take an emergency gel with me. I've gone back to eating bananas again — it's good to have real food when you're riding.
>>> Winter road bike tyres: a buyer's guide
"Keep yourself topped up; I've made the mistake of trying to lose weight while riding. It doesn't work like that. You've got to fuel your fire. It's the cakes and scones you may be tempted to eat at the cafe that you need to avoid."
Matt Bottrill, coach and former national TT champion
"My top tip is to log everything you do in training because that's how you will learn to become a better rider. You will make mistakes, but it's how you learn from them that will make you improve. It's the riders that keep making the same ones that will go backwards. So don't be one of them — always focus on trying to improve.
>>> Winter bikes: do you really need one?
"Try and keep a balanced diet over the winter, and add lots of variety. Always try and have 30g of protein within the first 10 minutes after training and 1g of carbs per kilogram of body weight within the first two hours of finishing your ride.
"The key to staying healthy through the winter is keeping a steady glycaemic index throughout the day and always forward-plan for the next ride. And my top tip is carry some antibacterial gel, especially if you use a lot of public transport for your daily commute — you will be less prone to illness this way."
Conquer a long TT
Shanaze Reade, GB track sprinter and five-time world champion
"Mental preparation is key. Ultimately, your hard work is done in training, so I go through the plan of the day over and over until I get into autopilot zone. Then, prior to any racing, it's all about having a happy, content life to keep me focused.
"Always carry a pump and inner tube when you go out riding. Also, I recently got a Garmin from Madison and it's my favourite thing to take with me. I can't go anywhere without it now. It's good to have if you need to get home quickly or you get lost!"
It's a tough time of year, but these eight types of winter cyclists are always out on the roads
Brian Stephens, British Cycling Olympic Development Programme coach
"The big question is when do you bail on going out when the weather is too bad? I'd say one bad day you can bail, but if it's going to keep raining for a week, you should probably go.
"You can probably make the training more intense and not as long; the last thing you want to do is get sick, and if you're starting to do big, long rides in bad weather there's a big chance you are going to make yourself ill.
>>> 10 worst winter kit mistakes and how to avoid them
"Try and work intense structure, shorter sessions into bad weather days and then make the best of good weather days when you can get out and do longer stuff. "
Dan Patten, Team Wiggins rider
"I've always done a lot of core and strength-and-conditioning work. Winter is always a good time to get that done. I don't use any big machinery; I'll do it at home using smaller equipment! Plenty of stretching helps, too"
Tom Moses, JLT-Condor rider
"If it's really cold outside, I tend to go on the rollers for a few minutes before heading out, as that
way I'll be warmed up when I start riding on the roads.
"I live at the top of a hill in Keighley, Yorkshire, so I normally start my rides going downhill; there's little chance of warming up quickly if I were to go straight out on the bike. Also, if you think roads may be icy outside, stick to main roads, as they're less likely to be slippery than the quieter, country lanes.
>>> Six moans and truths about winter cycling
"Lots of people talk about taking extra jackets with them if it's cold — but not many seem to mention your bottom half. I always take a pair of knee or leg-warmers out with me just in case, and if it's really cold when I'm about to head out, I'll wear them below my bibtights."
Keep your feet dry this winte
Helen Scott, Commonwealth and world para-cycling tandem champ
"A warm drink is wise if you're heading out on a cold ride. Sometimes I boil my kettle, let it cool for a bit and then make my squash up like that. That way, your drink won't freeze. Eating-wise, I'd try to eat something every hour, if your ride is two hours or more. A gel, banana or flapjack are all good choices.
>>> Winter: Are you ready for it?
"Winter riding is always a bit demoralising, so I'm always thinking about the delicious lunch I'm going to have when I get back. I always try to keep some tins of my favourite Heinz tomato soup in stock so I know that they will warm me up when I get home."
Hannah Payton, Team Kenesis and GB cyclocross rider
"Good clothing is so important — make sure what you're wearing is suitable. I use a lot of Gore products; their winter jacket is the best I've ever used. Being warm and comfortable makes a big difference.
"I eat a lot of Clif Bars during rides, too: they're only 300 calories, they come in different flavours and they're made from natural ingredients. Most importantly, they're easy to eat, so my body doesn't waste too much energy on digesting them."
Graham Briggs, JLT-Condor rider
"I race cyclo-cross to prolong my season and to use my Tour of Britain form. I use it to learn bike skills and because it's fun to go out. I usually race and ride my 'cross bike around autumn and Christmas.
>>> Top tips to recharge your body and mind this winter
"It can be boring just to do road rides. There are a few guys near where I live and we go on the 'cross bikes or mountain bikes two or three times a week, hitting the off-road trails.
"A two-hour 'cross workout is as good as a two-hour road ride. It keeps the mind fresh
and is different to a few hours on the turbo."
Hayley Simmonds, women's national time-trial champion
"Unless the weather is atrocious, such as ice on the road, then I'll always choose to train outside over the turbo. But you can't just say 'Oh, it's a bit cold' as an excuse not to go out. If it's frosty, I might put it back a few hours but the days are shorter so often the turbo is how to overcome frost.
>>> How Hayley Simmonds became Britain's top time triallist
"I fell off in the ice a few days after Christmas in 2013 on a day when a lot of people around the country also seemed to come off. I was at my partner's parents' house in Salisbury and he said to follow him down this road. It was sunny and cold but the frost had disappeared. We went down a bank after 20 minutes and the sun had not warmed a stretch of frost, and I slid out on the corner.
>>> Hayley Simmonds: How losing 45kg helped her realise her time trial potential
"Five seconds later my partner did the same further down the road. He ripped his leggings and top but I only broke my shoe buckle. I learned the hard way not to risk ice."
Keep your fingers toasty
Chris Walker, 1991 Milk Race winner and RST Team manager
"A lot of people put weight on during their time off, but I did weight training to keep the fitness there and not to pile on the pounds.
"I never did any heavy weights, but I'd work my legs, arms and core by doing three sets of 10, three days a week. I'd do dips and pull-ups as well. I taught the juniors to do it at RST because I'm a big believer in power-to-weight ratio."
Thank you for reading 10 articles this month* Join now for unlimited access
Enjoy your first month for just £1 / $1 / €1
*Read 5 free articles per month without a subscription
Join now for unlimited access
Try first month for just £1 / $1 / €1