Graeme Obree: why we need to talk about depression in sport
Depression in sport is often overlooked, except for when someone is brave enough to speak out. Here we look back at our conversation from last Autumn with Graeme Obree, who opened up about his own battle with depression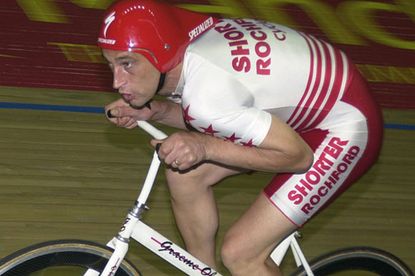 Depression in sport is an often under-reported phenomenon as mental illness does not sit well in a world where competitiveness, bravado and strength are seen as the norm. The condition often only hits the headlines when a high profile sportsperson talks about the condition.
Before speaking to Graeme Obree, I watched a BBC documentary that looked at depression in sport. The programme was presented by ex-England cricket captain Andrew Flintoff, who jetted off around the world speaking to some of the world's leading sport stars on how they coped with battling depression. The programme, despite being very powerful and moving, lacked something.
While it gave a fascinating insight into the lives of these icons, it never really touched on the extremes, and the thoughts of people who had hit the bottom where they felt there was no way out, and how they managed to overcome this.
It was this frustration with the programme's lack of 'bite' that prompted me to get in touch with Obree, the former Hour Record holder and world individual pursuit champion cyclist.
>>> Icons of cycling: Graeme Obree's Old Faithful
As many readers will know, Obree has battled depression for a huge portion of his life, and while he has, thankfully, come through the other side, he twice tried to take his own life. His latest suicide attempt was in 2001, a year after he fell back into a bout of depression following the death of his brother Gordon, who was killed in a car crash.
Obree has scaled the highest of highs and plumbed the lowest of lows more than almost any other sports star, and has become extremely knowledgeable on the subject of depression.
"I'm surprised the BBC never asked me to get involved with it," says Obree about the documentary.
He's rightly mystified, and such is the extent of his knowledge, he is already embarking on another writing project, a survivor's guide to depression, which has been inspired by the many letters and emails he has received from other sufferers of the illness.
CW's Robert Hicks spoke to the living legend at length about depression in sport and society: what causes it, what it thrives on, and most importantly, how to cope with it.
Widespread problem
A staggering one in four Brits will experience some kind of mental health problem in the course of a year, with depression affecting one in five.
Men are reportedly three times more likely than women to commit suicide, with those aged between 25-44 years most at risk, a statistic published by the Mental Health Foundation. Professional athletes, especially those who have retired from competition, are believed to be a group with a higher than average exposure to the risk of suicide.
In the BBC documentary, it was stated that one in 11 sport stars will suffer or have suffered from a form of depression. This is a statistic that many will have trouble understanding, and a question frequently heard is:
How does someone who has it all develop feelings of depression? "The problem with depression is that people who have never been to that level can't understand what it is," says Obree.
"People can't understand somebody whose life seems so good - wealthy, successful with a beautiful wife and children - feeling like they can't go on living anymore. That's what fascinates people more than anything.
"I've spoken to top athletes who have achieved everything, and they have told me that the hardest part was after they had retired from sport. These people end up parachuting down to a new level, and they're like, 'Well, what are we going to do now?'
"They have all this spare time with no distractions or need for obsessive behaviour, which used to distract them from analysing their own life. For many sport stars, depression could be residing in them their whole life, but it's been repressed due to training and competing."
>>> How can osteopathy help cyclists?
But does this answer why a sportsperson experiences this more than someone without an accolade to their name, without the mansion, fast cars and a career to look back on with pride? Surely the troubles of normal life contribute more to bringing on a bout of depression than simply having spare time to fill?
"Well, let me put it this way: a normal, happy-go-lucky person will be happy reading the Sunday paper rather than getting up and riding 50 miles up and down the dual carriageway."
"Now, a happy-go-lucky person isn't going to reach the extreme heights of success in a sporting context because they aren't that driven. These people are least likely to be depressed but least likely to be successful."
"The most driven achieve the most amount of significance. But whatever it is, the nuclear reaction that drives them on is also the thing that leaves them susceptible to being depressed. It's not that sport makes people depressed. A lot of people who suffer from depression have a tendency to have obsessive behaviour - that's why more of them exist in the top end of sport. The sport is actually a self-medicating process of survival."
Off the bike training can be very beneficial to your cycing

Feeding the furnace
"Most people who are driven to be the absolute best in anything... when you think about it, it's quite abnormal behaviour and there must be a driving force behind that other than the absolute want of glory."
But doesn't money, fame and fortune help alleviate the pain in some way?
"No, it works the opposite way. I actually think society and the need for materialistic things contributes to depression. From childhood onwards, we are brainwashed into thinking that ownership of goods equates to happiness."
"We now live in a society where a heck of a lot of us are wealthier than ever before, and that is supposed to make us happy and contented. We're now suffering from anti-climactic syndrome, which leads to depression. Personally, I've no want for a car; I live in a single-bedroom flat; I've no want of a garden; my world is my garden."
"There are these people with a big house, career, cars and money, and they can't deal with living anymore. It proves that materialistic things aren't the source of happiness. People have got to shift thoughts from what can I buy next to make me happy, to who can I interact with next to make me happy."
Identifying depression
One of the biggest issues surrounding depression is how to go about identifying it. Is feeling down the first step on the spiralling staircase to depression? I studied sports psychology at university, and it was a topic that was discussed at length.
If I'm honest, for me personally, it's a subject that's still clouded in an air of confusion.
The World Health Organisation defines depression as: "a common mental disorder that presents with depressed moods, loss of interest or pleasure, feelings of guilt or low self-worth, disturbed sleep or appetite, low energy, and poor concentration."
>>> Top tips to sleep better and ride faster (video)
Obree, however, describes depression somewhat differently, in a way only he could.
"Imagine you're in a hotel and there are loads of rooms. There is a fire in one of the rooms. Now the sprinklers go off in every room. That's the human mind, and there's a whole range of emotions and functions of the brain. Now, if you've got a repressed memory, it's unbearable to deal with, and the only way of repressing that memory is by having the sprinklers go off in every room.
"Or, if I have some other emotions, like fear, anxiety, resentment, anger or a combination of emotions, then the only way to suppress that is by putting the sprinklers on in all of the brain.
"So what you find is, people who are depressed haven't lost any intelligence, but they have lost the ability to think and make decisions as clearly as you could. It affects the whole function of your mind. You have to pick away to find out the real root of it. It's very complex, but for most people, there is usually some underlying issue. It needs to be dealt with. Deal with that fire in the room before you can move on. Treating depression itself is treating the symptoms."
What are the symptoms?
"Personally speaking, if everything seems fine but slightly pointless, that's an element of depression. A lot of people mix up being depressed and being pissed off.
"If you're just pissed off because of such and such - 'my bike broke in two' - and you're saying you're really depressed, no, you're just pissed off. That's something completely different.
"And if you're in touch with emotions such as anger and frustration, and you can identify them and feel them, then you're probably not depressed.
"If you're not in touch with emotion and you just feel flat, and you don't feel anything and you can't put a finger on the reason as to why you feel flat, then that's a sign of depression."
Cycling has played a huge part in your entire life. Did it help with your battle?
"Absolutely. Getting out and riding will help. If you have no desire to get out and ride, then you're in a bad position. Without cycling, I don't know where I would be. I have a love-hate relationship with cycling, not the bike, but the racing side of it and the pressure that comes along with it.
"I use my bike as a mode of transport - I've no want to own a car - to go and see my boys over the hills and come back, and it feels great when you're out in the open air and you come back feeling refreshed and awake.
"For this reason I recommend cycling to help people feel better, but not to deal with the underlying causes, which could be a repressed memory, resentment from childhood, relationships. These need to be dealt with."
If you think you're suffering from depression or suicidal thoughts, speak to someone openly about it or contact the Samaritans anonymously on 08457 909090
Thank you for reading 20 articles this month* Join now for unlimited access
Enjoy your first month for just £1 / $1 / €1
*Read 5 free articles per month without a subscription
Join now for unlimited access
Try first month for just £1 / $1 / €1