Icons of cycling: Graeme Obree's Old Faithful
A look at the allure of Graeme Obree's 1993 Hour Record smashing, DIY masterpiece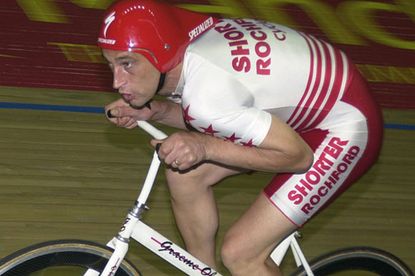 When Graeme Obree used his home-made bike to attack Francesco Moser's Hour Record in 1993, he wasn't so much bringing a knife to a gunfight as turning up to a nuclear war armed with a whittled stick.
The great Italian had used two disc wheels, an aerofoil-tubed frame, the high altitude of Mexico City and a blood transfusion or two (not illegal at the time) to set a distance of 51.151km, which had stood for nine years.
>>> Icons of cycling: the Rainbow Jersey
But Obree had a healthy disregard for the unspoken rule by which only celebrated international roadmen at the end of their careers could attempt the Hour Record. Who cared if he was an unheard-of Scot on a clown's bike? Certainly not him.
It had occurred to Obree in 1986 that his time trial bike might be faster if he turned the handlebars around. In early 1993, he built his TT bike around the 'tuck' position that he'd seen skiers use and figured it was quick.
>>> Hour Record: The tangled history of an iconic feat
Obree had also been experimenting with a narrow bottom bracket that would keep his knees very close together, lowering his frontal area. For this reason, the bike couldn't have a conventional top tube and down tube; instead, it had a main beam made from a Reynolds tandem oval base tube turned sideways.
Bike's got soul
For the rest of it, Obree brazed together a bundle of old BMX tubes described by staff in the bike shop where he worked as "pishrust tubing". The bottom bracket bearings and housings were famously salvaged from a washing machine.
>>> Icons of cycling: Look's revolutionary clipless pedals
In his book Flying Scotsman, Obree remembers his first ride on 'Old Faithful': "I knew my baby had soul and I could not help going to the measured 10-mile TT course and ripping round, full-on. It was a perfect day with almost no wind, but I still could not believe my watch at the finish point: 19.49. I had equalled my own Scottish record from 1989."
>>> Icons of cycling: Campagnolo Tool Case
Having beaten Moser's mark, Obree's talismanic bike went on to become the emblem of a never-to-be-repeated era in cycling — one during which a man in his shed could knock up his own design and break a world record on it. Obree's great rival Chris Boardman had benefited from the same ethos, albeit with a bigger budget and support team, when he rode his Lotus bike to pursuit gold in Barcelona a year earlier.
The UCI banned Obree's tuck position and later banned the Superman position he devised to circumvent the tuck ban. Boardman's were red-carded too — though both men's records stood. Sir Bradley Wiggins will no doubt look stylish this June 7, but for many fans, the modern, homogenised Hour Record lacks the drama, excitement and spectacle of those glorious DIY days.
This article first appeared in the May 21 issue of Cycling Weekly
Thank you for reading 20 articles this month* Join now for unlimited access
Enjoy your first month for just £1 / $1 / €1
*Read 5 free articles per month without a subscription
Join now for unlimited access
Try first month for just £1 / $1 / €1