Hour Record: The tangled history of an iconic feat
For over a century cyclists have been pushing themselves to the limits to push back the Hour record; we look back at the tangled history of one of cycling's most coveted accolades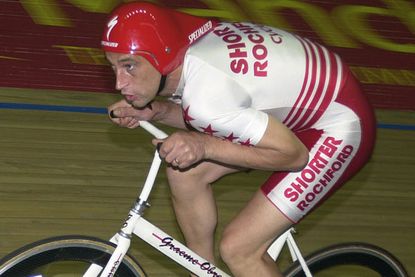 This is the year of the men's Hour Record. After over a decade gathering cobwebs, suddenly the record is everywhere, and all at once. There are riders using it to finish careers, to start careers, to administer CPR to careers that were almost dead — in all, five attempts since September 2014, with more lined up in the coming months.
The Hour has been the most feared and most gruelling test of a rider for over 100 years. It has left the greatest champions exposed and alone on a track with only their pure ability to rely on. But there has never been a time like now, and it seems unlikely that there will be again.
This hasn't been an accident. It was engineered this way. For once in its life, the UCI fiddled with some rules, and got exactly what it wanted in response. It's been a rare, unequivocal triumph.
The Hour is unique two ways at once. It's the only high-profile endurance record in world cycling. Sure, there are marks for 10km and for 20km, but they're pip-squeaks compared to the Hour. And it's a record built back-to-front. It's not a distance to cover in the shortest time; it's a time to cover the greatest distance. The back-to-front bit is a lot of what makes the Hour what it is. A rider can't escape the torture any sooner by trying any harder. Everyone has to serve the same sentence.
>>> The Hour Record: An interactive timeline
The record goes all the way back to the first years of the bicycle. There are early, dubiously-authenticated Hours from the penny-farthing era. Briton James Moore — who won the first ever road race, from Paris to Rouen in 1869 — set a first Hour record of 23.2km in Wolverhampton in 1873. (His distance in the original imperial units was 14 1/2 miles, to the yard, suggesting it might have been somewhat approximate.)
The first record to be accurately measured and authenticated by an international governing body came 20 years later in 1893. Oddly enough, it was set by Henri Desgrange, who went on to become the founder of the Tour de France. His ride was at the Buffalo track in Paris, and it was, even by the standards of the time, a fairly modest 35.325km. As part of a theme that's re-emerged in more recent Hour history, he said (in a rare glimpse of humility from Desgrange) that he considered himself a relatively minor bike rider, but that he wanted to get in first, and set a distance to give others something to aim at.
His assessment was accurate. The following year the first rider to attack his record, the former French national champion Jules Dubois, added almost three kilometres to it. To this day that's the largest margin by which the Hour has ever been beaten.
>>> Battle of the Brits: Hour Record heroes
The Hour really caught light in the years prior to World War One. In 1912, Oscar Egg broke the five-year-old record of fellow Frenchman, Marcel Berthet. Within a year, Berthet took it back. Egg re-claimed it a fortnight later. And four weeks after that, Berthet broke it again.
The men swapped the record five times in three years, and moved it from just over 41km to 44.247km. Promoters paid the men richly, since the tense rivalry was guaranteed to fill the Buffalo stadium to capacity.
For their part the riders were careful not to beat the record by unmanageably large margins, so the other could still reach it, and thus keep the whole lucrative gravy-train rolling. The final ride in the sequence was Egg's, in June 1914. Berthet never got the chance to get it back; the war broke out. Egg's record lasted for 19 years, until 1933, making it the longest standing of all Hours.
Coppi's Hour
The pattern for the Hour has often been one of a blizzard of records, followed by a fallow period, when the record was so good that it repelled all assaults, or was so intimidating that no one dared even try. The record of Fausto Coppi was one of these. He set it in 1942, in the midst of World War Two, in a Milan that was being bombed each night by the Allies.
He broke the record of Maurice Archambaud by a relatively small 81m. It was not, in truth, one of the Campionissimo's finest rides, although the physical toll it took on him was considerable. But it was still good enough to hold off three-time Tour winner Louison Bobet, whose attempt in the early 1950s failed.
https://www.youtube.com/watch?v=TLDYCibiJdw
When Coppi's Hour finally tumbled, it was to Jacques Anquetil, probably the greatest time triallist cycling has ever seen. It still took him three attempts to get it. 'Maître Jacques' — who at the time was enlisted in the French army and was under orders to attempt the record — finally added around 200m to Coppi's ride in June 1956. Yet, as is often the way when one of the great records finally goes, the new mark didn't last — it was broken within three months by the Italian Ercole Baldini, the last amateur to hold the record until Graeme Obree in the 1990s.
Anquetil returned to the record 11 years and five Tour victories later in 1967, in an attempt to atone to his team and his fans for a rather rash series of public observations he had made about the importance of taking the right drugs if you wanted to get ahead in pro cycling. He surpassed the record distance of (committed doper) countryman Roger Rivière.
But then Anquetil refused to take the post-event drug test. It was almost the first instance of such a test at a cycling event, and Anquetil considered it "undignified". The doctor was ejected from the trackside cabin with some violence. To the amazement of more or less everyone, the UCI didn't back down, but disqualified the sport's biggest name from one of its biggest events. It established an important precedent.
https://www.youtube.com/watch?v=nqjEvDlFqdM
If Coppi was a star, and Anquetil was a star, then the star to rule them all was Eddy Merckx. And so it was with Merckx's Hour — it was, and it is, the most iconic of them all. It was set at altitude in Mexico City, at the end of the 1972 season. Like Coppi's Hour, it was probably short of what he might have accomplished with a better-managed attempt. He arrived at altitude late; he was tired from a long season. And his pacing was ambitious — his first kilometre was only six seconds outside the world record. His five-kilometre time could have won him a world 5,000m pursuit title.
He just got slower from there on, fighting his body the whole way. At the end he was a wreck. He couldn't move. He couldn't speak. When finally he strung a few words together, it was to say that it had been terrible. No one who had not done it could know what it was like. His record was 49.431km. Subjectively it's probably the best record of all, and the respect in which it's held by fans and riders is not misplaced.
Technology takes over
Certainly when it was broken by the Italian Francesco Moser, it was hard not to think that new technology had a lot to do with it. Moser's 51.151km, again in Mexico City, was all about aerodynamics and clever kit — skinsuits, disc wheels, low-profile bikes.
At one point he tried using a giant rear wheel — so large it almost brushed the back of his saddle — because his team hoped it would create a flywheel effect. It did not.
Depending on your point of view, Moser marked the beginning of a very exciting period in cycling — or he marked the thin end of a wedge that would eventually overshadow the ability of the athlete with expensive equipment. Yet, when Moser's record was overthrown in 1993, and the UCI started to really panic about technology, it was the work of a man riding what was probably the cheapest bike ever used to break the record.
Moser had refined the machine, but was sitting on it in an entirely conventional way. Graeme Obree's bike was home-made, but his 'tuck' riding position was an aerodynamic revolution. It turned out that the authorities actually liked it a great deal less than Moser's approach — expensive was a concern, but clever was clearly unacceptable.
The first time it happened, the Obree problem went away quite quickly. Just six days after Obree set his 51.596km record in Hamar in Norway, Chris Boardman, the Olympic pursuit champion from the previous year, rode 52.270km in Bordeaux. He did it on a tri-bar equipped pursuit bike, but by 1993 that had been an accepted set-up on both road and track for several years. Equilibrium had been restored — the weirdness had been short-lived.
Superman takes off
Except that Obree broke the record again the following year. The UCI banned his tuck position. Before the year was out, two of the sport's biggest stars, Spaniard Miguel Indurain and Swiss Tony Rominger, both broke the record on tri-bar bikes, and once again, the UCI thought it was out of the Obree woods. Rominger took the record to a remarkable 55.291km — which seemed safely beyond the reach of maverick geniuses on home-made bikes.
https://www.youtube.com/watch?v=2rnm8rO1kd4
Obree responded by devising a new riding position — stretching out full-length to create the 'Superman' position — and used it to win the individual pursuit at the Track World Championships. But before he could use it in an Hour, Chris Boardman beat him to it. On an epic night in Manchester, Boardman used the Superman position and a Lotus superbike to ride an astonishing 56.375km.
https://www.youtube.com/watch?v=z932nX_N_9Q
Almost immediately after his ride, the UCI banned that position too, but allowed the record to stand, and left quite impregnable by the rule change. It looked like Boardman would hold the record forever. And indeed, 56.375km is still the biggest distance ever covered.
But Boardman is no longer the holder. In 2000 the UCI annulled every record since 1972 on the basis that technology had been too dominant, and re-instated Merckx as record holder. Furthermore, all future attempts were to be made on a 'Merckx-style' dropped handlebar track-bike with traditional wire-spoked wheels. The UCI called it the Athlete's Hour.
Tidily, the first attempt on Merckx's record was Boardman's. On his last-ever ride as a professional, he squeaked just 10m onto the old mark.
And then the record upped and died. A couple of lacklustre failed attempts, and one successful ride in 2005 from the unheralded Czech rider Ondrej Sosenka, none of which aroused any interest because it turned out that neither riders nor fans much cared what you could do on an antique. It looked like the Hour might be gone for good.
It all changed again in May 2014. The UCI changed the equipment regulations to bring them into line with modern pursuit-bikes. All the old records were reinstated in the history. But, to encourage attempts and revitalise the event, the mark-to-beat remained the then current record, the Athlete's Hour of Sosenka: 49.7km. It was an eminently reachable target.
It was Jens Voigt who got the first attempt on track, in September 2014. In his retirement ride he added 400m to Sosenka's distance while giving the event a huge amount of publicity. A few weeks later, Matthias Brändle of Austria added another 700m. And in February 2015, Australian Rohan Dennis moved it on again, to 52.491km.
There will be more attempts in 2015 — there are still several opportunistic riders who want to get there before the big guns turn their attention to it. Alex Dowsett will make an attempt on May 2 and Bradley Wiggins has announced plans for an attempt on June 7 2015. The British rider will be hoping to set a distance in the style of Coppi, or Merckx, a record for his generation. And a record, many hope, that will finally re-establish the Hour as the event it always was.
http://timeInc.brightcove.com.edgesuite.net/rtmp_uds/26996914001/201504/309/26996914001_4149125085001_4149043482001.mp4
Alex Dowsett talks about his Hour Record attempt to Cycling Weekly
The record holders
Swipe to scroll horizontally
| | | | |
| --- | --- | --- | --- |
| Name | Date | Place | Distance (km) |
| Henri Desgrange | 11.5.1893 | Paris | 35.325 |
| Jules Dubois | 31.10.1894 | Paris | 38.220 |
| Oscar Van Den Eynde | 30.7.1897 | Paris | 39.240 |
| Willie Hamilton | 3.7.1898 | Denver | 40.781 |
| Lucien Petit-Breton | 24.8.1905 | Paris | 41.110 |
| Marcel Berthet | 20.6.1907 | Paris | 41.520 |
| Oscar Egg | 22.8.1912 | Paris | 42.360 |
| Marcel Berthet | 7.8.1913 | Paris | 42.741 |
| Oscar Egg | 21.8.1913 | Paris | 43.525 |
| Marcel Berthet | 20.0.1913 | Paris | 43.775 |
| Oscar Egg | 18.6.1914 | Paris | 44.247 |
| Jan van Hout | 25.8.1933 | Roermond | 44.588 |
| Maurice Richard | 29.8.1933 | St-Trond | 44.777 |
| Guiseppe Olmo | 31.10.1935 | Milan | 45.090 |
| Maurice Richard | 14.10.1936 | Milan | 45.325 |
| Frans Slaats | 29.9.1937 | Milan | 45.485 |
| Maurice Archambaud | 3.11.1937 | Milan | 45.767 |
| Fausto Coppi | 7.11.1942 | Milan | 45.848 |
| Jacques Anquetil | 29.6.1956 | Milan | 46.159 |
| Ercole Baldini | 19.9.1956 | Milan | 46.393 |
| Roger Rivière | 18.9.1957 | Milan | 46.923 |
| Roger Rivière | 23.9.1958 | Milan | 47.346 |
| Ferdinand Bracke | 30.10.1967 | Milan | 48.093 |
| Ole Ritter | 10.10.1968 | Mexico City | 48.652 |
| Eddy Merckx | 25.10.1972 | Mexico City | 49.431 |
| Francesco Moser | 19.1.1984 | Mexico City | 50.808 |
| Francesco Moser | 23.1.1984 | Mexico City | 51.151 |
| Graeme Obree | 17.7.1993 | Hamar | 51.596 |
| Chris Boardman | 23.7.1993 | Bordeaux | 52.270 |
| Graeme Obree | 27.4.1994 | Bordeaux | 52.713 |
| Miguel Indurain | 2.9.1994 | Bordeaux | 53.040 |
| Tony Rominger | 22.10.1994 | Bordeaux | 53.832 |
| Tony Rominger | 5.11.1994 | Bordeaux | 55.291 |
| Chris Boardman | 7.9.1996 | Manchester | 56.375 |
Athlete's Hour
Swipe to scroll horizontally
| | | | |
| --- | --- | --- | --- |
| Name | Date | Place | Distance (km) |
| Chris Boardman | 27.10.2000 | Manchester | 49.441 |
| Ondrej Sosenka | 19.7.2006 | Moscow | 49.700 |
New 'unified' Hour
Swipe to scroll horizontally
| | | | |
| --- | --- | --- | --- |
| Name | Date | Place | Distance (km) |
| Jens Voigt | 18.9.2014 | Grenchen | 51.110 |
| Matthias Brändle | 30.10.2014 | Aigle | 51.852 |
| Rohan Dennis | 8.2.2015 | Grenchen | 52.491 |
What of Boardman's 56.375km?
Very oddly indeed, the new record rules leave Boardman's 56.375km record in the books, but not as the record distance, despite it being almost 4km further than Rohan Dennis's current mark.
It's a fudge, but one that was probably necessary to square a change in the rules that was made after Boardman's ride, while recognising a record that was set in accordance with the rules at the time.
The obvious question is, can anyone beat it under the current regulations? Rumour has it that Bradley Wiggins's initial plans were to try to do exactly that. But it's a very tall order — the Superman position was something like 15 per cent more aerodynamic than a currently legal position.
This means that even for a rider who could top Boardman's horsepower, as Wiggins probably just about can, there's a lot of ground to make up with other factors like bikes, wheels, clothing and helmets. And while all of these have moved on since 1996, it's doubtful if they've moved on enough.
If he took his attempt to altitude, all that might change. The Aguascalientes track in Mexico might be worth as much as an extra 2km to a well-acclimatised rider. But for the moment, Wiggins's plans are for a sea-level attempt in London. More recent rumours suggest he's now aiming for a target closer to 55km.
Thank you for reading 10 articles this month* Join now for unlimited access
Enjoy your first month for just £1 / $1 / €1
*Read 5 free articles per month without a subscription
Join now for unlimited access
Try first month for just £1 / $1 / €1