Rohan Dennis sets new Hour Record of 52.491km
Australian smashes record with outstanding ride in one of cycling's toughest tests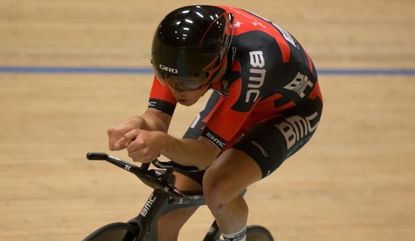 Rohan Dennis (BMC) has broken Matthias Brändle's 14-week-old world Hour Record. Riding at the Velodrome Suisse in Grenchen, Switzerland, the 24-year-old Australian covered a provisional distance of 52.491km, to add 639m to the previous mark.
It's the third successful Hour ride since the UCI re-drew the rules for the record in the spring of 2014. Brändle's predecessor, Jens Voigt, also used the Grenchen track to set his 51.115km last September. And Dennis's successful run came a week after his countryman, Jack Bobridge, failed to break the record in Melbourne, where he covered 51.3km.
Dennis's ride was the classiest of these recent attempts. Unlike Brändle or Voigt, he has a background on the track as a team-pursuit world champion, and he also underlined his road pedigree just two weeks ago with victory in the Tour Down Under.
So it was unsurprising that Dennis looked completely at home in an Hour attempt. He started out strongly, and was up on Brändle's pace from the first laps. He unrolled 17-second lap after 17-second lap to build into a solid position, and after ten minutes was on an average pace of 52.4kmh, and already ten seconds up on the previous record.
His position on the bike was almost immobile. Although he didn't stick as tightly to the pursuit-line round the base of the track as he or his coaching team would probably have liked, his riding was controlled and consistent, and he kept building his margin. By 20 minutes, his average was 52.6kmh; by half-time it was over 52.7, and he looked likely to get very close to a total of 53km.
But the second half – and especially the fourth quarter – is where an Hour starts to bite, and Dennis was no more immune than anyone else. While he managed to stretch his pace to 52.8kmh by 45 minutes, that was the high-water mark.
What followed was, essentially, a collapse. It was difficult to detect it in his riding. His head went down, but only occasionally, and his line flicked up the track just here and there. But his lap splits quickly ran out from bang-on 17-seconds, to 17.2, to 17.4, and, eventually in the last few minutes, to 17.8. His final 52.491 km was more than 500m down on the 53km that at one point had seemed within his grasp.
>>> Rohan Dennis wary of Bradley Wiggins in run-up to Hour attempt
If this in any way bothered him, it didn't show at the finish. He beamed at the Aussies in the crowd, rolled to a stop with Neil Henderson, his coach. Unlike Bobridge a week earlier, he climbed off his bike with no difficulty at all. In fact he looked no more fatigued than he would do after a 4km pursuit effort.
"It almost feels too easy," he said. "Obviously it wasn't. I hope it [the record] will stay for a while."
How long it will last is, of course, a significant question, with attempts from Bradley Wiggins (Sky), Tony Martin (Etixx Quick-step) and Alex Dowsett (Movistar) all in the works.
Thank you for reading 20 articles this month* Join now for unlimited access
Enjoy your first month for just £1 / $1 / €1
*Read 5 free articles per month without a subscription
Join now for unlimited access
Try first month for just £1 / $1 / €1