Battle of the Brits: Hour record heroes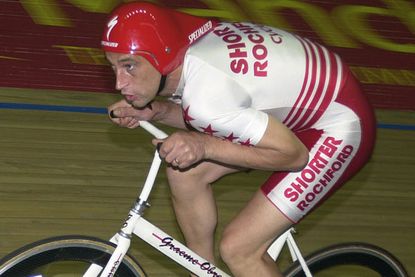 It takes a lot to push the Tour de France off the front page of French sports daily L'Equipe in July, writes Edward Pickering. The World Cup manages it every four years, but otherwise, the first thing French cycling fans digest every morning, along with their café au lait, is several pages of Tour coverage.
However, one day in 1993, an unknown Scottish cyclist pushed the Tour back to the middle of the newspaper. Graeme Obree, crouched over his bike in the tuck position familiar to followers of domestic British time trialling but a complete novelty to international cycling fans, had broken the World Hour record.
It wasn't the first time a time triallist in an unusual position had featured on the front page, but the last had been Greg LeMond, when he debuted tri-bars in the 1989 Tour en route to victory. This time, it was a third-category amateur with a penchant for marmalade sandwiches and DIY bike-building.
The following week, another British amateur unknown to the readers of L'Equipe, Chris Boardman, broke the Hour record, earning the Liverpudlian a place in the Tour de France presentation ceremony, sharing the podium with yellow jersey Miguel Indurain. Interest in the Hour record, after almost a decade of dormancy, exploded, thanks to the achievements of two British riders.
This month sees the 20th anniversary of that incredible week for British cycling, and it seems apt that we are celebrating that landmark with one British rider still the reigning Tour de France champion, and another poised, at the time of writing, to take over his crown. You can draw a straight line from the career of Chris Boardman, through his Olympic pursuit title and 1993 Hour record, all the way to the present-day Team Sky.
Although to the readers of L'Equipe, the sudden British takeover of the Hour record came out of the blue, it had been brewing for some time in the UK. Readers of Cycling Weekly were well aware of both riders' exploits in domestic time trials. Boardman and Obree were head and shoulders above their rivals over 25 miles.
Boardman was also an accomplished international track competitor by 1993, and had been throwing his weight around in British road races too. The pair had entirely different motivations for going for the Hour, but it was a rivalry that captured the imagination.
Early marginal gains
For Boardman, the Hour record was a logical next step following his triumph in the pursuit at the Barcelona Olympics. His coach, Peter Keen, did some sums involving what they knew about his power output, concluded that the Hour record was a realistic target, and went about accumulating enough marginal gains to make it achievable.
Obree, on the other hand, had already set a series of British Hour records, on outdoor tracks, before deciding that his ultimate target would be no less than Francesco Moser's world record. Moser set his record, 51.151 kilometres, in 1984, using revolutionary disc wheels and cowhorn handlebars (and, he later confessed, blood doping, although that wasn't actually banned at that point).
It was widely seen as a very hard challenge, certainly the preserve of international road professionals, although the best of the late 1980s, like Bernard Hinault and Greg LeMond, had refused to take it on, the risk of failure being deemed too great.
Obree had experienced depression and apathy during 1992, when Boardman was winning his Olympic gold, but on new year's day 1993, he confided to his wife and a friend that he was going to break Moser's Hour record that year. However, while Boardman made it public fairly early on that he would be targeting the Hour in July, Obree didn't make an announcement, and that's when things got complicated.
While Boardman was training at Bordeaux velodrome, one of his support team, Pete Woodworth, learned that the Tour de France was going to visit the town. He suggested to Keen and Boardman that they do the attempt on the same day, in order to guarantee the presence of two important groups of people: the world's cycling media, and the managers of the professional road teams. The date for Boardman's PR coup was set: July 23, 1993.
Obree riding old faithful
Meanwhile, Obree was concocting a PR coup of his own. Just after he suffered a narrow defeat to Boardman in the National 25-mile Time Trial Championships (including losing time in what appeared to be a mechanical, but that he later admitted was a crisis of confidence), Obree announced that he would be tackling Moser's Hour record, and that it would be the week before Boardman.
The Englishman was understandably peeved at Obree's announcement, not only because it seemed to him that Obree was copying his idea and stealing his thunder, but also that if the Scot was successful, he wouldn't even know what distance he would be aiming to beat until it was too late to alter his training.
Prime position
Obree's attempt on the Hour took place in Hamar, Norway. He'd famously designed and built his own bike, with a revolutionary new position.
He rode with, his arms tucked in under his body and his shoulders resting on his hands, on his handlebars. This took his arms out of the aerodynamic equation, and since air resistance is the biggest impediment to riding fast, this immediately made him faster.
But that wasn't all - he'd also narrowed the bottom bracket, and replaced the top and down tubes of his bike with a single strut which allowed his legs to rub together at the top and bottom of his pedal stroke. It gave him a knock-kneed appearance, but again, turning his legs from two aerodynamic units into one cut down on turbulence and made him pass through the air more quickly.
One of the French journalists covering the Obree story, Pierre Ballester, nicknamed Obree's bike 'Old Faithful'. But for the record attempt, Obree rode a replica of Old Faithful which had been made in carbon by bike engineer Mike Burrows (see interview next week). It wasn't an exact copy - Burrows was unable to get the bottom bracket as narrow as Obree's own design, plus Obree had requested a bigger gear, and for the bars to be fractionally lower.
Obree's obstinacy
Riding a bike for an Hour record attempt, with a gear and position that were slightly different from what he'd trained with, turned out to be as bad an idea as it sounded. Obree failed, riding 461 fewer metres than Moser.
But he refused to be beaten, telling his management team that he wanted to go again, immediately. They persuaded him to wait for the next day, and hastily rearranged the flights of the journalists, UCI commissaires and hangers-on in order that one more attempt could be made, this time on the original Old Faithful.
Incredibly, Obree was successful. He surpassed Moser's record on July 17, 1993, riding 51.596 kilometres. L'Equipe cleared the front page, although the picture they ran, of Obree crouching low over his handlebars, along with the headline "L'Incroyable Mister Obree", was actually from the failed attempt - the photographer had already gone home by then.
Boardman was unfazed by Obree's success, although he admitted to being disappointed that it was not Moser's record he would be trying to beat.
Boardman's Bordeaux
On a sweltering day in Bordeaux, six days after Obree and a few hours before the riders of the Tour de France would cross the finish line nearby, Boardman made his own attempt. With Obree's record fresh in everybody's minds, interest in his bid was sky-high - the European press was gripped by the story of a pair of British amateur cyclists crashing the Hour record party.
Boardman duly extended the record, in spite of the slow conditions in the velodrome, riding 52.270 kilometres, and earning himself an invitation to stand on the Tour podium alongside Miguel Indurain. It had been one of the United Kingdom's greatest ever weeks in cycling.
Obree and Boardman's rivalry didn't end there. They contested the World Championship pursuit later in the year, in which Obree triumphed. The rainbow jersey for the pursuit swapped between them for the next three years and each would go on to set further Hour records. Boardman also went on to become a successful road pro, wearing the yellow jersey three times and winning the World Championship time trial.
The rivalry captured the imagination of the cycling world thanks to their contrasting personalities, approaches and methods - the narrative was hung on the clash between the dry, pragmatic, unemotional, scientific character of Boardman, and the chaotic, human and intuitive approach Obree had to life and the sport.
It's 20 years since the two British Hour record successes of 1993. Anybody looking at Great Britain's current dominance in world cycling and wondering where it all came from, could trace it right back to the ideas and experiences of Chris Boardman in the early 1990s, and the rivalry he enjoyed with Graeme Obree.
Graeme Obree will be giving a special presentation about his Hour record success on the 20th anniversary of the event, on July 17 in Glasgow. www.obree.com
Edward Pickering is the author of The Race Against Time, an account of the rivalry between Graeme Obree and Chris Boardman.
This article was first published in the July 18 issue of Cycling Weekly. Read Cycling Weekly magazine on the day of release where ever you are in the world International digital edition (opens in new tab), UK digital edition (opens in new tab). And if you like us, rate us!
Thank you for reading 10 articles this month* Join now for unlimited access
Enjoy your first month for just £1 / $1 / €1
*Read 5 free articles per month without a subscription
Join now for unlimited access
Try first month for just £1 / $1 / €1
Founded in 1891, Cycling Weekly and its team of expert journalists brings cyclists in-depth reviews, extensive coverage of both professional and domestic racing, as well as fitness advice and 'brew a cuppa and put your feet up' features. Cycling Weekly serves its audience across a range of platforms, from good old-fashioned print to online journalism, and video.