Hour Record rule change - Athlete's hour to be scrapped
Records set by Graeme Obree and Chris Boardman in 1980s and 1990s will be reinstated under new rules - New attempts can use standard track pursuit bike - 49.7km set by Ondrej Sosenka will still be the mark to beat for any new attempt - Records recorded according to the rules in force at the time of the attempt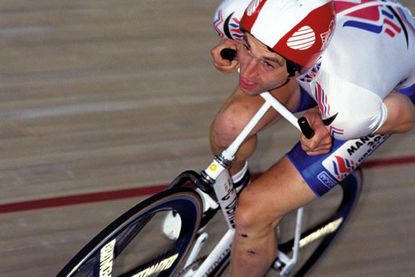 Cycling Weekly has learned that the UCI is planning significant changes to the world Hour Record. The controversial 'athlete's hour' rules, which specified that attempts had to be made on equipment as similar as possible to that used by Eddy Merckx for his record in 1972, are to be scrapped. Instead, the rules will be unified with those for current track pursuit bikes.
The present record of 49.7km set by the Czech rider Ondrej Sosenka under the old-style 'athlete's' rules will remain the distance that new record aspirants have to beat.
A UCI source said that, "since the UCI only started really looking at the bike rules for the record in 2000, we thought it was best to take the records set after that as remaining the records to beat. We want one unified hour record – no 'athlete's' records, no 'best human performance' records, just a simple record set using whatever rules are in force at the time for endurance track bikes. Since Sosenka's bike would have been legal for a pursuit, that stays the target for any new attempt."
The changes mean that the sequence of records set in the 1980s and 90s by riders including Graeme Obree and Chris Boardman which were removed from the record books in 2000 following the introduction of the 'athlete's' rules will be reinstated, despite the fact that this means the record distance will go down from 56.374km in 1996 to 49.441km in 2000 (both set by Chris Boardman under different rules).
The new approach should also future proof the record against changes that the UCI has planned in the equipment regulations that are likely to come into force in 2016.
20 years on in one incredible week two Britons broke the world hour record...
UCI debating on what type of bike cyclists can use to attempt Hour record
Thank you for reading 20 articles this month* Join now for unlimited access
Enjoy your first month for just £1 / $1 / €1
*Read 5 free articles per month without a subscription
Join now for unlimited access
Try first month for just £1 / $1 / €1