Icons of cycling: the Rainbow Jersey
There's magic behind this combination of five colours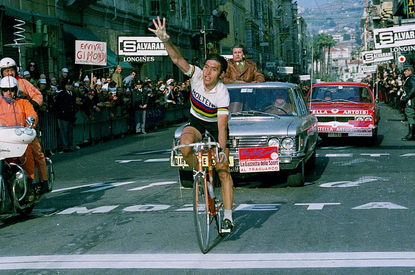 In professional cycling the person wearing the rainbow bands is a god. For this reason anybody wearing a replica rainbow jersey on a recreational ride commits an act of blasphemy. To wear a yellow, green or polka-dot jersey when you haven't actually earned it in the Tour de France is still a sin, but not deserving of eternal damnation the way wearing an unearned rainbow jersey is.
The blue, red, black, yellow and green bands on the pure white background have a power all of their own. To catch sight of them makes any cycling enthusiast simultaneously catch their breath. This is a jersey that has been worn by the greatest cyclists in the world since 1927. Not by domestiques from an unfancied team, but by actual winners who are stronger than everybody else in the world's most important one-day race.
>>> Cycling quiz: name the 70s world champion
A rainbow jersey is awarded to the world champion in any cycling discipline run under the UCI's rules and regulations, which means you might think its power would be diluted.
Not a bit of it. Whatever you think of the UCI, the fervour with which it defends the right of only one rider to display rainbow bands is formidable.
The UCI has intervened in the past to prevent infringements of its rainbow bands rules, which state that until the day before the World Championship of the following year, the world champions must wear their jersey in all events in the discipline, speciality and category in which they won their title, and in no other event. When he or she is no longer world champion, they may wear rainbow piping on jersey collar and cuffs, but again only in the event they won the title. As for rainbow stripes or piping on equipment other than jerseys, those are strictly for the current world champion.
The five colours were originally lifted from the Olympic logo with its five interlocking rings — itself ferociously defended by the IOC — but have now become such a distinctive and beautiful symbol of the very top level of cycling that you can't blame the UCI for wanting to safeguard their exclusivity.
Thinking of going out dressed as Michal Kwiatkowski? Don't do it.
Thank you for reading 20 articles this month* Join now for unlimited access
Enjoy your first month for just £1 / $1 / €1
*Read 5 free articles per month without a subscription
Join now for unlimited access
Try first month for just £1 / $1 / €1