How can osteopathy help cyclists?
We spoke to osteopath and former pro rider Alice Monger-Godfrey about how osteophathy could benefit your cycling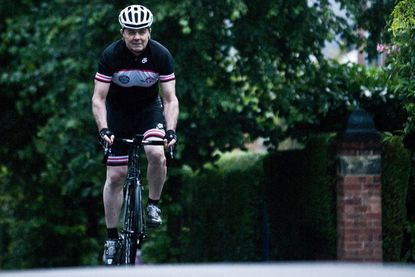 Get The Leadout Newsletter
The latest race content, interviews, features, reviews and expert buying guides, direct to your inbox!
Thank you for signing up to The Pick. You will receive a verification email shortly.
There was a problem. Please refresh the page and try again.
We often see professional riders stretched out on the massage couch after a Grand Tour stage, having any biomechanical issues addressed ahead of the next day's racing. And now an increasing number of us are seeing the importance of looking after our bodies from head to toe too, in order to alleviate or even prevent aches and pains on and off the bike.
>>> Can amateur cyclists benefit from blood analysis?
Rebecca Charlton caught up with former professional cyclist and now osteopath Alice Monger-Godfrey, who works behind the scenes with some of the biggest stars of the pro peloton to keep them firing on all cylinders.
Picking up the model spine at Wimbledon Village Osteopaths, Monger-Godfrey laughs as she explains that a person's discs are like a chocolate Rolo, with a tough exterior and a "gooey middle".
>>> Is your adrenal system making you tired?
Her passion for osteopathy and every aspect of making the body tick is infectious, and with a background in pro cycling there's no one better to appreciate the strains bike riding can put on the body.
"I first got into racing via the British Cycling Talent Team, which came to my school, Nonsuch High School for Girls, the same school and year as Olympic champion Joanna Rowsell was spotted," she explains. "We were asked if anyone wanted to try out to become the next Olympic champion.
>>> Armitstead: I'm not the favourite for brutal Rio Olympics road race
"I'd never really cycled before so the idea of missing a maths lesson was more appealing to me than winning an Olympic medal at the time! After completing all the stages I was selected, guided and funded through the start of my racing career."
Keep fit at work
She went on to rack up a number of big wins, representing Great Britain on the road and track, before riding for Swift Women's Professional Road Race Team and De Sprinters Malderen in Belgium.
>>> Should you really train like a pro?
Monger-Godfrey was just 22 when she made the difficult decision to retire from professional cycling as an athlete but continues to work alongside the riders she progressed with, now looking after some of the fastest legs in the world.
"I studied at the British School of Osteopathy for four years to complete my Masters degree. I set up AMG Osteo Clinics and I now work with teams, including Wiggle-Honda at the RideLondon Grand Prix this year," she says.
>>> Three women's WorldTour events planned for UK in 2016
"It was fantastic being on the other side of the fence working alongside cyclists I used to race with like Olympic champion Dani King and catching up on old times."
How do you compare?
Combined with her vast knowledge in osteopathy there's no one better to understand the demands placed on a rider day after day: "I think it's nice for the riders to have a chat about normal things and unwind while they're on the massage table. All sorts of topics come up day
to day as an osteo!
>>> How to tell whether you are overtraining, and how to avoid it
"It was brilliant to treat them and show them what osteopathy has to offer, not only in being able to treat their niggles but also optimise performance and prevent further injuries."
So that's the top pros, but what about us mere mortals? "At the top level, elite racing cyclists only ride their bikes. If they're not riding their bike they're not standing, they're not sitting, they're lying down and resting, so a lot of the causes of pain for them will be on the bike," she explains.
>>> Detraining: The truth about losing fitness
The problem for those of us with a day job, however, is that we sit at desks or spend hours on our feet, then squeeze in our training. "The risk then is that you overload your body and get injured. And that's where the problem starts."
Alice's expert tips
Sleep on your side rather than your front, as it will help to keep fluid in the discs in your spine so they remain supple.
Sip lots of water throughout the day — it's your best friend when it comes to a healthy back and general wellbeing.
Listen to your body. If you're in pain don't ignore it — it could mean injury or it could point to other underlying health problems.
What is osteopathy?
So what exactly is an osteopath responsible for? The National Health Service defines it as "detecting, treating and preventing health problems by moving, stretching and massaging a person's muscles and joints".
>>> It's never too late: taking up racing as a veteran
Osteopaths primarily work through the neuro-musculo-skeletal system and Monger-Godfrey is clearly very in tune with the patients she sees, and was commenting on my posture straight away during our interview — despite years of being reminded to 'sit up straight', it clearly hasn't sunk in. But it's the little things like this that can make a big difference when on the bike.
>>> Seven simple steps to be a successful cyclist
In fact, Monger-Godfrey explains that sitting still for longer than 20 minutes means the multifidus muscle (the muscle that supports and travels up the length of your spine) stops engaging entirely, which can lead to injury, so simply standing and moving regularly can help your neck and back considerably.
>>> Saddle height: how to get it right, and why it's so important (video)
"The most exciting part of my career is each day I am learning. There are never two patients the same and absolutely no two days the same and that means I am constantly striving and learning to find out why this patient is presenting these particular problems here and now.
"There is a saying that the day you think you know everything about the body is the day you stop treating. There are different physical and mental challenges I face being an osteopath compared with when I was racing, but I love being able to help people get their bodies back on track."
Well, can it?
The small things
With most of us putting a significant number of training hours in each week, it's no wonder niggles can creep in towards the end of the autumn. But being aware of how your body feels, Monger-Godfrey explains, will help you keep on top of it.
>>> How to set your handlebar height (video)
"Don't leave your niggles untreated. Go and get them sorted before they get worse and start affecting you at work, on the bike or just in everyday life," she says. "A regular MOT is essential especially when you are putting your body through its paces."
When I ask what she most commonly sees cyclists complaining of, it all sounds rather familiar: "I treat a lot of lower back, neck and knee pain. Osteopathy helps to identify not only the symptoms but also the cause of the problem with a holistic approach.
>>> Tips for cycling and training in the dark
"Through a wide range of techniques including manipulation and massage you can help the body function better and thus increase performance. I find identifying specific cycling issues comes as second nature to me and with the appropriate examinations and treatment protocol you can really make a difference to improve and lengthen a cyclist's career."
As I stand up, I can see Alice glance at my heavy shoulder bag and stooping posture. "That won't help," she says with a grin as I leave. "It's not cool but get yourself a rucksack to even out the load. It's the simple things."
Thank you for reading 20 articles this month* Join now for unlimited access
Enjoy your first month for just £1 / $1 / €1
*Read 5 free articles per month without a subscription
Join now for unlimited access
Try first month for just £1 / $1 / €1
Get The Leadout Newsletter
The latest race content, interviews, features, reviews and expert buying guides, direct to your inbox!