Can amateur cyclists benefit from blood analysis?
If you are training hard and feeling abnormally fatigued, you may have an underlying mineral or vitamin deficiency identifiable via blood test. New home-test kits make blood analysis more accessible than ever — but is this form of self-assessment really helpful or necessary? Lexie Williamson investigates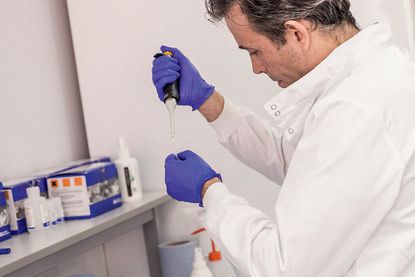 Once reserved for pro cyclists, blood analysis to identify imbalances and deficiencies is now available to recreational riders, through home-testing kits offered by companies such as InDurance.
These pinprick tests can check for anaemia through iron storage levels; testosterone, which affects stamina and motivation; vitamins B12 and D3, essential for bone strength and muscle performance; and the stress hormone cortisol, a high level of which can indicate overtraining. Does a regular amateur cyclist really need to consider investing in blood testing?
>>> Can cycling help your sex life? (video)
InDurance medical director Will Mangar, also a part-time GP, ex-GB triathlete and Tour of Britain doctor, likens the process to "looking under the bonnet" and getting some hard facts and figures about the fuel in the engine.
The idea of blood testing is alien to most recreational cyclists, but according to Mangar, for amateurs, the additional stress of work, commuting and, for those with young children, often sleep deprivation too means they may benefit from testing just as much as the pros do.
>>> Cycling training plans: get fitter, ride faster and go further
Most of us are on the go for up to 60 hours each week, including our training, and, unlike pro cyclists in recovery mode, we rarely take a total rest. It's no wonder we often feel tired.
Mangar dislikes the "nebulous" term overtraining but believes a cyclist in the 35-40-year-old age bracket with a stressful job who does four sessions of high-intensity or sweet-spot training either in road racing or time trialling is in danger of some form of burnout.
A blood test can provide an early warning of potential burnout-related problems such as testosterone deficiency syndrome, though Mangar acknowledges that there is no 'magic bullet' to prevent overtraining.
Female endurance athletes, particularly those of childbearing age, may also be at risk of iron deficiency syndrome and B12/folate deficiency, which can be exacerbated by menstruation.
Find out all about training zones in this exclusive fitness video
Cost-benefit analysis
Down to the nitty gritty: as always, the big stickler is cost. The home-based pinprick or 'Pico' tests, at £65, cost not much more than a 60-minute massage, but you may find you need more than one, as each has a different focus.
For example, there's the Iron Storage test, Aero Metabolic kit, which looks at aerobic capacity, and the Neuro Muscular test which analyses vitamin B12 and magnesium levels. It can be tricky to know which test to buy, although Mangar and his team do offer Skype consultations to try and match the test to the client.
>>> Can cycling compromise your immune system?
InDurance also suggests starting with a broader blood test or 'Profile' and using the Pico tests thereafter to provide 'snapshots' or monitor particular 'biomarkers' (iron, B12, or other traceable metrics that can be tracked).
A larger 'Profile' test requires that a venous blood sample is taken by a professional to be sent off for testing. InDurance have designed one specifically for time trial cyclists or roadies doing regular high-intensity training — but at £245 (to be repeated every two months) it's quite an outlay.
Mangar points out that the process of analysing blood in a laboratory is costly and labour-intensive. He knows that many cyclists will balk at the idea but believes it's money spent wisely.
>>> "I regret that I didn't train like I did in my 40s earlier in my career" (video)
"Many endurance athletes don't bat an eyelid at spending £600 on a training camp, but won't look at their own engines, the very thing that drives performance," he says.
Mangar acknowledge certain limitations of blood tests. "Blood is a very small part of the overall picture," he says. "It's not enough just to give people a sheet of numbers. [They may need a] form of stress reduction, such as yoga, or nutritional supplements or vitamins.
"The idea is to unlock people's awareness of the problem."
Doc knows best
Despite the ease and availability of personal blood analysis, it shouldn't be used as the primary method of diagnosis. If you're feeling abnormally tired during and after training sessions that you would normally breeze through, you shouldn't assume that all the answers lie in self-initiated blood analysis. Your GP has the knowledge and notes to thoroughly assess what is causing your fatigue, so he/she should always be your first port of call. That said, if your GP seems reluctant to take your sport-related issues seriously, a home-test may be a useful back-up option.
Being a vegetarian woman, I decided to buy InDurance's Iron Storage kit (£65). The result showed I have an iron deficiency. I consulted Dr Will Mangar via telephone, and I'm now taking iron tablets twice daily.
The sports scientist's view: 'Blood testing isn't for everyone'
James Hewitt is a sports scientist, performance cycling coach and former elite racer. He says the usefulness of blood testing for endurance athletes is not always clear-cut, pointing to a study from the British Journal of Sports Medicine, 'Fallon, Clinical Utility of Blood Tests in Elite Athletes with Short Term Fatigue' 2006.
>>> How far would you go to be a better cyclist?
The study tracked 50 athletes who had tests after feeling fatigued and reporting to a doctor. The doctor took a clinical history followed by blood tests. In 49 of the 50 cases, blood testing did not alter the conclusion.
Consequently, the study suggests that "routine ordering of a panel of blood tests at the initial consultation should be discouraged" unless the athlete's history and examination warrants further investigation.
Hewitt works with doctors who administer and interpret tests for riders, providing insight into general health, 'reactive' health issues, such as nutritional deficiencies, and early warning or confirmation of overtraining.
He stresses that blood testing provides only a 'snapshot', and that certain factors — such as recent meals, hard training (InDurance advise waiting 48 hours) and minor illness — may skew results. Tests should be chosen based on their potential to provide 'actionable insights', Hewitt believes; that is, only when they provide information that can be used to improve a rider's health or performance.
>>> Recover right with these four post-cycling meals (video)
Like the nutritionists interviewed for this article, Hewitt regards blood testing as just one tool at his disposal — a small part of a big picture to be assessed continually. "I see the role of performance coach as a coordinator," he explains. "I gather information about the athlete in terms of general health, mental energy, physical activity, recovery and biomechanics.
"We need to coach the whole athlete to build a more complete picture. However, blood test results can confirm what has been observed in these areas and thereby help show how athletes are responding to training and competition."
The nutritionist's view: 'Testing forms only part of the picture'
What do nutritionists think about blood profiling? Jo Scott-Dalgleish (left), a sports nutrition therapist, sometimes recommends blood tests for iron, vitamin B12, testosterone or thyroid hormones — if the athlete is fatigued. She also does frequent testing for vitamin D if there is a history of injury or susceptibility to infection.
>>> Food swaps to boost your cycling fitness (video)
For Scott-Dalgleish, the concept of blood testing is not new, though the convenience aspect of the InDurance kits is. "The appearance of a home-testing kit is a real step forward."
She believes a cyclist of "good recreational level" may benefit from occasional blood testing in this way. "If you are putting the body under serious demands by training to ride the Etape, for instance, then having a pre-event blood profile test could be very helpful."
However, she stresses that blood testing is only one part of the picture in the assessment process and should be used in conjunction with a face-to-face chat with a health professional. This is partly because clues that lead to a particular performance issue may only emerge while chatting. For example, if a client mentions tiredness or low libido, "it may also [indicate] a diet issue that cannot be detected by a blood test, such as insufficient protein."
>>> Prevent muscle pain with good cycling nutrition
Charlotte Saunders, registered nutritionist and triathlete, says: "Blood profiling can give a much greater performance benefit than buying a pair of wheels," but only if the client follows up the advice given in the post-test report.
"If it says they are lacking in a dietary component, they must modify their diet, reduce stress or gain more sleep," say Saunders. "It involves putting in some hard work and [abandoning] the 'I cycle to allow myself to eat' mindset."
The track rider's view: 'It worked for me'
After 13 years of ultra-running, Ironman triathlons and winning his age-group at the 2012 Long Course Duathlon World Championships, in 2013 Nikalas Cook decided to focus on cycling, specifically the track. He placed fifth in the individual pursuit and sixth in the scratch race at the National Masters in June 2015.
"I identified a cycle in my training where I'll typically manage six to eight weeks of consistent work but then always tend to have a slump, get ill or just lose motivation.
>>> How to prevent saddle sores
"This happened most recently after a solid winter putting in the miles, competing on the track and finally, at the end of April, completing the 235km Tour of Flanders sportive. I felt really low afterwards, got ill and effectively lost a month of training. With the National Track Masters at the end of June my next big target, I wanted to train optimally, check if my body was up for it and find out if there were any reasons for my slumps.
"I opted for a £295 Baseline Profile test — pricy but, in the grand scheme of my cycling spending, not prohibitively so. The kit arrived promptly; I booked in with my local nurse the next day to have the blood drawn. It went in the post and, within three days, I had the results back. They were clearly presented in a report, rating the scores and with detailed explanations of what they meant.
>>> How to ride with a power meter
"On the whole, I was in excellent internal shape, with just a slightly low vitamin D score and borderline low magnesium. My testosterone, although OK for an athlete, was also worth monitoring.
"In an online follow-up consultation, Dr Will [Mangar] felt I'd benefit from regular testosterone-boosting resistance work throughout the year. He also suggested scheduling in mindful recovery, using meditative techniques, during the day.
"My vitamin D was normal coming out of the winter and would rise naturally during the summer, but supplementation next winter would be worthwhile. The low magnesium would be easily elevated by a transdermal spray, and may be at the root of my night cramps.
>>> Top tips to sleep better and ride faster (video)
"He suggested that my dips post-event and hard training may be down to a build-up in free radical stress and that it was worth trying an anti-oxidant supplement. Finally, he recommended trying glutamine and L-carnitine to further enhance my recovery.
"After my consultation, I felt massively reassured and motivated. I had some strong recommendations for tweaks I could make to my training, recovery, lifestyle and nutrition but on the whole I was heading in the right direction. This allowed me to attack my next training block with confidence; it was as if I'd been given an all-clear. The emphasis on quality recovery helped.
"I performed well at Nationals, did a big 12-hour mountain bike challenge and didn't slump after either. Also, my night cramps have stopped. Checking that my hobby isn't doing more harm than good [has been worthwhile]; by addressing a few simple areas, I could be healthier and ride a bit faster too."
Thank you for reading 20 articles this month* Join now for unlimited access
Enjoy your first month for just £1 / $1 / €1
*Read 5 free articles per month without a subscription
Join now for unlimited access
Try first month for just £1 / $1 / €1