It's never too late: taking up racing as a veteran
Racing for the first time is a daunting prospect for any cyclist, but what if you're in your 50s, like Mark Lansdown?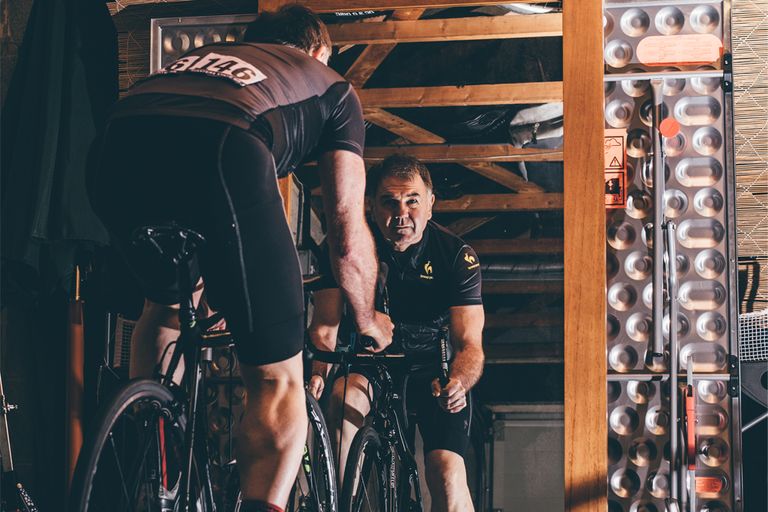 Meanwhile racing is very important to Lansdown's fitness. "I may reach a plateau in fitness and then need to make a decision about what to do. But when I get to 60 or 65 I should have more time to train and who knows what that might bring.
It worked, and soon Johnson was advising Lansdown on the ins and outs of crit racing. "He had a race mentality from the start. He just wanted to give it a go.
>>> 29 ways to win friends while cycling
Lansdown's better placed than most to judge — he has a degree in physiology and a lasting interest in sports science. He identified the principal changes as a good response to training, leading to improved cardiovascular ability, in turn leading to longer rides, which improved muscular endurance. He also lost around two stone in weight, which helped immensely.
>>> The oldest rider in the peloton signs on for another year with Tinkoff-Saxo
But progress after that was swift. Lansdown joined a club, set goals and made a plan. He targeted a century ride and used his own holy trinity: "Find someone to ride with, go out in all weathers with good clothing, and lastly put cycling in the diary and stick to it."
His mentor on the YRC ride Mark Johnson, 51, says: "It's a pretty brutal ride. The first few times Mark blew out the back early doors, but we shepherded him along. We do ride hard, but when anyone new comes along, we'll put a rider with them to make sure they get back on if they're dropped".
Lansdown also uses the turbo in winter and gets out as often as he can, given his highly demanding job and a young family. While his overall mileage may not be as high as some riders, he makes every session count.
"He does well now in handicap events and he's got a hell of a sprint on him. I don't think he's reached his peak in terms of speed yet — he can go faster."
How much speed can you really buy? 
>>> Seven simple steps to be a successful cyclist
He's modest because the fact is that Lansdown is still improving as a rider at the age of 58. He is racing regularly as well as clocking a time of just over the hour for a 25-mile TT, which he is
confident he can improve, "though I might have to buy a pointy helmet".
Making it count
You're never too old 
Lansdown is disciplined in his training. He sets out every Saturday at 6.20am, all year round, for a hard training ride with the Yorkshire Road Club.
>>> Lizzie Armitstead's Worlds win 'a landmark moment in our history', says British Cycling
Picking the right races — A fourth cat will always struggle in a field that includes first cats. But entering handicap events means even less strong riders can achieve a result. And racing in a strong field will improve fitness.
As he upped the mileage from his three-mile commute, Lansdown struggled. "On my first 20-mile ride, at 10 miles I honestly thought that I was going to have to ring and ask for a lift home," he recalls.
But it wasn't random — Lansdown was using his improved cardiovascular condition as a platform to support the higher intensity sessions of racing. Yet again, his fitness jumped and he also learned what disciplines he liked the most — circuit racing and time trialling. "The next step was to train specifically for those events," he says.
He's just got his first BC points, with a sixth-placed finish in a field of 52 starters in a closed-circuit criterium.
Join a club — Lansdown says the supportive community and the advice he's received from fellow riders in clubs has been an invaluable resource. You can learn a lot quickly when stronger riders take you under their wing.
Lansdown used his newly-found fitness to launch himself into competition. "I was like a kid in a sweet shop — I tried everything. Grass-track racing, time trialling, circuit racing and cross racing," he says.
Lansdown's late start hasn't hampered his development as a cyclist and it's hard to fault his approach. Building a strong base of endurance by conditioning his cardiovascular system and then topping up fitness with the shorter, harder race sessions is a classic route to improved performance.
Johnson's experience benefited Lansdown immensely — not so much in training but in guiding him how to hang on in fast group training rides.
Mark Lansdown, a consultant surgeon from Leeds, only took up cycling seriously at 51. Three years later he was lining up with a number on his back. Realistically he doesn't expect to win, but he relishes the cut and thrust of the bunch. "It's about picking a race you can enjoy — you can get something out of racing without being first," he says.
Lansdown, who is now 58, started cycling to work after taking seriously the advice that health professionals were beginning to preach to the rest of the population: namely, lose weight and take regular exercise.
>>> Five invaluable tips to help you step up from riding 60 to 100 miles
He ticked off the century, and identified Land's End to John o'Groats as a target. Completing it was a huge landmark in the development of his fitness.
>>> Turbo training sessions: Get the most out of your indoor training
The fact that it's been achieved between the ages of 51 and 58 and that he is racing regularly often in fields with riders half his age makes it even more impressive.
What they say
Bike racing is often thought best left to the young — with physical condition, race-craft, stamina and the ability to recover fast all peaking between the ages of 25 and 35.
"It was eight days at around 100 miles a day," Lansdown says. "I then had a week's cycling holiday with my family in Scotland. Immediately afterwards I felt my physiology was permanently changed. I was going faster and it was easier."
Try anything once
>>> How to pace a long time trial (video)
Target setting — Whether it is a distance event, or a faster time for a 25, Lansdown has clear objectives and tailors his training to achieve them. It's called specificity and it gets results.
Mark Johnson, a rider who's been racing for 15 years, has seen Lansdown develop from "a raw rider who wanted to race into someone who has come on incredibly — he's fantastic."
>>> Detraining: The truth about losing fitness
"As he got stronger with us, he'd start doing turns on the front, but they were too long. We'd go back for a coffee after the ride and review it and I'd try to help him with some advice."
How it worked for Mark
"I suppose the interesting thing is that although I am older than the majority of people who race, my fitness trajectory is very similar to a 17 or a 27-year-old. The difference is that I have to accept my limitations. I can beat younger riders but in a fast 2/3/4 [category race] it's hard for me to be a contender."
"I'm not sure I can see myself cycling in BC races much beyond 60. I will probably switch to LVRC [League of Veteran Racing Cyclists] events where you can compete in age-related races."
>>> Tips for cycling and training in the dark