29 ways to win friends while cycling
Ladies and gentlemen, Cycling Weekly presents the list of how to win friends and influence people from the comfort of your own saddle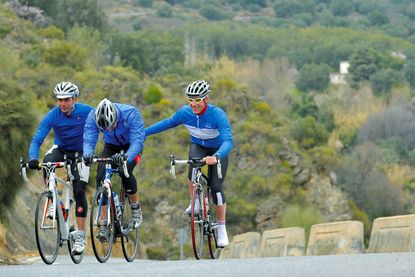 This week, Country Life magazine posted its list of the 39 steps to being the perfect gentleman and it got us thinking whether such rules of etiquette and politeness could be applied to cycling.
Cycling etiquette is a much debated topic, with 'the rules' sometimes taking precedence over 'the polite thing to do'.
So, to take a leaf out of Country Life's book, here are Cycling Weekly's 29 ways of winning friends on your rides, but unlike their list there's less tweed and more lycra...
The modern-day cyclist:
1. Waves/nods/says hello to fellow riders on the road
2. Doesn't jump red lights
3. Wears a cycling cap with style both on and off the bike
4. Says thanks to patient drivers
5. Always knows where they are
6. Knows when to give 'kudos'
7. Is as happy to pootle as they are to smash it
8. Has a bike for all occasions
9. Always orders cake
10. Never cycles too fast for their companions
11. Can fix a slipped chain in seconds
12. Demonstrates that a club run is not a race, nor a competition
13. Offers spare inner tubes
14. Feels at ease on all terrains
15. Is always on time for a ride
16. Points out hazards to fellow riders
17. Never questions another rider's set up
18. Doesn't sneer at an inferior rider
19. Can change a puncture with minimal fuss
20. Doesn't always buy expensive kit
21. Knows how to wash a bike properly
22. Offers mechanical assistance
23. Never precedes a ride with a swim
24. Never follows a ride with a run
25. Lets someone sit on their wheel all day
26. Knows a great café stop, no matter where you're riding
27. Memorises the route, so others don't have to
28. Knows not to half-wheel
29. Would never accept a squeaky chain
Any we've missed? Let us know in the comments below.
Thank you for reading 20 articles this month* Join now for unlimited access
Enjoy your first month for just £1 / $1 / €1
*Read 5 free articles per month without a subscription
Join now for unlimited access
Try first month for just £1 / $1 / €1