Great British cycling cafes: where to refuel on your ride
Coffee and cake are just as important as carbon fibre, so here's our pick of Britain's many and varied cycling cafes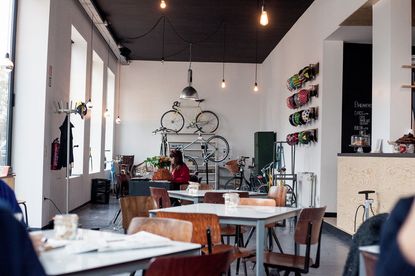 Get The Leadout Newsletter
The latest race content, interviews, features, reviews and expert buying guides, direct to your inbox!
Thank you for signing up to The Pick. You will receive a verification email shortly.
There was a problem. Please refresh the page and try again.
Coffee and cycling go hand in hand, cake and cycling go hand in hand and cycle cafés are the perfect place to enjoy this happy trio.
Whether for tourers, mountain bikers, fitness buffs or hipsters, whether you want somewhere to stop en route on a weekend ride or you just fancy coffee and cake while looking at bike stuff and/or cyclists, here's our pick of some of the best out there.
If we've missed out your favourite cycling café or you've enjoyed a visit to one of our listed establishments, then tell us in the comment box below.
3CJ Cycle Centre (Birmingham)
Address: 89-91 Longbridge Lane, Longbridge, Birmingham, B31 2UT
Website: www.facebook.com/3cjlongbridge/
Drop in to 3CJ for a full workshop facility and cafe, as well as bike and accessories for sale.
Bike Beans Cycle Cafe (Ashstead)
Address: 5b Rectory Lane, Ashtead, Surrey, KT21 2BA
Website: www.bikebeans.co.uk
Bike Beans runs led rides, with pasta afterwards, while members (free to join) can log rides straight onto its website.
The cafe itself is taken "very seriously", with coffee and homemade cakes to tempt non-cyclists too.
With parking and onscreen racing, Bike Beans also provides skills and confidence-building cycle courses.
The Barn (Chilterns)
Address: Turville Heath Farmm, Turville Heath, Nr. Henley-On-Thames, Oxon, RG9 6JY
Address: www.thebarnatturvilleheath.com
Calling itself the 'no car cafe at the heart of the Chilterns', here you'll find home reared menu items with local products and baked goods. A perfect rest stop for all those using the countryside - including cyclists.
Cadence Performance (London)
Address: 2A Anerley Hill, London SE19 2AA
Website: www.cadenceperformance.com
With bike fitting, fitness tests, coaches, physiotherapy and osteopathy, this is a haven for cyclists. There are indoor cycling sessions, ridden on Wattbikes, and plenty of coffee and cake for refuelling. If you're after an oil-soaked, feet-up kind of place this is a little on the clinical side, but then again it is a bike clinic.
Dales Bike Centre (Yorkshire)
Address: Fremington, Richmond, North Yorkshire, DL11 6AW
Website: www.dalesbikecentre.co.uk
A gateway to road cycling in the Dales with bunkhouse, cafe, hire centre, workshop and a shop with new bikes, ex-hire bikes, clothing and kit. Guided mtb rides, social rides and maps are available to navigate the undulating Dales, along with mtb training.
As for the cafe, it offers cakes, sarnies and soups all made using local produce - along with a great view over the Dales. If you're looking to make conversation, ask about the time the Tour's Grand Départ came right past its door in 2014.
Eureka Cafe (Chester)
Address: Parkgate Rd, Two Mills, Chester CH1 6EZ
Website: www.eurekacyclistscafe.co.uk
Serving cyclists since time immemorial, the Eureka Cafe is a hive of road and off-road biking activity, sometimes attracting, according to head honcho Anne Peek, "most of the North-West's cycling clubs".
Full City Cycles
Address: London, Leather Lane, EC1N 7TR
Website: www.fullcitycycles.com
Small, hip and mighty, Full City uses every inch of its 3x6m space. With a coffee machine in the corner and no food, it's takeaway only, though customers of all ilk and age are welcome to stand and chat.
On every surface (and ceiling) there's pre-loved £200 bikes to £1000+ carbon machines, with custom builds, natch. Incredibly, repairs take place in the same space.
Giro Cycle Cafe (Esher)
Address: 2 High St, Esher KT10 9RT
Website: www.girocycles.com
Giro in Esher is a brightly lit area serving all manner of coffee, cake and lunch options. There's kit to buy too, and several group rides leaving from the cafe.
Gorilla Cycle Cafe (Birmingham)
Address: 1a Drayton Road, Kings Heath, Birmingham, B14 7LP
Website: www.gorillacoffee.co.uk
With a claim to being Birmingham's 'first premium Bicycle cafe', Gorilla sports a workshop as well as everything you'd expect to eat and drink: coffee, light bites and premium beer, too.
The Hub (St Albans)
Address: Redbourn, Hertfordshire, AL3 7LL
Website: www.hubcoffeebikes.com
'Coffee bar, cyclist's refuge and cakes' - the Hub has people travelling miles just for a cuppa, and it holds occasional events too. The cafe is part of The Bike Loft - which sells bikes, kit and clothing as well as offering repairs.
London Velo Cycle Cafe (London)
Address: 18 Deptford High Street, Deptford, Lewisham, SE8 4AF
Website: www.ldnvelo.co.uk
A South East London bike shop that offers bike servicing, kit and accessories as well as food and coffee plus events - which have included everything from birthday parties to gigs, maintenance evenings and yoga classes.
Look Mum No Hands! (London)
Address: 49 Old St, London EC1V 9HX
Website: www.lookmumnohands.com
Famous cycle cafe LMNH holds anything from lunches to launches, the former featuring some mean salads, cake and coffee, the latter including Boneshaker magazine and Levi's Commuter range.
Tech start-ups come here to work and telly comes here, too: ITV's Cycle Show was filmed here with Graeme Obree a guest. There's a bike repair and they run maintenance courses, too.
Maison du Velo (Reigate and Cranleigh)
Address: 31 Lesbourne Rd, Reigate RH2 7JS or 62 High St, Cranleigh GU6 8AG
Website: www.maisonduvelo.cc
A road shop and more recently mountain bike shop, you'll find a selection of clothing and accessories as well as repairs here.
There's a homage to the local 'Legs of Steel' route, its toothy profile emblazoned on the shop window in Reigate. Gaze at it over a coffee, cake, or an 'MDV burger', or get out there and do it. Apex bike fitting and regular rides as well as a busy community can be found here too.
Mud Dock Cafe (Bristol)
Address: 40 The Grove, Bristol, BS1 4RB
Website: www.mud-dock.co.uk/cafe
Bike repairs, maintenance classes as well as bike fitting, you'll also find coffee, lunches and dinner on offer - all overlooking Bristol's harbourside.
Pedalling Squares (Newcastle Upon Tyne)
Address: Swalwell Bank, Newcastle upon Tyne, NE16 3AQ
Website: www.pedallingsquarescafe.com
A cycling cafe which stocks Pedalling Squares cycling kit and also hosts a club as well as events. To eat and drink, you'll find artisan coffee and cake.
Popup bikes (Manchester)
Address: Arch 5, Corporation Street, Manchester M4 4DG
Website: www.popupbikes.co.uk
Claiming to be Manchester's 'original cycle café', here you'll find indoor cycle parking for up to 100 bikes, 12 hours a day, six days a week. Bike repairs and bike fitting are on offer too, as well as home made paninis, coffee and cake.
Rapha Club (London)
Address: 85 Brewer St, Soho, London W1F 9ZN
Website: www.rapha.cc/gb/en/clubhouses
Classy road-racer Soho hang-out and self-styled "home for sport and wider culture of road racing". There are actually club houses in Manchester, Bicester and two in London now - but the Brewer Street home is the original.
Sublime coffee is available alongside a range of pastries, baguettes and salads. With race screenings, events and group bike rides there's a real social hub here. And plenty of kit to admire whilst you're there.
Rockets & Rascals (Plymouth and Poole)
Address: 7 Parade, The Barbican, Plymouth, PL1 2JL or Salterns Court, Sandbanks Road, Lilliput, Poole, BH14 8HS
Website: www.rocketsandrascals.com
The original branch was in Plymouth, but there's one in Poole now too.
With a raft of social events both on and off the bike, including day and weekend rides, a vibrant cycling community lives here. There's bike hire, wheel building, maintenance nights and a repair service on offer too.
Rothar (Dublin)
Address: 16 Fade street, Dublin 2 and 167 Phibsboro road, Dublin 7
Website: www.rothar.ie
In independent bike shop in Dublin, Rother has two locations in Dublin and has had since 2008. You'll also find bike repairs and maintenance courses as well as coffee.
Route 1 (Kent)
Address: 70 Beach Street, The Promenade, Deal, Kent CT14 6HZ
Website: www.routeonedeal.co.uk
A friendly cycle café on the Deal Promenade, expect to find bike parking as well as sandwiches, soups cakes and treats. Cycling events televised live in TV and fantastic coffee.
Route 2 Cafe bar (Devon)
Address: Monmouth Hill, Topsham, EX3 0JQ
Website: www.route2topsham.co.uk
On the Exe Estuary Trail along National Cycle Network Route 2 (hence its name), Route 2 provides locally renowned and sourced food in its cafe. Almost everything served is homemade on the premises - including the Route 2 ice cream (or which Topsham mud is the most popular). There's accommodation, too, for those touring the Route 2.
Tomlinson's (Northumberland)
Address: Bridge Street, Rothbury, Morpeth, Northumberland, NE65 7SF,
Website: www.tomlinsonsrothbury.co.uk
Described as the 'perfect base to explore Northumberland's great outdoors', Tomlinsons is located in a historic former schoolhouse, overlooking the River Coquet. There you'll find affordable bunkhouse accommodation, wholesome meals and hire bikes. There are even guided rides led by experienced cyclists, if you're just getting started.
Cafe Velo (East Yorkshire)
Address: 21, North Bar Within, Beverley, East Yorkshire, HU17 8DB
Website: www.cafevelobeverley.co.uk
Coffee, food, as well as regular events including supper nights, with three course meals, and band night for those who like their music.
Cafe Ventoux (Kettering)
Address: Tugby Orchards, Wood Ln, Tugby LE7 9WE
Website: www.cafe-ventoux.cc
With a busy cafe serving meals as well as coffee and cake, you'll also find a range of Boardman bikes plus a Wattbike studio and clothing.
Regular rides and bike fitting are available too - and this cafe is heavily involved in plans for the Boardman performance studio.
Cycle Haven (York)
Address: 31 Hospital Fields Road, York YO10 4FS
Website: www.cycle-heaven.co.uk
A destination store, there's a massive variety of bikes, clothing and accessories as well as repairs and cycle hire plus food and drink at the two of the three sites.
Velo Domestique (Bournemouth)
Address: 176-180 Seabourne Road, Bournemouth, Dorset, BH5 2JB
Website: www.velodomestique.co.uk
Claiming to be Bournemouth's first ever cycle cafe, Velo Domestique repairs bikes as well as serving food and coffee.
Velocity (Inverness)
Address: 1 Crown Avenue, Inverness, Scotland, IV2 3NF
Website: www.velocitylove.co.uk
A social enterprise founded with the intention of inspiring people to cycle and lead healthier lives. The cafe offers homely food, home made cakes and coffees including the bicyclatte and campagcinno. There's a workshop open on Thursdays, Fridays and Saturdays - which people can use to mend their own bikes, as well as bike mechanic courses and group rides.
Veloton (Gloucestershire)
Address: 22 Market Place, Tetbury, Glos GL8 8DD
Website: www.veloton.co.uk
'Coffee makes the wheels go round', according to Veloton's founders - and here you'll find a fair dose of both, with road and leisure brands on offer as well as custom bike builds and a workshop to accompany the refreshments.
Westerham Cyclery
Address: 21 The Green, Westerham, Kent, TN16 1AX
Website: www.westerhamcyclery.co.uk
Stockists of Specialized Bikes, Santini Sportswear, Polaris Bike Pods and Tacx Trainers, you'll also find a cafe filled with edible delights as well as a workshop and some state of the art bike fitting equipment. Park your bike in an inclosed garage space or join one of the club rides.
Do you know cafe we've not mentioned? Tell us in the comments...
Thank you for reading 20 articles this month* Join now for unlimited access
Enjoy your first month for just £1 / $1 / €1
*Read 5 free articles per month without a subscription
Join now for unlimited access
Try first month for just £1 / $1 / €1
Get The Leadout Newsletter
The latest race content, interviews, features, reviews and expert buying guides, direct to your inbox!