Mallorca's Sa Calobra, cycling's perfect climb? (video)
Sa Calobra may not have the racing renown of a Tour col, but who cares? It's faultless in every detail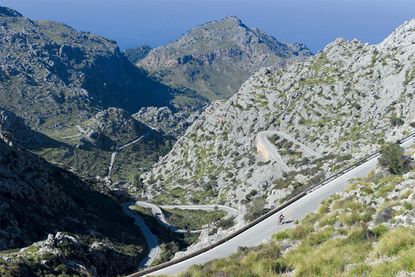 Close your eyes and try to imagine the perfect cycling climb. What would it look like, and what would it contain?
It would be not too long but not too short; not too steep but not too shallow. It would have a nice steady gradient, but with a couple of ramps to keep you on your toes. Naturally, the scenery should be spectacular. Ideally, it would feature a cafe somewhere, serving good coffee. The weather should be warm and pleasant, the road surface smooth and predictable.
>>> How to climb Honister Pass: East to West (video)
Of course, it would have to have hairpins. Lots of hairpins. Maybe even a hairpin that loops round on itself as the road descends and goes under an bridge.
Think that's being silly? No. What you've just imagined actually exists. It's on the island of Mallorca, and it's called Sa Calobra.
One way up
That hairpin is technically called a 'spiral bridge' and, unless you like to ride your bike up and down multi-storey car parks, there are fewer than five of them in Europe, and most are motorways.
Descending on this road, the unique spiral comes not far from the top and sits on a stony outcrop. One moment there's a wall of rock to your right; the next there's nothing but open air, the wind barking in your ears, and you sense that one false move would leave you and your bike floating in the Mediterranean.
A little further down towards the tiny seaside village of Sa Calobra which gives the climb its name, two rock faces have collapsed together like 30ft dominoes, leaving just enough space for a lane of tarmac to squeeze between them.
>>> Classic cycling climbs: Alpe d'Huez
"You've got to concentrate so much on the way down, and they don't bend much, those rocks, do they?" says Martin Maltby, a veteran of the climb, having made a number of trips to Mallorca with his club Doncaster Wheelers.
There's a reason why the descent of Sa Calobra sticks in the mind. Unlike most other climbs — where you ride to the bottom, ride up and ride down, either back the way you came or down the other side — everybody experiences Sa Calobra from the top down.
The road itself doesn't actually go anywhere besides that little cluster of cafes in the old fishing port. Unless you wait a few days (or, if you're there in winter, a few months) for the little pleasure boat full of tourists to take you back to Port de Pollença, the only way in is down and the only way out is up. Sa Calobra demands commitment.
>>> 17 of the best international sportives to ride in 2016: including the Mallorca312
"There's no getting out of it, but you don't ever get bored of that descent," says Movistar's Alex Dowsett. "I know I've never experienced anything like it. The first time I got a GoPro camera, I was quite excited to go to Sa Calobra and bomb down it."
The dead-end also gives the road the distinction of having never featured in a professional bike race, for obvious reasons. Far from detracting from the climb, this lack of televisual exposure boosts its reputation in a way. Sa Calobra doesn't need any racing myths and legends; its spectacular physique alone is what makes it special.
Popular with the pros
That said, glance down the leaderboard for the official Sa Calobra Strava segment and you'll find many professional cyclists. At the time of writing, Team Sky's David Lopez had the fastest time: 24:59. With the climb being the location for the team's annual pre-season test — a race in all but name — it comes as no surprise that there is more than one Sky rider in the top 20, too.
>>> Rider climbs the mountain that bears his name on his 103rd birthday
"It's a pretty good climb for a test because it's relatively steady," says Sky's Ian Boswell, who made sure he sprinted a little further than the actual Sky test finish line in order to complete the segment (but still sits second to his team-mate Lopez by 11 seconds).
>>> Ian Boswell: Chris Froome pushed me to the limit training in Africa
"We do a standing start and everything," he adds, "which maybe hinders your Strava time because you don't get momentum and the run up."
Rumour has it that Sir Bradley Wiggins holds the unofficial record for Sa Calobra, having set a time of around 22:30 during the winter before his Tour de France victory (which gives a VAM, or ascent rate, of 1,750m per hour). Given that a number of other professional teams and riders use the climb
for pre-season training, times are often understandably kept under wraps.
"I'd be looking around the 420W mark if I did give it a good effort," adds Dowsett, who bumped into Boswell on Sa Calobra while training for his Hour Record attempt.
"My best time is the one on Strava [27:43], but I could be a proper cyclist and give you some excuses which might account for 10-15 seconds. I had water bottles, headwinds… and some goats running out in front of me."
Conquer any climb, including Sa Calobra
For amateur riders, even if their time up the climb is closer to the one-hour mark, Sa Calobra is still every bit as enjoyable.
"If you're a club and you come over to Mallorca, it's one that is on your list of challenges," says Maltby. "If somebody passes you, you try and keep up with them for a minute and see how long you can hang on.
"We just compete against each other to be the best in the club."
Coll of the col
Whether it's mysterious sightings or strange lights appearing over the sea, there's more to Sa Calobra than just a beautiful road. An engineering masterpiece, it was designed by the appropriately named Antonio Parietti Coll and was finished in 1932.
There was little economic motive to join Sa Calobra to the rest of the island by road; the sinuous route down the mountain was built to attract tourists, and Parietti Coll had every incentive to make the road as much of a draw as its destination.
The 270-degree hairpin was his creative solution to a high drop in the rock that made a standard hairpin impossible. As for strange sightings, local legend makes Sa Calobra and the peaks around it a UFO hotspot.
How to do it
Flights to Mallorca are available from a range of UK airports throughout the year.
Officially called the Coll dels Reis, the MA-2141 to Sa Calobra is just off the main road through the Serra de Tramuntana mountains.
Mallorca is full of bike-friendly hotels and hire companies; Port de Pollença and Port d'Alcudia are popular bases and are both around 40km from the top of Sa Calobra. Bikehead.cc offer a great range of bikes, including the Colnago C60 in the video.
A standard 39/25 gearing is OK for pros and very fit cyclists; a compact chainset and 27 or 28 tooth rear sprocket will make life much more pleasant for others.
Winter and spring are the best seasons to ride; during summer, the road is choked with tourist buses and an early start is necessary to avoid them. However, the weather in early spring can still be chilly and the climb is exposed to the wind off the sea. Snow is also not uncommon, so come prepared.
A version of this article was originally printed in the March 19, 2015 issue of Cycling Weekly
Thank you for reading 20 articles this month* Join now for unlimited access
Enjoy your first month for just £1 / $1 / €1
*Read 5 free articles per month without a subscription
Join now for unlimited access
Try first month for just £1 / $1 / €1