The Giant of Provence: The magic and mystique of Mont Ventoux
With the 2018 Tour de France possibly going up Mont Ventoux, we look at the magic of the mountain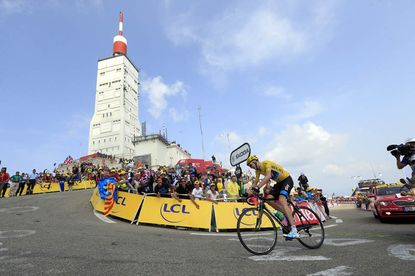 (Image credit: Watson)
Get The Leadout Newsletter
The latest race content, interviews, features, reviews and expert buying guides, direct to your inbox!
Thank you for signing up to The Pick. You will receive a verification email shortly.
There was a problem. Please refresh the page and try again.
Let's not beat about the bush (you'll struggle to find one on its wind-scarred summit): whenever the Tour de France heads up Mont Ventoux, the riders tackle the most fearsome climb in cycling.
Ventoux has it challengers for severity (Angliru, Mortirolo), prominence (Mount Etna, Puy de Dôme), otherworldliness (Col d'Izoard), altitude (anything over 1,911m) and legend (Alpe d'Huez, Col du Tourmalet) but the Giant of Provence rolls all these characteristics into one, making it a Tour icon and a bucket-list tick box for cyclists the world over.
For British followers of the sport especially, it will also forever be associated with the story of one of the country's best riders.
For it was close to the summit of the standalone beast in the south-east of France where Tom Simpson fatally collapsed from his bike in the 1967 Tour.
As William Fotheringham writes in Put me Back on my Bike — an insightful biography of Simpson titled from an embellishment of the former world champion's very last utterances on the Ventoux verge-side — the mountain was a "defining factor" in his story.
"Had Britain's greatest ever cyclist happened to collapse in a coma by some anonymous roadside in, say, Berry or Calvados," Fotheringham writes, "his death would not have had the same lasting impact."
'Defining' is in fact too passive a word. Although alcohol, amphetamines and stomach illness all played a part, the horror — and perhaps the morbid fascination of it — is that the nature of Mont Ventoux itself was surely a contributing factor in Simpson's death.
It was stiflingly hot on the mountain that day and its bleak desolate crown offers no forgiveness. In all likeliness, had the Tour been in the relative flatlands of Berry or Calvados, or possibly even on any other climb in France, Simpson might not have collapsed and died.
Riding past the memorial near where he fell, a painful sadness might wash over you. Not simply that a man collapsed and died too young in this most inhospitable of locations, but that he was so close to the respite the summit offers.
Philosopher's stone
It's customary when writing about Mont Ventoux (it's probably inspired more literature than any other mountain in cycling) to quote 14th century poets and post-structuralist philosophers.
Petrarch produced the first account of climbing the mountain in 1336, drawing parallels between the struggle of the climb and the challenges of life.
French philosopher Roland Barthes touched on its nature when he described it as "a god of evil to whom sacrifice must be paid".
It is "a true Molach, a despot of cyclists," he added. "It never pardons the weak and exacts an unjust tribute of suffering."
While Barthes's soundbites make for handy — if hyperbolic — quotes, if you get the right weather and pace yourself well, climbing Mont Ventoux is not intrinsically any more difficult than riding any other 20km, high mountain ascent.
Of course, riding the climb and racing it are two very different things but "at the end of the day," says BMC Racing's Nicolas Roche, "I reckon that a climb like the Giro's Colle della Lombarda is as hard as the Ventoux, it's just not as famous.
"It's funny how we always talk about how hard some of the prestigious climbs are, but the truth is, when you are going full gas, every climb is pretty hard."
But what does make Ventoux particularly stand out in the imagination and history books — not to mention on the landscape — is its geography.
Comprising rolling vineyards and the odd rocky outcrop, the neighbouring countryside is not flat. But you're not in a mountain range either and this mighty mountain towers over everything.
"It's one of the spectacular and original climbs because most of the other climbs that we do, have other climbs around them," notes Roche. "But this one just sticks out in the middle."
On a clear day you might see Ventoux from over 100km away. Approaching it in a race, it literally looms on the horizon. There's no avoiding the fact you have to climb over it.
But the additional challenge its isolated location in the south of France might present is not just psychological, but meteorological too — especially during the midsummer heat of the Tour.
"Above all, it's a hot climb if it's ridden in the Tour de France," says Eros Poli, the 6ft 4in Italian who took an unlikely solo win on a stage that passed over the Ventoux in the 1994 Tour.
"Not being among other mountains can make Ventoux harder. The Col de la Bonette, for example, is long and hard, but it's cooler because it's in the middle of a valley and among other Alps. Ventoux is in the middle of Provence. If it's hot, it becomes worse."
Although the steepest part of the climb spends kilometre after kilometre trundling through dense forest, Poli acknowledges even that part is exposed: "From start to end, there's not shade. I remember that I looked for shade, but I couldn't find it! The road is not that narrow, there are trees, but the sun is high at the hour the Tour passes."
And then you climb out of the trees onto the bare blanched moonscape that makes the top part of the Ventoux so instantly recognisable.
In anything but the most benign weather, the challenge intensifies. Hugging the bare scree mountainside, the road slants up towards the beacon at the summit. To your left, Provence stretches out below until it meets the Mediterranean Sea. Nothing stands between here and North Africa.
The name Ventoux is thought to be the corruption of a Gaulish misnomer meaning snowy peak (that's how its limestone top looks from afar) but it could readily be a reference to the wind (in French venteux means windy).
Gusts have been known to reach 250kph on the mountain and have blown cars off the road. Often the mountain is shrouded in fog — or buffeted by clouds that are slammed into its side and shoved up over the ridge to create a terrifying turbulent, low-vis summit menace.
In high summer, the sun bounces off the mountain's white stone and heat can become trapped in the folds of the upper slope that the road runs in and out of.
"It can be overbearing," says Orica-Scott DS Matt White. "You can feel it coming off the road." On the day Simpson died, the mercury was estimated to be touching 55°C in these thermal pockets.
In the shadows
The Tour first climbed Mont Ventoux in 1951 and — although this year will only see the Tour's 16th visit — has been making legend there ever since. As well as Simpson's death in 1967, it's where Eddy Merckx required oxygen in 1970 and is the mountain that effectively ended the career of Swiss climber Ferdi Kübler in 1955.
Although in the last 20 years it has always marked a summit finish in the Tour, earlier visits and the stage that Poli won also descended the mountain to conclude in nearby towns.
Perhaps the cruellest stages up Ventoux, though, are the time trials. Charly Gaul won the first one in 1958 while Jean-François Bernard won another in 1987 with a masterful ride that involved switching from a low-profile time trial machine to a lightweight climbing bike on the lower slopes.
The Critérium du Dauphiné has also had a couple of time trials there, won by Jonathan Vaughters in 1999 and Iban Mayo in 2004 — although it's worth noting that both riders were subsequently implicated in doping scandals.
It's perhaps testament to Ventoux's challenging character that what happens there is often overshadowed by the spectre of doping.
Simpson's death was a catalyst for the introduction of more stringent anti-doping controls while Jean Malléjac blamed his collapse there in 1955 on someone drugging him.
Richard Virenque's win in 2002 and Marco Pantani's legendary 'gift' win from Lance Armstrong in 2000 also leave their taint while a video purporting to show Chris Froome's power data during his 2013 Tour de France clash with Nairo Quintana was published on YouTube and used by some to question his credibility.
Pilgrimage site
But to lose oneself in the stats is to miss out on the mystique that Mont Ventoux musters. Although the road is typically shut between November and May, on any day it is open, a steady stream of cycling pilgrims can be found riding its slopes.
A typical southern French town of shady trees, gravelly plazas, wrought iron gates, beige walls and terracotta roofs, Bédoin at the foot of the mountain would perhaps be sleepier were it not for its growing status as a kind of Ventoux resort town catering to the flow of cyclists who pass through.
>>> Should you hire a bike or take your own when you go abroad?
In dusty car parks, riders assemble bikes from the boots of cars and local club riders roll through the streets.
A small service industry has grown here to serve the riders: a smattering of bike shops manned at the door by mannequins in official Ventoux attire along with a range of restaurants and pizzerias for refuelling.
Apparently there's a waiter in one of the bars who entertains himself by warning cyclists about the wind at the summit. If the leaves are rustling in the square, he says, it will be blowing a gale at the top. It's probably true.
>>> Majorca's Sa Calobra, cycling's perfect climb? (video)
From the town the climb respectively ascends through three distinct sections of farmland, woodland and then that blinding white limestone of the crown.
"The first six to seven kilometres are pretty climbable; you're surrounded by vineyards," notes Poli. "The second part is harder. After the forest starts, it's 10 kilometres, more or less straight, with bits of up to 12 or 13 per cent."
The mountain is protected as a biological reserve and there's a sense of moving into a different realm as you progress up it.
The oak and coniferous woodland is dense and steamy, the road is lined with fantastically shaped hedges and the verges glow a radiant green; you could be on an ornamental driveway or in a botanical garden.
Cuckoos call from the trees and planes hum in the far-off distance. You're in the world of the winged up here. Getting higher, large mossy patches and swirling mist create a fairytale landscape.
>>> Tour de France 2018 route: What we know so far
A cafe, ski-lift, huge car park, smattering of buildings and an option to take another route down off the mountain give the junction at Chalet Reynard a touch of civilisation. But from this point up it is Ventoux's deserted moonscape to the summit.
The view here opens out and the lavender fields, vineyards and orchards far below offer a tapestry of colour that contrasts starkly with the overwhelming monotony of the immediate rocky surrounds.
The gradient eases but as Poli acknowledges: "The third part from Chalet Reynard to the top can be painful. You've already done 16 kilometres, so in those last six you are dead tired. In that sun, with the stones reflecting the heat, or if there's wind, you'll suffer."
Poli's old Gan team-mate Chris Boardman remembers the climb having him in tears — not when he was racing over it, but years after retiring when he found himself riding the Etape du Tour.
"I'd agreed to do it with Dave Brailsford when I got quite drunk, but he didn't turn up," Boardman recalls. "I was only riding two hours a day at that time. By the time we got to the top of Mont Ventoux, people were saying, 'Look, there's Boardman over there, crying!'"
But that's Mont Ventoux for you. It's a mountain that inspires awe and instils fear. That's why on almost any given day at the summit (when open) you might find triumphant cyclists with grins as wide as their faces or shivering wrecks who'll vow never to come back again.
And while the odd Tour rider may give it a nonchalant shrug and wheel off back down towards the team bus, they still know like the rest of us that the whole package of Mont Ventoux is a mountain like no other.
Conquering the Giant of Provence
Eros Poli: Ventoux's most unlikely hero
At 6ft 4in, Eros Poli would typically be found in the laughing group on any Tour de France climb. But in 1994, having gone out on a lone break on the flats before Mont Ventoux, the Italian Mercatone Uno rider hit the foot of the climb with a 25-minute solo lead.
It proved enough for him to survive at the head of the race and he came down the other side for a famous solo victory in the nearby town of Carpentras. Here, he recalls the day to Cycling Weekly.
"In 1994, there were numerous fans, and many Italians because Marco Pantani was going so well. The bad memory I take away is that I arrived at the base after riding around 100km in time trial mode to gain time.
"I thought if I was going to win the stage I'd need at least 25 minutes' advantage on the group. I'd lose about a minute every kilometre. If I had three minutes [at the top], that'd be enough to last the descent and 20 remaining kilometres on the flat.
"The worst bit was when for the first time in my life I saw only a single digit on my computer. Normally in the gruppetto riding at the back, we'd be going 12, 13 or 15kph. At one point, I saw 8 or 9kph: that was a shock. To go up a climb at such a [slow] pace had never happened to me before.
"I'd been doing 100 or more kilometres at over 45kph — alone. That change of rhythm, starting the climb was terrible. At that curve, to start the second part, at Saint-Estève, I was afraid and in trouble.
"Now, I like Ventoux. I ride Ventoux three to four times a year with my InGamba tour group. Every time, I think, 'How the hell did I manage to arrive first that day?'
"It's beautiful nowadays to take along friends and share my memories. Normally Ventoux is for climbers and champions. I was a passista so it was a dream coming first. Normally I'd be last."
Thank you for reading 20 articles this month* Join now for unlimited access
Enjoy your first month for just £1 / $1 / €1
*Read 5 free articles per month without a subscription
Join now for unlimited access
Try first month for just £1 / $1 / €1
Get The Leadout Newsletter
The latest race content, interviews, features, reviews and expert buying guides, direct to your inbox!