Icon of the Tour de France: the Col du Tourmalet
Chris Sidwells profiles the most climbed mountain in Tour de France history - the Col du Tourmalet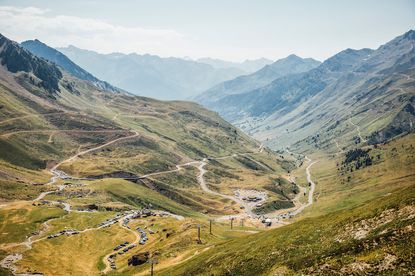 (Image credit: chris catchpole)
The father of all mountain climbs, the Col du Tourmalet, in July 1910 took racing cyclists higher than they had ever been before.
Stage 10 of the 1910 Tour de France delivered cycling into a new era, as for the first time riders tackled the high mountain passes of Europe, pedalling over 2,000m into the sky.
The Tourmalet and the passes around it have helped shape much of the sport's history ever since.
Before 1910, the Tourmalet was just a notch in the rock between two of the highest peaks in the Pyrenees — no more than a track used by shepherds travelling between the Adour and Gave de Pau valleys. The Tour de France made the Tourmalet, literally.
Taking on the Tourmalet was a dream until 1910; journalist Alphonse Steines wanted the Tour de France to use the climb, even though it nearly killed him when he got lost in the snow on a route recce.
Undaunted, Steines told his boss, the Tour de France organiser Henri Desgrange, that racing was possible on the climb, and he got Desgrange to provide the local authority with 3,000 francs to replace the goat track over the Tourmalet with a road.
Tour's mallet
The Col du Tourmalet is called l'incontournable in France, the unavoidable. It's the only way to get through this part of the High Pyrenees.
Both sides of the climb have been used a total of 87 times by the Tour de France (as of 2019), more than any other mountain pass.
It's part of a natural line between Bagnères-de-Luchon and Pau that goes over the Col de Peyresourde, the Aspin, the Tourmalet and the Aubisque.
>>> Icons of cycling: The Champs-Élysées
That was the way the first high-mountain stage went in 1910, the day when the organisers weren't sure what they had done.
They feared bandits, accidents and even bears, which were plentiful back then. They feared someone might get killed, and the eventual stage winner Octave Lapize shouted "assassins" at race officials waiting on the Tourmalet. Everybody survived.
The summit of the pass is 2,115m (6,913ft) and the road goes over it east to west. The eastern ascent starts in Sainte-Marie-de-Campan, is 17.2km long and gains 1,268m (4,160ft). The western ascent is 19km long and gains 1,404m (4,606ft).
Both have average gradients of seven per cent, and the east side has the steepest section, at 12 per cent.
But it's not facts and figures that make the Tourmalet so special; it is history. This climb stands as a memorial to men who understand the indomitable power of the human spirit, who are not prepared to accept limitations. It's a memorial to the imagination of Alphonse Steines and to all the great cyclists who have raced over it.
Thank you for reading 20 articles this month* Join now for unlimited access
Enjoy your first month for just £1 / $1 / €1
*Read 5 free articles per month without a subscription
Join now for unlimited access
Try first month for just £1 / $1 / €1