Should you hire a bike or take your own when you go abroad?
Travelling with a bike is a faff, and with many destinations offering hire options, it's never been easier to outsource your holiday machine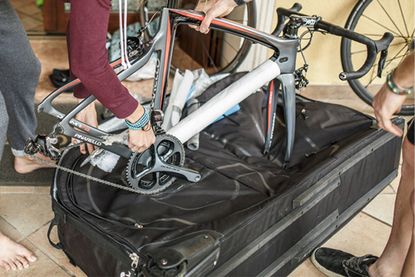 We all know what a pain it can be to pack a beloved bike into a bag or box. We spend hours carefully securing and lagging the entire frame, and stuffing as many bags of clothes into the carrier in hope of further limiting any potential damage.
We then heave all 23kg around, up and down stairs, into transport and finally to check-in at the airport, where it will spend the next few hours enjoying the tender loving care for which baggage handlers are renowned.
However, with popular training destinations like Majorca and Lanzarote fully utilising the cycling seasons they have, we are seeing more and more options to bypass that hassle and hire a decent quality bike when you arrive.
"Most bikes on offer these days are so much better maintained and of a higher quality than a few years ago," says Dominic Conroy, co-owner of Revolution Bikes in Lanzarote.
"When hiring from us, you have peace of mind that the bikes are regularly cleaned and maintained.
"Cyclists taking their own bike need to ensure they have a good, strong box for transportation, dismantle the bike themselves, get it to and from the airport in a suitable size taxi or minibus and then rebuild it at the other end."
>>> Saddle height: how to get it right, and why it's so important
Although a carbon bike hired for six days will set you back around €120, much of this may be offset against not only the hassles of transporting a bike yourself but the extra cost you might pay getting to and from airports with your cumbersome bit of luggage, not to mention the handling charges many airlines impose on carrying sports equipment.
Make the most of your training camp
Conroy adds that a hire company may provide additional support during your stay. "If there is a problem while the cyclist is out and about, we give back-up," he says.
"The customer has peace of mind that someone will come and help get them back on the road."
>>> How to carb load before an event or race
Italian bike brand Pinarello has taken things another step further, opening a 'Pinarello Experience' store in Puerto Pollensa, Majorca.
The idea is to let customers indulge in something a little special on their cycling trip and offer potential Pinarello owners the chance to try before they buy. The company's Brigitte Padewski says it helps that the brand has strong ties with the island.
"Having Bradley Wiggins's bike at Tolo's bar, people see that and think, 'It'll be great to hire a Pinarello,'" she says.
>>> Should you slam your stem: yes or no?
Hire charges at the Pinarello Experience start from €30 a day for the Razha right up to the Dogma F8 with Di2 for €100, which Padewski says is the most popular option.
Before you cough up and saddle up, though, spare a thought for your biomechanics. Osteopath Alice Monger-Godfrey argues that riding endless miles on an unfamiliar bike may not be the cleverest thing to do.
>>> How can osteopathy help cyclists?
"Your body gets accustomed to riding the same bike," she says. "Our bodies can take a lot of time to adapt to even small changes. Riding your own bike at a training camp reduces the risk of injury."
For some cyclists, taking their own bike has proved disastrous, with bikes getting broken or lost in transit.
>>> Listen to your body: don't ignore the warning signs of injury
But former pro Monger-Godfrey doesn't buy this as an excuse: "From my experience taking my own bike away with me has been absolutely fine. I am very careful when packing my bike in a bike box.
"I have had no problems and have always enjoyed riding my own bike when on training camps."
Pro training tips to get you riding faster
Our take
Travelling with a bike bag may be a pain, but there will be benefits in terms of injury prevention, ride confidence and the knowledge you'll be training on a bike you'll later be hoping to perform on.
>>> 10 best ways to make your bike more comfortable
Usually riders will take their best bikes to training camps too, so to get an equivalent in rental may be expensive. However, if it's a hassle-free holiday you're after, or you want to test-ride the best, hiring is now a more attractive option than ever.
Should you hire a bike for a training camp?
Yes: Phil Griffiths, owner of Pinarello Experience
"Taking a bike abroad is an inconvenience and in many cases just as expensive as hiring a bike at the destination. We take this pain and worry away. People can relax knowing that they have a top bike, serviced and ready waiting for them. The new store offers a great touch point for consumers, offering an opportunity to engage with the brand and to test before perhaps making a purchase when they return home."
No: Alice Monger-Godfrey, AMG Osteo Clinics Ltd
"The main downsides to using a hire bike when riding a lot of miles on a training camp is the bike may not fit you properly and therefore may mean you are uncomfortable when riding. This in turn might lead to injuries such as knee pain or neck pain.
"If you do not feel 100 per cent comfortable on a bike it can make you feel nervous when going downhill or around sharp corners and reduce your enjoyment on rides."
Thank you for reading 10 articles this month* Join now for unlimited access
Enjoy your first month for just £1 / $1 / €1
*Read 5 free articles per month without a subscription
Join now for unlimited access
Try first month for just £1 / $1 / €1
Symon Lewis joined Cycling Weekly as an Editorial Assistant in 2010, he went on to become a Tech Writer in 2014 before being promoted to Tech Editor in 2015 before taking on a role managing Video and Tech in 2019. Lewis discovered cycling via Herne Hill Velodrome, where he was renowned for his prolific performances, and spent two years as a coach at the South London velodrome.