Six best bike bags and boxes for cycling travel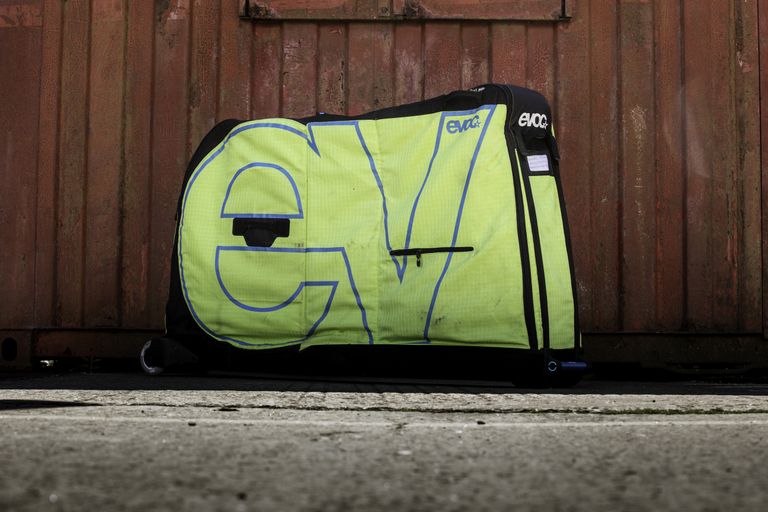 Our guide to the best bike bags and boxes to keep your ride protected whilst you travel the world
Riding abroad can do absolute wonders for a cyclist's soul. Good weather, premium quality roads and minimal traffic are all great... plus, those big hills are ideal for putting some fitness in your legs.
Many cyclists like to take their own bike with them when they go abroad - rather than hiring a bike on holiday. But that means getting the damn thing there.
There are two options: you can fly your bike in either a box or a bag. Both have their pros and cons, so we'll run through both options.
Bike bags vs bike boxes: Which is better?
You might think this is an easy question: it's surely a box, right? However, that'sprobably before you've taken weight into consideration.
A lighter weight bike bag influences two things: how comfortable it is to carry and lug about but also how much of your baggage allowance it eats into.
The trade off is in the level of protection: a hard flight case like box is going to take the knocks better than a soft bag. That said, soft bike bags will usually protect your bike from the worst of it and they also tend to be cheaper than bike boxes.
>>> What do different airlines charge to fly your bike?
There is an in between option. These tend to be bags that have some more structural inserts inside but retain more of a bag's lightweight nature.Other bike boxes can have nifty, in-built storage techniques. For example, some have built in dropouts that allow you stand your frame upright and hold it tight.
How to pack a bike into a bike bag or box
Packing the bike into the bag or box sometimes takes quite a bit more effort than expected.The process may differ slightly if your handy companion has some special inserts of internal structure, but the general process goes something like:
Remove the wheels from your bike
Turn the handlebars to one side
Either remove the seat post or drop it into the frame
Remove the rear derailleur
There are a few more mechanical adjustments you might make, andif you're handy with spanner theyshouldn't cause give toomuch grief.For example, you might have to remove the chainset. This willkeep it protected en route but it's worth bearing in mind that you'll have to reassemble it when you arrive on your hols, so if you're no spanner wizard it might be best to avoid this.
>>> How to prepare for an overseas cycling event
Best bike bags and boxes
With each product is a 'Buy Now' or 'Best Deal' link. If you click on this then we may receive a small amount of money from the retailer when you purchase the item. This doesn't affect the amount you pay.
Scicon Road AeroComfort 3.0 TSA Bike Travel Bag
The AeroComfort 3.0 TSA from Scicon is smart because it offers the lightweight, foldable characteristics of a bag, but comes with a metal structure inside. You simply remove the wheels, loop your chain over a specially designed T-bar and use your quick releases to stand the bike on the metal frame, so it's immovable inside and thus a lot more secure.
There's no need to remove anything aside from the wheels, the handlebars stay straight and don't need twisting. This does make the front end quite bulky, and though there's padding, we felt the shifters were a little bit exposed - but that's pretty much the only con to a host of pros.
Reasons to buy
+Spacious inside+Quality fixings+Sturdy
We really quite liked the VeloVault2 bike box when we had it in for test. It's big and sturdy, but weighing in at 12.2kg means it should sneak under most airline weight controls.The company has sweated the small stuff, too: the clasps are quality, it's easy to close and it rolls great.
VeloVault2 bike box has new carrying handle, longer wheelbase, improved strut design and it is roof box ready. Oh, and its now bright blue... other colours are available if that's not to your liking.
The fact that it's a hard case box immediately gives the user piece of mind when packing their bike away inside a Bike Box Alan. Throw in the addition of an anti-crush pole in the middleand things are looking good for your pride and joy.It is expensive, but it does come with a seven year guarantee, so depending on how much you holiday, it should pay for itself.
Reasons to buy
+Easy to use+Bike padding kit included
A wicked piece of kit that kept our bike safe despite its softer outer shell. However, the area that the Evoc bike bag really excels in is ease of use.
The side opening makes getting the bike in a cinch, and the handy Velcro makes getting the parts in the right place a piece of cake. The newer model reviewed here now has a reinforced front zip, meaning it should last longer.
Reasons to buy
+Doubles up as a stand
Reasons to avoid
-Price-Does have weak spotsEmpty List
The Thule RoundTrip Pro XT falls into the not-quite-a-bike-bag category.It's a softshell but has some structural implants that should keep your bike safe through the worst of it.
However, the bag does have some weak areas and for the price you pay this doesn't induce confidence. But, maybe we're being picky. This is a solid purchase, undoubtedly.
Chain Reaction Cycles Pro Bike Bag
We've not had the Chain Reaction Cycles Pro Bike Bag in for review but for its minimal price it looks good. According to the retailer and brand, only pedals, bars and wheels need to be removed for the bike to fit and it comes with a Shock Blocking System which features Crush Protection inserts.
Watch: How to climb Sa Calobra
Bike bags and boxes: Things to consider
Fit
Chances are you ride a 56cm bike frame, or smaller, with a standard seat post and handlebars, in which case you should be golden with a standard bike bag or case.
However, if you ride a super-sized bike or if it has an integrated seat post (where it's just an extension of the frame) then you could find yourself in a bit of a pickle.
If you know you're the latter, its probably worth scoping the bag or box out in person, or getting some more of an idea of how well your precious cargo will fit.
Padding and protection
Regardless of how tough your bag or box might be, you'll definitely want to pad the important parts inside it. We'd recommend bubble wrap and foam piping. If you're lucky, your local bike shop might have excess from the all the bikes they get sent in.
Wheels and handles
Considering a fully packed bike bag or box is a weighty beast, built in handles and wheels become pretty vital. You'll want to make sure they're good quality, too, as nothing's more annoying than a broken wheel on a long journey.