How to climb Honister Pass: East to West (video)
Honister Pass is one of the most striking and dramatic roads in the country and is located in the Lake District. This video covers the climb from Seatoller heading towards Buttermere.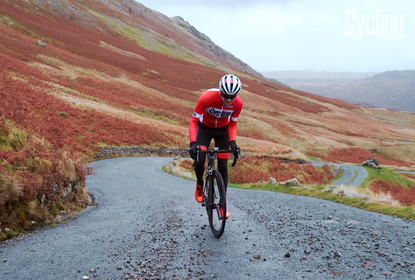 Honister pass can be approached from two directions. This video covers the side travelling East to West, which is famously used in the Fred Whitton Challenge. It may only be 2.4km long, but don't let that fool you. This is a tough climb.
The Stats:
Distance: 2.4 km
Category 3
Average gradient: 10%
Max gradient: 25%
Height gain: 243m
Suggested gearing – 34-32 or 36-32
The quaint village of Seatoller marks the start of the climb up Honister Pass. Coincidentally this is officially the wettest place in England! Heading out of Seatoller you are immediately faced with a brutal wall through the trees. This unrelenting section averages 14% and is 25% at its steepest. It will see most riders forced to get out of the saddle.
>>> How to climb faster up steep climbs
This is the hardest part of Honister Pass and eases off once you reach a cattle grid in about 900m. After the cattle grid the climb eases, giving you an opportunity to enjoy the views and recover before the final ramps up to the slate mine.
>>> How to master a long climb
The final push to slate mine is tough with an inconsistent gradient occasionally ramping over 20%. It is easier than the first part of the climb though, which can help mentally. Take care as there can often be loose stones, gravel and water.
>>> Four tips to nail any climb (video)
Descending the other side is very steep, so before you do, take in the views and enjoy it! On a clear day you can see Helvelyn in the background! A pro would climb Honister pass in 9-10 minutes. The slate mine cafe makes for an ideal cafe stop too.
Thank you for reading 20 articles this month* Join now for unlimited access
Enjoy your first month for just £1 / $1 / €1
*Read 5 free articles per month without a subscription
Join now for unlimited access
Try first month for just £1 / $1 / €1