Cycling in Girona: bike riding traveller's guide
When to go, where to stay, and must-do rides and attractions on and off the bike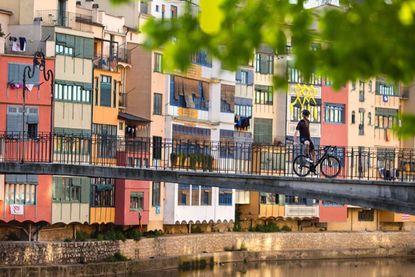 Spain has long been the country of choice for cyclists seeking warm weather riding – but up until recently Girona has been one of the lesser-visited areas, with Mallorca snapping up the lion's share of two wheeled visitors.
All that's gradually changing as more riders begin to take note of Girona and its charm – with attractions both on and off the bike.
Home to a disproportionate number of pro cyclists for its sub 100k total population, Girona has a lot to give: undulating country lanes, testing climbs, technical descents plus an explosion of varied cuisine and its own unique history, culture and architecture.
The Catalonian university city is intersected by the River Onyar, with the medieval streets of the Old Quarter on one side and more modern buildings on the other.
The maze of narrow cobbled streets in the old town wind up to the city's cathedral, the remains of a Roman fortress plus the city walls which are an attraction on their own.
It takes less than 15 minutes to escape the confines of the stone city and meet the country lanes, and wide roads combined with relaxed Catalonian culture mean that hassle from drivers is rare. Indeed, during a week of daily riding in the area, Cycling Weekly experienced just one semi-close pass (the kind you'd barely notice in London).
Pro prospective: why go to Girona?
Former pro David Millar has lived in Girona since 2006, and is a major advocate of the city and its culture - so much so his CHPT3 brand will launch a new line in June, simply called 'GIRONA.'
"In the past decade Girona has become the professional cyclist's home from home, or for many, like me, simply home," Millar says. "Before Girona, pros were scattered across southern Europe, some choosing Tuscany, others the south of France, or for the crazies, Belgium and the Netherlands.
"There's a reason Girona has become the go-to place, and it begins with five things: one, good training roads i.e varying terrain, quiet, good quality; two, good weather (winter rarely below 0, summer low 30s); three, airports nearby; four, other professionals to train with, and five, a good quality of life for the whole family.
"The city itself is a hidden treasure, so close to Barcelona yet as far removed as one can imagine," Millar adds. "Everybody who visits here for the first time is taken aback with its beauty and without fail is shocked they had not known about it or visited before. It doesn't have a vast array of hotels because it is more of a day visit sort of place, it's only the recent cycling tourism that has created a new form of visitor.
"With that tourism there is a changing of the café culture, with Christian Meier's La Fabrica and Espresso Mafia [more on them below] leading the way. I moved here in 2006 and there were less than 10 professionals living here, legend goes there is over 100 living here now."
When to go and how to get there
Convinced? Time to do some planning.
With a humid subtropical climate, Girona's winters are cold but the summer really heats up. The best times to visit are spring and autumn - max temperatures sit comfortably at 18ºc to 26ºc between April and June, and 26ºc to 21ºc in September and October.
Average rain days are around five to seven a month - so you might get one during a week long visit, but everyone needs a rest day from time to time anyway.
When it comes to airports, you can fly in to Girona's own airport, a taxi to the city will cost you about €30-35 euros. Alternatively you can fly to Barcelona, which has a transfer time of about 90 minutes - a taxi is around €130-140, or you could hire a car for the week.
When we visited, we opted for a British Airways flight from Gatwick to Barcelona, since BA allows your bike to travel as your hold luggage provided it weighs less than 23kg, then hired a car for the week.
Where to stay in Girona
Though cycle tourism is still in its infancy here (compared to the fame of hotspots like Mallorca, Tenerife and Lanzarote), the area is no stranger to visitors and there's plenty of hotels and accommodation.
We'd recommend staying in the old town, giving you easy access to endless gastronomical window shopping – plus everything you could ever need (bike shops, pharmacies, ice cream) will be just metres away by foot.
We found a flat via Airbnb, but there's a huge amount of choice and plenty of hotels - including the Hotel Nord 1901 (opens in new tab) - which is opposite the Service Course bike shop, ideally situated for those prone to morning bike related traumas.
The only downsides to staying in the old town is that most buildings are long and thin, which means your accommodation could be up several flights of stairs, early nights can be made more difficult by late night revellers, and parking is limited.
We can't do much about the stairs, but we can recommend you pack ear plugs to solve point two, and there's unlimited free parking about five minutes walk from the river (just to the side of the Parc de la Devesa).
Services
Cyclists don't need to worry about provision when it comes to maintenance, hire, kit and nutrition supplies or ride inspiration.
There's number of bike shops offering maintenance and hire – but the cream of the crop has to be The Service Course (opens in new tab), located in the heart of the old town.
Unassuming from the outside, the shop is pretty easy to miss - indeed we walked past twice whilst looking for the entrance. Owned by former pro Christian Meier and his wife Amber, there you'll find classily sporadic stock on the walls but the limited range offers pretty much everything you could need – just carefully selected.
The Service Course will offer everything from guided rides to daily servicing and lactate testing. And don't be fooled by the high end price tags of offerings like daily 'pro bike service', you could spend a bomb if you wanted but they also fixed a dodgy headset issue for us for just €5.
Under the same ownership are the La Fabrica breakfast/lunch bistro and Espresso Mafia 'organised coffee' bar – each with their own character yet matching refined but practical exterior.
Where to ride
The Catalonian city is located just over 100km to the northeast of Barcelona, nestled in the Costa Brava region, between the coast and sitting beneath the shadow of the Pyrenees mountains.
The geography of the area provides a heady mix of long, flat lanes, ideal for picking up the pace, rolling terrain which really can sap your legs (whilst making them stronger) as well as the testing climbs most of us travel to Europe to conquer.
'Must ride' attractions include the Rococorba climb, Els Angels, Mare de Deu del Mont and the coast road.
The Rococorba erupts out of the lakeside town of Banyoles (route inspiration in GPX form here) (opens in new tab). It's 10km long, with an average gradient of 7 per cent – though undulations and extended sections at 10 per cent make it feel much tougher than those two stats might suggest.
>>> The Rococorba climb in detail
It's a road to nowhere - in fact it was only paved in 2006 - and has since become a test track for local pros. In 2009, when former pro and Girona resident David Millar formed a 'club' with Canadian training partner Michael Barry, they called it Velo Club Rococorba.
When we rode it we saw only three other riders, but in the weeks leading up to the Tour de France it's said to get notably busy with riders checking out their pre-Tour form.
UAE Team Emirates rider Dan Martin told Cycling Weekly: "The thing about it for me is that you have to make an effort just to get to the top – it's not really a climb that you can ride up easily, which you can with most others. If you want to get to the top, because it's so steep, you have to try on it, but the view is great once you're up there."
A little less brutal is the Les Angles climb - nestled between the city and the Costa Brava. It's a more gentle beast, at 11km long, with an average gradient of four per cent, helped out by a 2km flat section in the middle. At the top is a church, which hosted the marriage of renowned artist and local, Salvador Dali. You could include the climb within the route for the Girona Gran Fondo - GPX files here. (opens in new tab)
The Mare de Deu del Mount – at the top of which you'll find a shrine named 'Mother of God of the Mountain' (so it's the 'Mother of the God' climb if you feel like making it ominous) – acts as the gateway to the Pyrenees.
At 18.8km long, it's 18.8km or 21km depending upon which side you climb from. The opening 10km is fairly shallow, but the second half peaks up with gradients of nine and 10 per cent.
The other ride not to be missed is that of the coastal road (GPX file here) which weaves between the protected mountain area of Massis de Les Cadiretes – from Girona you'll climb up to the coast road, before enjoying smooth descents that then give way to rolling roads before heading back to the city via flat lanes that intercept farmland.
Off the bike
Hopefully all of that riding has hollowed out your legs, because food is one of the major attractions. There are enough places to eat that you could probably find somewhere new to appease you on a daily basis for at least a month.
One not to miss is the Rocambolesc ice cream parlour, where you'll find a range of novelty ice lollies that mostly serve as selfie props as opposed to genuine recovery treats.
For breakfast and lunch, La Fabrica (opens in new tab) is not to be missed - provided you don't mind your food being sprinkled with edible flowers and your coffee cups sans handles. If it's all a bit fancy, you could just neck a slice of pizza and a cone of patatas bravas from one of the smaller cafes.
The best evening dining experience can be found in the cities' central square, just over the river, but there's plenty more on the side streets. Local Millar details more places to eat and drink in his Chapt3 guide here. (opens in new tab)
The city architecture is an attraction in itself, its profile having been bolstered by its filmset role in season six of Game of Thrones. Though post-ride legs might be reluctant, a wonder up to the Cathedral, gardens and a walk along the city wall are not to be missed.
Those with an interest in art would do well to take a trip to the home town of Salvador Dali - Figueres. An amble around Dali Theatre Museum - which as a large pink construction wearing a halo of eggs is rather unmissable - will set you back €14.
Thank you for reading 10 articles this month* Join now for unlimited access
Enjoy your first month for just £1 / $1 / €1
*Read 5 free articles per month without a subscription
Join now for unlimited access
Try first month for just £1 / $1 / €1
Michelle Arthurs-Brennan is a traditional journalist by trade, having begun her career working for a local newspaper, where highlights included interviewing a very irate Freddie Star (and an even more irate theatre owner), as well as 'the one about the stolen chickens'.
Previous to joining the Cycling Weekly team, Michelle was Editor at Total Women's Cycling. She joined CW as an 'SEO Analyst', but couldn't keep her nose out of journalism and in the spreadsheets, eventually taking on the role of Tech Editor before her latest appointment as Digital Editor.
Michelle is a road racer who also enjoys track riding and the occasional time trial, though dabbles in off-road riding too (either on a mountain bike, or a 'gravel bike'). She is passionate about supporting grassroots women's racing and founded the women's road race team 1904rt.
Michelle is on maternity leave from July 8 2022, until April 2023.