Feature: The climb of Rocacorba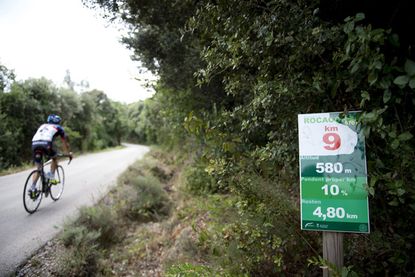 Little over 20 years ago, the only people who knew about the messy tangle of tarmac and dirt road up to the summit of Puigsou were radio mast engineers and members of the Club Icarus Girona hang-gliding club - and a few local mountain bikers.
The mountain of Puigsou lies 20 kilometres north of Girona and reaches 994 metres above sea-level; hardly a monster when, on a clear day, you can see the Pyrenees, a mere 80 kilometres further north. And, on a little hill near the summit lies the 12th-century Santuari de Rocacorba, which gives its name to the climb.
However, in the past half-dozen years, the fame and name of Rocacorba has spread far beyond a few religious tourists and bands of gravity-defying sportsmen who, in 1989, drove up the dirt road sections near the summit and built the first hang-gliding ramp.
The climb stayed as the preserve of extreme sports fans for as long as the final four kilometres of the road was essentially dirt. Local bike guide Dave Welch of Bike Breaks knew about the climb and the spectacular views from the summit.
"It was back in late 2005 or 2006 when I was taking a party of mountain bikers up to Rocacorba, I had been telling them that it was a great slog but worth it at the top," he says. "At the start the climb was tarmac and they were moaning a bit, because they were real mountain biking types and I kept telling them it was OK, the tarmac was going to stop and there would be dirt to climb on.
"Well, we keep climbing and the tarmac never stopped. I felt like such an idiot! Between one ride and the next, the whole climb had been laid with tarmac. I'd been in Girona for three years prior to that and overlapped a little with the period when Lance Armstrong was based there, but he had gone by the time it was paved, so I'm pretty sure the rumours that it was down to Lance that it got paved aren't true."
But after the road was fully tarmacked, from around 2006, the climb turned into an unofficial test track for locally based riders. There's only one way up and down Rocacorba - it's a savage dead end that, from a cycling point of view, only exists to get to the top and back down again, a road to nowhere except, hopefully, to some sense of your fitness (or lack thereof).
In autumn 2009, Girona resident David Millar and sometime Canadian training partner Michael Barry decided to form the Velo Club Rocacorba, though it is clearly more like a social club than a clandestine hand-picked group selected to carry out black ops testing on marginal gains on the tough 13.8km climb.
The fun begins
The precise measure of the climb, as is so often the case, is subject to some debate. There is some ambiguity as to where it actually begins (though there's no debate as to where it ends, since there's now a white line painted on the road marking its limits). By common consent, certainly among the local pros who use the climb as a test of form, the clock starts ticking as you cross the low stone bridge where the road turns left up into the trees. Prior to that point the first 3.8km is draggy false flat and the climb proper - from the moment you cross that bridge - is 10.1km.
From here on, following the Cami de Pujarnal a Rocacorba, things might undulate a little on the lower slopes to give riders some respite (or time to ride in the big ring), but it's a grind to the top that will take you anywhere between just under 30 minutes to just over two hours. To be fair, it'll only take you around 30 minutes of race pace simulation if you are in good enough shape to win a Grand Tour, which is why both Ryder Hesjedal and Bradley Wiggins have tested themselves on the slopes.
There is no shortage of climbs in the Girona area where so many European pro riders base themselves, so what is it about this one in particular that attracts them? The winner of the 2012 Giro d'Italia and long time Girona resident Hesjedal attempts to explain something of the road up to Puigsou's appeal.
"I can't actually remember the first time it was possible to ride it the way it is now," he says. "But it just turned into a climb for the locals - it's hard and it's close enough to Girona, which is important. And although it's not like there's a shortage of climbs, this one is a bit different. There's nothing like this one for the gradient and the length and the rhythm that you have to climb it at - it's perfect. It just naturally turned into the climb to do to find your best time and measure yourself that way."
Pros and cons
Such are the numbers of pro riders based in and around Girona that the fame and utility of Rocacorba has spread. Although there aren't too many 'cyclo-tourists' zig-zagging up its slopes, it's not unusual for pros to pass each other, one on the way up, the other coming down. The week before the Tour is a particularly busy time for such a narrow piece of road.
Garmin rider Dan Martin had been in Girona for a year and heard much talk of the fabled climb, but he found it by himself, rather than being led there and introduced to its delights.
"I remember finding it and riding up it. And then not riding up it again for over a year because it was just so unpleasant!" he laughs. "The thing about it for me is that you have to make an effort just to get to the top - it's not really a climb that you can ride up easily, which you can with most others. If you want to get to the top, because it's so steep, you have to try on it, but the view is great once you're up there."
And therein lies something of its charm - it's the sort of climb that demands a big effort. "You don't even have to think about it," says Martin. "In fact, one of the good things about it from that point of view is that if I am doing 15-minute climbing intervals I know that the flatter section comes at around the end of one interval and I get a short breather before the next one, another 15 minutes to get to the top."
But why, in this age of GPS-enabled training gizmos - of a team sponsored by a major manufacturer - are there not more professional names and times on Strava, Garmin Connect or mapmyride? Well, it seems that riders can be quite shy of letting the world know where they stand in the pecking order. Which is understandable. Having said that though, Hesjedal currently holds the unofficial record - a high 27-minute effort. Set on Friday June 22, 2012. Yes, that's right, just eight days before the Tour de France. Something of a ritual, as Hesjedal explains.
Test of form
"Well, it's a real in-the-field test you know?" he says. "You can't fake the numbers. If you say, OK, I'm going to go and do an effort on this climb on Friday and you go and do it, the number is the number. I've done the climb on the Friday before the Tour starts for the past few years.
Well this year [2012], coming out of the Giro, I did my fastest time ever by almost a minute, and I wasn't even trying in terms of what you can do - I was carrying my cell phone and a tool pack under my saddle, spare tubes, water bottles, riding it like a race, in full training kit. If you want to get really 'scientific' about it and say just on the effort I did, if I did it on 100 per cent race set-up then I would have been even faster. At the end of the day the record is the record, I just set out to do the effort up the hill and that's it.
"Those are the gauges that you need, as a professional. Mentally as well as physically, you need to see the confirmation to see that everything is going well. I wasn't that surprised to see that, having just won the Giro and recovering and getting more good training that I set my best time ever on the climb before the start of the Tour."
But for all that Hesjedal took his pre-Tour test ride seriously, he didn't feel the need to go overboard. Had he been tempted to wear a skinsuit and warm up on rollers before blasting up the hill?
"Oh no, no. I just went out riding with David [Millar], Dan [Martin] and Christian [Vande Velde] and I said, 'Well, it's Friday so I guess I've got to do my Rocacorba effort.' They said, 'OK, have fun,' and they let me get on with it. To be fair, though, they didn't stop at the cafe in Banyoles; they rode up too, but they let me go."
Hesjedal's insistence that he went to ride as part of a regular road test was, you suspect, an oblique reference to a ride allegedly posted by Bradley Wiggins. It is rumoured that the Team Sky rider arrived in a team car, donned a skinsuit, warmed up on rollers and raced up the climb on a stripped-down bike in a time which, at that point, set a new mark, besting the previous benchmark set by Dan Martin. Nobody doubted that Wiggins had indeed set a new record on the forbidding slopes. What rankled was that, well, if that's what he did, his approach just wasn't cricket, was it?


Club rules
As you may have gathered, there are rules to abide by when it comes to these informal tests. Sort of. While it is perfectly legitimate to decide that on a given day you are going to test yourself (and therefore take it easy as you ride to the climb), what is less acceptable is to go there in a car, carry out a precise warm-up routine on rollers, then race up in a skinsuit with a following car. That is simply not an approach that sits within the constitution of the Velo Club Rocacorba.
The mention of VC Rocacorba in Millar's book Racing Through the Dark and the subsequent publicity generated by reports that Hesjedal and the rest regularly used the climb as a form guide, means that it has become something of a mini-Mecca for riders who come to Girona for a holiday or a more serious training camp. A scan of the riders who have slogged their way to the summit reveals a veritable United Nations of sweat has been spilled on its slopes.
It will never attain the status of an Alpe d'Huez or Tre Cime di Lavaredo, but thanks to a lucky combination of geography, local patronage and technology, Rocacorba has already become much more than a footnote in cycling folklore.
Thank you for reading 20 articles this month* Join now for unlimited access
Enjoy your first month for just £1 / $1 / €1
*Read 5 free articles per month without a subscription
Join now for unlimited access
Try first month for just £1 / $1 / €1