Best cycling in Spain: where to base yourself for spring riding
There's a whole world full of cycling opportunities - so why do we all flock to Spain every year? Well, the temperature's spot on, the terrain is great and the top destinations are set up to welcome bike riders...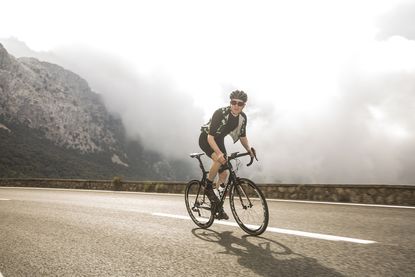 According to the ultimate authority that is Wikipedia, the Earth's surface area is over 510 million kilometres squared - 148 million of which is land.
Spain encompasses just over 505 thousand kilometres squared - do the maths and it turns out it's just 0.3 per cent of the total land available. And yet, UK cyclists flock to mainland Spain and its surrounding islands on an annual basis.
The reasons are pretty simple - the UK's peak riding season kicks off in spring, and that's the time of year that temperatures in Spain are pretty much perfect for cycling. Even those not training for summer events are sick of the rain and wind by February so Spain is the perfect getaway.
Add in that you can fly there in around two hours, plus the fact that Spain houses some of Europe's greatest climbs, and you've got yourself an ideal location for spring training camps.
Despite being such a tiny percentage of the overall Earth, Spain is still pretty big. That mean's there's plenty of choice as to where to ride.
An alternative...
https://www.youtube.com/watch?v=-g_1bB3lciE
Here's a look at some of the top locations...
The best locations for cycling in Spain
Denia and Calpe
Go for: enjoying a cycling holiday and the traditional sandy beaches holidayers love
Read more: Cycling in Denia and Calpe
Kicking things off in mainland Spain, Denia and Calpe take their home on the Mediterranean coast. Both towns are nestled on the Costa Blanca stretch in Alicante and just 35km of land separates the two, so it's really not a big deal which one you choose to stay in.
This area is absolutely no stranger to pro training camps - Team Sunweb, BMC Racing, Astana and Quick-Step have all been known to bring their riders out to this area for pre-season mile munching.
Some of the key climbs have featured in the Vuelta a España - such as the Cumbre del Sol, which although less than 4km long has an average gradient of 10 per cent and was made famous when Tom Dumoulin beat Chris Froome to the summit in 2015.
>>> 10 ways to improve your climbing
Flying to Alicante airport takes around 2.5 hours and spring temperatures are warm - with highs of 20-23 degrees Celsius. Rain days vary from four to 11 a month across the year – bear in mind that's days it rains a month and that could only be for an hour at a time.
The area isn't only popular with cyclists - the sandy beaches bring tourists from all over the world, including the UK. From the top of some climbs you'll be able to make out the mega tourist trap of Benidorm, its built up sprawl and skyscrapers - but the area's typical visitors are more drawn to peak summer months.
Girona
Go for: vibrant nightlife and a busy cycling community as well as great riding
Read more: Cycling in Girona
Our second mainland location, Girona has become a bit of a 'must visit' in recent years. The Catalonian city houses a disproportionate number of pro cyclists, with many making their home within its walls due to the ideal terrain, cycling friendly weather and the community on offer there.
It's almost impossible not to come across pro riders logging their miles when riding in Girona. If you really fancy you can drop some cash on having a pro guide you round the area via the Service Course who offer everything from bike hire to guided rides and photography.
The city itself is vibrant, with plenty of bars and cafes. However, the population sits at 98k - which means the area is quiet enough that you can easily base yourself in the centre, without having to worry about the first few miles spent riding out of the city each day being a rat-race.
The climbs are not as long as those you might find in the cycling mecca that is Mallorca - but there's plenty to make your legs hurt - famous ascents include the 10km Rocacorba, 11km Els Angels and 10km Sant Hilari.
>>> The best bike bags and boxes for air travel
Maximum temperatures vary from 14 to 23 degrees Celsius between November and May, and there's between nine and 13 rain days a month - that's a tad cooler and wetter than the popular choice of Majorca but still plenty good enough for riding.
You can choose to fly to Girona airport, or go to Barcelona and follow it up with a 60-90 minute transfer by road.
Tenerife
Go for: year round ideal cycling temperatures and altitude training
Read more: Cycling in Teneriefe (and - closely related, Cycling in Gran Canaria)
Tenerife is sometimes called 'Isla de la Eterna Primavera' – the island of the eternal spring - which pretty much sets the scene for its climate. Max temperatures sit at 20 to 23 degrees Celcius from November to May, and there's between one and six rain days on average a month making it the driest of the locations listed.
The epicentre of the island is the Mount Teide volcano. If you choose to climb it, you're taking on the longest continuous ascent in Europe - it's 35km long and covers 2,100 metres of elevation.
Watch: How to climb Mount Teide
http://www.youtube.com/watch?v=jMjvvVIdYnk
Riders can expect to suffer with the altitude at the top, but there are plenty of lower roads to choose from. Fear not, with a road circumference of 223 getting lost would be quite a feat.
At the top of the Mount Teide climb, you'll find the Parador Hotel, which has in the past been a popular place for pro cyclists to stay if they want to sleep at altitude. However, since it was a known favourite of Lance Armstrong, few riders (except Bradley Wiggins who stayed there in 2011) have been that open about taking up home there.
Flights take a bit longer compared to other Spanish locations, at about four hours to either Tenerife North or South airport.
Mallorca
Go for: The cyclists mecca, with all the facilities you could need and varied terrain
Read more: Cycling in Mallorca
No list of Spanish cycling locations would be complete without a sizeable mention for Mallorca.
The largest of the Balearic Islands, the road circumference is 312km long - and within the centre you'll find iconic climbs ranging between 10 and 20km - including Sa Calobra, Puig Major and Coll de Soller.
There are rolling and flat lands too, particularly around the coast - though the most popular recovery ride covers about 80km (40km there and back) and gradually climbs from Port de Pollenca to Cap Formentor.
>>> Cycling and cramp: how to avoid it
You could stay anywhere and find yourself spoilt for choice when it comes to riding, but popular locations include Port de Pollença and Alcudia.
Thousands of cyclists flock to this island in spring, which means it's incredibly well set up for riders - there are plenty of bike shops, tour companies and hire facilities.
Flights take about 2.5 hours to Palma, and Port de Pollença is about 60km or one hour drive away. Between February and April, max temperatures sit at about 16 and 20 degrees Celcius and average rain days vary from one to seven a month all year.
The Pyrenees
Got for: the opportunity to enjoy variety and nip into France - enjoying its iconic Tour de France climbs - as and when you fancy
The Pyrenees mountain range covers 430km, and it stretches over both Spain and France. The French side houses many of the most famous climbs, but Spain has plenty to give - and a fair few climbs span the France/Spain border. You can see a really useful map of all the major climbs here.
Being as it is nestled in the mountains, the area is generally cooler than the rest of Spain, with max temperatures rarely shooting over 25 degrees Celsius even in the mid summer months of July and August. As a result, this is an optimum location if your looking for a get-away later in the year.
You can fly to the French airports of Toulouse or Lourdes - both take about two hours, then drive across the border.
CW has tested out making a roadtrip of the whole thing, taking the Eurotunnel to Calais and driving the 800 odd miles to the Pyrenees - it's great fun if you want to explore the towns and cities along the way, but not a good option if you want to keep your travelling time to a minimum!
Thank you for reading 20 articles this month* Join now for unlimited access
Enjoy your first month for just £1 / $1 / €1
*Read 5 free articles per month without a subscription
Join now for unlimited access
Try first month for just £1 / $1 / €1