Get better at climbing hills: top tips to speed up your ascents
No inclination for inclines? A bit of focused training could fix that...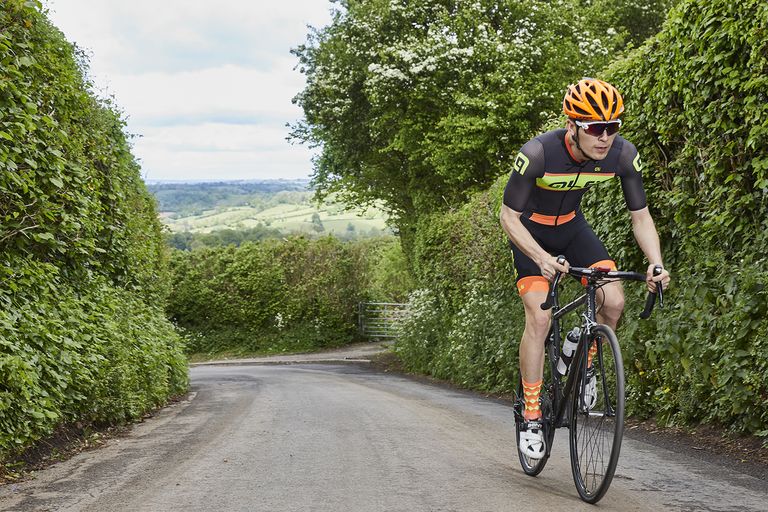 (Image credit: Jesse Wild/cycling weekly)
By Michelle Arthurs-Brennan published
There are a lot of parts of the country where it's possible to complete rides of sizeable distance with minimal ascent - and if you've naturally got no inclination for the inclines then you might favour bombing along on the flat instead of opting to improve your climbing.
We've all got our talents, strengths and weaknesses - if you've identified climbing as a weakness, it's worth doing more of it. The powerhouse form and its greater mass which helps some riders rock the sprint or shine on the flat isn't typically conducive to gradients over five per cent - but there's always room for improvement. With attention directed to the right areas, you might even surprise yourself.
Here's some advice to help you tackle the highlands if they're not your favourite playground...
Ride yourself fit! Enter a sportive with our sister company, UKCE - there's events all over the country, with way-marking, well stocked feed stations and support throughout. See the events here.
Ride hill repeats
Hill reps are a bread and butter component of many a good training plan.
A session involves riding out to a local climb of appropriate distance (anywhere from 30 second to 10 minutes, depending on your target) - riding up it as hard as you can, recovering on the way back down and then doing it again.
The increased resistance offered by a hill means that short ascents - about 30 seconds - provide an excellent muscular strength workout, ideal for improving your sprinting and short burst power. If the climbs you're targeting are longer, then you can look for a 10-minute ascent, riding at around 80 to 90 per cent of max heart rate (or power), with equal recoveries.
If you live somewhere pan flat, then experiment with high gear efforts instead - the resistance will act as a 'ghost hill' and provide much the same effect.
Know the climb
No one wants to be the rider who shoots off at the start of a climb, only to fade within 20 metres.
Knowing a climb can really help you when it comes to pacing and technique. If you know where the steepest parts are, you can tone it down in preparation.
If the climb in question will feature in a race, or if indeed you're targeting the hill climb season and it is the race, try to give yourself the chance to pre-ride the climb at least once.
If you're targeting a well known ascent - one of Britain's 100 climbs or a great in the Alps, then check out the total distance, and average gradients for each kilometre, so you know when you can back off and when to prepare for steeper sections.
Know yourself (use heart rate and/or power)
More on pacing: you don't want to blow up half-way to the summit, but you also don't want to get to the top and find you've still got gas left in the tank.
Knowing the heart rate or power you can maintain for the duration of the climb means you can judge your effort better.
However - remember that whilst power numbers respond immediately to increased effort, heart rate takes time to accumulate - so expect it to take a few minutes to reach the zone you're aiming for. Don't push to get there asap or you'll find yourself in the red too early.
Find your optimum on the sit vs stand debate
There's a lot of debate over whether it's quicker to ride in the saddle - like Chris Froome, or out the saddle, in the style of Alberto Contador or Nairo Quintana.
Rider preference varies, and it's largely to do with body composition. Usually, lighter riders find it easier to climb out the saddle whilst heavier riders would rather stay seated.
Taking the scientific route - aerodynamics becomes significant over 10mph (16kph) - and climbing seated is more aero. Our experiments certainly showed that remaining seated was faster for our tester.
However - it's all pretty individual and the optimum does vary depending upon the type of climb. Our advice would be to practice climbs seated, and standing - compare your heart rate (or ideally power) and speed - and decide for yourself what works best for you.
Lose weight
Power to weight is a basic equation - divide watts produced by weight for the magic number - the higher it is, the stronger the cyclist. So if you produce enough power, you can be a strong cyclist without being a whippet.
How much does weight affect climbing speed?
However, the lack of inertia on a climb and basic physics involved in gravity mean that lighter riders generally come off better uphill.
If you're carrying a little more body fat than you need, losing weight will have a positive effect - as long as you do it in a healthy way (you don't want to lose all that power producing muscle).
Also - don't forget the other half of the equation: if you think your power could do with some work, try adding short burst hill reps into your training schedule. Go from a standing start for an even greater effect.
Powering up on the bike is the most efficient option, as it's targeted and sport specific - but some time in the gym isn't a bad idea over the off-season.
Focus on cadence
Ideal cadence varies between riders - though 90rpm is oft quoted as the ideal happy medium.
When it comes to climbing, it's easy to let the gradient dictate the speed of your pedal strokes - gradually slowing down.
However, a slow cadence pushing a high resistance gear uses fast twitch muscle fibres - these are responsible for short, hard, explosive efforts. A fast cadence with lower resistance uses slow twitch muscle fibres - these are responsible for endurance.
Since fast twitch muscle fatigue quickly and require more glycogen, it's best to spin a lower gear at a faster cadence on long climbs - saving short efforts for quick sprints on undulating terrain.
Breathe easy
Obviously, breathing is important in the whole 'staying alive' game, and this goes without saying. But sometimes sustained climbs - particularly those which cause splits between riding chums - can cause a panic reaction which results in short, sharp breaths.
Taking quick and shallow breaths is a panic response, and it can trick the body into thinking it's in genuine trouble, leading to reduced performance, or even panic attacks.
If you find you're dropping off on a climb, ignore any sense of rising panic and concentrate on keeping your breathing steady and controlled - filling your lungs with every intake.
Don't stop at the brow of the hill
During a race, it's very common that riders are dropped not on the hill, but on the almost-flat section just after it.
The strongest climbers may have barely exerted themselves, whilst the weaker riders have almost blown a gasket. Busy congratulating themselves for surviving in the bunch, they may even relax and back off.
This split in energy levels presents a perfect opportunity for strong climbers to surge, or even attack. Be ready to apply pressure to the pedals over the brow of the hill - or risk losing touch.
And of course, if you're the sort of rider who is at home on the descents or flat roads, be sure to use them to your advantage to gain a gap once the climb is out the way...
Don't start at the back
If you're not the strongest climber, but have to get over one during a race, make sure you get involved in the jostle for the front before the incline begins to notch up.
If you wait until the climb starts, you'll have to fight for oxygen and position - whereas starting at the front means you can afford to drift back through the wheels.
Stay close to the wheel ahead, but leave a small gap - in case the rider in front lets their bike shoot back if and when they get out the saddle.
Adjust your gearing
It's not uncommon for riders to purchase a bike, and never touch the gearing. But swapping the cassette or chainset can make a really big difference.
Double chainsets have two chainrings - sized 53/39. This represents the greatest level or resistance. Mid-compact chainsets are 52/36 whilst a compact comes with 50/34. The smallest option is the super compact: 48/32 or smaller.
>>> Is the compact chainset dead?
On the back, a wide spaced cassette - an 11-36, 11-34 or 11-32 will offer you more gears at a lower level of resistance - the negative being that the cogs are spaced at wider intervals, so it's harder to find 'that perfect' gear.
If you're struggling to turn the pedals on the climbs, changing your gear set up - going for a smaller chainset and wider ratio cassette - will help as you'll be able to spin more quickly.
Cycling Weekly's Tech Editor Michelle Arthurs-Brennan is a traditional journalist by trade, having begun her career working for a local newspaper before spending a few years at Evans Cycles, then combining the two with a career in cycling journalism.
When not typing or testing, Michelle is a road racer who also enjoys track riding and the occasional time trial, though dabbles in off-road riding too (either on a mountain bike, or a 'gravel bike'). She is passionate about supporting grassroots women's racing and founded the women's road race team 1904rt.
Favourite bikes include a custom carbon Werking road bike as well as the Specialized Tarmac SL6.
Height: 166cm
Weight: 56kg