Best bike rollers 2022: how to add variety to your indoor cycling
Here's our pick of the best bike rollers if you're looking to break up the dreary turbo routine with something a little more rocking and rolling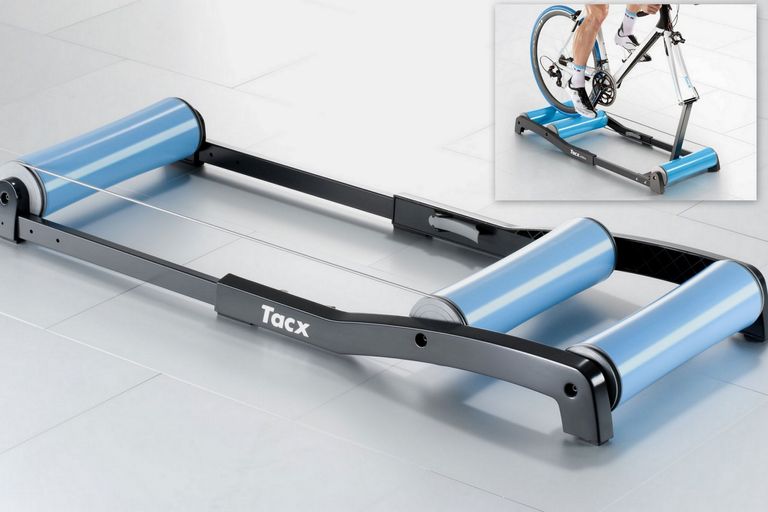 (Image credit: Picasa)
The best bike rollers make a welcome alternative to the turbo, breaking up your indoor riding routine and adding some extra skill requirements.
Cycling on a trusty, reliable set of bike rollers can be the best choice for indoor cycling. The variety and simplicity of rollers make them great for when you're spinning your legs inside.
Rollers generally consist of three cylindrical drums, connected via a belt which allows them to rotate beneath the wheels of the bike.
Riding the rollers requires balance – and it can take some time to master the technique. Learning how to do so is often a journey that begins between two door frames (where there's nowhere to fall), with the rider gradually reducing their reliance on the support of a solid surface as confidence grows.
Most cyclists need quite a bit of practice before they can complete their toughest interval sessions on the rollers, and when it comes to high resistance efforts, the turbo trainer still rules the roost for all but the most talented roller riders.
However, using rollers can add variety and they're ideal for high cadence sessions, tempo training and easier recovery days.
The fact that you don't have to attach the wheel or drivetrain means they're great for pre-race warm-ups; it's common to see WorldTour riders warming up on rollers ahead of big mountain days.
Former World Masters points and individual pursuit champion Andrew Bruce believes rollers are essential for building technique: "I got some old Tacx rollers and for three weeks I thoughts they were ridiculous, dangerous and couldn't ride them," the Scotsman said.
"But I eventually focused on learning how to ride them. You have 36cm to ride within so you can't wobble and you learn the ability how to ride where you want to be riding. You can identify someone in the bunch who can ride on the rollers because those who can't wobble everywhere."
The shape of rollers doesn't change that much between brands - but there are a few variables. Differentiating factors include how compact they are when put away, how easy they are to ride (some have grooves, higher sides or a curved parabolic shape to help you out) and the amount of variability in the resistance on offer.
For further check out our pieces on rollers vs turbo trainers: which is better? and our videos with advice for riding rollers for beginners and experts.
Best bike rollers for indoor cycling
Tacx Antares Rollers
Specifications
Roller diameter : 100mm
Weight: 7.7kg
Reasons to buy
+
Parabolic drums help centre the bike
+
Support stand available
+
Small storage profile
The Tacx Antares rollers are particularly popular because of the conical shape of the drums - they dip in the middle, so the bike remains in the middle of the drum pretty much the whole time.
If you'd like more assurance, or perhaps a 'halfway-house' in learning to use the rollers, Tacx also has a Tacx Antares Rollers Support Stand you can purchase for an extra £41.99 or $54.95 here (opens in new tab). This clasps the front wheel and lets you get used to the feeling on the rear before going all the way.
The Tacx Antares rollers are collapsible and have several wheelbase adjustments.
Tacx Galaxia Rollers
Specifications
Roller diameter: 100mm
Weight: 8.2kg
Reasons to buy
+
Swing system for better ride feel
+
Telescopic folding
Go one step up the rungs with Tacx and you can get their Galaxia rollers. These feature a patented 'swing system', which allows them to swing back and forth very slightly.
Disconcerting as this may sound, it allows the roller to absorb some of the forward motion when you accelerate, change speed, or otherwise stamp on the pedals.
All the rest still applies - and both Tacx pairs retract (rather than fold as most do) to 80cm.
Feedback Sports Omnium Rollers
Specifications
Roller diameter: 4.25 inches
Weight: 6.4kg
Reasons to buy
+
Fork held rigidly
+
Increased resistance as speed increases
The roller itself aims to offer a real-life feel, thanks to the use of 'Internal Progressive Resistance'. You could use this trainer for full indoor sessions, but it really shines when it comes to race warm-ups and the like.
A steel frame offers a sturdy attachment for the fork, and will accept both standard QRs and thru-axles. Its length is adjustable to match the wheelbase of your bike and ranges from 840mm / 33in to 1200mm / 47.2in. The set-up comes with a heavy-duty, padded tote bag for transport and storage.
Specifications
Roller diameter: Not specified
Weight: Not specified
Reasons to buy
+
Allows for high resistance on the rollers
+
Light
+
Quiet
Reasons to avoid
-
Power data overreads significantly
These rollers offer electronically controlled resistance. ANT+ is utilised to send power, speed and cadence data to computers, whilst Bluetooth connectivity means that you can use indoor cycling apps like Zwift and Trainer Road. Added to that, this impressive piece of kit can even simulate climbs up to five percent.
The rollers are parabolic, with a slight lip at the edge. They're capable of managing up to 645 watts, and the resistance unit is electromagnetic. Like all the others, they're foldable and feature several wheelbase adjustments.
Read our Elite Arion Digital Smart B+ E-Rollers review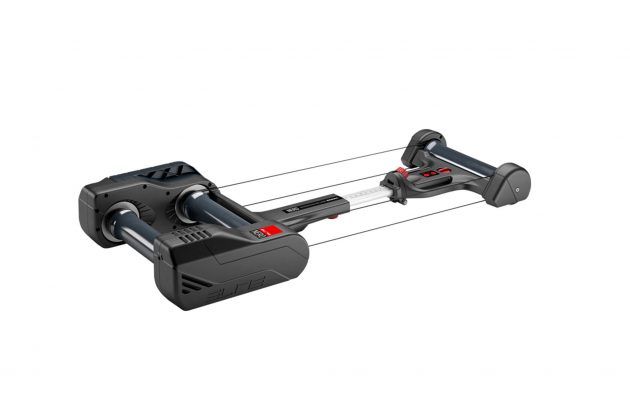 Elite Nero Interactive rollers
Specifications
Roller diameter: Not specified
Weight: Not specified
Reasons to buy
+
Inbult BLE and ANT+ support
+
Can link to training apps
+
Can simulate gradients up to 7 percent
When it comes to rollers, the Elite Nero are about as Gucci as they come. First and foremost, they are smart, capable of generating up to 830w of resistance and simulating a seven-percent grade. They are both ANT+ and Bluetooth enabled so the rollers can talk to any head unit or the training app of your choice.
Elite has also built what it calls a floating system which introduces a bit for fore and aft movement into the rollers to absorb abrupt movement caused by changes of speed and prevent you from flying over the front or back.
Kreitler Alloy 4.5 Rollers
Specifications
Roller diameter: 4.5", 3" or 2.25"
Weight: Not specified
Reasons to buy
+
Durable build
+
Quality bearings
+
Can add extra resistance
Reasons to avoid
-
Small rollers are harder to ride
Kreitler has been making rollers for nearly half a century, and once you buy a set, bar replacing the band every few years, they will probably be the only set you'll ever buy — which is good because they are not cheap.
Rollers with larger diameter drums are usually a bit easier to ride, especially if you're new to it, but even having spent many years riding in place, we still like the 4.5in drums. They are made from aircraft-grade 6061 alloy and manufactured using a CNC lathe to be within two-thousandths of an inch concentricity. Kreitler uses ABEC 5 bearings to keep the rollers spinning smoothly, and should you be after a bit more resistance has a weighted flywheel or Head Wind fan available as add-ons.
Saris AL Roller
Specifications
Roller diameter: 3.25 inches
Weight: Not specified
Reasons to buy
+
Good width
+
Reasonably quiet
The Saris AL aluminium rollers are fitted with 16in wide aluminium drums that are precision lathed to prevent distortion from heat, and they are pretty darn quiet too. There's magnetic resistance to up your effort levels and a fold-away steel frame with rubber footpads. You can swap the belt from the left to the right side, depending on which side you prefer to dismount.
Minoura R700 rollers
Reasons to buy
+
Quality build
+
Large diameter rollers
+
Stand to make mounting and dismounting easier
Reasons to avoid
-
Needs quite a lot of assembly before first use
Japanese brand Minoura makes a range of rollers alongside its turbo trainers, with the R700 sitting next to top in the brand's roller lineup.
The 80mm diameter, 415mm wide rollers run on low maintenance bearings and there's a pair of silicone rings that slide onto the front roller to help keep you centred.
The frame slides in on itself for easy storage and is designed so that it keeps the right distance between front and rear rollers for your bike when you next set it up. Another nice feature of Minoura's rollers is that there's a wooden side platform for easier mounting and dismounting than if you had to put a foot down on the floor.
You can also purchase a front anchor for the forks, so that you can get used to riding the rollers without needing to worry about balancing.
LifeLine RT-01 Roller Trainer
Specifications
Roller diameter: Not specified
Weight: 8.5kg
Reasons to buy
+
Budget option
+
Slight lip to ends of rollers
+
Come with spare drive band
These are a basic, entry-level set of rollers from Wiggle's in-house brand LifeLine.
The body is made from steel and plastic, while the rollers are polyurethane and the feet have rubber covers. Each roller is slightly raised at the end to help make it harder to ride off the edge.
There's a good amount of adjustment to allow for a variety of wheelbases, the bearings are sealed and these come with a spare drive band, which is a nice touch.
Thank you for reading 5 articles this month* Join now for unlimited access
Enjoy your first month for just £1 / $1 / €1
*Read 5 free articles per month without a subscription
Join now for unlimited access
Try first month for just £1 / $1 / €1
Cycling Weekly's Digital Editor Michelle Arthurs-Brennan is a traditional journalist by trade, having begun her career working for a local newspaper before spending a few years at Evans Cycles, then combining the two with a career in cycling journalism.
When not typing or testing, Michelle is a road racer who also enjoys track riding and the occasional time trial, though dabbles in off-road riding too (either on a mountain bike, or a 'gravel bike'). She is passionate about supporting grassroots women's racing and founded the women's road race team 1904rt.
Favourite bikes include a custom carbon Werking road bike as well as the Specialized Tarmac SL6.