Best cycling leg warmers and knee warmers reviewed
Leg warmers and knee warmers are among the most versatile pieces of kit in the road cyclist's locker. Here is our guide to the best of this useful piece of kit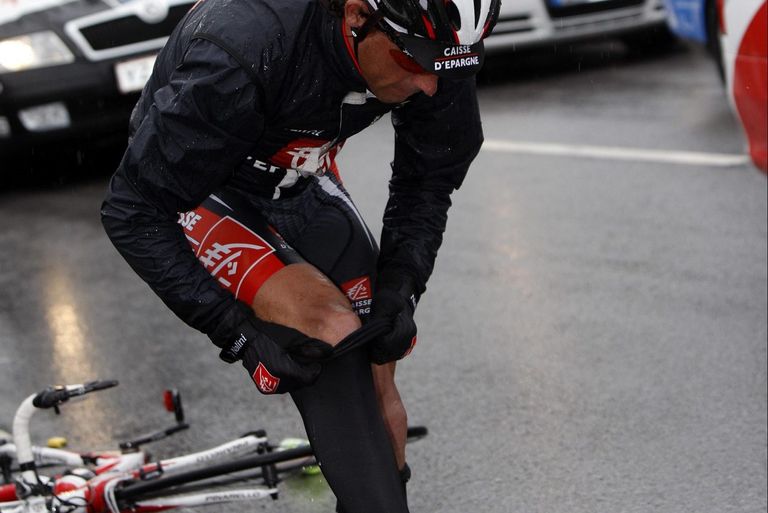 (Image credit: Yuzuru SUNADA)
What are leg warmers and knee warmers?
Leg warmers and knee warmers are designed to be worn with bib shorts when cycling. They are intended to be worn underneath your shorts, with leg warmers typically stretching from the mid point of the thigh to the ankle. They'll include lyrca for stretch, and generally feature silicone grippers to hold them in place.
Knee warmers are a shorter version of leg warmers, and you guessed it, cover the knee joint, effectively transforming your bib shorts into a 3/4 length short. Although less popular than leg warmers, they can be very useful in certain conditions.
If you ride in a temperate climate with changeable weather, it can often be chilly in the mornings or evenings. Leg warmers give you the option to set out in cold weather while keeping warm. Arm warmers do a similar job for your upper limbs.
Once you warm up and the mercury rises, leg warmers can be peeled off and stuffed in your jersey pocket (or team car!). Another popular use is to put a pair of warmers on ahead of a chilly mountain descent.
Why wear leg warmers?
Why not just wear a pair of cycling bib tights you may be asking? While a pair of tights may do a similar job in chilly conditions, they are nowhere near as versatile.
Living in the UK, the weather can be very changeable. Often you start a ride first thing, feeling a little chilly with the temperature around 8ºC, only for it to rise later in the day. You're likely to warm up by generating your own body heat as you get riding too.
Having a pair of leg warmers you can peel off and stuff in a jersey pocket is a great option. They are also really useful for riding in the mountains. Ahead of a long, chilly descent a pair of leg warmers can be a godsend. You will often see professional riders warming up in leg warmers, only to take them off before they take to the start line.
It's worth bearing in mind too that you can buy insulated bib shorts, which paired with leg warmers give you a bit of extra insulation on colder days.
Leg warmers and knee warmers: what to look for
Quality pairs of cycling leg warmers are ergonomically shaped to accommodate a bent knee, allowing for good freedom of movement and maximising comfort. With regards to size, we would suggest you opt for the same size you would normally wear for shorts.
More expensive pairs often have a multiple panel construction, with single piece warmers typically being cheaper. Some will feature a zip opening on the ankle to aid taking them off over shoes. Warmers such as Castelli's NanoFlex have a water repellant coating, although this does wear off over time. Bear in mind that you can apply your own hydrophobic coating to most leg warmers.
Our pick of the best leg warmers and knee warmers
Reasons to buy
+Lightweight+Water repellant coating+Grippers work well+Look smart
Reasons to avoid
-Coating wears off over time-Fit not quite as ergonomic as other brands
A market leader, the NanoFlex warmers are renowned for providing comfort, warmth and protection from the rain thanks to a water repellent coating. The grippers hold them up without digging in and the fit is close-to-skin. We did find that the water repellent coating didn't last as long as we'd like, though.
Castelli is now on its third generation Nano Flex 3G, with improvements like enhancements to the Nano Flex fabric coating and a single flatlocked seam to up ride comfort. There's a knee warmer version available too, if you want less coverage.
Sportful Fiandre Knee Warmers
Reasons to buy
+Nanotechnology water repellent surface treatment+Added reflectives for visibility+Stay in place well
Reasons to avoid
-Like the Castellis, water repellency can wear off over time
Using very similar fabric to Castelli's offering, the Fiandre warmers boast nanotechnology which keeps the rain water out without keeping too much heat in. They're soft, stretchy, and the silicone gripper at the top keeps them in place.
There's a full-leg version too if you're after additional warmth and protection. Both include reflective elements to up your visibility in poor weather.
Reasons to buy
+Great fit+Warm+Good top gripper+No zips+Seams aren't abrasive+Good value for money when compared against some rival brands
Reasons to avoid
-The inseam label could be better positioned-Might not cope with the coldest winter days
Effectively like two seamless tubes of material, these stretchy leg warmers come with no zips to cause irritation.
Not ideal for the coldest of days (though the range now consists of various levels of weight for a range of conditions), we found them great in mild conditions and enjoyed the breathability offered by the light material in the less insulated version which we tested.
Reasons to buy
+Great fit+High durability+Good weather proofing
Reasons to avoid
-Expensive (but worth it)
The Assos leg warmers take a different route when compared to most. Rather than using a gripper to hold them in place at the thigh, these travel right up to your hip, and rely upon the lycra in your shorts to hold them in place.
Made from a warm RXQ fabric, with a DWR coating, the fact that they go right up to the hips also adds to their longevity as they provide almost the same coverage as a pair of winter bib tights.
Reasons to buy
+Good length+Comfortable+Effective inner and outer top grippers
Reasons to avoid
-Not as warm as some other options
You don't want to pay too much for a set of warmers which are mainly designed for the small window between summer and winter - and you won't have to with this value option from dhb.
We tested the knee warmers which are not currently available, but the leg warmers should be just right for the in-between months. They're a good length and we found the grippers kept them in place well without being uncomfortable.
How have we tested the leg and knee warmers?
We have been testing these leg warmers on rides of various lengths in different weather conditions. This has included rides with changeable weather and stuffing them in a jersey in anticipation of long descents from the tops of chilly cols.
All the warmers tested were judged on the following criteria: fit, comfort, thermal insulation, breathability and other features such as water repellency. We also paid close attention to how well they stayed in place during a ride - a common failing with warmers if they're not well designed.